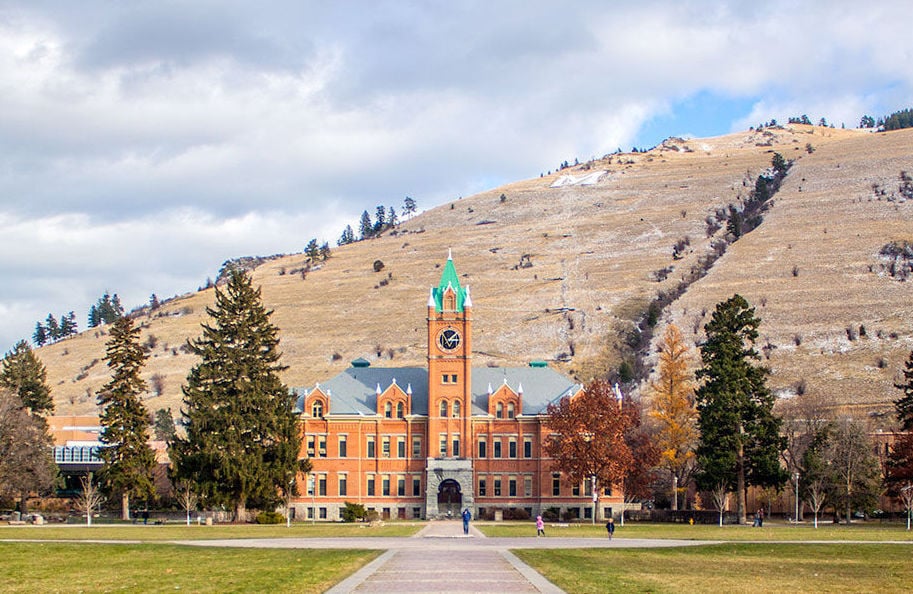 As the University of Montana continues to plan on a return to in-person learning in the fall, the most recent enrollment indicators at the campus show total applicant numbers up 7% and total registration numbers holding. However, numbers for freshman registration show a drop of 17%, likely, in large part, due to coronavirus-inspired uncertainty.
"We believe student decision-making is occurring later than in a normal year," said UM spokesperson Paula Short in a recent interview.
The coronavirus pandemic has been called a moment of reckoning for America's colleges and universities, with some of the leading voices saying it could be a death knell for struggling tuition-dependent institutions. UM may face an added challenge in losing Vice President of Enrollment and Communications Cathy Cole, who took a job in Iowa that started Aug. 1.
In a mailer sent to prospective students in the Missoula area, UM told students in bold lettering, "YOUR DREAMS ARE TOO BIG TO BE DELAYED," hoping to attract students considering a pandemic-prompted gap year.
"The university has been thoughtful and thorough in our planning around working, learning, living and visiting our campus," said Short. "We encourage students to keep learning through the uncertainty and challenges presented by COVID-19, and we're here to offer the support and guidance they need."
MSU's numbers showed relatively little change in the numbers of students applying, accepted and registering for classes, with applicants and out-of-state student registrations up somewhat. UM's most recent numbers are similarly up slightly, according to data provided by Short. UM reported the total number of applicants is up 7% compared to the same date last year, from 5,311 in 2019 to 5,683 in 2020.
The number of total students who have registered for classes in the fall is down 0.25% at MSU, according to registration data compared to the same time last year. At UM, as of July 22, total student registration was down 1.1%, with 7,692 students registered now in 2020 compared to 7,779 students registered at this date in 2019. Freshman registration dropped to 793 in 2020 from 957 in 2019.
Short said that at least part of the current drop in freshman registration is thought to be attributable to coronavirus, as uncertainty about the status of in-person classes pushes back final decision dates. She said making year-to-year comparisons of early admission numbers would be difficult due to the extraordinary circumstances of the pandemic.
Out-of-state registration at UM is currently down about 5%, from 1,749 non-Montana residents registered last year, to 1,663 registered so far this year. Students applying through the Western Undergraduate Exchange (WUE) program, a tuition agreement among multiple western states to lower college costs, are up a bit at UM this year, from 676 in 2019 to 686 as of July 22, 2020. 
MSU reported a rise in out-of-state applicants of 5% for fall 2020, up to 5,089 in 2020 from 4,842 at the same time in 2019. In-state registrations at MSU are down more than 4%, sitting at 6,993 in 2020, compared to 7,302 in 2019.
The Chronicle of Higher Education has published a slew of opinion pieces from university professors, presidents and consultants, trying to predict what will happen, what should happen, and what must happen this fall. Some have said universities who say they will be open in fall are doing nothing more than bluffing, in hopes of capturing students before eventually reneging and going online amid a resurgence of the virus.
UM released the final draft of its reopening plan July 10, with administrators acknowledging the plan would be changing with the newest information and guidelines. Dorms have been outfitted with quarantine spaces, masks will be required — although administrators are still discussing enforcement measures — and classrooms will be socially distant, along with many other protective measures. Health kits will be provided to each student at the beginning of the semester, complete with two reusable masks, hand sanitizer and surface disinfectant spray.
In February — just before the pandemic's effect began to become apparent in the United States — Madeleine Rhyneer, higher education advising firm EAB's chief enrollment consultant, spoke with the Missoulian about UM's update enrollment strategy, and said it sounded like UM was doing everything right. 
"Decision-making must shift to light speed for institutions with declining demand, no cash reserve, and modest endowments," she wrote. "Sadly, colleges that faced serious financial challenges before the coronavirus are dead institutions walking."
The University of Montana Foundation, a nonprofit fundraising group that supports UM, recently saw success in its Campaign Montana fundraiser, where the foundation passed its goal of $400 million. Campaign Montana has been seen as an ongoing triumph, with current funds resting at $431 million. The initiative, which launched in 2018, is set to run through 2020.
Marissa Perry, Gov. Steve Bullock's communications director, said the $1.25 billion in funding Montana received through the federal CARES Act is not allowed to be used for filling lost revenue, and therefore could not be used to bail out a state university if its enrollment declined by more than it could handle. 
With the fall semester shifted about a week and a half early and ending at Thanksgiving, former Provost Jon Harbor — whose departure from UM for a job as provost for Purdue Global University was announced in May — notified professors that the change at UM would result in about 70 minutes of lost class time. In an email to faculty, he encouraged professors to find ways to creatively add in the lost time throughout the semester.
"Together with the campus-specific guidance that will be released next week, we will have a thoughtful and intentional plan for safely welcoming students to campus in August while mitigating risk for all members of the UM family," he wrote then.
Short told the Missoulian there was not yet an official timeline for replacing the vice president for enrollment and communications, but that in the meantime, Vice Provost Sarah Swager will take over enrollment.
Get local news delivered to your inbox!
Subscribe to our Daily Headlines newsletter.