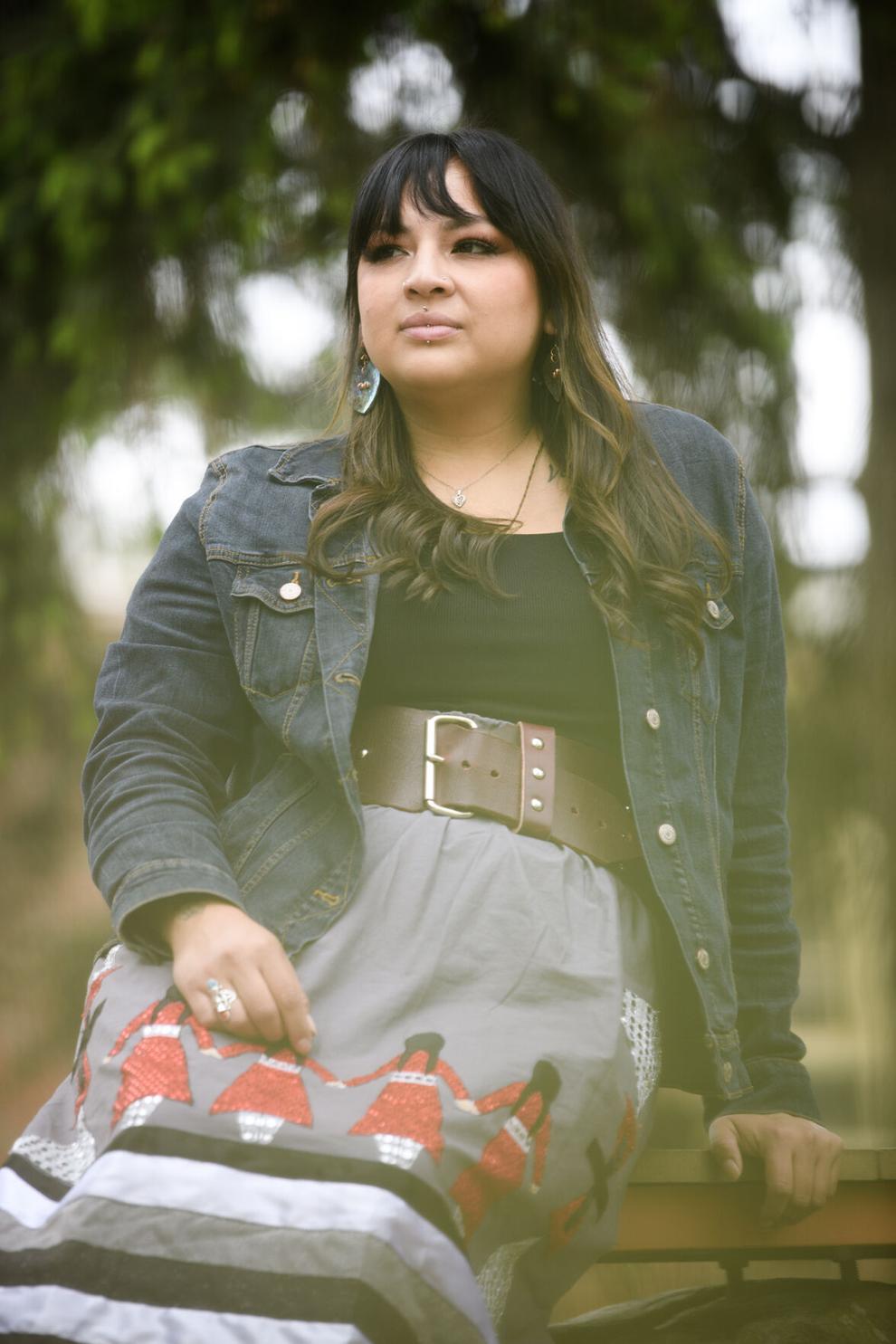 When Courtney Little Axe was a student at UM, she worked as an intern in their anthropology department focusing on repatriation. One day, in particular, stands out to her.
She found a picture in an online archive search, and the man featured looked familiar. Upon a closer look and by analyzing details in the piece, Little Axe was able to place one of the items in UM's collection with the tribe it belonged to.
"That little spark really lit the fire for me," she said.
For Little Axe, examining, researching and repatriating Native items has never felt like a job — it's always been her passion.
But now, as UM's new Native American Graves Protection and Repatriation Act repatriation coordinator and collections manager, Little Axe's passion has become her full-time position.
Little Axe, Northern Cheyenne, Absentee Shawnee and Seminole, grew up on the Northern Cheyenne Reservation in southeastern Montana. She has degrees from UM and Haskell Indian Nations University and has worked in repatriation for the Autry Museum of the American West in California.
Little Axe is the first person to serve in this position for UM, and Dave Kuntz, director of strategic communications at the university, said the role "shows how high of a priority this (work) is for the university."
Public schools, museums and other institutions nationwide house remains and items affiliated with tribes. Sometimes the items are donated. Other times, a school or museum staff member may have bought or unethically obtained the items for archaeology or research purposes.
In the last few decades, there has been a national effort to return sacred items and remains to the tribes to which they belong. Passed in 1990, the Native American Graves Protection and Repatriation Act, commonly known as NAGPRA, established a process for tribes to request the return of Native remains from institutions that have them. Due to oppressive and assimilationist U.S. policies, many tribes have lost Native language speakers and other connections to culture. When culturally sensitive items and ancestral remains are returned to tribes, tribal historic preservation officers say Indigenous people gain a connection to their identity and community and can continue to heal from generational trauma. 
More than 30 years later, not all institutions are compliant with NAGPRA. ProPublica in January reported that at least half of the remains of more than 210,000 Native Americans have not been returned. According to ProPublica's database, UM reports still holding the remains of at least 25 Native Americans. To date, UM has made available for return 63% of the 67 Native remains it reported to the federal government.
Little Axe, who started at UM about a month ago, said her first priority is returning ancestral remains and culturally sensitive items to the tribes they belong to.
"First and foremost, I have to get that done," she said. "Institutions a lot of times want to provide a space for inclusivity for Native people … but if you're not supporting them on the back end, where you still have ancestral remains in your collection … as an intern (at UM), it was a little disheartening."
Little Axe said she hopes to ensure the school is compliant with NAGPRA and wants to rebuild relationships with tribes. While repatriation is gaining national attention, Little Axe said the actual process of returning items is often misunderstood.
"It's very difficult," she said. "It's tedious. … The process, it can take years. I think people think it's easy to return items — I wish it were. But a lot of times, there's a lack of documentation (on the items), and so it's really not a straight path to repatriation."
She also said repatriation can challenge traditional anthropological mindsets.
"People might think, 'What will we have in our collection if we give everything back?'" she said. "Well, a lot of these items were unethically obtained. Sometimes, the documentation will say this item was a gift. But it might not necessarily be like that. You know, there were situations where someone might 'give' someone a ceremonial item in exchange for a can of soup just to survive. I think now anthropology is starting to move towards being more ethical."
UM last summer received $99,314 from the National Park Service to support documentation and repatriation, and in January, the school was awarded $325,107 from the National Endowment for the Humanities to address challenges in determining cultural affiliation for objects with vague records.
Little Axe said because the repatriation process can be time-consuming, it's critical for institutions like UM to be able to work in collaboration with tribes.
"What happened in history is that Natives were omitted from the conversation as a whole," she said. "We're trying to take more proper care and be more culturally aware and sensitive. It's just human decency. It's a respect thing."
As a Native woman, Montanan and UM alumna, Little Axe is thankful to "be at the table" when helping return items to tribes.
"You know, non-Natives, they might look at these items and think, 'Oh, it's just a beautiful piece of art,'" she said. "When in fact, this is actually a ceremonial item that we use for our culture. It's not just a rattle. It's not just a bundle. It's a piece of us. We really have to do something, we have to get these items back now."