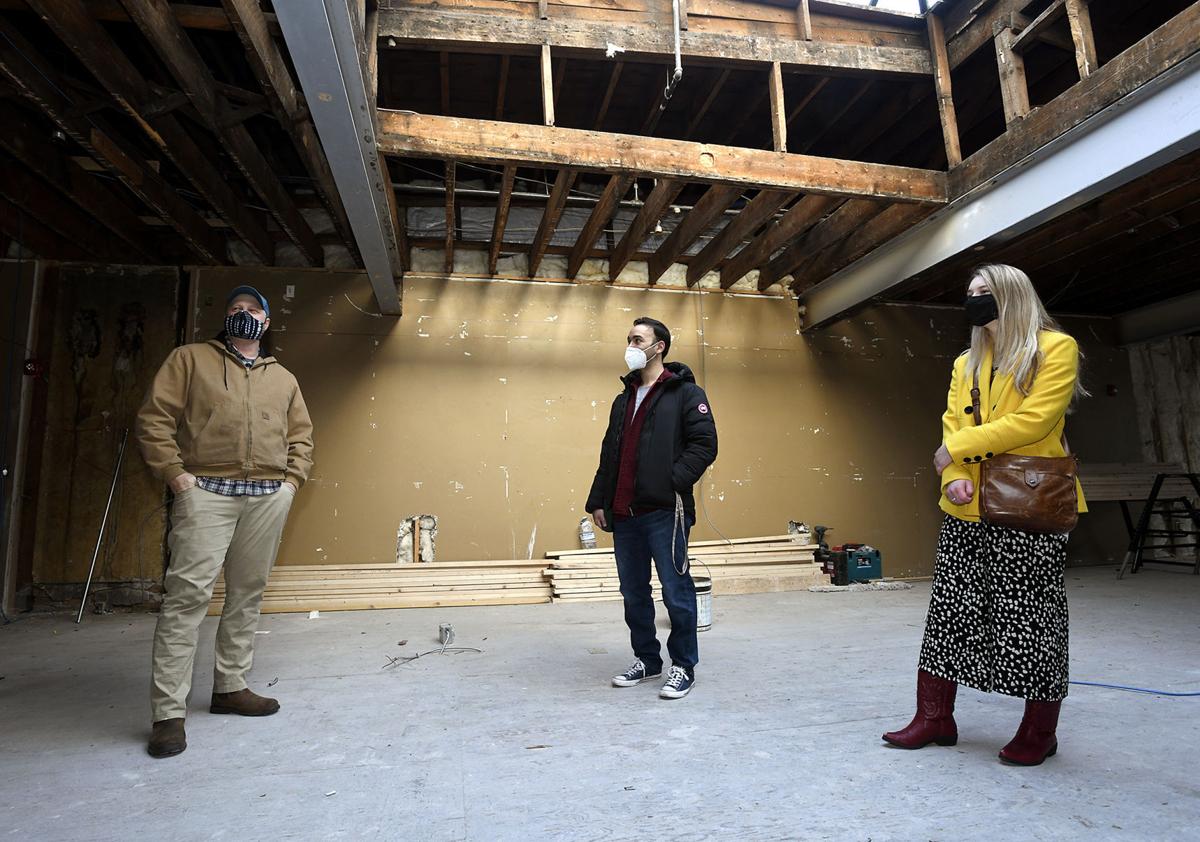 The lore around Missoula's rock scene is often shared piecemeal, in retrospective articles, social media posts after someone unearthed an old photograph or flyer, or a yarn heard at a venue.
Now, hours worth of first-hand recollections are available through the Missoula music history project. The oral histories were recorded in fall 2019 as part of assistant adjunct history professor Leif Fredrickson's Exploring Public History course at the University of Montana.
It spans decades, from the 1960s through the 1990s. Members of groups like Mission Mountain Wood Band to VTO and Oblio Joe's and WarCry recall playing long-gone venues like Jay's Upstairs, Trendz or the Moose Lodge.
Even earlier, people talk about forming early punk bands like Who Killed Society? and the DIY scene. Fans and writers talk about what an underground music scene meant in a small city in a rural state in a less-connected time.
"It's more than about just music, you know," Fredrickson said. "It's about other things like community building."
"The music scene is more than just whatever bands play there. It's people that promote shows and have record stores and are fans," he said.
One member of the class, Sari Chabot, a graduate student, said that to her, it stirred "another way to look at public culture, and looking at music itself as a public artifact" that "gives you a better understanding of politics and society."
Among the interviews, there are fascinating stories. The theory that the White Stripes have never played Missoula again is shared. Ear Candy owner John Fleming recalls booking the duo for a show at the Ritz (now the Badlander) in 2001, just as they were exiting the underground for mainstream success. Onstage here in Missoula, on his birthday no less, Jack White was getting shocked by the microphone and asked for a cover. The sound engineer walked up to the stage and put one of his dirty socks over the mic instead of a cover and taunted White over the P.A. (The band walked off stage, someone opened all the taps, and mayhem ensued.)
There are multiple anecdotes about unfortunate things getting tossed into the crowd — kitty litter, for instance, or raw chicken. Randy Pepprock describes the angry response to punk, which is strange to hear all these years later when it's been absorbed into pop culture.
The interview subjects include well-known musicians like Rob Quist of the Mission Mountain Wood Band and Andrew Cohen of Silkworm. Then there are people who worked behind the scenes, like Robin Dent, a trained classical musician who managed Jay's Upstairs. Pepprock, who formed one of the first punk bands in town, Who Killed Society? Charlie Beaton, of punk bands The Banned and VTO, and owner of Big Dipper Ice Cream. John Fleming, who's played in groups like Oblio Joe's, Secret Powers, Protest Kids and Sasha Bell Band and started Ear Candy Music with his own record collection. Sari Chabot, a graduate student, interviewed Zach Dundas about working at the Missoula Independent and writing zines. Shawn Swagerty, a Havre native, talks about writing for the Montana Kaimin and the early rock scene. (He played in the band Ernst Ernst.)
There were a number of factors regarding the interview choices. They wanted to make sure there weren't only musicians, and not only well-known ones such as Steve Albini, the Hellgate High School graduate who went on to engineer albums by Nirvana, the Pixies and countless underground acts. They also wanted to make the voices diverse — Dent's contributions to making Jay's what it was — booking different types of shows for different audiences, and listening to countless demos and writing band bios, may be new information to people who weren't deeply involved in bands.
While the stories can get colorful, Fredrickson and some of the interviewees, such as Beaton, emphasize that valuable formative experiences of DIY culture. Beaton talks about how his punk bands were like a small business, where he learned about investments and promotion and bootstrapping that were valuable when he started Big Dipper Ice Cream. Fleming owns Ear Candy. Kia Liszak of Sasshole is executive director of the Zootown Arts Community Center. Colin Hickey, who played in bands (the International Playboys) and booked shows is now with VidCon, the massive annual online video conference.
Andrew Cohen of Silkworm, the rare indie rock band that left Montana and reached a national recognition, talks about how the insular, isolated nature of starting out here was a benefit. They were renting halls to play in for small crowds, and didn't need to think about fitting into a larger scene, and developed a sound that stood out once they got onto indie labels like Matador or SST. (Cohen also discusses how they were the last pre-Internet generation, and that sense of playing in isolation is probably gone for good.)
Chabot, a Missoula native, said much of the history was new to her. The 1990s are as distant now as Woodstock was to Generation X, and many of the venues in the interviews are gone or repurposed. She said it was fascinating to learn that Jay's was up a steep set of stairs, hidden from street level where original music was the focus, and hearing about the reactions to the bands. (Playing your own music might not seem novel now, but cover bands were once the standard around town.)
Michael Larrman, also a graduate student, interviewed Buck Morigeau of WarCry, an Indigenous metal band from the Flathead Reservation. It was Larrman's first semester here, and the Connecticut native was "thrown right into the community," driving up to Arlee to interview Morigeau, who talked to him a lot about being in a Native rock band, and how an aggressive genre like metal is intertwined with concerns about the environment and indigenous identity (One of Larrman's professional papers in the works is on the Virginia oyster industry.)
He said a key part of the process is "letting people tell the story that they want to tell," and "you don't know what that is."
There are several more that will be posted in the future, including Lya Badgley, who ran a shop called Urban Renewal, artist Monte Dolack, and Bruce Wallwork who was in the TNTs, one of the city's first rock 'n' roll bands.
There are, naturally, more people and bands than they could hope to interview, and they had to pick a direction. "It ended up being focused on some aspects of the music scene, especially rock music scene. But that's not to say that other parts of Missoula's music history aren't important," he said.
There were a number of factors regarding the interview choices. They wanted to make sure there weren't only musicians, and not only well-known ones.
With the amount of time covered, a recurring theme is the rise and fall of different venues.
Fredrickson said "you can see kind of these different sort of cycles of like institution building and get venues built up, and then they, they fall apart for one reason or another, and it goes back to a kind of more DIY situation. I mean, this is talking more about like punk music, but then they go away again, and then there's kind of sort of this return to more house shows or something like that, or whatever."
Fredrickson grew up in Missoula and was involved in the punk scene in the '90s — he played in a hardcore band called Charles Bronson Superstar, and went to Jay's. The project began when he was talking with people involved with the heritage interpretive plan for the city and Unseen Missoula. They did a small display for the River City Roots Festival and it grew from there.
"You could easily write a whole book on it," he said. It's possible that they might add more oral histories in the collection. Now that they're available, someone could write a history article or a book that draws on the resources. If other people in town are interested, there's potential that they could do interviews after some training.
In public history courses, students learn to do research and analysis for public-facing projects rather than academic journals — that could mean podcasts, oral histories, interpretive signage, historical tours.
One component was the oral histories. Another were displays that were on view at the Zootown Arts Community Center last December. (There's potential for another exhibition at the Historical Museum at Fort Missoula). And finally, there were local music history walking tours through Unseen Missoula last summer. There are plans for more, potentially around the time of the River City Roots Festival.
Chabot, whose focus is on 19th century American history, said she "loves that Missoula is actually embracing its historical background," and finding ways to generate public interest and other avenues to explore the past.
Photos: Memorable music and performances in Missoula
Photos: Memorable music and performances in Missoula
Alice Cooper - 1988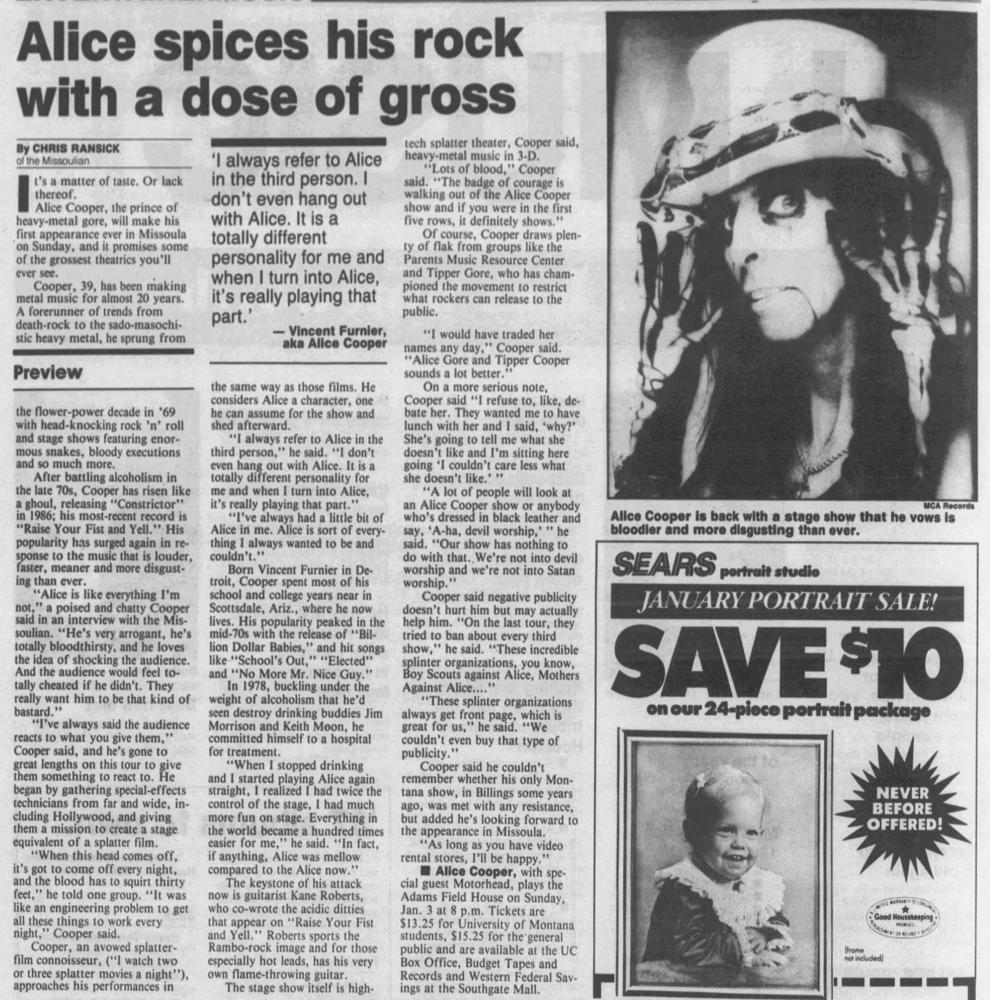 Beach Boys - 1974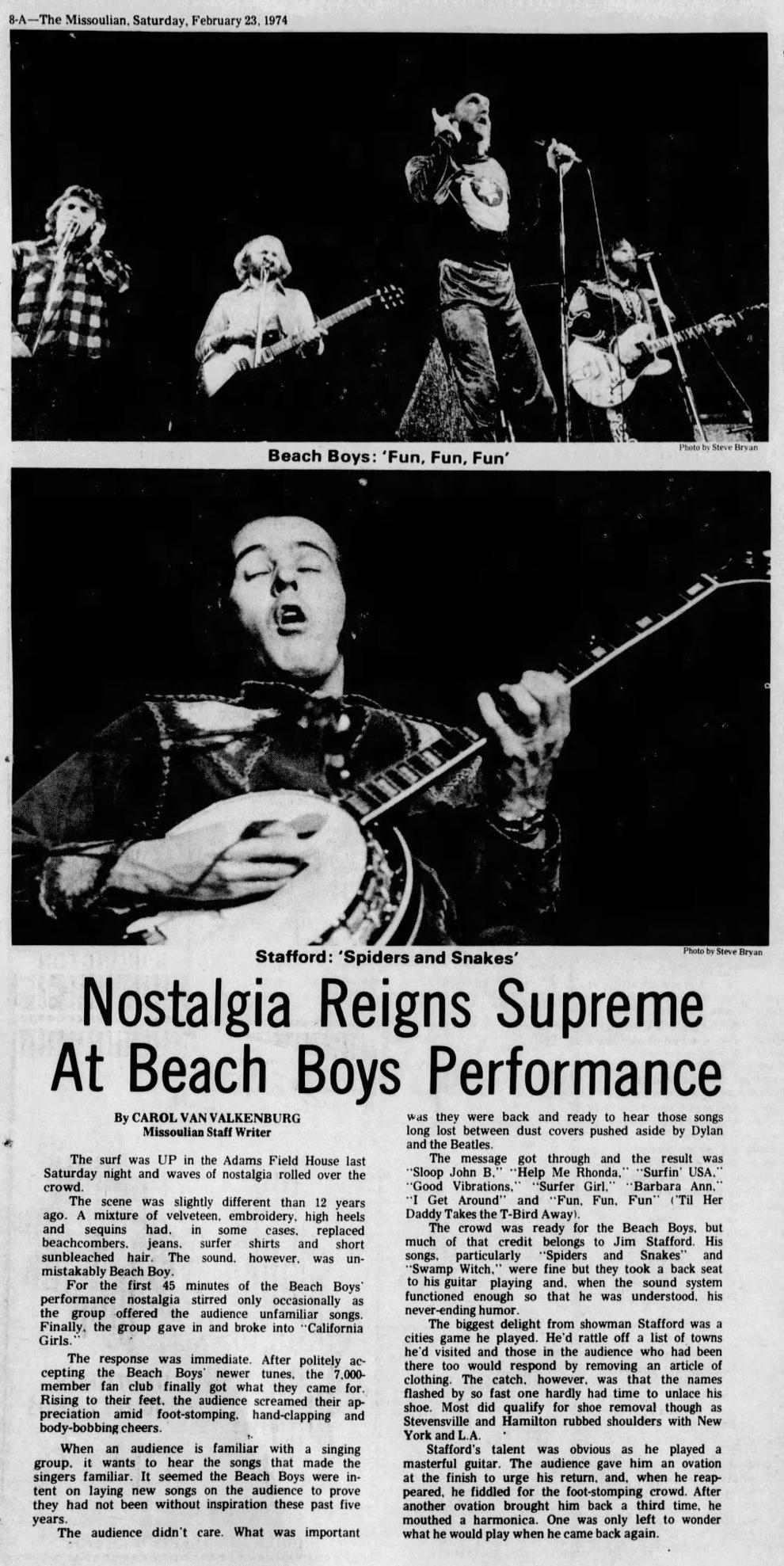 Beastie Boys - 1987

Big Head Todd and the Monsters - 1994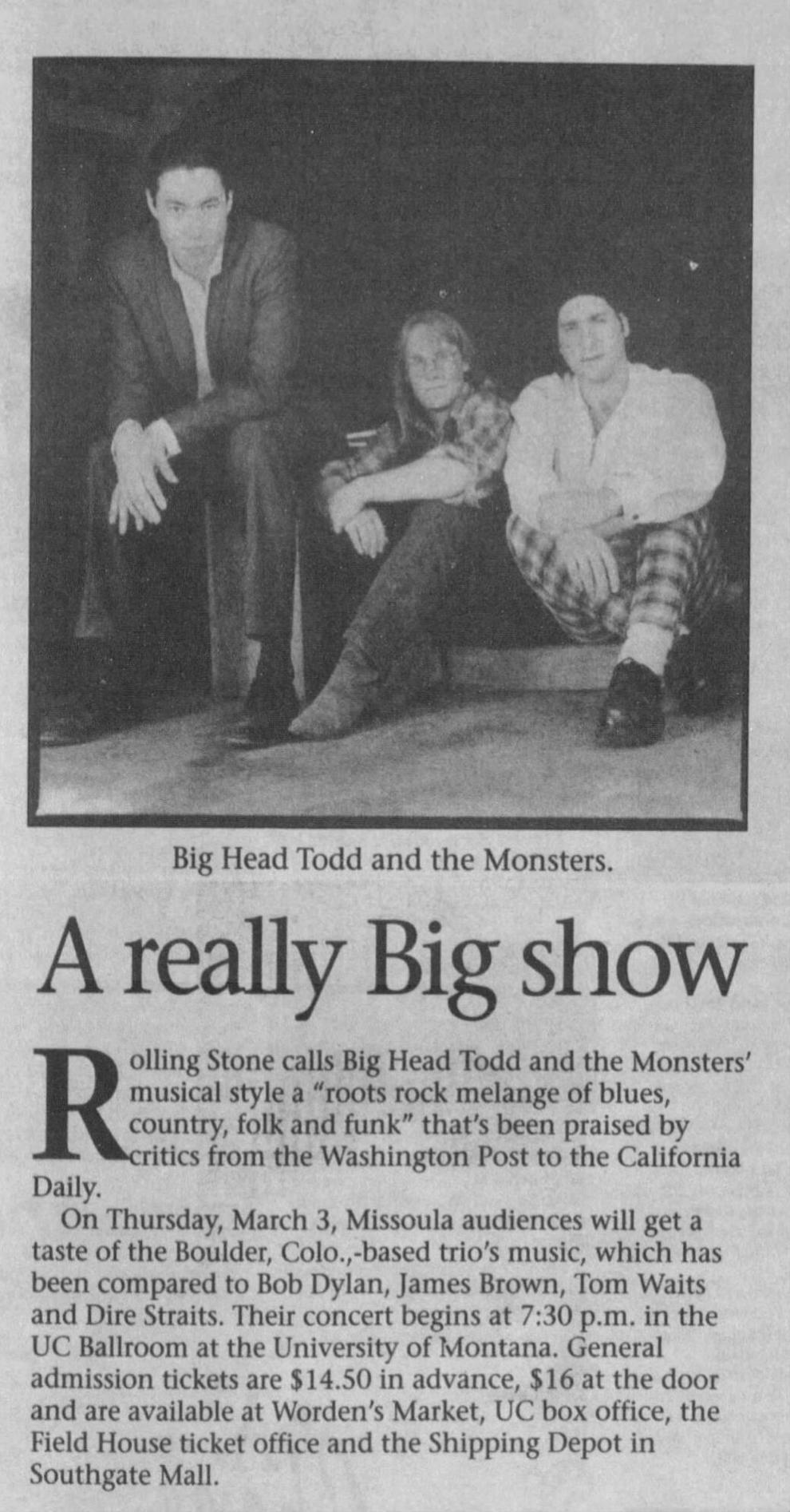 Bone Thugs-N-Harmony - 2019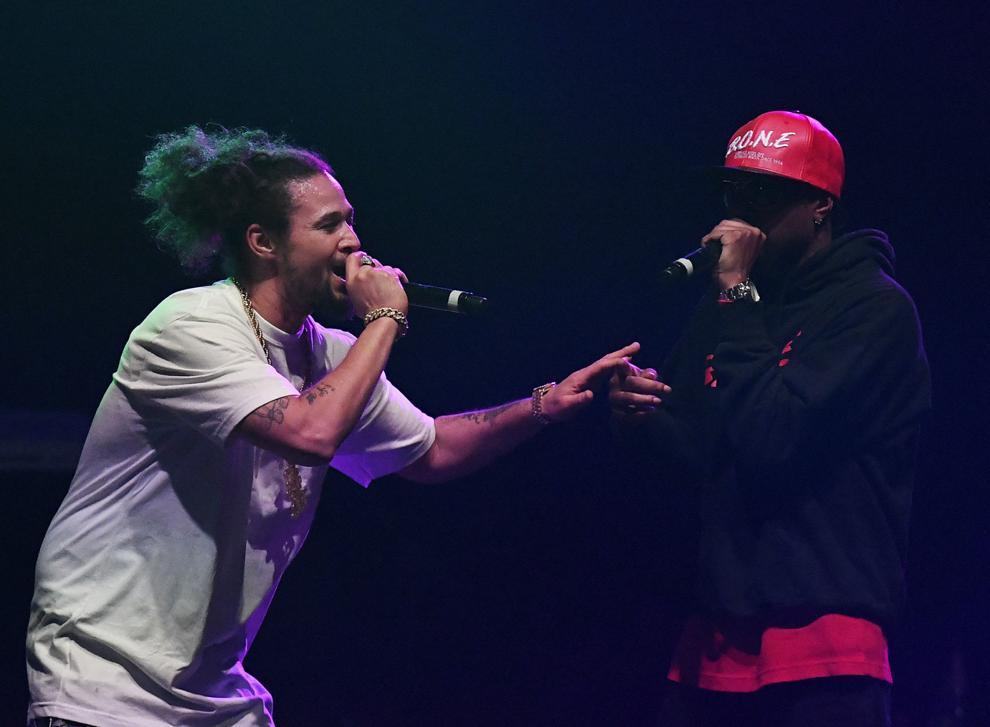 Bootsy Collins - 1994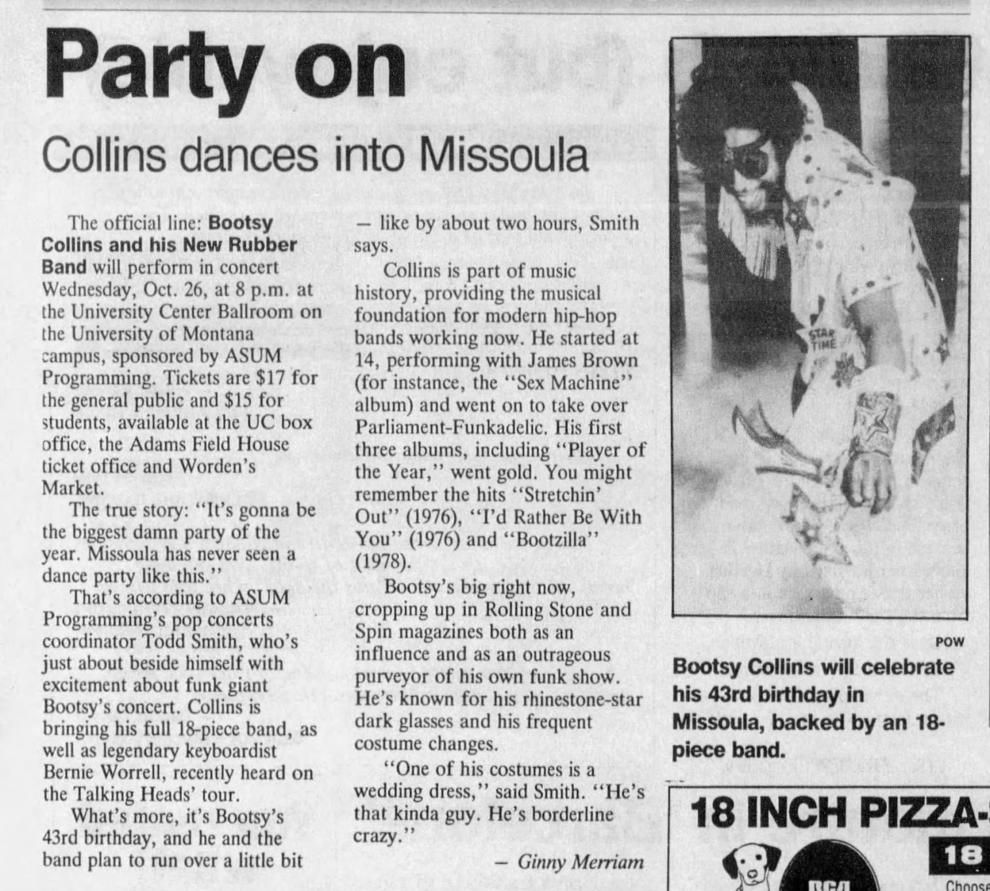 Charlie Daniels Band - 1983

Chuck Berry - 1971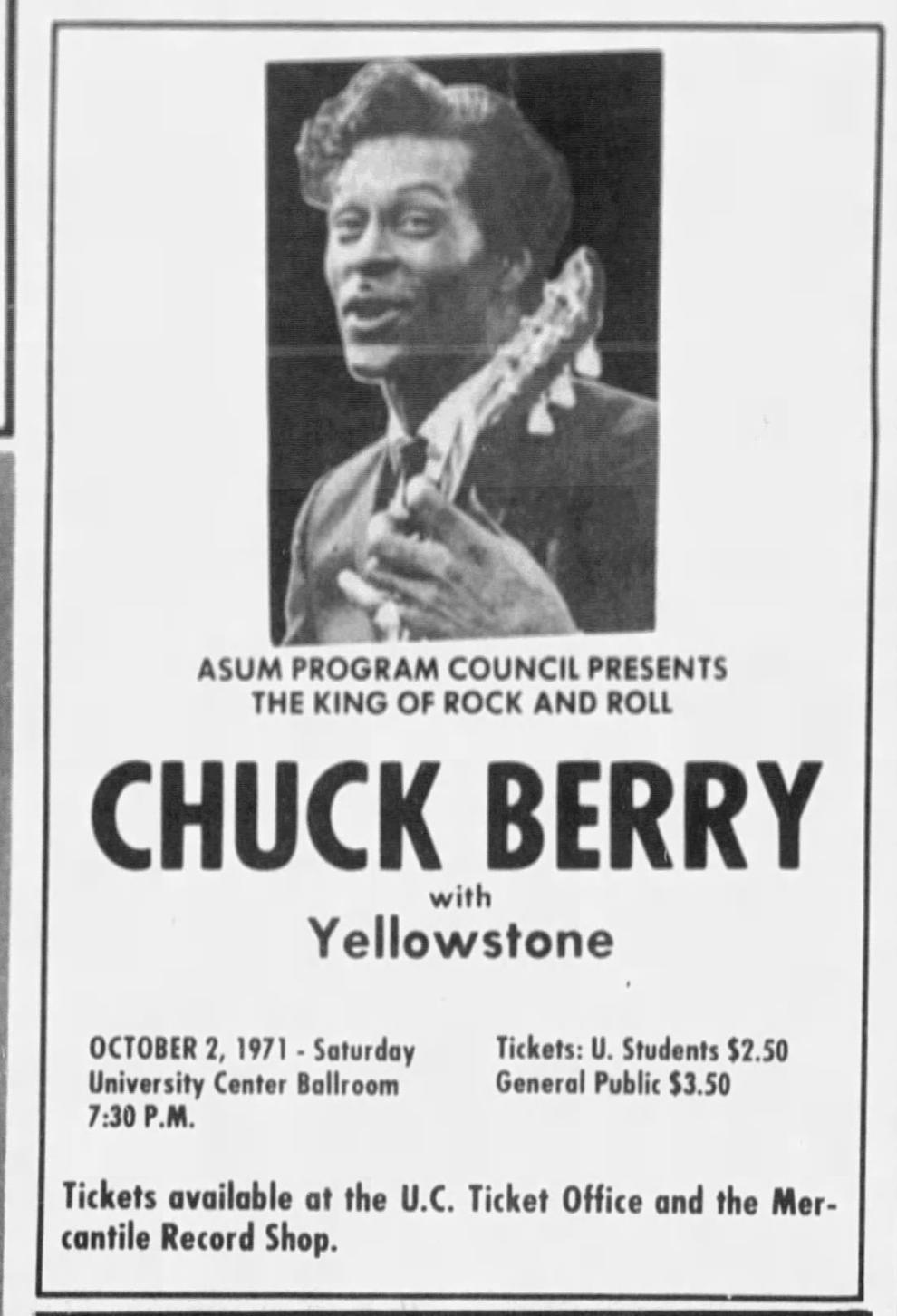 Elton John - 2007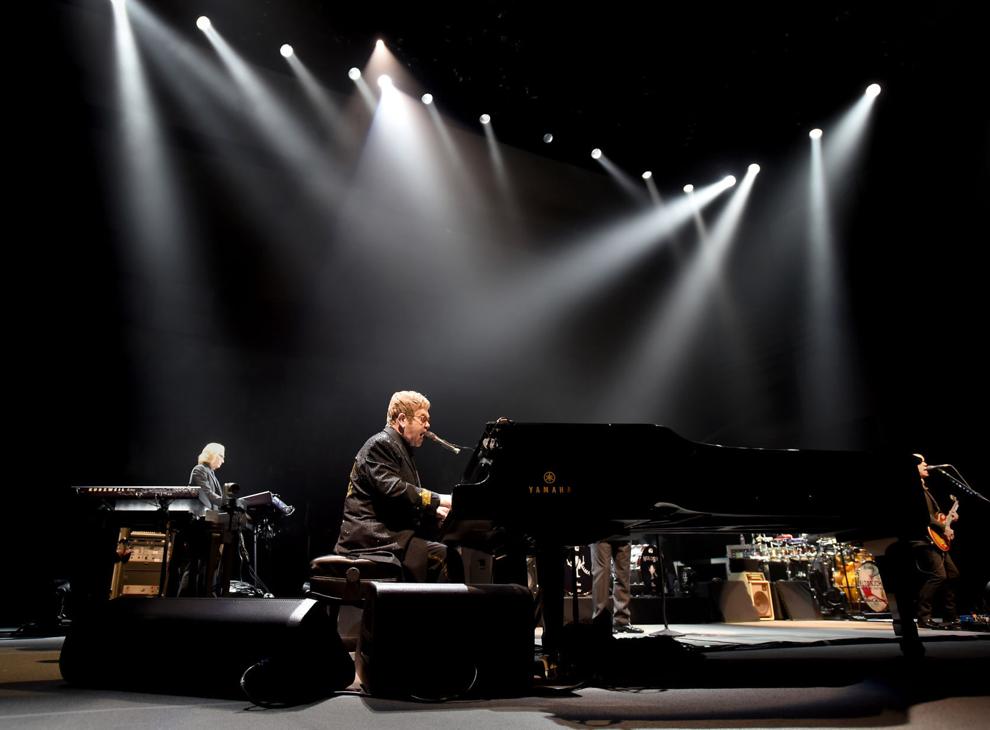 Emmylou Harris - 1996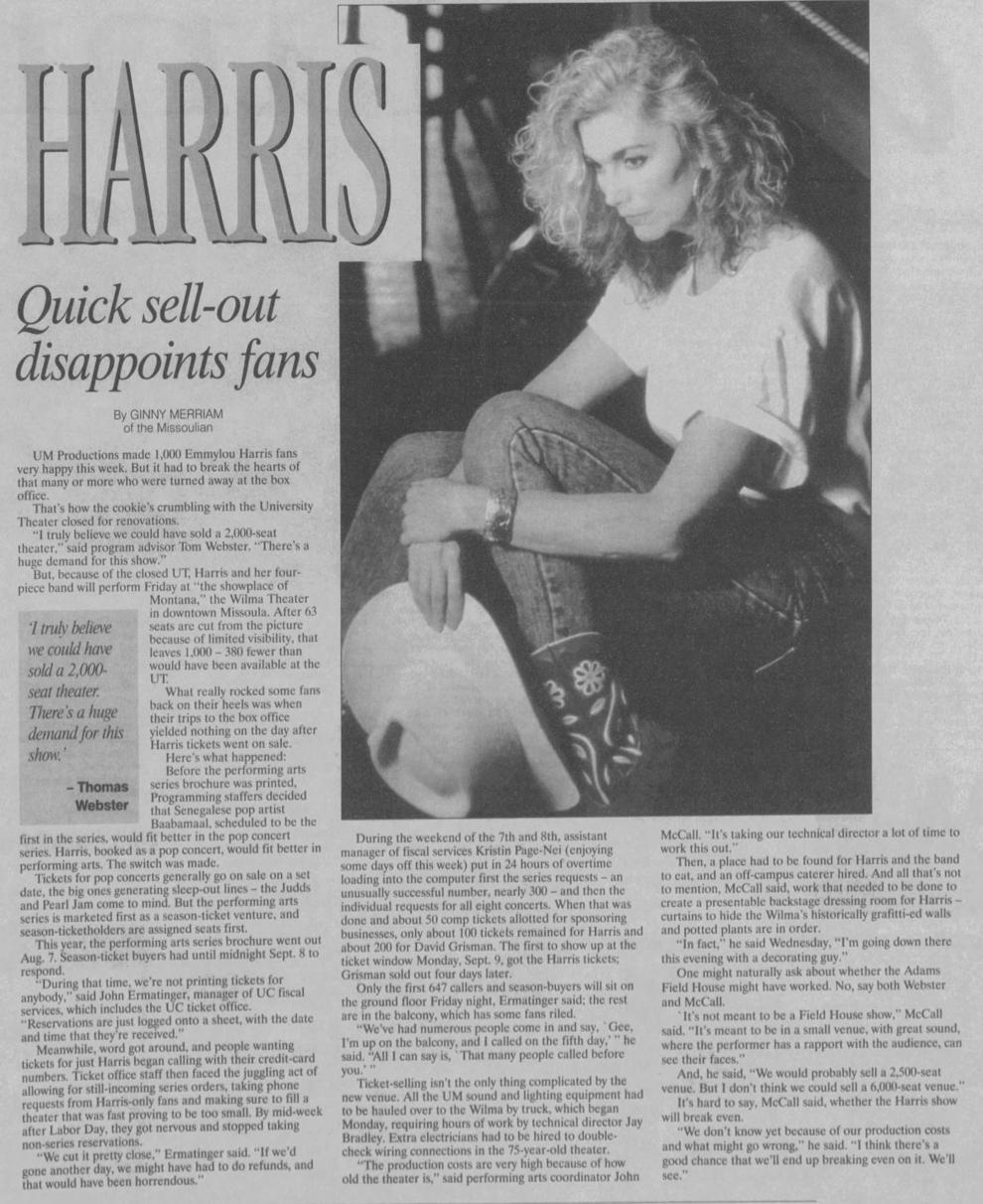 Flaming Lips - 2018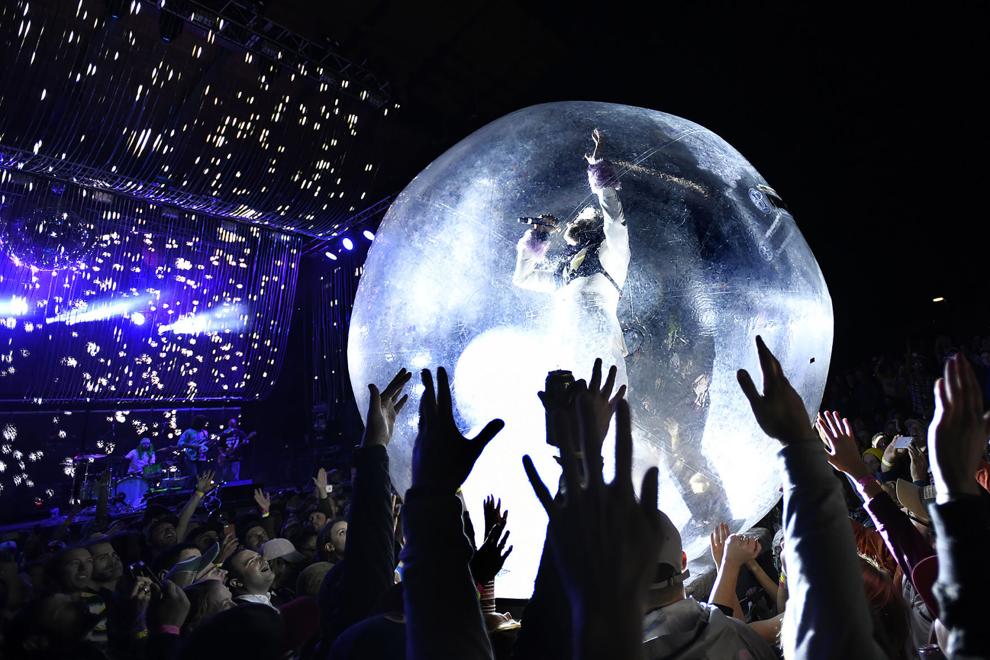 Garth Brooks - 1992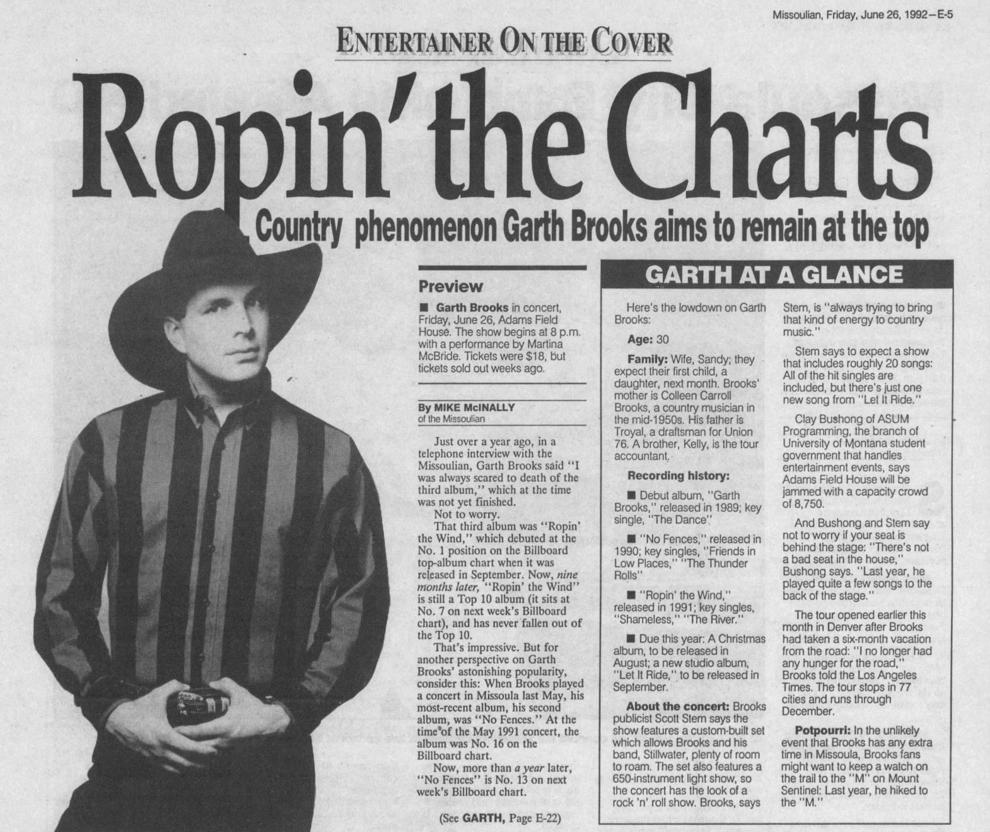 Grateful Dead - 1974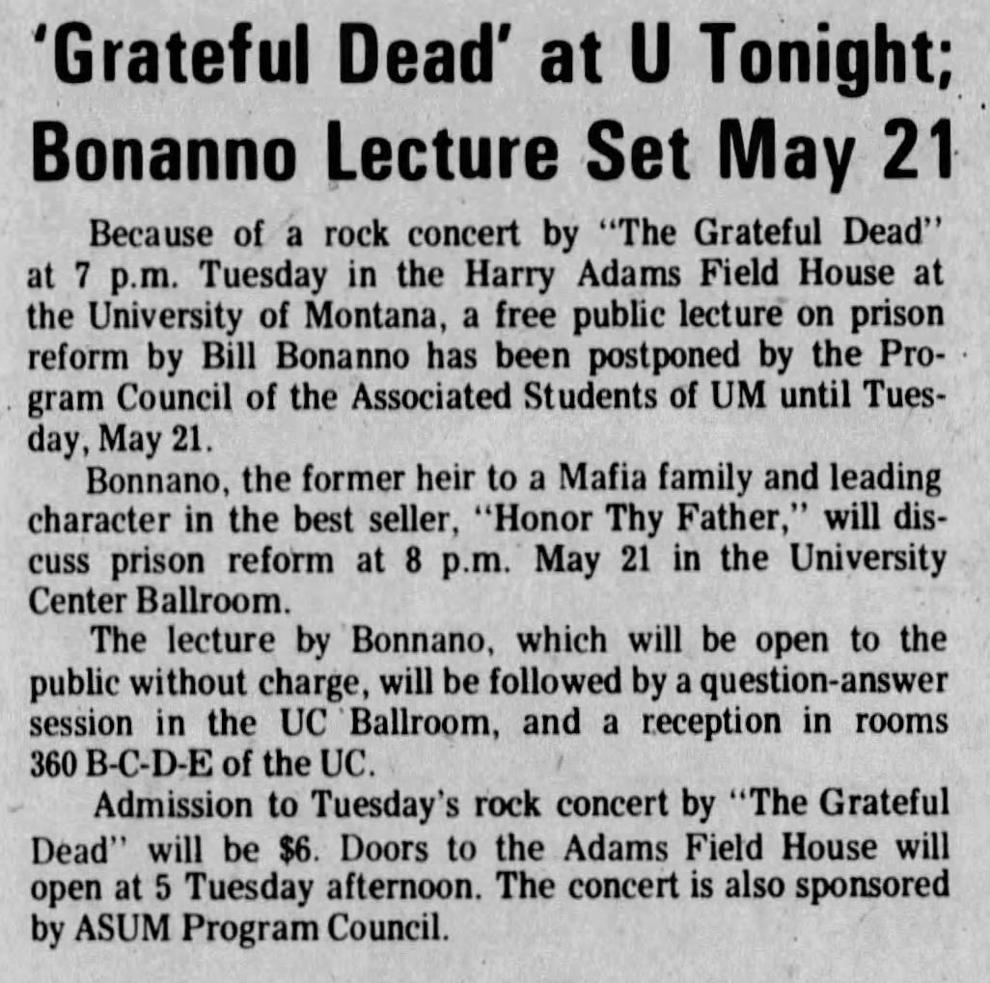 Great White, Scorpions, Mr. Big - 1991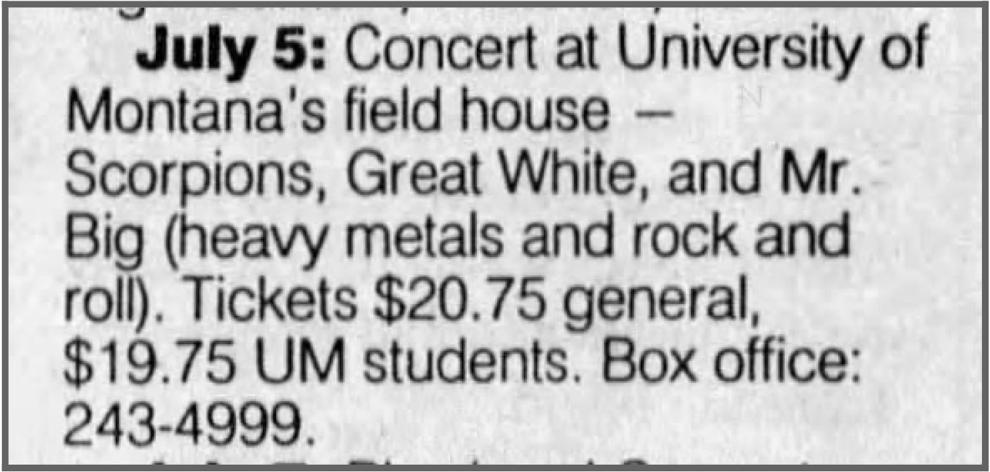 Indigo Girls - 1997
Janis Ian - 1984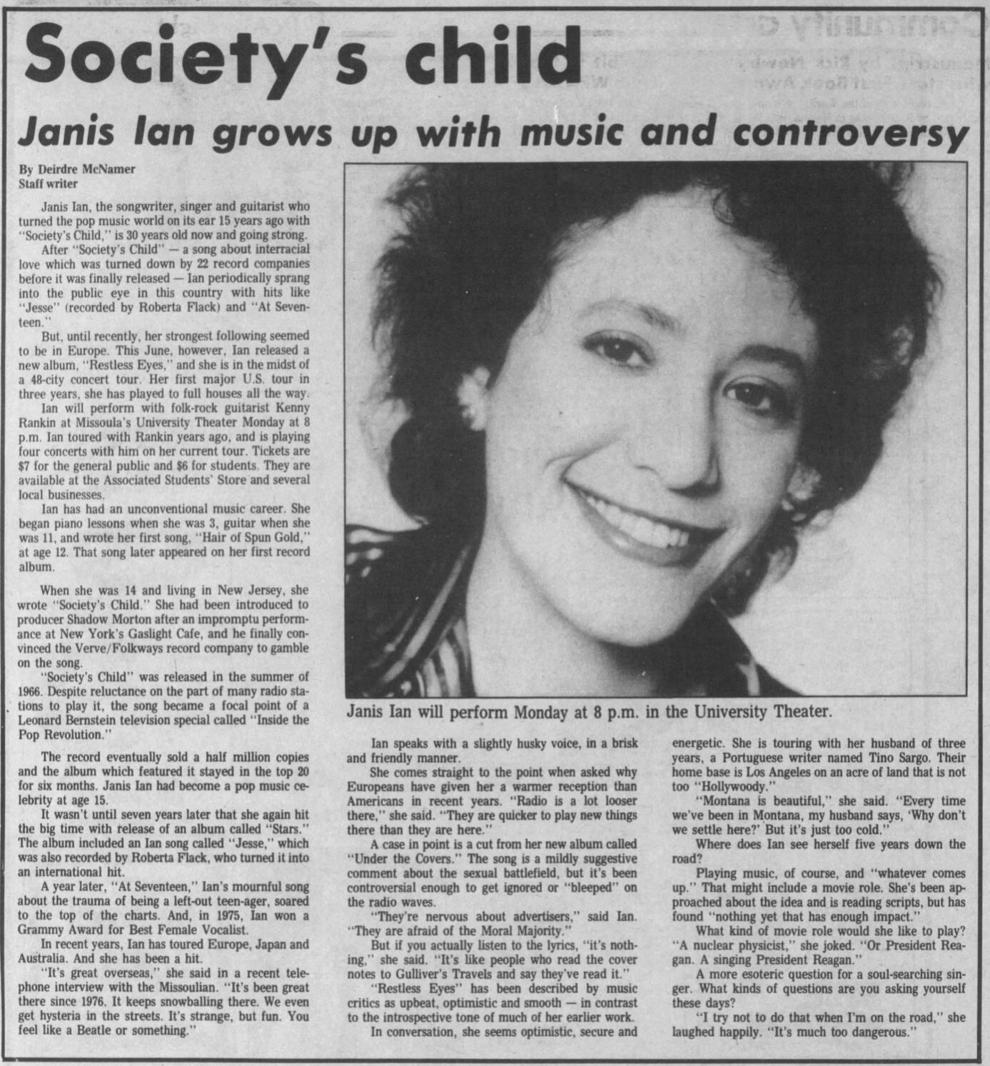 Jello Biafra - 1987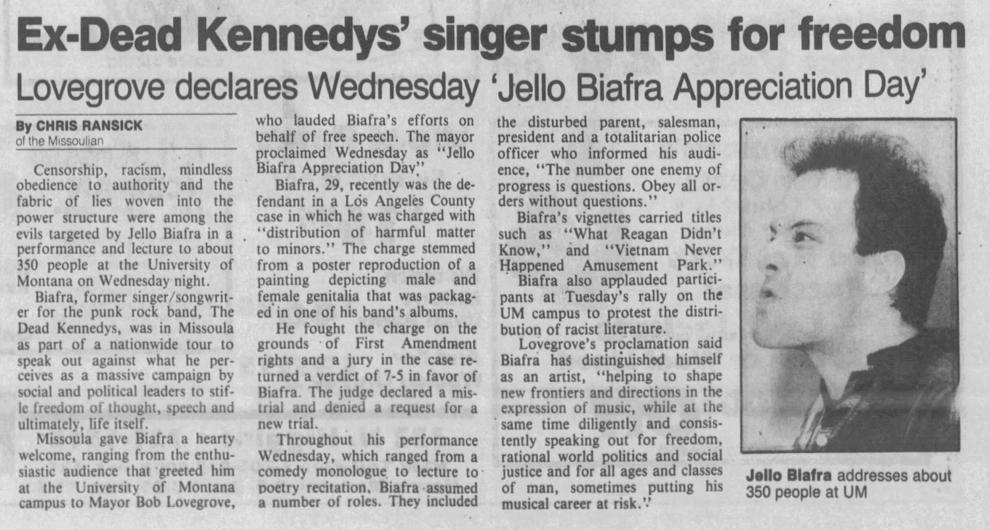 Joan Baez - 2014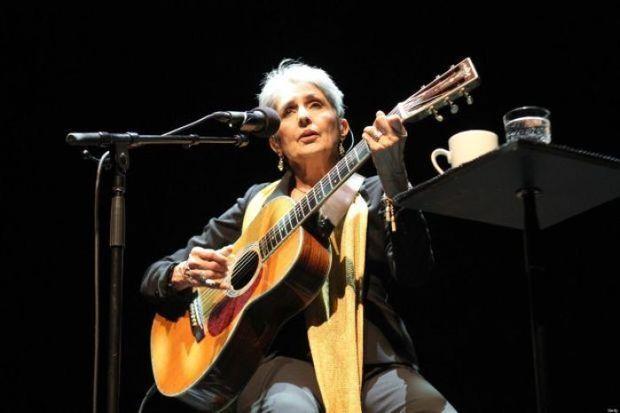 Johnny Cash - 1978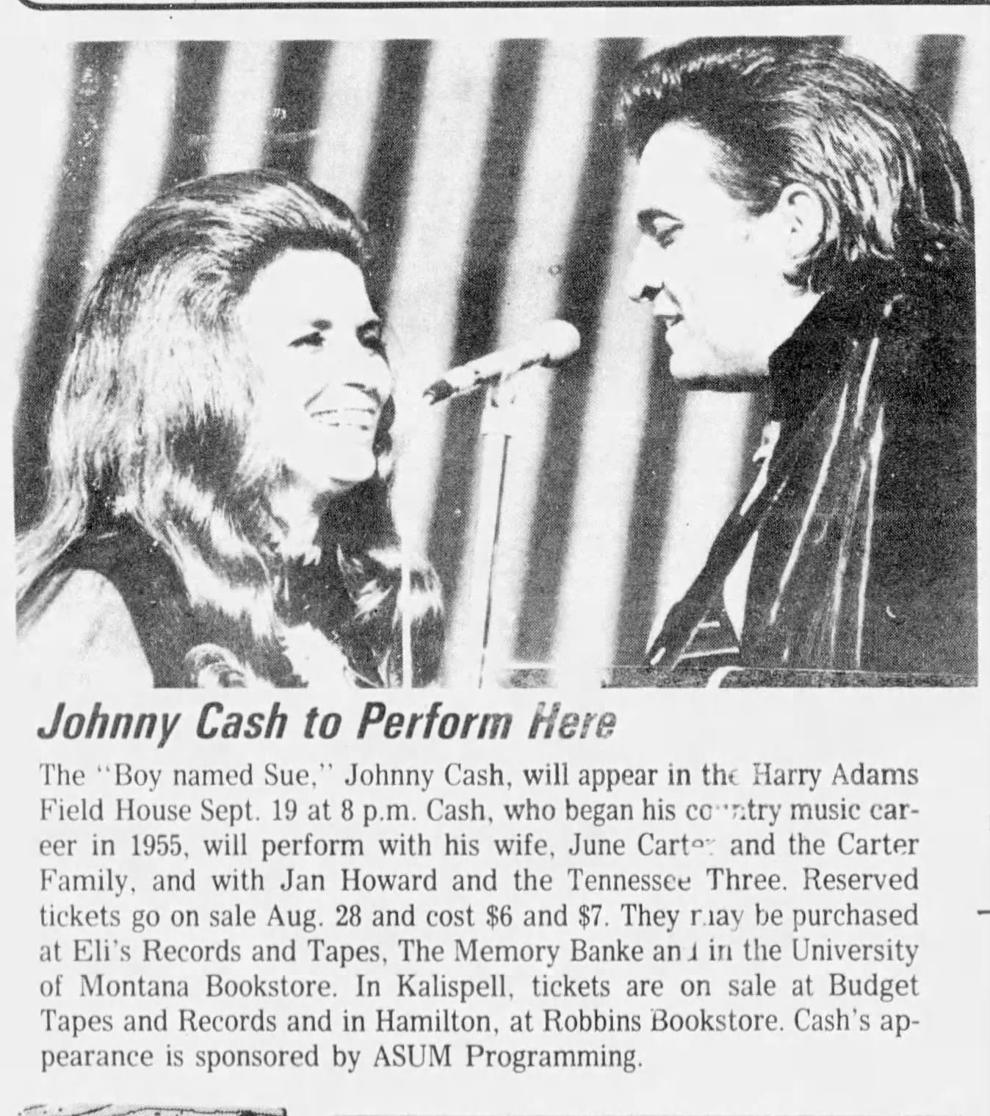 Kenny Rogers - 2003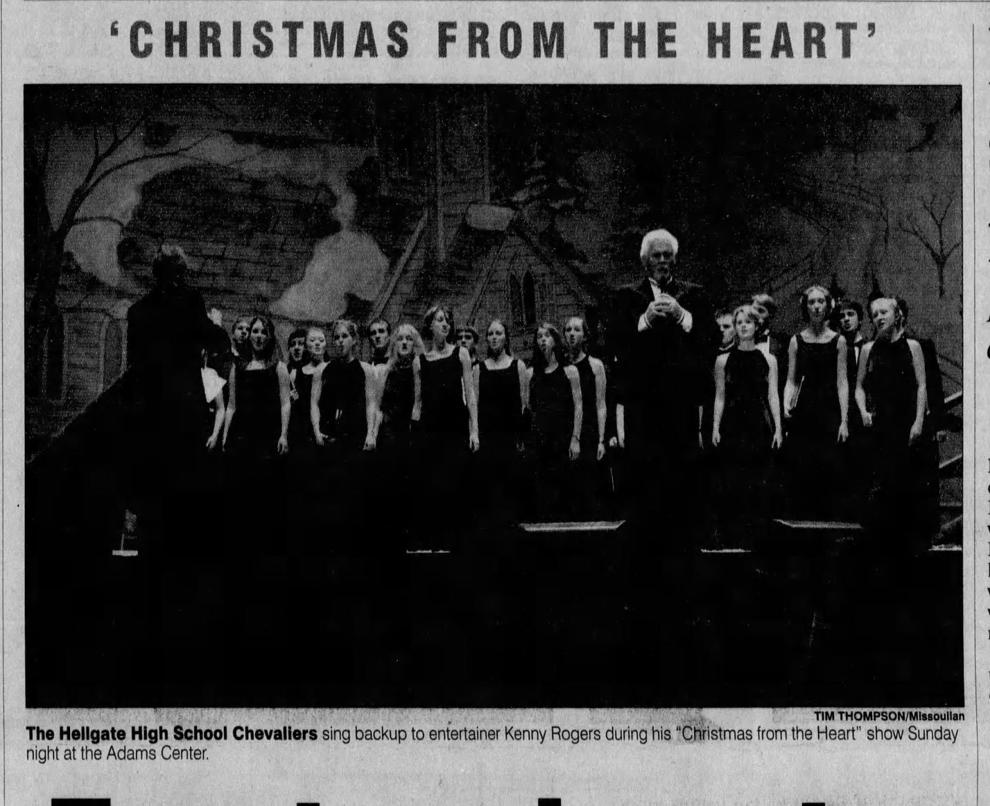 Ludacris - 2004

Modest Mouse - 2007

Neil Young - 2015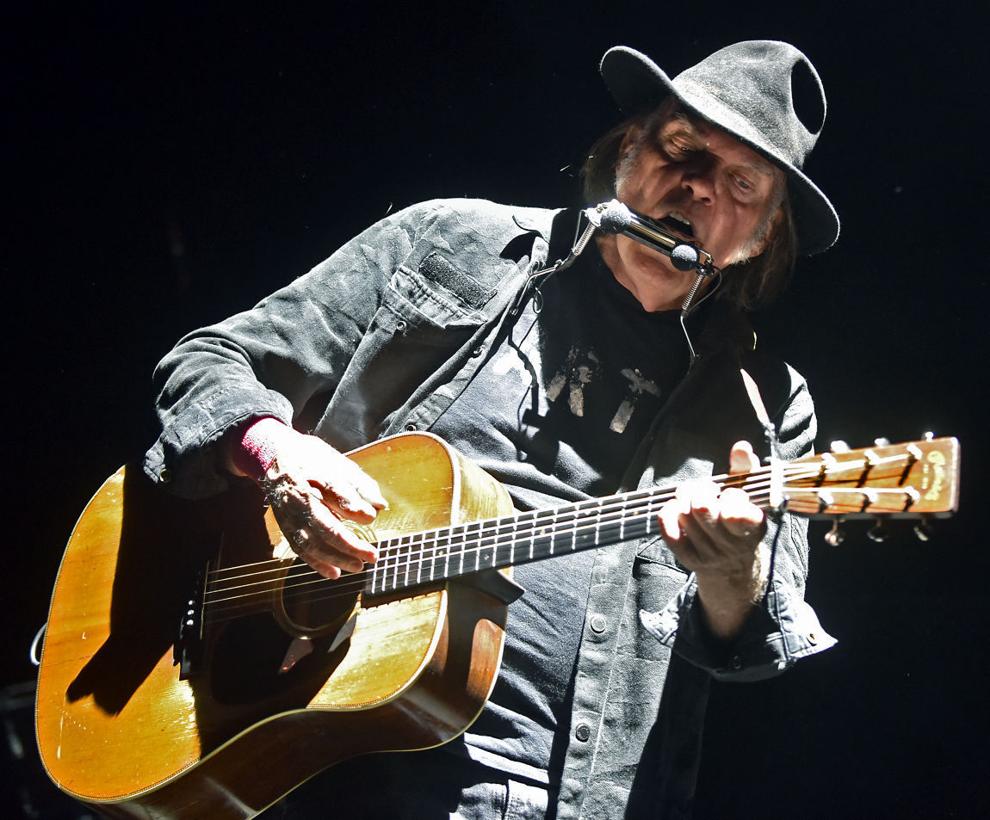 Nine Inch Nails - 2008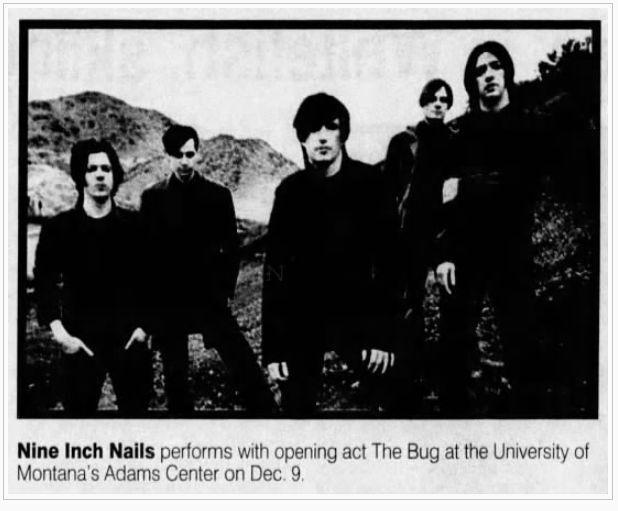 Pearl Jam - 2018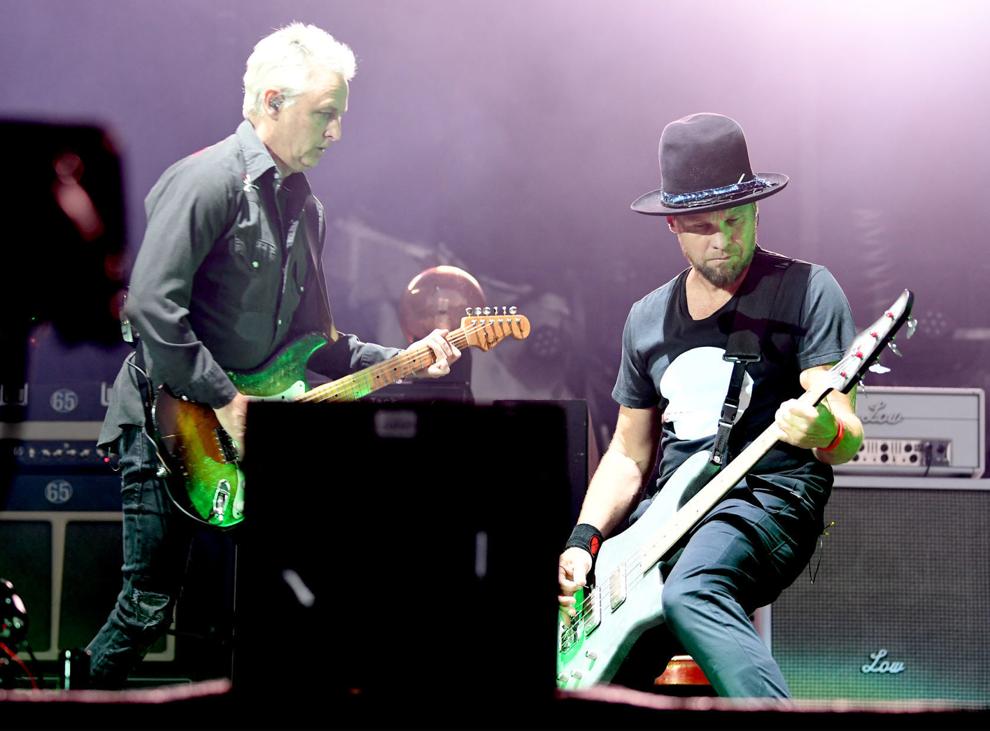 Phish - 1995
R.E.M. - 2003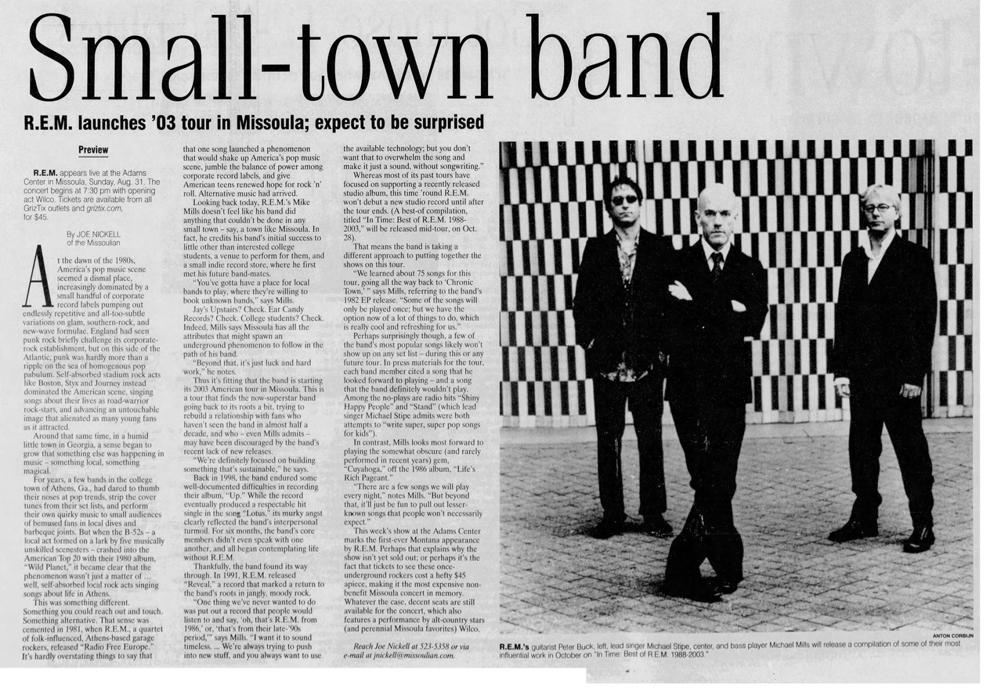 Ray Charles - 1984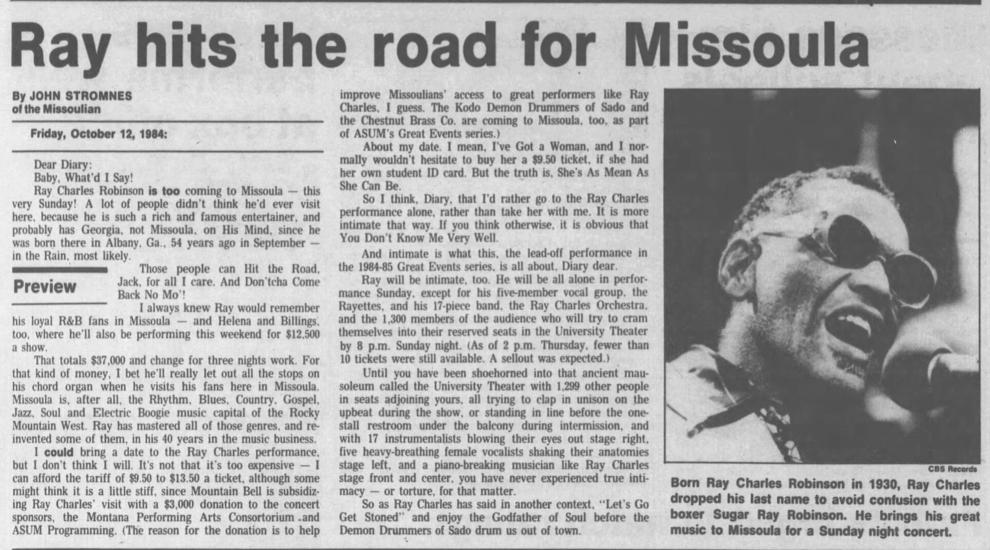 Steve Martin - 1977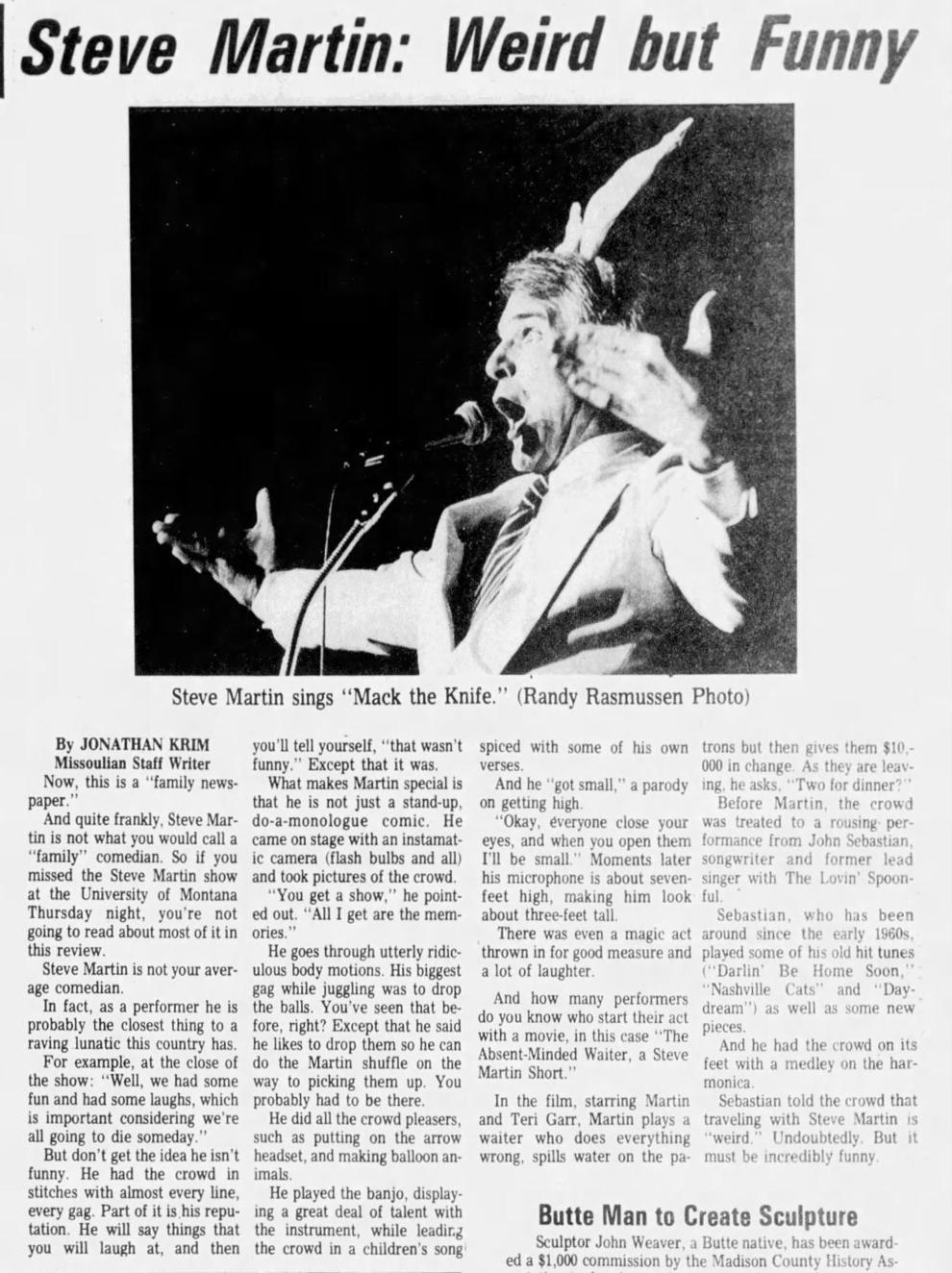 The Decemberists - 2019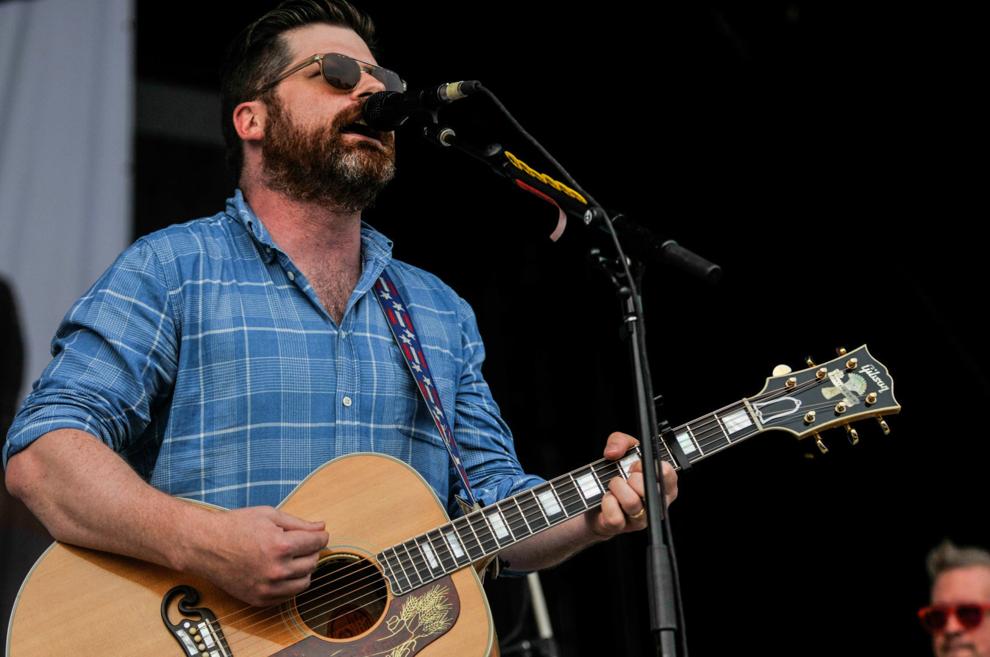 The Rolling Stones - 2006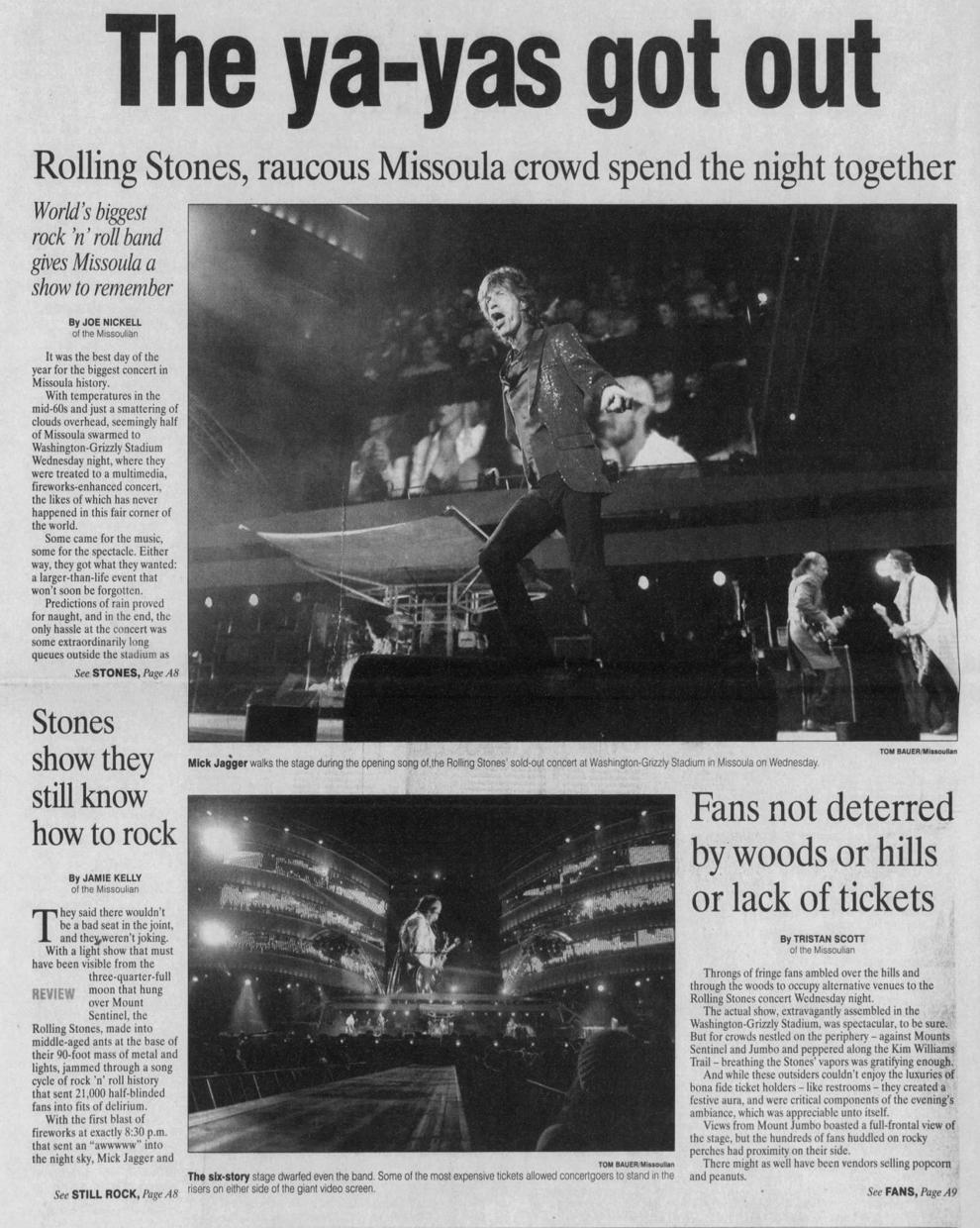 Widespread Panic, Blues Traveler - 1994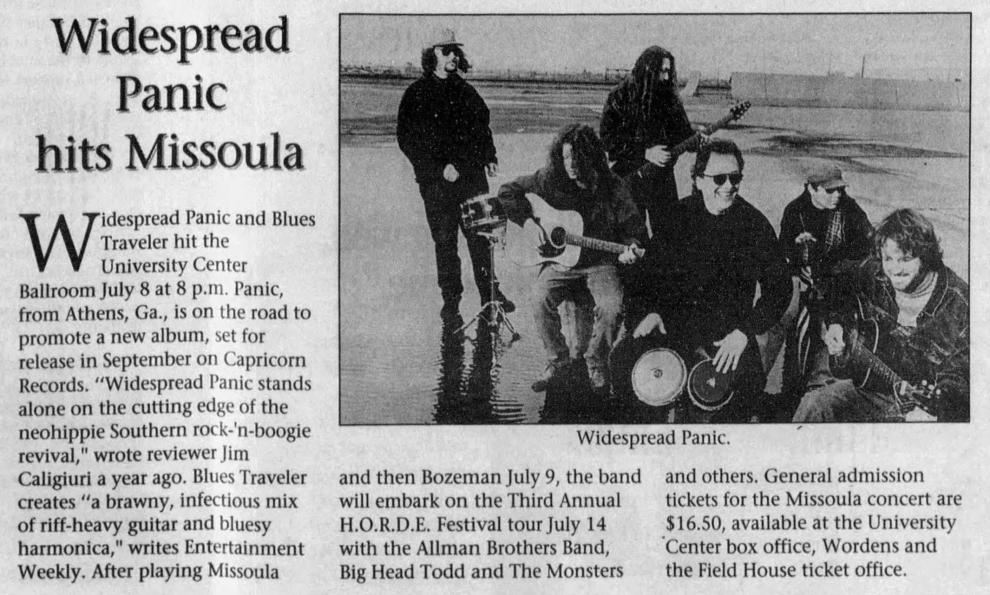 Ziggy Marley - 1997