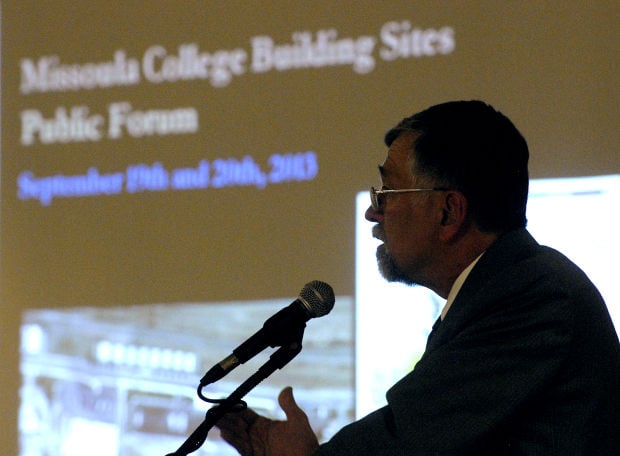 After years of discussion and under threat of a lawsuit, the University of Montana on Wednesday said it will build Missoula College on East Broadway, putting to rest the debate over building on the South Campus.
UM President Royce Engstrom said the location, situated across the Clark Fork River from UM's mountain campus, places Missoula College strongly in the public eye and will serve to promote the university as a whole.
"I believe East Broadway will give us a distinctive opportunity to make a bold statement about UM and the role two-year education plays in the Missoula community and western Montana," Engstrom said.
UM had initially named the South Campus as a preferred location for the college. But in May, Engstrom said he was considering East Broadway as an alternative site.
The announcement was made the same month Advocates for Missoula's Future threatened a lawsuit if the university went forward with plans to build on the South Campus.
The group's lawyer, Quentin Rhoades, said he and his clients were satisfied with the university's final decision to build on East Broadway.
"We were dead set against the South Campus idea for a variety of reasons," said Rhoades. "We didn't want to get into a lawsuit about it. We were hoping we were being persuasive with our argument for its legality. We're sure happy with the results."
The process of considering a site played out in doses over the past year, culminating last month when UM held two public scoping sessions on the issue of location, with East Broadway as the focus.
Support and opposition was expressed for each site. Student and community leaders came out in favor of the South Campus, while residents of several nearby neighborhoods urged otherwise.
Missoula Mayor Jon Engen and several City Council members had lobbied against building the college on East Broadway, hoping instead to preserve the seven-acre lot for student housing.
"East Broadway is not my favorite site (for the college)," Engen said. "But it turns out that I'm not the university president. Engstrom called me earlier to let me know his decision, and I appreciate that. I hope the site works for him, and I know they came to it after lots of consideration."
Engen said he would continue looking for downtown sites suited for student housing. Building and occupying 1,000 units of new student housing in Missoula's downtown core by December 2014 was a goal Engen and Engstrom made together last December.
"That student housing conversation has to continue," Engen said. "I'm not going to let it go. I still think there are downtown locations that still make sense for that."
Engstrom said the university and city will continue to work on the housing issue.
"We're still very interested in the student housing issue," said Engstrom. "We entered that Quality of Life Initiative sincerely. We'll continue to work on the housing situation, though this particular location won't be available for that."
Engstrom has noted along the way that whichever site was selected for Missoula College would prove controversial and not everyone would be pleased.
He was happy, however, to put the debate to rest on Wednesday.
"I wanted to take the dialogue and hear all viewpoints," Engstrom said. "Now we have a decision, and it's time to move this project forward."
The project's timeline is still uncertain, though Engstrom said he'd like to see the project break ground at some point in 2014. To do that, he said, the university must complete and environmental assessment and secure an architect to begin working on design.
The project's overall design, he said, should make a statement on behalf of Missoula College and the university. Placing it on East Broadway also gives architects more freedom with the design.
"The nice thing, by having it at East Broadway, it gives architects a little more flexibility," Engstrom said. "The vision is to have a beautiful building that speaks loudly to the importance of higher education and two-year education in this community. It'll take advantage of the setting it's in."
StudioFORMA architects this summer completed a feasibility study on the site and found no significant limitations to building along the banks of the Clark Fork River. Questions over parking were initially raised, though they have since been resolved.
To accommodate the 730 spaces needed for the college's 2,100 students, the university negotiated a deal in securing a lease across Broadway on land owned by the railroad. Parking also is available on the building site, along with the MonTEC facility located next door.
"With this decision made, we'll move forward as rapidly as we can while making good decisions to put the actual construction into motion," he said. "We'll be able to implement more fully the Missoula College mission to serve the educational workforce needs of this region while placing a state-of-the-art facility in a showcase location near the entrance to Missoula."
Engstrom said that once ground is broken, construction would likely take two years.