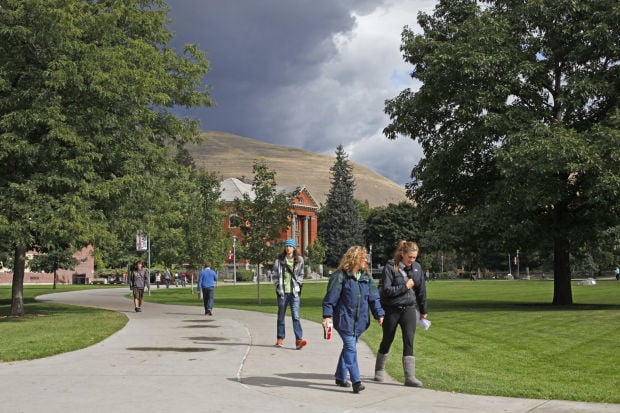 The University of Montana will develop new accessibility policies and train employees on disability issues under an agreement reached with the U.S. Department of Education's Office of Civil Rights.
The agreement, announced Wednesday, outlines a set of procedures the school will take to resolve a student complaint filed in 2012.
The complaint alleged UM was discriminating against disabled students by using technology that was inaccessible to the visually impaired, including electronic class assignments, library databases, videos and course registration materials, among other things.
"We want to make sure the technology we use on our websites, in our classrooms and in our offices are available to all," UM President Royce Engstrom said Wednesday. "We are committed to making sure that all students have access to education, and in today's world, that includes access to technology."
As defined by the agreement, "accessible" means those with a disability are able to acquire the same information and engage in the same interactions – and within the same time frame – as those without disabilities.
The agreement applies to nearly all aspects of technology used to educate today's students, from electronic textbooks to library services and video feeds.
Amy Capolupo, the university's director of Disability Services for Students, said the school has moved to correct the findings and meet the demands outlined by the Office of Civil Rights.
She said the school has repositioned its resources through the newly created Office of Accessible Technology Services.
"It's going to be handling captioning, document conversions, troubleshooting and any kind of issues that may arise," said Capolupo. "They'll be testing technology before we ever deploy it on campus. They'll also be helping with faculty and staff training."
The issues pertain to students who may be visually impaired, or suffer from attention deficit disorder or post-traumatic stress disorder, among other disabilities.
A document scanned as an image-only PDF, for example, cannot be recognized by the university's screen-reading software, though it can read a text-based PDF to students who cannot see.
Capolupo estimated that 400 UM students have barriers to print. Raising awareness across campus and training faculty and staff can help correct many of the findings.
"We're still on the lookout for more barriers," said Capolupo. "Someone with a print disability needs to be able to look at a document and read it the same way as someone without a sight disability."
UM has two years to fully implement the remedial actions outlined in the agreement.