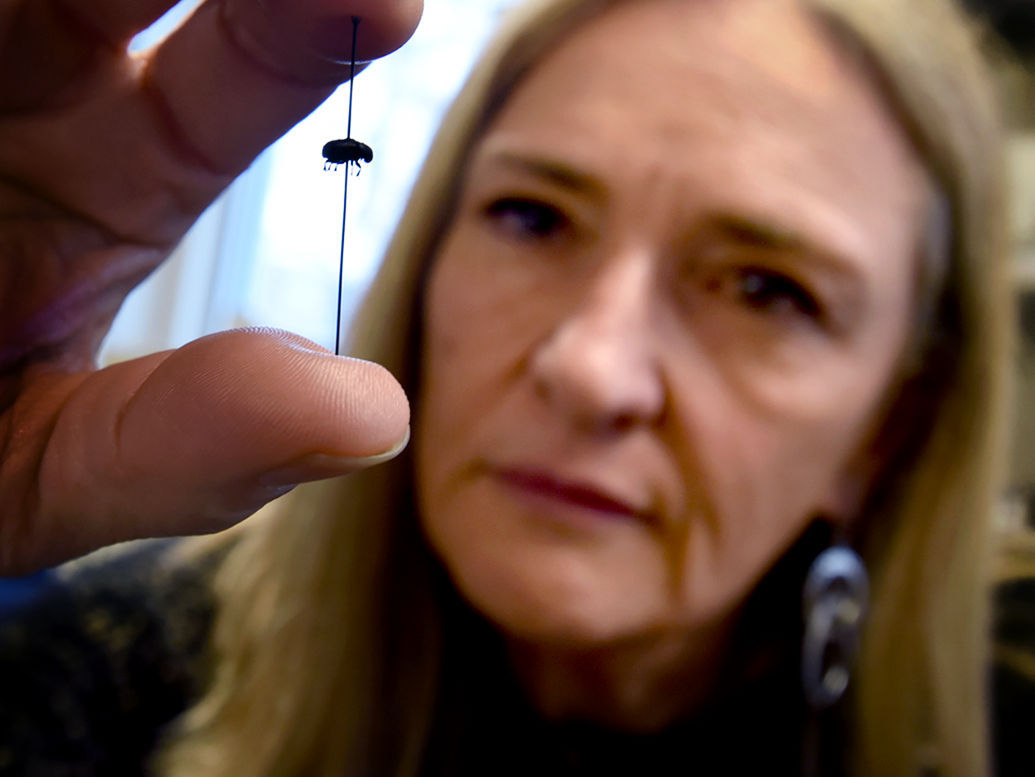 The mountain pine beetles pinned inside Diana Six's lab in the Bioresearch Building on campus are little, the size of Tic Tacs.
The research the University of Montana professor of forest entomology and pathology is doing on the insects is big. In fact, the work coming out of the College of Forestry and Conservation has the potential to affect forests around the world.
Six, chair of the department of ecosystems and conservation sciences, fell in love with beetles and fungi as a child wandering the woods in the chaparral in Southern California. Her college education led her back to her first loves, and recently, her work has attracted national attention and taken a turn in her own mind.
In the West, the mountain pine beetle is a villain, destroying acres and acres of trees. The insects have moved all the way up to the Yukon and the Rockies of British Columbia, and they're making their way across the continent in a sweep that's devastating forests, Six said.
"It isn't until recently that I thought there would be anything good in this," Six said Tuesday at her lab on campus.
In the past couple of years, she developed a new hypothesis related to the effect the beetles are having on forests in the face of climate change. The tiny brown bugs she took a shine to as a child could hold a key that unlocks a genetic code that will help forest managers strengthen the next generation of trees.
"Maybe they're going to be the ones to help our forests adapt to the future," Six said.
Here's the hypothesis that Six and Clare Vergobbi, a junior in ecological restoration, are working under: Beetles can tell the difference between a strong tree and a stressed one, and they are removing trees that are less able to adapt to climate change.
"We think they're going after the ones that are not dealing with current conditions very well," Six said.
Six is working on lodgepole pine, and Vergobbi is working on whitebark pine. They've been taking tree cores and looking at their growth rates in different years under different conditions, such as weather and rainfall.
They're comparing cores from the dead trees the beetles have chosen against ones from survivors.
"You can find these big, beautiful healthy trees scattered here and there," Six said.
They're also extracting DNA from the pine needles and looking for genetic markers. If they can match the story the trees are telling them in its rings to its genetic markers, they can show people how to screen for markers as a way to easily and quickly identify survivors.
The work has the potential to change the way people manage forests.
Now, when beetles hit an area, people have a tendency to clear-cut for salvage, Six said. But downing every tree might be counterproductive if their hypothesis is correct.
"If this happens to be true, that's genetically devastating. You're removing the survivors, and then you're replacing them with trees that are probably genetically the wrong ones," she said.
In doing so, she said, people may be setting back the forest's own ability to adapt to climate change.
"Maybe the beetles, by going through and removing stressed trees, ones that are less adaptive, have left behind those few individuals that are well adapted," Six said.
On Tuesday in the lab, Vergobbi was doing DNA extraction from pine needles ground so fine they looked like pale green dust.
She became interested in the project after taking a class from Six because it speaks to her own goal to help transform restoration efforts in places she loves.
"I really like trees, and I really like subalpine ecosystems, which is where whitebark occurs," Vergobbi said.
She's spent a lot of time backpacking and hiking in whitebark habitat, and she'd like to figure out how to approach restoration from the genetic level and in doing so, streamline the process in general. 
This year, she received a $1,000 research scholarship from the Davidson Honors College to work on the project, and she plans to reapply in the next school year.
"It's not a huge amount, but it's totally helpful, especially for this sort of stuff," Vergobbi said.
The research cost involves labor, travel and gas money, Six said. Now that she has collected preliminary data, Six plans to apply in April for funding from the U.S. Department of Agriculture and the National Science Foundation.
"That would allow us to do it on a much bigger scale, and faster," Six said.
In the meantime, her work is already on the map. Scientists in Africa have asked for her help with beetles killing the Euphorbia tree in South Africa, Zimbabwe and Namibia – imagine a saguaro cactus on steroids, Six said. 
"It's one of their iconic plants down there, and it's dropping dead," she said.
Last year, National Geographic published a story about the pine beetle epidemic that featured a trip with Six to the Big Hole Valley. Earlier this month, Yale Environment 360, a publication of the Yale School of Forestry and Environmental Studies, did an interview with Six for a piece titled "How Science Can Help to Halt the Western Bark Beetle Plague."
Six said she doesn't know how she is landing on the national radar, but she believes research shouldn't just sit on a shelf, and she is making an effort to communicate the work she is doing to the public.
She's on Twitter as @DianaSix1, and she writes blogs and pieces for magazines. Scientists can work 70 hours a week, and many don't want to take the extra time to turn around and talk about their work, but Six said it's important.
"I'd like to see better communication of science to the public," she said.
If she and Vergobbi prove their hypothesis and develop a way to screen trees for survivors, she's hoping forest managers can quickly adopt the method.
"The threats to our forest are so severe right now that we can't wait for the usual 20-year lag for science to get incorporated into management," Six said.
Genetics allow forests and organisms to adapt, and she said now, time is of the essence.
"With climate change, we have to change our practices," Six said. "That's all there is to it. Genetics is going to be one of the biggest parts of that."