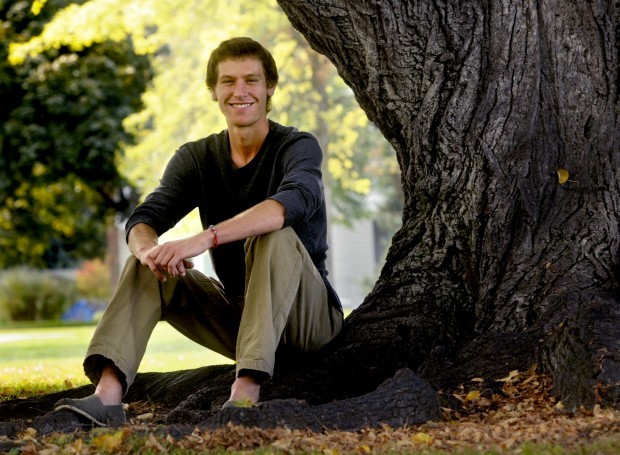 Casey Weinman was sure the message left on his phone by a Cosmopolitan magazine editor last spring was a joke.
The University of Montana senior studying resource conservation was attending a summer class at Lubrecht Experimental Forest when he returned to Missoula and listened to the suspicious message, which said Weinman had been chosen by the women's fashion, beauty and sex advice magazine as Montana's Bachelor of the Year.
"I'm not really a subscriber, surprisingly," the 22-year-old Weinman said. "I didn't hear about (the contest) until Cosmo called me."
The magazine wanted to know if it could fly Weinman to California for a photo shoot and feature him as Montana's "sexy, single guy" online and in the November issue.
Cosmopolitan - which is best known for its sex advice and racy content - runs a yearly bachelor contest and features a picture and short biography on one single guy from each state. Readers then have a chance to vote online for their favorites.
Weinman quickly found out the Cosmo message wasn't a joke; a high school friend had entered him into the contest last winter. A blurb about Weinman on Cosmo's website quotes the friend as saying, "Casey is the most charming guy I know."
Weinman himself still isn't actually sure what qualified him as the magazine's pick, but after a little research on the magazine and its yearly contest, he decided to accept the title.
"It's definitely a little bit weird, but I just viewed it as one of these things, this will never happen again, why not have a little fun with it?" he said.
Weinman flew to California in June for the photo shoot.
"I think the only time I've gotten my photo taken was at the DMV. I didn't really know what was going on," Weinman said. "They put nice clothes on me. ... I had really long hair and they cut a lot of it. Now I have short hair.
"They kind of just told me to be comfortable, I think they knew I was nervous."
Cosmo also had Weinman reveal several tidbits about his dating life. Among them was Weinman's assessment of his biggest relationship fear: "I'm a busy guy, and I sometimes worry I won't have the free time to spend with a woman and be a good boyfriend."
On Monday, Weinman was coy about his actual relationship status, saying it was unfair to readers to reveal that he was anything but single.
In fact, he was sworn to secrecy about everything regarding his selection until Cosmopolitan debuted his picture and profile on its website Monday, when Weinman saw it for the first time.
"It looks like me. I looked really cleaned up in that picture. They want you to look your best," he said.
The print edition featuring the bachelors will hit newsstands later this month. Weinman knows he'll get a fair amount of heckling from his male friends, but it's the female attention he's not sure how to handle.
"I'm not a super outgoing person, and I guess I don't know really what to expect. It's a little overwhelming," he said.
Get local news delivered to your inbox!
Subscribe to our Daily Headlines newsletter.