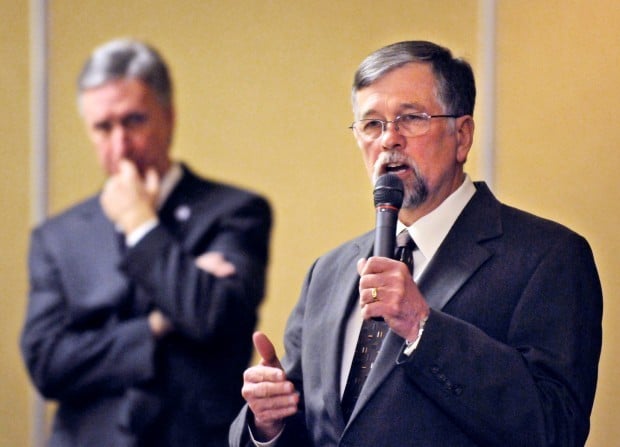 University of Montana Vice President Jim Foley was so upset that an alleged rape victim spoke publicly about UM's handling of her case that he asked whether action could be taken against her under the Student Code of Conduct.
"Is it not a violation of the student code of conduct for the woman to be publicly talking about the process and providing details about the conclusion?" Foley emailed then-Dean of Students Charles Couture in March. "Help me understand please."
The Missoulian obtained the email and others in a joint Freedom of Information Act request with the Wall Street Journal. Couture's response to Foley was not included in the emails released to the newspapers.
Earlier this month, the U.S. Department of Justice announced that the university and its campus police, as well as the Missoula Police Department and the Missoula County Attorney's Office, are the subjects of a first-of-its-kind investigation into how they handle sexual assault allegations.
The emails show university administrators struggling to contain a scandal that grew inexorably from UM's announcement in mid-December that it had hired an outside investigator to look into reports that two female students had been gang-raped by several male students in separate incidents.
The very use of the term gang rape by several media outlets – the university always has described alleged assaults involving one female and several male students as "date rapes" – set off a testy email exchange initiated by Foley to Couture, UM legal counsel David Aronofsky, and Lucy France, UM's director of equal opportunity and affirmative action.
"Can anybody tell me where UM has used the terms gang rape and football players in any public document that the Missoulian would be referencing? Thanks," Foley wrote.
In the only response included in the FOIA information, Couture emailed that he used the term when he accused four UM football players and an accomplice of gang-raping a woman "because that is what it was." And he added, "Jim, as you know, I never spoke to any media person."
Couture, who retired at the end of spring semester, consistently refused to comment on the cases.
Even after that response, though, Foley persisted, "Thanks – so is it in any public document that the Missoulian has access to?"
"Not to my knowledge," Couture replied.
Among other reactions in emails written to and by Foley were:
A demand for an apology from a Missoula police officer who wrote – as a private citizen, on his personal email account – an impassioned email to UM President Royce Engstrom and others, asking them to "stop this spiraling PR mess and take action instead of trying to defend your actions." (See related story.)
A decision to delay releasing UM's final report on the sexual allegations for fear it would coincide with a scheduled hearing on a restraining order filed against Grizzlies quarterback Jordan Johnson, accusing him of sexual assault. "I would prefer to not send this out on that day for the same news cycle the following day," Foley wrote.
When someone emailed Engstrom from the address "ForSoundFacts" likening the situation at UM to last year's sexual abuse scandal at Penn State, Engstrom forwarded the email to Foley. "The irony in his email address is overwhelming," Engstrom wrote, adding that he wouldn't respond because he saw no way to win the argument.
ForSoundFacts wrote: "Contrary to your claim that the University of Montana responded to student rape allegations in a timely manner, it's apparent that you and university officials were remiss in the prompt handling of those serious allegations. I see no difference in how the University of Montana and the recent Penn State crimes were addressed. Simply, to protect the reputation of the university rather than the victims of crime."
A rejection by Engstrom of a suggestion that his President's Perspective column in the Montanan magazine address the issue of sexual assaults involving students. "I don't think I want to write about it in the Montanan," Engstrom replied, and Foley added:
"I would suggest … we should not be sending out challenging info to 96,000 folks, many of whom may not even be aware of what has gone on the last three months. This magazine should generally be used to highlight all the good things going on around UM and its alumni."
A suggestion from Engstrom that UM's original announcement in mid-December that it was investigating allegations of "date rape" on campus begin with a report by StateUniversities.com that UM's Missoula campus was rated the safest in the state. (Nationally, it ranked 240 out of 450 on the list.)
Foley forwarded Engstrom's message to UM senior news editor Cary Shimek, who replied: "I inserted the information Royce recommended at the end in this version. I don't think it works in the lede."
Likewise, in an email exchange about an issue of Transcripts, the online newsletter of the Grizzly Parents Association, registrar Edwin Johnson wrote: "There was a very brief discussion regarding whether there would be value in crafting a message to parents who receive this email publication assuring them that, despite the bad press, we are doing everything we can to protect their daughters/sons."
Lucy France replied that "I seem to recall that it was ultimately decided not to include anything in this next publication."
The emails also contain many references to UM's attempts to schedule training and educational programs for administrators, faculty, staff and students on sexual assault issues. They show that, despite some initial trepidation about the $14,000 fee, the university brought in the national Men Can Stop Rape group for campus forums.
And there's discussion of the American Council on Education Sexual Assault webinar in January. The webinar, titled "Sexual Assault and Crime on Campus: What Higher Education Leaders Need to Know," was sponsored by the National Association of College and University Attorneys.
UM Legal Counsel David Aronofsky urged a number of UM administrators to attend, and Engstrom added that he thought deans and directors should attend, too.
Aronofsky replied that the scheduled room could fit about two dozen people, but added, "My guess is even with deans we'll be lucky to get that many."
Engstrom himself was unable to attend, but his assistant, Rebecca Power, was designated to go in his place.
On the day of the seminar, she emailed Aronofksy: "I'm sorry that I missed this. The day was too crazy for me to get away."
The Missoulian tried to contact university officials for comment on this story. Engstrom is in Australia until Tuesday and Foley's voicemail box was full. He did not respond to request for comment via text or emails to his work and personal accounts.