The University of Montana will cut 201 full-time equivalents – 52 faculty posts and 149 other positions – to meet its budget challenge in the 2016 and 2017 fiscal year, President Royce Engstrom announced Tuesday.
"These steps won't be easy to implement. I get that. Nobody likes downsizing. But we must do so to keep the institution strong and moving forward," he said.
Engstrom made his remarks to an overflowing University Center Theater, with additional chairs set up outside the main hall. He announced the cuts, along with programmatic shifts, as UM continues to struggle to stabilize its flagging enrollment.
After his speech, members of the campus grilled the president on the direction of UM, questioning whether the leadership had a vision for the liberal arts. Some suggested the president must make deeper cuts at the administrative level, and others said UM should have planned more strategically much earlier.
"I have concerns that we're not approaching the problem in a way that is going to accurately reflect the problem," said Allen Szalda-Petree, a professor of psychology.
In his announcement, the president characterized the coming reductions as creating more appropriate staffing levels on campus. He requested parties offer comments on the proposal over the next week to their leaders, such as faculty senators.
UM added positions aggressively in its years of growth, Engstrom said, and the 18-to-1 student-to-faculty target leaves the campus better off than it was prior to the economic downturn.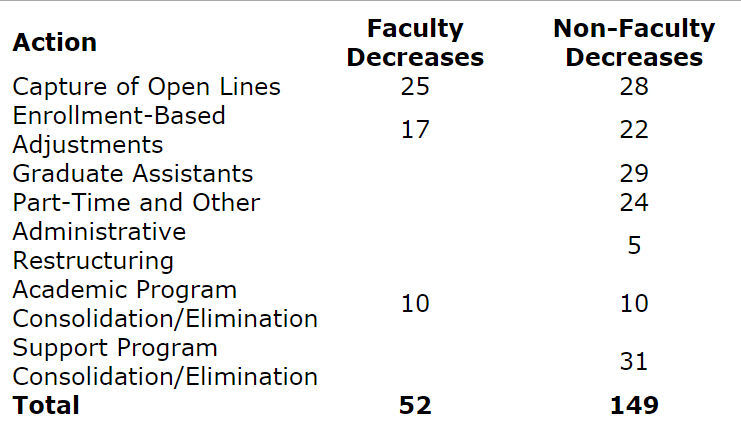 "The total employee number is still significantly larger today than in pre-recession days of similar enrollment," he said.
He also said the ratios are guided by national norms and UM's history from times of stable enrollment.
Prior to the recession, UM counted 11,900 student FTEs, and 1,340 employees, he said.
At its peak, it had 13,917 student FTEs, and 1,748 employees.
The plan for 2017 estimates enrollment at 10,915, and has staffing at 1,455.
Some 25 of the 52 faculty lines to be cut are already open, Engstrom said. (See box.) The academic programs he listed as targets for reductions are the following: journalism, anthropology, English, geography, liberal studies, art, political science, forestry management and several Missoula College programs.
Going forward, the president said UM will focus on bolstering its enrollment in three particular areas in order to respond to consumers. He said it will strengthen health care and human development, data and computational science, and business and entrepreneurship.
"We are proud of our heritage, and at the same time, we must adapt to the expectations of students, parents and citizens," Engstrom said.
In response to the remarks, Mark LoParco said Engstrom offered a similar plan a few years ago to begin "right-sizing" UM, but he backed down after an outcry from some faculty. Instead of implementing major changes, UM resorted to one-time-only cuts and the budget problem exacerbated.
"That brings us to what I consider a very, very, very serious place – now and next year," said LoParco, director of UM Dining Services.
Others criticized the lack of commitment to the liberal arts and noted the flagship in Missoula could not abdicate its role in the humanities to Montana State University in Bozeman.
MSU, for instance, is adding a professor of philosophy, according to one UM professor.
"There is a vision of liberal arts, and you are just destroying it," said Michel Valentin, a UM professor.