The University of Montana will lay off 27 people – and reduce 192 full-time positions in all – on or before June 30, President Royce Engstrom said Friday in a letter to colleagues.
"I ask that you show compassion and support to those colleagues whose positions are eliminated or reduced," Engstrom said in the letter.
The reductions account for $7.5 million of the "at least $12 million in total reductions needed" for the 2017 fiscal year, according to UM.
UM is the largest employer in Missoula. Its budget for the coming year assumes 1,463 full time positions will be in the general fund.
The plan announced Friday cuts 58 faculty full-time equivalent positions and 134 non-faculty jobs, according to a chart posted on the UM budget communications website.
The largest college, the College of Humanities and Sciences, is facing the highest number of reductions, 32.72 FTE, according to the data. The number reflects "open positions that won't be filled, a layoff, hours reduced, or a position moved from general funds to another funding source."
In the last school year, the faculty FTE in the college was 300.82.
Missoula College will drop 10.37 faculty FTE – based on unfilled positions, hour reductions or other changes – from 72.47 in the last school year. It will lose 5.42 non-faculty FTE out of 20.58 positions.
UM vice president for communications Peggy Kuhr said supervisors have been meeting this week with employees whose jobs will be affected and anticipate the announcements will be complete by the middle of next week. UM officials don't believe any layoffs will be take effect before June 30.
In November, Engstrom announced UM would need to cut 201 full-time positions to deal with a continued enrollment decline. He targeted specific programs as "challenged" and in need of reduction: journalism, anthropology, English, geography, liberal studies, art, political science, forestry management and several Missoula College programs.
Some members of the campus community protested the announcement as an attack on the liberal arts, and some questioned the ability of UM's leaders to protect the flagship university. Others also called the administration's methodology into question in identifying "challenged" programs.
Earlier this week, the Montana Board of Regents approved raises for UM leaders, as much as $6,093 for the president. One regent questioned the raises for being classified and presented as "normal" despite a budget situation at that is far from normal at least at UM.
The reductions at UM don't shore up the budget completely, and the administration has discussed the changes as necessary to realign its workforce with its enrollment.
Vice president for finance Michael Reid said UM will review its operations, such as purchasing, travel and other areas, to make up the remaining $4.5 million. UM officials have also planned to reduce scholarships by $2 million over the next two to four years.
In Engstrom's announcement Friday, he spelled out the plan UM is putting in place, and he also pointed out the "important changes" made in response to feedback from faculty, staff, students and community members.
"One was to keep a higher number of graduate assistantships; one was to reinforce the core intellectual capital of our tenure/tenure-track faculty; a third was to uphold the core liberal arts and sciences foundation of the University; and a fourth was to respect the contributions of long-term staff members who might be affected by these changes," Engstrom wrote.
In an email to students, the president said UM will continue to offer the courses students need to graduate: "I expect students overall will see little change since, on a per-student basis, we will have more faculty members than we had in 2004, when we had a similar enrollment level."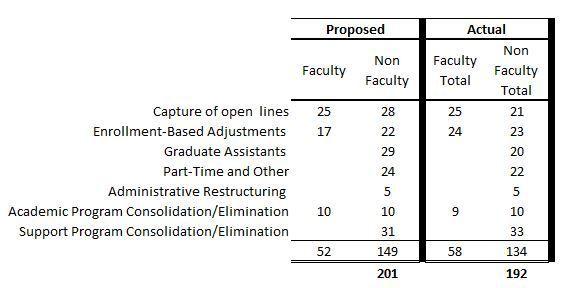 Engstrom pointed out the following as "significant changes" between the proposed and actual budget reductions, saying:
• The total number of FTE reductions is lower – 192 rather than 201. That's because we kept a higher number of graduate assistantships in response to your feedback.
• Of the 192 FTE reductions from the general fund, 46 FTE are from open lines (unfilled positions). Almost 90 FTE are from layoffs, non-renewal of contracts, adjunct pool reductions or resignation/retirements.
• The total number of faculty FTE (to be reduced) is greater than proposed, 58 versus 52. No current tenure/tenure-track faculty members will see their positions eliminated. The numbers reflect capture of open lines and decreases in the adjunct, instructor, and lecturer faculty pools. Many non-tenure-track faculty members will continue to teach on a semester-by-semester basis.
• Our foundation in the liberal arts and sciences is protected. Of particular concern has been the humanities. If you add up the FTE reduction associated with programs in the humanities in the College of Humanities and Sciences, it totals 5.5 out of the 58 faculty FTE.
• Academic program and support program consolidation, reorganization or elimination involved five changes: consolidating International Programs and Foreign Student and Scholar Services; consolidating Academic Enrichment, Civic Engagement, Career Services, and Internship Services; moving Alumni Relations to Integrated Communications; moving the School of Extended and Lifelong Learning entirely to a self-support model; and reorganizing the budgeting and data analysis offices in the Administration and Finance sector.