Is a lawsuit necessary to get a tooth fixed?
Noah Willison thinks so. The EMT has filed a lawsuit against the University of Montana, Athletic Director Kent Haslam, Coach Bobby Hauck, and defensive end Lorenzo Brown. Last November, Brown punched Willison in the face at a party. Brown pleaded guilty to a misdemeanor and agreed to pay restitution. But the slow trickle of small checks isn't keeping up with Willison's medical bills, so now he's suing Brown and the entities he says are responsible for his conduct — Hauck, Haslam and UM — for the full amount. The Griz football team also had a bad week on the field, losing 49-22 to Sacramento State. Both literally and figuratively, ouch.
A lesser-known UM venture, meanwhile, has had quite a bit of success. Last month, the EmPower Place children's learning and activity center, jointly operated by the SpectrUM Discovery Center and the Missoula Food Bank, received an award for collaborative partnership from the national Association of Science and Technology Centers. Now, the Food Bank is adding another service, a medical clinic run by Partnership Health Center. Executive Director Aaron Brock told me that offerings like these help "reduce the stigma by having people walking through our doors all the time for lots of different things."
There's good news back on campus, too. The Alexander Blewett III School of Law has been named the 10th-best value law school in the nation by PreLaw Magazine. It and BYU's J. Reuben Clark Law School are the only two in the West to make the 25-school list.
And the Mansfield Library is having a historical photo caption contest. If you can come up with the best text to accompany black-and-white shots of "a man carrying a deer that he's either put into or taken out of a car; a young girl with a surprised look on her face petting a bear cub; a man grimacing at a lake where he and a woman are wearing swimsuits; and five people in old-fashioned beach attire, with two doing headstands," you could win a $25 Amazon or local business gift card, a 16-by-20 print of the Mansfield Center photo of your choice, and possibly beer at the announcement of the winners at Draught Works brewery Nov. 2.
Contests like these struck a chord for me as a former History major. That degree brought its share of challenges, but they pale in comparison to rabbinical ordination. Congregation Har Shalom's new rabbi, Laurie Franklin, had to master Hebrew, the Talmud, theology and Jewish history as part of her training — and proposed replacing the Middle Eastern plants typically used in one ritual with ones native to western Montana. Har Shalom is busy, too. Two other congregation members, Bert Chessin and Paul Kingsford, have set up a fascinating exhibit about Missoula's Jewish history in the Hammond Arcade.
You have free articles remaining.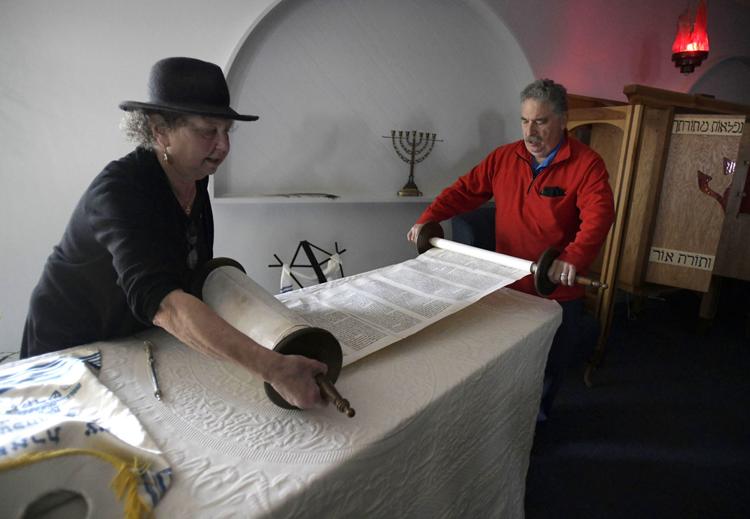 Franklin was ordained last January and installed as Har Shalom's first residential rabbi last weekend.
"It feels pretty cool," she told me. "It feels wonderful and sort of humbling at the same time."
Stay current on the University of Montana and other higher education news in Montana with the Missoulian's weekly email, Under the M. This newsletter will land in your email box mostly on Tuesdays. Got a news tip? Want to hear more about something at UM? Missoula College? The Commissioner's Office? Shoot a note to patrick.reilly@missoulian.com. My colleague Matt Neuman has also started a newsletter on Missoula city and county government, which he entitled "Urban Scrawl" after much debate. Thank you for reading, and please sign up here if you'd like to subscribe.