The Montana Board of Regents designated her a "Regents Professor" for her contributions to scholarship, and Friesen talked with her about her work.
"My parents encouraged me to do anything I wanted, so it was either going to be dinosaurs or early humans, and early humans won out."
I wanted to revisit another piece of news that came out last month, too, and one that will play out early next year. On the same day the regents met in Missoula, Gov. Steve Bullock released his proposed budget, and it includes $5 million for need-based aid, or financial support for students from families with lower incomes.
A planned match with funds from foundations would kick that total up to $10 million.
That's a big deal given the amount that's been allotted to support students that demonstrate financial need in recent years. It's been 1 percent of the $130 million Montana awards in financial aid, including federal Pell grants and scholarships.
But is there an appetite among legislators to support need-based aid? I called Sen. Dick Barrett, an economist and longtime legislator, to get a read. He said it's still pretty early in the game, but he shared the landscape as he sees it for the 2019 Montana Legislature.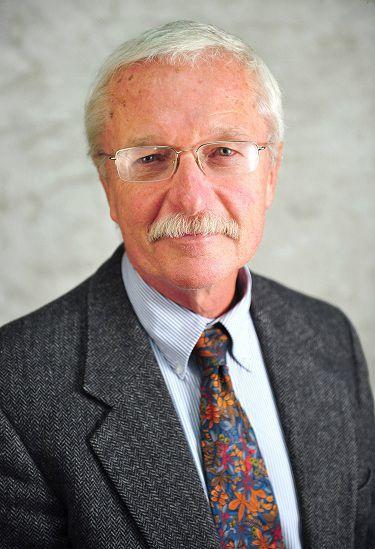 He said the other side of the question is whether there's an appetite for "enhancing revenues." Well, we know Montanans generally aren't keen on tax increases.
At this point, Barrett said the governor made roughly $100 million worth of new tax proposals, and he also wants to pay for Medicaid expansion, early childhood education, and another tuition freeze.
"For many of those initiatives to move forward, it's going to require that the Legislature approve the ... tax proposals that he's included in his budget," Barrett said.
Another factor in 2019? Barrett said the budget needs to include adequate cash reserves for the biennium, especially given concerns about a recession or slowdown in economic growth. 
"It's going to take some money," he said.
She's since resigned, and Missoula Democrats don't usually represent the views of the wider Legislature. We'll see how the debate unfolds.
On the other hand, Montanans generally support higher education, although it's a Californian who recently made the most interesting case for it. See the tweet from the president of Foothill Community College, with a h/t to the Chronicle of Higher Education's Daily Briefing.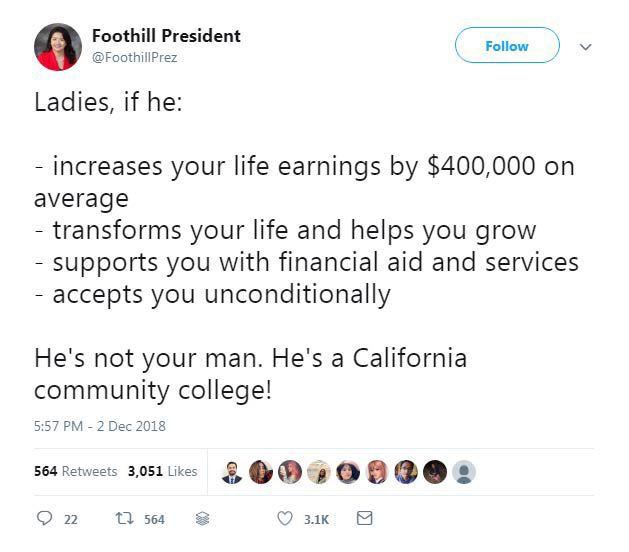 In the story, the former head of the Professional and Technical Communication Department expressed dismay at the news. 
"After nearly 30 years with Montana Tech, it's a shock to read that a program you've given your life for is recommended for termination," said Pat Munday in the story. "It's far worse for newer faculty who signed on with Montana Tech expecting that, if they did their part, they could make a career here.."
In this opinion piece, though, former Commissioner of Higher Education Lawrence Pettit warns people to refrain from "knee jerkism" in evaluating campus cuts:
When I was growing up in Montana, for decades the knee-jerk reaction every time the state faced a budget crisis was to eliminate one of the units of the university system. That was put to rest in the 1970s, thanks to the intervention of U.S. Sen. Mike Mansfield.
The most recent budget news out of UM is that the bosses won't renew the contract of the director of the Montana Museum of Arts and Culture. Instead, Barbara Koostra turns over the reins to faculty member and art historian Rafael Chacon at the end of this month.
"It's so disheartening to receive this kind of thanks for the effort," Koostra said. "It took over two years of effort with a bevy of advocates and wonderful help and then to face this nonrenewal is very — it's hard to believe."
The change will save UM money. Provost Jon Harbor couldn't be reached in time to explain for the story linked above, but he emailed the following today about Chacon's faculty position:
"Prof. Chacon will serve as Director of MMAC and that will cover almost all of his salary, which provides considerable savings for the instructional general fund," Harbor said.
"As a faculty member he will still teach the occasional class, related to the collection and the museum, and be involved in student interaction with the museum. Art's plan does not include a faculty hire, but does include a small increase in adjunct funding related to backfilling teaching needs."
Change isn't easy, but Chacon is well-regarded in the community, and I imagine he will be an enthusiastic steward of the collection and advocate for the museum.
In other news, a former UM employee who accused the campus of gender discrimination is now suing the lawyer who represented her — and the one she fired — for legal malpractice. 
And just for fun, read reporter and historian Kim Briggeman's piece about the "new normal" with an old headline about the president of "Normal College" in Montana. (It was really a thing.)
Headline? "New Normal President Man of Wide Experience." Story here.
Oh, I almost forgot to mention this news. Apparently, Stephen Bannon isn't coming to Missoula after all. Not really a surprise, right?
Thank you for giving the newsletter a pass last week as part of (my) Thanksgiving break.
As you get ready for December festivities, consider a visit to the ceramic studio at UM. I bought at least a couple of pairs of ceramic earrings for friends last year, and they're beautiful, different and affordable.
They're also for a good cause: "Proceeds from the event help fund scholarships, student travel to conferences and wood for kiln firing," said the news release about the event.
The UM Ceramic Artists group of the UM School of Art will hold its 33rd annual Holiday Sale and Art Exhibition Friday through Sunday, Dec. 7-9, in the UM Art Annex. 
All for now. Thank you for reading.
Stay current on the University of Montana and other higher education news in Montana with the Missoulian's weekly email, Under the M. This newsletter will land in your email box on Tuesdays. Got a news tip? Want to hear more about something at UM? Missoula College? The Commissioner's Office? Shoot a note to keila.szpaller@missoulian.com. Thank you for reading, and please sign up here if you'd like to subscribe.