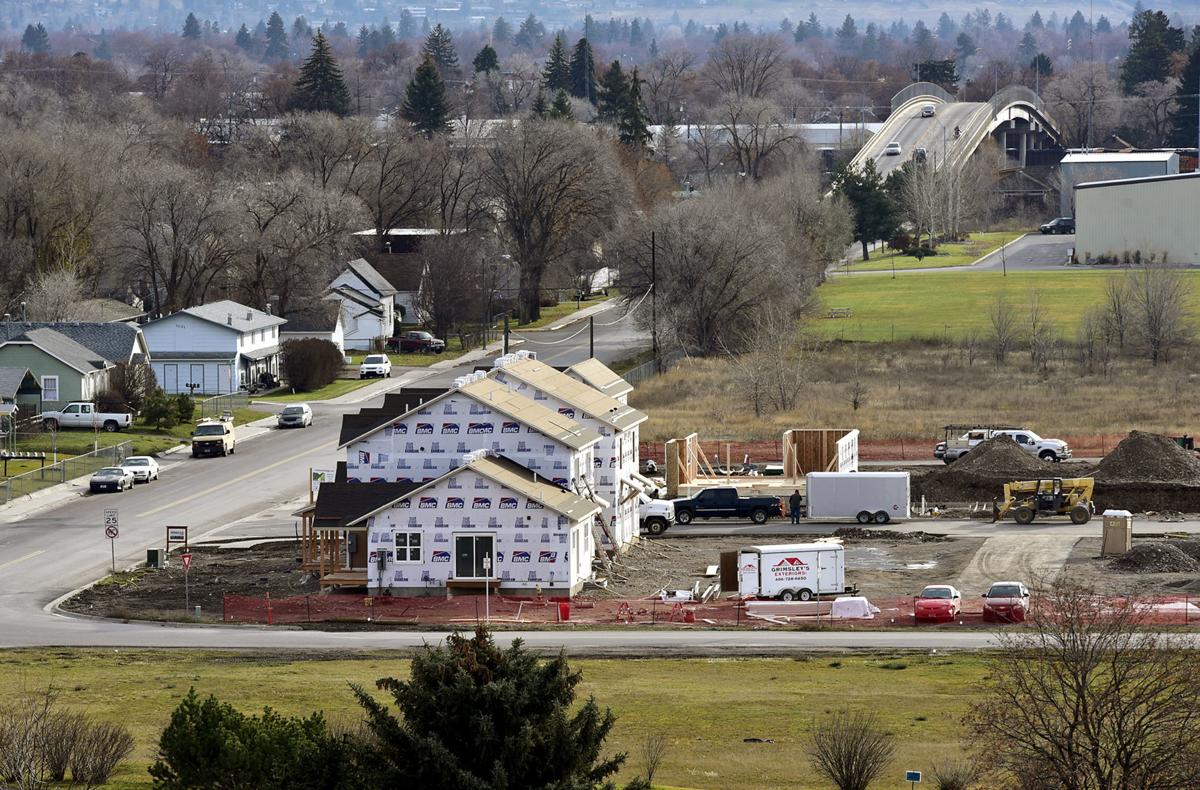 The Missoula Housing Authority is planning to build what looks to be the largest single affordable housing project in Montana history, a roughly $36.5 million, 200-unit apartment complex in the low-income Northside neighborhood.
The two-, three- and four-bedroom units at The Villagio would be priced so that they're affordable to people making at or below 50 percent and 60 percent of the Area Median Income of $70,400 for four people, $63,400 for three people and $56,400 for two people.
Although it wouldn't solve Missoula's housing affordability crisis, a project of that size would make a big difference in a city where home prices have skyrocketed roughly 30 percent since 2010 while wage increases have lagged far behind.
"It's a true family project," said Lori Davidson, the executive director of the Missoula Housing Authority. "As (Mayor John Engen) says, it's really hard to move the needle on filling our affordable housing need. But this project might actually move the needle. This is something the Housing Authority has been working on for years now. It's pretty darned exciting."
A perfect storm of conditions had to align to make a project of this size financially viable, Davidson explained.
"We have some partners who are bringing the land, and the MHA is going to contribute $1 million from selling public housing units a number of years ago," Davidson said. "We are putting 20-24 project-based vouchers on the project. It's a 4 percent tax credit and tax-exempt bond-financed project, primarily."
On April 30, the Montana Board of Housing approved a $25 million bond for the project, and this Wednesday the Missoula City Council's administration and finance committee will debate whether to grant the project $745,000 from the federal HOME Loan program.
The project is in a low-income U.S. Census Tract, meaning the MHA qualifies for 30 percent more tax credits. It's also in the North Reserve/Scott Street Urban Renewal District, so Tax Increment Financing can be used.
"If all those things didn't come together, this project wouldn't happen," Davidson said. "We have willing and cooperative landowners with a piece of land in a qualified census tract, and the city HOME grant is essential to making this work. We're just delighted that (the City Council) is proposing almost the full ask."
The MHA has solicited the services of BlueLine Development and Encompass v2 Architects to start the planning and design process. Davidson isn't sure how many stories the project will be, but wants to incorporate as much green space as possible.
The piece of land is located just to the west of the very north end of Scott Street, just to the south of Interstate 90 and near the Scott Street Villages and a Catholic cemetery.
Davidson said the project will be nearly twice as large as other affordable housing complexes in Missoula, and she's not aware of any larger single affordable housing projects in the state.
"We've been trying as hard as we can over a number of years to increase that stock, but generally we're looking at a 9 percent tax credit," she said. "With that, you can only build a maximum of 40 units if you're lucky. So we've finally had this synergy where everything came together and the stars aligned to make it work. The funding sources are falling into place."
She said 200 was the minimum number of units they needed to make the financing work.
"There will undoubtedly be issues that need to be resolved, but we'll hopefully get past that," she said.
Previously, the largest affordable housing complex in Missoula was just over 104 units. Kevin Hager, the executive director of the Great Falls Housing Authority, said the second phase of the low-income Parkdale public housing project has 200 apartment units, but many of those are one-bedrooms, meaning the Missoula Villagio will actually have more occupants and will most likely be physically larger.
Patti Webster, the executive director of the Housing Authority of Billings, also said she's not aware of any single affordable housing projects as large as 200 units all with multiple bedrooms in Montana.
"Certainly not in Billings or Bozeman," she said. "We are just finishing up a 30-unit project, and that was several million dollars. But Missoula needs it for sure. And I really feel like if Lori Davidson is doing it, it's going to be a quality project. I've known her for a long time and they do quality work. I have complete faith that it will be done with the upmost ethical standards and quality, no question about that."
Davidson said that the project will have six four-bedroom apartments, which have been in higher demand in recent years. There will be no one-bedroom apartments. Most of the units will be for people making 60 percent or less of the area median income, and 24 of the units will be for people making less than 50 percent of the area median income.
According to the Montana Board of Housing, 60 percent of the area median income in Missoula is $42,420 for a family of four, $38,040 for a family of three or $33,840 for a family of two.
Current projections estimate rents will be between $766 and $959, but those numbers are just estimates at this point and will likely change, according to Davidson. Renters are responsible for gas and electric bills, but water, sewer and garbage are included in the rent.
She said the landowners are willing to be paid back by revenues from the project over a period of many years rather than demanding the money up front.
According to Will Sebern, the City of Missoula's former grants administrator, approximately 230 units of existing affordable housing in Missoula have been preserved through acquisition or rehabilitation in roughly the last two years. That includes a 96-unit complex that the MHA purchased last year for $8.2 million. In that same time, 35 new units of affordable housing have been developed through new construction or rehabilitation.
Meanwhile, Missoula has the highest percentage of people, 32 percent, who spend more than 30 percent of their income on their mortgage than any other city in the state, according to University of Montana economist Bryce Ward. The ratio of median home prices to median household income in Missoula is 5.81, higher than some of the nation's most unaffordable cities like Portland, Oregon, Miami, Seattle and Denver.
"We're super excited," Davidson said. "We hope we're able to make it work. The hard work is yet to come."
A recent study found that Montana's poor are more cost-burdened by housing costs than other income groups, and Missoula is slowly losing its most affordable option: trailer parks.
The Missoula Housing Authority operates several housing projects, including the Palace Apartments, the Garden District Apartments, the Russell Square Apartments, the 104-unit Parkside Village, the 96-unit Wildflower Apartments, the River Ridge Apartments for people over 55 and the Silvertip Apartments.