Aaron Johnston signed up for a pharmacy class on the opioid epidemic at the University of Montana without high expectations.
But the weekly lectures are undercutting his preconceived ideas about opioids and giving him an intimate view of the painkillers' effects on patients and society.
"It's been a learning from the inside out," said Johnston, of Darby.
In addition to lectures from pharmacists, the students have heard from a neuroscientist, a recovering addict, a police detective, and even a medical examiner who spoke about the effects of opioids on dead bodies.
"I wish every single one of my P1 pharmacy students were in there with me," Johnston said of his first-year peers.
The course is called Recent Advances in Clinical Medicine: Interdisciplinary Approach to Address the Opioid Epidemic.
Faculty member Kim Madson, in the Department of Pharmacy Practice, holds the lecture series every year, and subjects vary.
This year, she wanted a topic that touched many different disciplines and could take the future pharmacists beyond the pharmacy "bubble," beyond the lens of the drug.
"I think they're starting to see how they can interact with different professionals at a different level," Madson said.
The course attracted more than double the number of participants who typically attend, and it's bringing in students from not only pharmacy, but from social work and law.
It's pulling together expertise from multiple disciplines to help create a new generation of pharmacists, professionals who see the human and societal impact of their handiwork.
"This is one of the single most unbelievably important things that has been done to bring awareness to addiction and addicts," said Levi Bessette, one of the course lecturers and a recovering addict. "Every topic has been covered."
Faculty member Rich Bridges gave the opening lecture in the series with neuroscience as the topic, an area of study thriving at UM and linchpin for a significant grant recently awarded to the flagship. 
Earlier this year, UM announced it had received $300,000 from the W.M. Keck Foundation to develop courses that focus on neuroscience, and braid together the liberal arts and humanities with education and biomedical sciences.
It's an approach similar to Madson's series on the opioid epidemic and one UM President Seth Bodnar said will be a model for the institution aiming to pair its strengths in arts and science.
"This is exactly at the heart of what we believe should define an education at the University of Montana," Bodnar said.
Various viewpoints
Madson, who received her doctorate in pharmacy from UM, said she wanted her students to see the opioid crisis from different viewpoints.
"I wanted them to understand this problem from a non-pharmacy perspective," Madson said.
She lined up 14 speakers for the semester, just two of them pharmacists. The lineup includes the chief medical officer for Montana, an inspector for the Montana Board of Pharmacy, an Indian Health Services professional from Crow Agency, and others. (Montana Attorney General Tim Fox was initially on the schedule but had to cancel.)
Bridges, in the Department of Biomedical and Pharmaceutical Sciences, gave the first two lectures on the neuroscience of addiction. "I really talked about how opiates in particular essentially hijack the central nervous system so that it reprioritizes everything you think about, and it rewires the brain."
He said Madson's format is unusual. "Neuroscience plays a fundamental role, but very rarely has the science of addiction been brought together with more of the social aspects or the health care aspects of addiction."
After Bridges discussed the neuroscience of addiction, Bessette shared his firsthand experience with opioids in a personification of the faculty member's lecture. Bessette described the horror of withdrawal, and he told the students drug users aren't junkies but human beings, mothers and daughters trying to get well.
"You could have heard a pin drop. They paid attention, and they wanted to talk," Bessette said.
In past years, Madson said she was lucky to attract 30 students to the one-credit course. This semester, the series on the opioid epidemic attracted 90 people, some 70 students plus faculty and other participants, and she had to move the class to a bigger room.
She wants the pharmacy students to learn to approach all patients with dignity. She also wants them to come to the profession with a richer understanding of how to not only work together with other professionals, but how to learn together.
"We're all on the same team, and I think they see that, and I think it can be applied to other disease states," Madson said.
Dispelling myths
Earlier this month, Marc Mentel talked to the class about treatment for opioid use in a lecture that hit on the stigma of drug abuse, scope of the crisis, new medical developments, and even his hope for the future pharmacists.
"I want to dispel some myths and have a more focused medical approach to substance use disorder," Mentel said.
Mentel, a faculty member with the UM Family Medicine Residency of Western Montana, told them he wants to move away from the terms "addiction" and "addict," words he said conjure images of people strung out on the street or involved in criminal activity.
"Actually, most of the people who suffer from substance use disorder look no different than you and I," Mentel said.
If society is like a forest, he said people are like individual trees. Most of the time, trees are resilient, and they'll resist stresses like the flash of a match, but in the summer, when it's dry, they're more vulnerable and might burst into flames.
"There's points where we're all volatile in our life," Mentel said.
In those susceptible times, a stressed-out person exposed to a chemical finds the relief and comfort their body is seeking, and continues to use.
"They're trying to find ways to feel better. That's all they're trying to do. That's all substance use disorder is," Mentel said.
As he closed his lecture, Mentel told the students they will play a key role in removing the guilt and shame around the problem, and approaching it as the medical condition it is.
"I'm hoping as you guys go out (into the field) you will be very empathetic to these individuals and realize they have a medical condition," Mentel said.
Increasing empathy
Shelby Koppany, a third-year pharmacy student, said the course is different than other classes in her program, and it will make her and other pharmacists more empathetic.
Students hear from many pharmacists and biomedical professionals in their program, but Koppany said this class has exposed the students to community members and other health care workers who work directly in the opioid crisis.
"It's been really important to hear from a lot of different people and hear what they believe we could do better and what they're doing in the community already," Koppany said.
She said she especially appreciated the way Mentel drew comparisons between an addict and a diabetic. She said health care professionals have accepted diabetes as a disease, and focus on treatment options for patients without passing judgment on them; she believes the same idea would be helpful when applied to patients with substance use disorder. 
"I think with that education and training, that's where that empathy comes from," Koppany said.
She believes the deep understanding she and her colleagues are gaining will help them be more respectful pharmacists who feel comfortable talking with patients about substance use. She said she's encouraged about the way her generation of professionals will approach the topic.
"It's really exciting to me. I'm just really hopeful for the field of pharmacy," Koppany said.
Using the grant
The money from the Keck Foundation isn't the largest award UM has received by far, but grants are competitive and the nod from that organization is noteworthy.
Established in Los Angeles, the foundation has a mission to "generate far-reaching benefits for humanity." It supports projects that are "novel in their approach" and take on questions that "push the edge of the field."
Bridges said UM students will address some of the major challenges affecting society, such as addiction and Alzheimer's. "How are we going to care for all these people?" 
Madson's course is "a great example" of what evolves out of broad thinking and blended expertise to address a relevant topic, he said. Quickly growing at UM, neuroscience provides the foundation for other answers, too, he said, the molecular and cellular underpinning.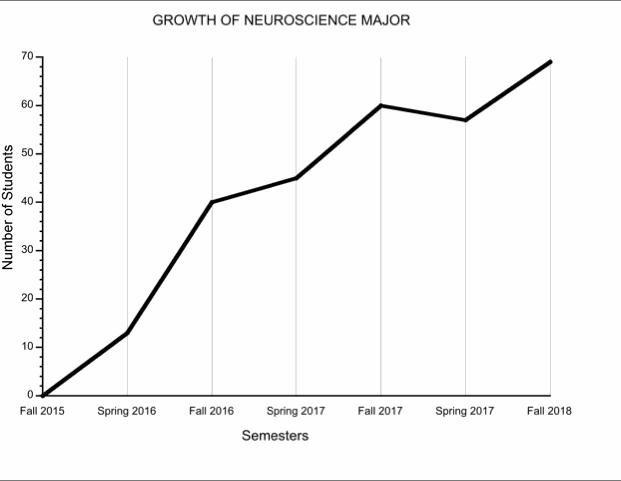 With the grant, UM will develop new courses that blend neuroscience with disciplines such as philosophy and ethics. In doing so, the flagship aims to create what President Bodnar describes as a "tomorrow-proof education."
UM anticipates the project will benefit 1,000 students in its first three years and create a blueprint for other multidisciplinary partnerships. If the results mirror the high interest in Madson's series and its mind-opening experience for students, society should be well-served.
"I think that's what can really make this campus distinct," Bridges said.
* This story has been updated to clarify the perspective of pharmacy student Shelby Koppany on the comparison between diabetes and the opioid crisis.