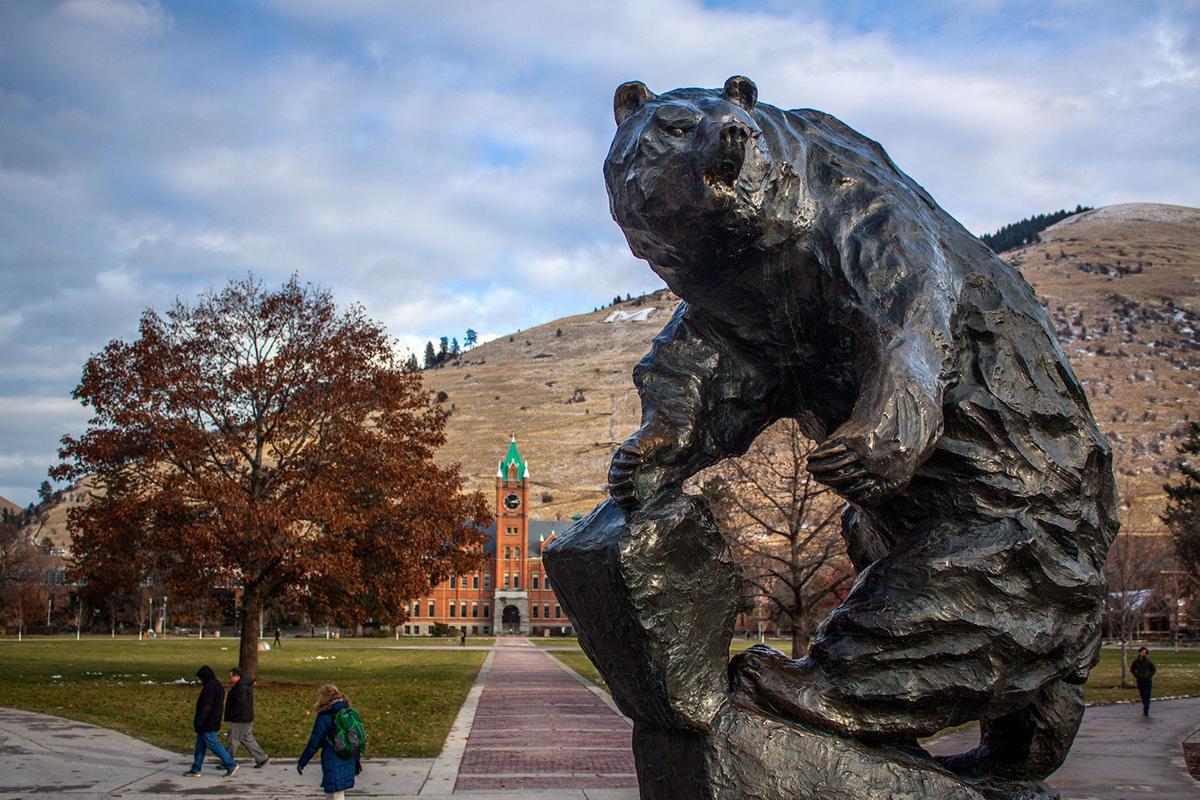 The University of Montana's enrollment dipped again, though with improvement in retention, as well as continued growth reported in the graduate and law schools, spring enrollment reports show.
The total headcount of students, including all levels of students on the main campus, as well as at Missoula College, now sits at 10,247.
The present overall number is now smaller than UM's undergraduate enrollment peak in Fall 2010, according to that semester's census day report, when it counted 10,891 undergrads. As of the census report released Tuesday, the number of undergraduate students nearly halved, dropping 47% to 5,789.
Paula Short, UM's spokesperson, said the university was focused less on enrolling a specific number of students, but more on having enough students to cover the costs of providing a high quality education.
"There's not been a stated target of where we eventually want to go, but I think our near-term focus is stabilizing the institution financially and growing enrollment, and those are certainly linked," Short said. "We have room to serve more students, but we're more focused on how we deliver the best education, best serve our students and have the revenue to be able to do all the things we want to do to deliver a quality UM education."
University officials noted a few bright spots in the data, which show freshmen who started this fall have continued on to the spring semester at the highest rate since 2016, with 89.4% of freshmen re-enrolling for spring.
In a press release, UM's enrollment and communications vice president, Cathy Cole, noted that the overall fall-to-spring drop this year was a smaller drop than last year's by a small amount, but with significant improvements over previous years.
"Last year, we had 3.0% fewer students in spring than fall; this year it's 2.3%," Cole wrote in the press release. "That may seem like a small change, but when you consider we were down 8.2% in 2018, 6.9% in 2017 and 9.1% in 2016, we are clearly moving in a very positive direction. This data affirms progress in our strategy of making incremental improvements in rebuilding enrollment."
Retention, in addition to new enrollment, has been a focus of UM officials since President Seth Bodnar rearranged the top levels of university administration, moving retention and student success out of the enrollment shop, and under the blanket of academic affairs.
You have free articles remaining.
The financial aid office has recently seen a hiring blitz, and Provost Jon Harbor said the addition of dedicated academic advisers and an improved new student orientation program likely contributed to the retention improvements.
"This encouraging retention data for spring suggests that we are on track to see increased retention of first-year students to their sophomore year and beyond," Harbor said in a press release.
Undergraduates have been hit the hardest since enrollment began falling nearly a decade ago, with the Chronicle of Higher Education reporting last semester that UM has lost more undergrads than any other public flagship in the country this decade.
UM's finance vice president, Paul Lasiter, said the current enrollment numbers track with how UM budgeted, and that he expected it to only improve, with 60 more students registering since the official census day last week.
Montana State University in Bozeman, UM's football rival and the state university system's largest campus, has seen near-opposite enrollment trends, though officials there said spring enrollment numbers for that campus won't be available until next week.
According to data on the Montana University System's online enrollment dashboards, while MSU hauled in out-of-state students, UM bled in-state students.
Between Fall 2013 and Fall 2019, MSU saw a 28% jump in out-of-state students, who bring in considerably more tuition revenue than in-state students. At the same time, UM's out-of-state enrollment fell just over 12%. And while MSU's in-state students fell slightly, UM's dropped by more than 30%.
Declining numbers of high school graduates likely contributed to the drop in both MSU and UM's in-state students, though it doesn't explain why Montana students have fled UM at a far higher rate.
Graduate students and the law school both continued a multi-year growth trend, rising 3.3% and 5.9% respectively since last spring.