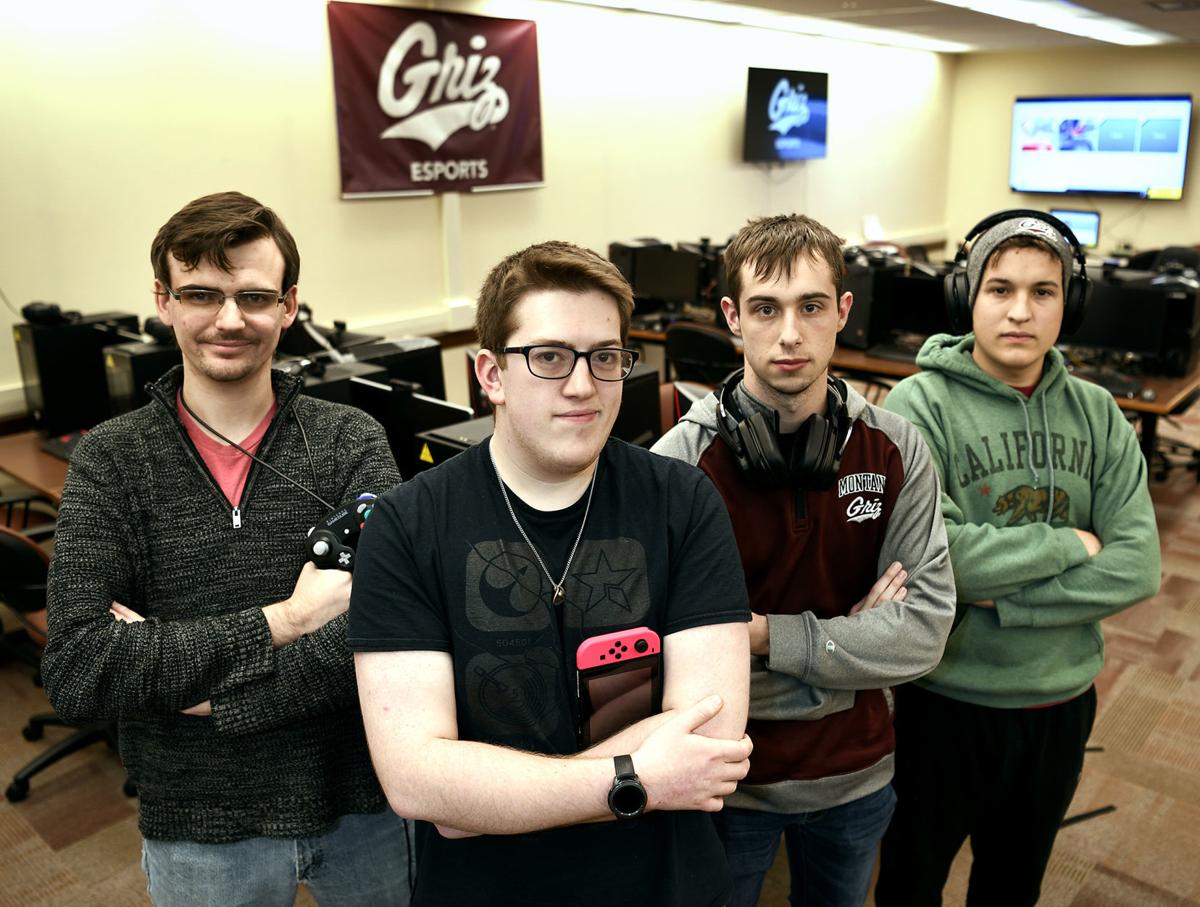 Headset-clad University of Montana students navigated through virtual game worlds to the sound of rapid-fire clicks and clacks of fingers typing in a small room of computers on the lowest level of the Mansfield Library.
The new Grizzly Esports team may train in a basement, but they're hoping to break video gaming stereotypes and bring their sport to a larger audience on campus.
Brooklyn Van Bebber, a sophomore studying communications who is also on the UM golf team, said playing video games has been an ongoing passion for her, so she signed up as soon as she saw the table advertising the esports team during Club Rush on campus.
"I had no idea it was a thing here," Van Bebber said.
Official video gaming teams are trending at universities across the U.S., and the UM team will make its debut at an exhibition tournament on Sunday at the Innovation Factory. UM President Seth Bodnar, Provost Jon Harbor, Monty and several student athletes from the football, basketball and soccer teams will compete in Super Smash Brothers to get a taste of what the team is about and what future competitions might look like (see box).
Yes, the activity is considered a sport on campus, with a student conduct code and GPA standards for athletes. Van Bebber said the team has been flexible about schedules, but players are serious, analyzing each other's moves and tactics during training and seeing how they can improve.
"It operates very much like a normal team, which is cool because not many people view it as a sport," she said. "But it totally is."
Made official this past fall, the Grizzly Esports team came out of a student group on campus called the Gaming Den, and it has been growing ever since. The team was first advertised to students at the Welcome Feast this fall, and UM Esports Director Michael Cassens said he thought 20 people might join the team.
Instead, 60 signed up on the first day.
"That was really our first indicator that maybe this was going to go somewhere," Cassens said.
To date, 90 are on board, 60 regularly compete, and the medley of 22 different majors represented is a reflection of what Cassens said is their main tenet: Inclusion and diversity.
"Any player that walks through the door, they're a part of this new community. We treat it as a family. We treat it as a place where anybody can come and be supported," Cassens said.
Forming a community
One stereotype the group is trying to break is that gamers just want to be in their dorm room or in their apartment, and they don't want to interact with anybody else, Cassens said. In fact, a social and academic community is forming among team members.
"So we say, 'No we actually want you to be together so you're going to be on this team, you have to come to the training room and train together, and be with one another and change that perception and change that conversation,'" he said. "And they realized just how much they enjoy being around each other."
Ryan Cote, a senior team member who was part of the original Gaming Den group, echoed that sentiment.
"If I wasn't there, I'd just be at home playing video games anyways," said Cote, an environmental studies major.
Nikita Ware, a junior studying criminology and an exchange student from Australia, said she's been playing video games for years, and joining the team has given her a home away from home, thousands of miles from her own.
"Being in a different country, they've really just been my family," she said.
Ware said while she's made friends and improved her gaming skills, she's also found it's helped her academically. "Being down there with my friends, people I know, it's a better kind of environment for me to study in."
She likes to play a slower game on the side while she's doing her homework at the library's training center, and she's not alone.
"I have people who can help me study, and I can ask people questions," said team member Sam Milyko, a junior studying forensic anthropology. He said just this week he was struggling in a social psychology class, and a friend in the esports program was able to help him prepare for a test.
Rules and regulations
The team is fully aware that some people may not see gaming as a sport, but that's another stereotype they're trying to break.
Despite being a no-cut team, tryouts are held for varsity and junior varsity levels for each of the five games played: League of Legends, Overwatch, Apex Legends, Rocket League and Super Smash Brothers. The competitions are scheduled and set up by the game developers themselves.
Cassens said the games the team plays are mostly non-violent, and that's part of the reason they chose them.
"There is no evidence to show that there's any direct relationship between violent video games and real life violence," he said. "However, because of public perception, we really want it to be something where our program is much more than that. We want to make sure that our games are something that are fun and competitive, but we don't have to have that conversation."
NCAA does not have guidelines for esports teams, so they instead operate under a governing body called the National Association of Collegiate Esports. The entity includes around 170 schools with esports teams across the country, according to their website.
"They have bylaws and a constitution and all of the rules, which we follow," Cassens said.
In collaboration with the Athletic Department and UM's legal team, a student code of conduct for the team was also drafted.
Maintaining their grades is not only encouraged on the team, but is required. And the members go through grade checks, just like any other student athletes. They are also limited to training 20 hours a week.
Arts faculty member Brad Allen, who doesn't play video games himself but has been working with the new team on a space, said as he's become involved with esports, his curiosity and appreciation for it has grown.
"What I've come to understand about gaming is you are sadly mistaken if you think it's not a sport," Allen said. "It has every marker of skill and preparation and competition that you would find in any other sport."
University support
Cassens was hired by the School of Media Arts in January and had proposed starting a varsity level esports team on campus during his interview. After talking to members of the Gaming Den, Cassens realized the demand was there and started reaching out for institutional support.
The School of Media Arts set aside an initial chunk of money to help purchase some computers, and the library offered what is now the team's training center. An anonymous donation also helped them get going.
Provost Jon Harbor said the esports team ties directly into new learning and research opportunities that are being developed at the university, including a concentration in game design and interactive media that Cassens has proposed.
"This is a high demand area of study," Harbor said. "We're both responding to student demand and interest, but in an area that overlaps with student opportunities."
He said the concentration can lead students to high-growth and high-paying positions in the workforce, adding the skills can be used for jobs involving things like flight simulation or drone operation.
Cassens said one of their goals is to have the esports team be an academic supplement to what students are already majoring in.
"We're trying to create pathways for these students to get real world experience working with a team," he said. "We say, alright you're going to compete and you're going to compete hard, but what we're really interested in is you being good communicators, good teammates and good leaders."
Cassens is also setting up internship credit for students involved with the program. Harbor said he hopes the esports team and game design concentration might spur student recruitment by local tech companies in Missoula who need interns.
Milyko is one of the broadcasters for the team, acting as the play-by-play caller for the competitions. Next semester, he's hoping he will able to get internship credit for the work.
"Being able to say, 'Hey, I'm not just going to college, but I'm going to college and I'm part of this team and I'm doing this internship with them' is really great," Milyko said.
Future of the team
The team has streamed some of its competitions online, but it has yet to play in front of a live crowd. They'll get their chance on Sunday at the Innovation Factory, which is also the future home of the team's competitive gaming arena.
Cassens is working with Innovation Factory co-directors Allen and Elizabeth Dove to plan the arena. A group of Innovation Factory interns, or "IFterns," has been studying different manifestations of gaming arenas at schools across the country to create a design for UM's version.
"The team right now is neck deep in research and examples, and they're starting to 3D model the space," Allen said. "So it's all measured out and in the proposal phase at this time."
The arena will involve a large screen or series of tiled screens as a backdrop that will project outward to an audience likely sitting in bleachers. There will also be a stage where players will compete. There's been talk of two-way cameras so the audience can see what's going on in the video game, but also see the player's face.
They're hoping they can design fold-away bleachers and set up the screens so they can be used for educational purposes as well.
"We have to be resourceful, so we're asking, 'how could that space transform into something else?'" Allen said.
The design process for the gaming arena will likely last at least through winter break, and Allen is hopeful work will be well underway and the space will be operational in the spring.
"That would certainly suit the esports teams' needs. They need a place to play as soon as possible," he said.
For now, you can find them in the basement of the library, clicking away, playing games and having fun with their new-found family at UM.
"We're all connected by this common thread of just playing games regardless of what the game is," Cassens said. "They all create connection, and so if we can create those connections, I think that that's a powerful thing."
The new University of Montana Grizzly Esports team is hoping to break video gaming stereotypes and bring their sport to a larger audience on campus.