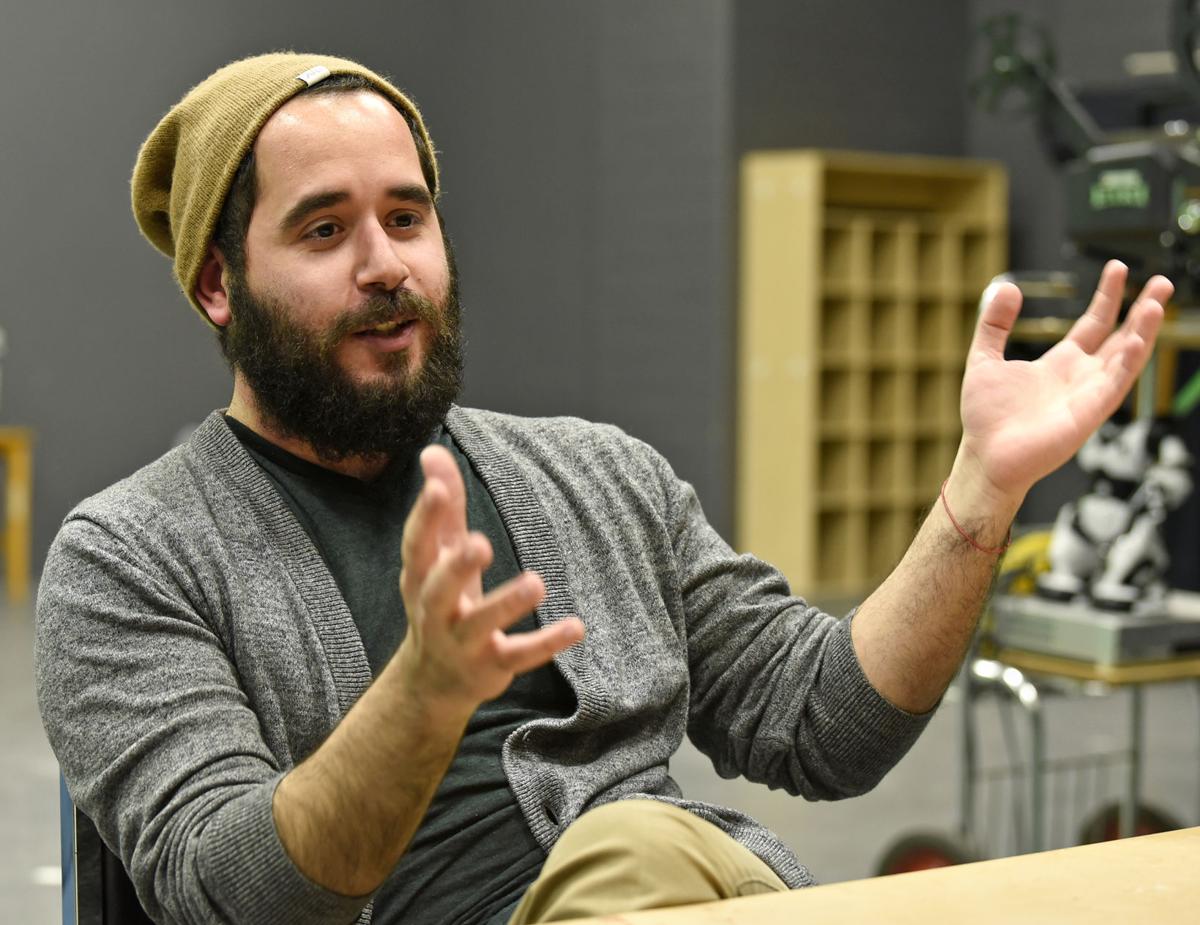 Saif Alsaegh is a Montanan, through and through.
He has the Patagonia jacket and Chacos. He loves craft beer. He has a beard — because "everyone in Montana has a beard."
Alsaegh, 26, is a second-year MFA student in University of Montana's Media Arts program. He grew up in Baghdad, and came to America on a full ride to the University of Great Falls several years ago. There, he got his business degree and after graduation decided to do what he truly loved: art.
"One of my goals as an artist here in the U.S. is to connect people to each other, to find common ground where we can share our humanity in peace," he said.
He published a collection of poetry, "Iraqi Headaches," in 2013. His work has been featured in other publications over the years.
Six years after moving to the States, he misses Montana when he leaves. On a trip to Nashville, he had to watch "A River Runs Through It" to cure his homesickness.
"I don't have that feeling for Iraq," he said. "Iraq is associated with pain. Montana is associated with beauty."
Now, he worries what could happen if he chooses to travel abroad.
Next month, his and his brother Fady's experimental film "Alazeef" premieres at the Cinéma du Réel documentary film festival at the Pompidou Center and other venues in Paris, "probably the biggest screening we've had so far."
The film focuses on an Iraqi soldier in the week before Desert Storm in 1991. They use striking imagery and a variety of music — Swedish, Iraqi, French, heavy metal — to guide the story. 
"We try to bridge the East and West," he said. "We want to separate the governments from the people.
"One of the main points of the film is to humanize 'the other,' in this case, Americans."
Early on in Alsaegh's UM academic career, faculty suggested he work closely with assistant professor of media arts Talena Sanders as his work leaned experimental.
"There's a long history of a relationship with poetry and experimental films," Sanders said. "In a lot of ways, his poetry background rolls over into how he works on film."
Alsaegh and Fady work on their films over the phone and Skype, taking the time difference into account because Fady lives in Turkey. Fady sent Alsaegh a W.B. Yeats poem, "An Irish Airman Foresees His Death," that stuck with Alsaegh, as it humanizes that soldier in the same way the Alsaegh brothers bring humanity to their Iraqi soldier.
Part of the poem reads, "Those that I fight I do not hate; those that I guard I do not love."
But Alsaegh is no longer going to the festival.
"I don't want to leave in case something happens and I can't come back," he said, referring to the recent travel ban ordered by President Donald Trump. The ban included Iraq, Iran, Libya, Somalia, Sudan, Syria and Yemen.
Although last week the 9th Circuit Court of Appeals upheld a lower court's halt to the travel ban, there's still too much uncertainty, Alsaegh said.
"When his film was accepted to Cinéma du Réel, we talked about if he could go and what that would mean, because even before Trump took office, his status as an asylum seeker still made it very uncertain whether or not he could travel," Sanders said.
She sought advice from immigration lawyers, who said it was risky. Sanders and Alsaegh still thought they could make it work — and then the travel ban came down.
You have free articles remaining.
"We couldn't risk him getting trapped in France," Sanders said. "It's very unfortunate because this is a big festival in our field and it's going to be a big premiere for his film, and a big opportunity for him to meet other filmmakers and curators. He misses out on that opportunity as a result of these restrictions."
It's a feeling that reminds Alsaegh of Iraq.
"Because of the policies of the new administration, we're back to feeling uncertain again," he said. "We come to escape the uncertainty of death, the safety that we don't have.
"Everything is condensed and surreal in Iraq. There's the routine of war. That's harder than the war itself. It's not the bombs, it's the routine of uncertainty of will I live or not, will I come back home."
"Nobody flees (expletive) situations in Iraq and other countries to restart that here," he said. "There's no refugee or immigrant that has the energy to start (expletive) here. They're fleeing.
"I think in general, Americans are smarter than this."
It's been too long since Alsaegh has seen his family. His brother, sister-in-law, mother and aunt now live in Turkey. They're trying to come to America, but they continue facing delays.
Alsaegh's father died a couple of months ago, and he wasn't able to be with his family. They used Skype so he could be there, in some way, for the Catholic Mass.
Alsaegh was told that his story would be better received by Americans because he's Christian and "westernized."
"That's sad, but it's fine," he said.
Alsaegh grew up watching American troops roll down the streets of Baghdad, but "I never hated Americans."
"My friends and I back home, we all liked America growing up, even if we didn't necessarily like (George W.) Bush," he said. "We watched 'Friends,' 'Seinfeld,' 'Titanic.'"
The irony played out on their TVs. Saddam Hussein would give a speech against America, and the next program on TV would be a Hollywood movie.
"He's doing a dance all the time in his work of navigating this tension between the longing for home and the memories of home, and the relative security of his life in the U.S. and the freedom he has to make work that can be critical or experimental," Sanders said.
Alsaegh is now working with Humanities Montana as a speaker, heading to schools, universities and bookstores to screen his films, read his poetry and tell his life experiences.
"I'll share my art, which reflects who I am," he said. "I want to promote peace and communication. If we isolate Iraqis and people from other countries, distance turns into ambiguity and ambiguity turns into hate."
He's thankful for UM, as administration, faculty and students have all voiced their opposition to the travel ban.
"I think they're on the right side of this whole issue," he said.
Someday, Alsaegh would like to own a cabin in western Montana where he can focus solely on his art.
"Eventually I just want to be left alone to make art," he said.