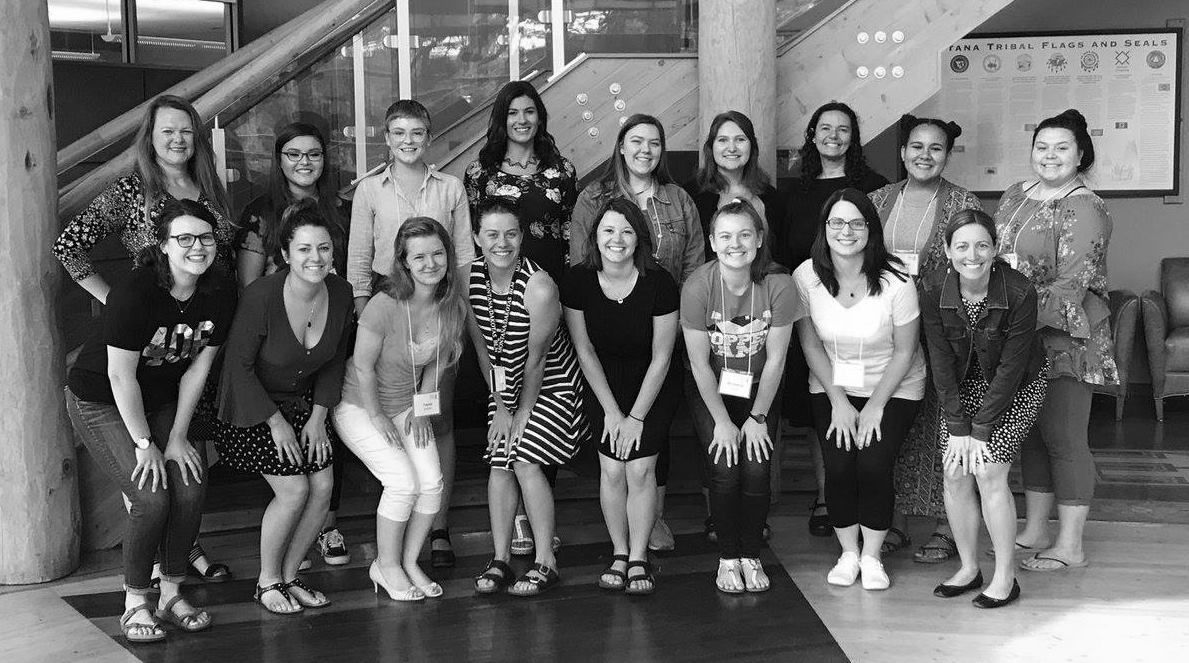 Wozek Chandler is so shy and quiet, one of her high school teachers thought for awhile she was deaf.
Now, the Fort Belknap woman who used to be intimidated by politics is considering a run for office.
"I am passionate about Native American issues, and having Native American women in politics is important," said Chandler, a member of the Gros Ventre tribe and Montana State University–Bozeman student.
Taylor Etzwiler grew up in a Republican and Christian home in Fairfield where she was taught women should be submissive. Now, she believes she can be a conservative woman of faith and a leader at the same time.
"It's something I'm going to have to battle when I go back home, but it's definitely worth the fight," said Etzwiler, of MSU–Northern.
Thursday, these women were among a cohort of 16 who completed the second annual Montana NEW Leadership Institute hosted by the University of Montana Maureen and Mike Mansfield Center.
Part of the national NEW Leadership program developed by the Center for American Women and Politics at Rutgers University, the bipartisan initiative emboldened the women and offered them a network. It is fanning the civic and political ambition of the next generation's women leaders during the same week women marked achievements at the ballot box both in Montana and across the country.
Rep. Kim Dudik, one of the program leaders, said the success of women in recent elections shows that everyone — men and women — wants more equality in representation. She said the program is a pipeline to the young women who want to make a difference.
"Society has decided it's time to have more equality, and more of that will be served by this program," said Dudik, who herself won in a primary election Tuesday and has been representing Missoula for six years.
Free to the women who participate, the institute costs roughly $40,000 to produce and spans five days. The leaders raise funds for the program.
Wednesday, the group spent time at the Capitol in Helena meeting Elsie Arntzen, former legislator and superintendent of the Office of Public Instruction. They walked through the process of how a bill gets passed, and took pictures in front of the statue of Jeannette Rankin, a member of the U.S. House of Representatives and the first woman to serve in Congress.
This week, candidate Kathleen Williams won the Democratic U.S. House primary. If she beats Republican incumbent Rep. Greg Gianforte in the fall, she'll be Montana's first congresswoman since Rankin, who was first elected in 1916 and also held a term from 1941 to 1943.
You have free articles remaining.
Thursday at UM, the college women got teary listening to Stacie Anderson, who successfully ran for the Missoula City Council and executive board of the Montana Democratic Party. Anderson talked about how she picked herself up with much help from friends after the November 2016 presidential election that put Donald Trump in the White House.
"Find your people. Be fiercely loyal to them because you only get by with the help of your friends," Anderson said.
Anderson also talked about how she became the first executive director of Carol's List, which helps progressive women get elected. In the aftermath of the election that devastated her, women started filing to run for office in record numbers, and Montana women started reaching out to Anderson.
"My email was pinging like a wind chime in eastern Montana," Anderson said.
Sophie Moon, a UM senior studying environmental studies and political science, became emotional as she reflected on Anderson's talk and the power of "the sisterhood." She sees so many issues that need attention, it can be overwhelming, she said. But the institute showed her that women are using their expertise in many different niches.
"I don't have to worry about health care or education, because (another woman) has got it," Moon said.
After the presentation, one of her peers came up to hug her. She said if Moon ever runs for office, she'll help with the campaign. "I'm great with money. See? I can do some things for you."
Moon said she has been interested in pursuing a legislative seat, but while in Helena, she was also inspired in another direction.
"I was reminded there's never been a female AG," Moon said of the attorney general.
The institute reserves seven spots for students from tribal areas, Dudik said. She said one goal is to provide leadership opportunities for young Native Americans who will be making change in their communities. 
In its first two years, the program has graduated 31 women altogether, including 15 fellows last year, said Sara Rinfret, academic director of the institute and director of UM's master in public administration. She said the goal is to have two women nominated from every single campus in the state, and the institute is building in that direction.
"We're slowly doing that. We have great representation this year," Rinfret said.
In the years that follow, the institute will likely have some nominations from Etzwiler. Prior to the program, she had been wrestling with the idea of equality, and talked with a pastor who showed her Biblical support for it. She said the institute has confirmed the ideas her pastor presented her, and she's starting to see leadership options for other people that she hadn't seen before.
"That's been eye-opening and inspiring for me," Etzwiler said.