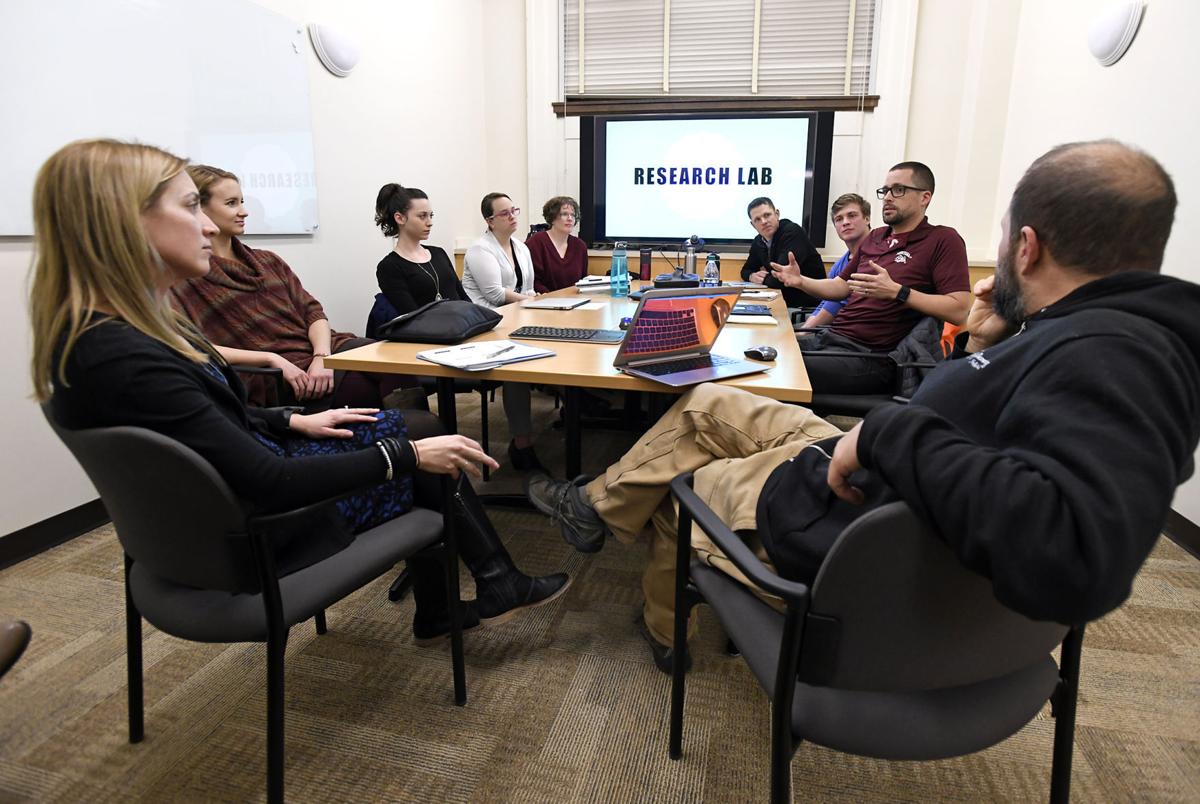 The University of Montana is launching a statewide Big Sky Poll in order to provide high-quality public opinion data.
The project of the UM Social Science Research Laboratory is offering students an opportunity to do work that's meaningful outside the classroom, and it's slated to offer information to the public starting in spring 2018 about Montanans' views of politicians and key issues such as the economy.
Sara Rinfret, associate professor of political science at UM, said polling data from Montana is notoriously poor, and the Big Sky Poll aims to remedy the situation. The new Montana poll comes out of her experience with a statewide poll in Arizona.
"Inevitably, our goal is to provide a voice for Montanans on a national scale," said Rinfret, head of the master's in public administration program.
Justin Angle, associate professor in management and marketing, said the academic mission of the poll is critical as well: "It gets the students real-world experience and gives them access to academic research at a variety of entry points."
Over the long term, the instructors aim to run the poll annually and eventually predict races. In the short term, they're teaching a class of graduate students, including former and future public officials in Montana, how to design a poll, execute it and analyze outcomes.
Enrolled in the course are students seeking master's degrees in either public administration or in business data analytics, the latter a new graduate offering at UM. The class is designed as an applied research experience.
"There's some special attention to the quality of the poll to make sure that we are bullet-proof," said graduate student Shawn Grove.
David Parker, a political scientist who studies how politicians connect with their constituents, agreed there's a need for more and better polling in the state.
"In Montana, we have a dearth of information and polls. We don't have many," said Parker, associate professor at Montana State University.
In a hard-fought race in 2012, Republican Rep. Denny Rehberg tried unsuccessfully to unseat U.S. Sen. Jon Tester, a Democrat. Parker said from 2011 to 2012, he recalls only about 20 public polls, compared to some 50 in Missouri, where an equally competitive battle for a U.S. Senate seat unfolded.
"The more information we have, the better we can be at understanding the state of the race and the state of the campaign in general," he said.
A valuable poll should include job approval ratings, including for out-of-cycle politicians in order to discern baselines; questions about major issues of the day, such as the economy; and perennial questions to track over time, like ones about public lands access and government services availability.
Politicians themselves conduct polls, and they have a bead on the electorate from the results, Parker said. But the wider public largely doesn't benefit.
"They don't necessarily release that information," Parker said. "They do selectively to buttress their own positions."
Sens. Tester and Steve Daines, a Republican, voted differently on the controversial tax bill pending in Congress, and it would have been useful to know Montanans' opinions on the legislation, he said. Some politicians run polls in online town halls, but the results don't add sound information to the debates.
"They're garbage. They're not meaningful," Parker said.
At UM, Chelsea Rayfield enrolled in the Social Science Research Lab because she wanted to be in a small group after having been out of school for awhile. It's her first semester taking classes in person, having started the MPA program online.
"For me, it was really important to have a smaller community of people I could work with and learn from 'cause it's terrifying to take a face-to-face class after not being in school for so long," Rayfield said.
The Big Sky Poll itself, on Twitter @umbigskypoll, attracted at least a couple of the students to the course.
"That's absolutely what drove me to sign up for the class," said Jason Wiener, studying business analytics. "I am interested in the public's opinion and discerning it."
The class spent time making sure the sample population would be representative and the outcomes wouldn't be systematically biased, said Wiener. He previously served on the Missoula City Council and has some experience with polls.
"We're using the same methodology as your premium pollsters," Wiener said.
The team had to prepare in order to analyze data. They read about the best ways to frame questions and plan to listen in on calls to ensure contacts are made appropriately.
"We want to make sure that we're not leading the public or giving them expectations of how they should answer a question," said student Hannah Johnson.
Earlier this summer, a post on FiveThirtyEight noted polling is getting easier to do, a plus for "well-informed, well-meaning amateurs," but also a dangerous foot in the door for "pranksters" and "scam artists" who aim to misuse the tool. FiveThirtyEight is a national website run by statistician and writer Nate Silver that analyzes public opinion polling data from around the country.
"If you're a political observer interested in polls or a journalist who writes about them, you need to be more careful than ever," said the post.
The Big Sky Poll is rooted in academic research and its directors have a mission to serve the public, and Rinfret said the goal is to conduct the poll once or twice a year. Angle said the class aims to produce quality results from an unbiased platform.
"I think the academic mission of this poll doesn't necessarily insulate us from bias, but these students will be well trained in the cutting edge of research methods," Angle said.
Said Rinfret: "We've really been stressing the value of a neutral lens."
The learning process itself should serve the public down the road as much as the immediate results will. Haley Anderson, for example, is interested in pursuing work as a public administrator or contract worker for federal, state or local government. And she said understanding how to survey public opinion will be important.
"Learning how to construct things like polls or how to run a training effectively can play really strongly to be effective in any position," Anderson said.
Of course, she said quantitative information is also helpful over family get-togethers. And outcomes of the first Big Sky Poll should be out in March, just in time for plenty of dinner conversations about midterm elections in 2018.