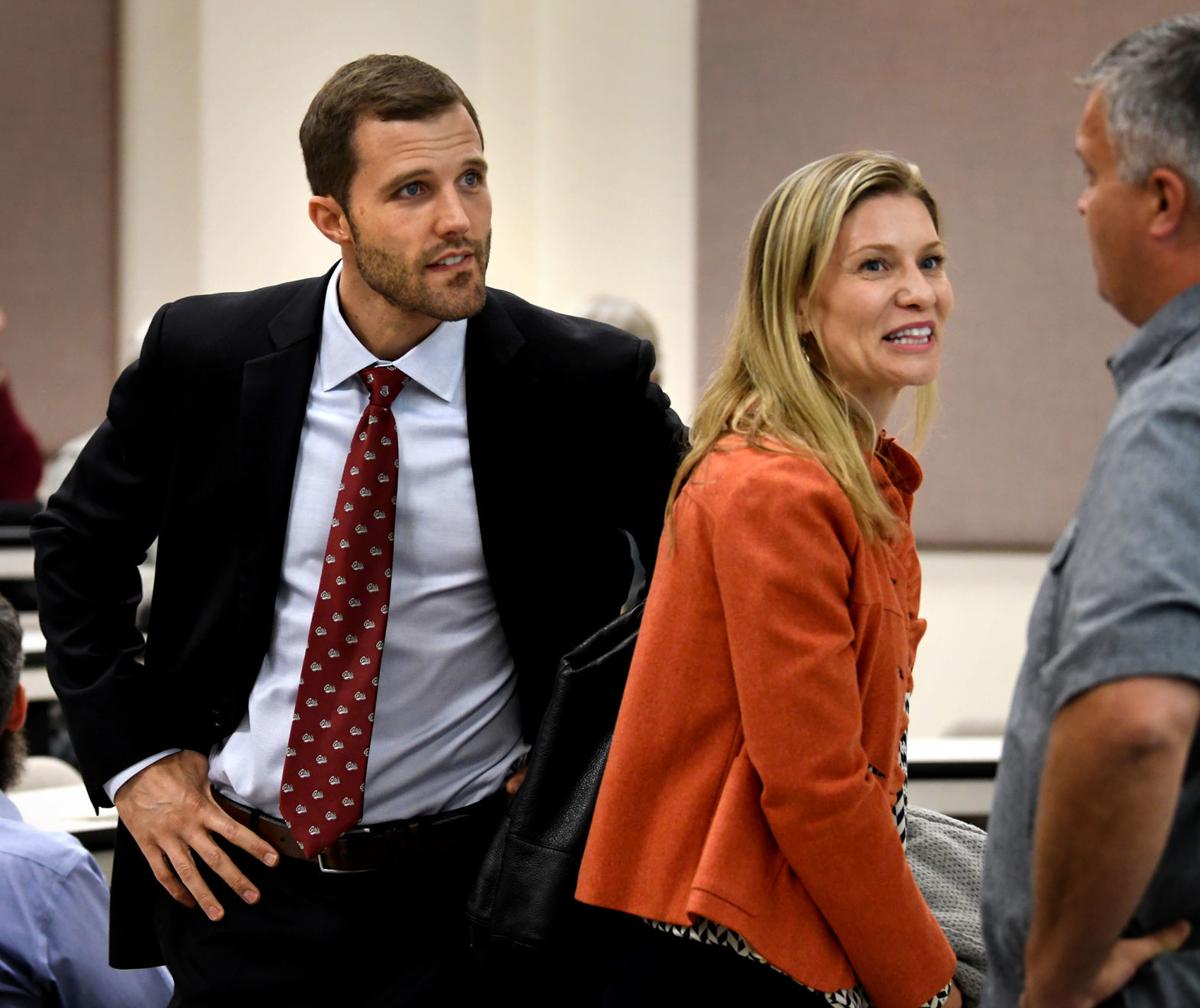 Chelsea Elander, the spouse of University of Montana President Seth Bodnar, has been playing a significant role in the flagship's preparation for a recruitment project with The Messina Group, records show.
CEO Jim Messina, who led former President Barack Obama's 2012 election to a second term in the White House, is a passionate UM alum and longtime friend of Elander's who volunteered the data analytics expertise of his firm to help UM recruit students. UM has experienced a nearly 30 percent enrollment drop since 2010.
This semester, Elander has been a liaison between UM and The Messina Group in discussions about providing the firm with student and family records. According to UM legal counsel Lucy France, the campus has not given the firm any data.
However, an outgoing vice president is raising concerns about Elander's requests for information. Tom Crady, vice president for enrollment and student affairs, said Elander does not hold an official job description with the campus, yet she has asked for private records on more than one occasion.
"I've worked for 12 college presidents in my career. I have never seen the level of involvement with a presidential spouse that I have seen here and the inappropriate requests for extremely confidential information," said Crady, who was told in January his contract would not be renewed. 
A spokesperson for Elander said she has not had access to confidential student records at UM. Records show she has been active on campus, and UM officials said the president's spouse does not draw a salary for work on behalf of the flagship.
To recruit and enroll students, universities collect records about prospective students and their families and keep data on enrolled students. State law and a national association govern prospective student records, and federal law dictates the use of enrolled student data, according to UM.
France said unequivocally that no one at UM has shared private student data and that employees would not do so without going through proper channels. She stressed that the campus protects privacy.
"I can guarantee we have not because people wouldn't do that," France said. "We have controls in place."
She also said she raised the issue of putting a contract in place with The Messina Group in order to ensure compliance with laws and policies. As of Monday, the contract between UM and the firm was still in draft form and unsigned.
President Bodnar took the helm of UM in January and took Messina up on his offer to volunteer the firm's data analysis services to help UM boost enrollment, an offer the CEO said UM rejected roughly three years ago.
In an email UM provided to the Missoulian as part of a records request, Elander asked the director of undergraduate admissions on Feb. 7 about "a data set we were hoping to pull together quickly in order to get some help on our digital outreach strategy."
"The wish list is below," Elander said. "Don't worry if we can't get all of this, but if you can go through (and) let us know what you can get (and in what form) and what you don't have, that would be a great start."
Among the items requested in the email were transcripts, grants and scholarships offered, religion, family income, prior contacts with UM, and student-"liked" social media platforms such as Facebook. The forwarded note naming specific data points said "any identifying information that will help" match a student from one data source to another would be helpful; "please include as much identifying information as possible and permissible."
In her response, the UM admissions director said it was possible to provide a large portion of last year's data. The next day, Elander followed up with the goals of a conference call with a contact from The Messina Group. The group sought in part "clarity ... on how we can gather and share the data ... and with what identity and privacy protections in place."
On Sunday, Feb. 18, Elander contacted UM legal counsel and the president's assistant about the project with The Messina Group. "I wanted to check and see where we are in getting TMG up and running next week." She said action items included "legal contracts for data sharing."
"Seth is aware of all the details and happy to have this getting started this week so we can start applying anything we learn from TMG to the rest of the '2018 recruitment blitz' efforts!" Elander said.
In an April 2 email to the Missoulian about her work with The Messina Group, Elander explained how she became the liaison with the firm. In January, Elander, Bodnar, Crady and Messina met to discuss the alum's offer to help UM with enrollment.
Elander said after she and several other people from admissions and alumni organizations realized no one had followed up with The Messina Group weeks after the initial meeting, she helped link the appropriate people from UM and the firm. She said if UM moves forward with The Messina Group, a UM employee would become the liaison.
"After the initial meeting in January, I helped connect the right people to explore the feasibility of accepting TMG's donation of expertise," Elander said. "The rest is in the hands of those still working hard to find the smartest, most efficient ways to tell the wonderful story of a UM education!"
Some time after the January meeting with Messina, Crady said he asked President Bodnar how UM should proceed with the firm.
Bodnar told him Elander would be in charge, Crady said.
At the time, Crady said he believed Messina could be helpful to UM, but he also expressed concern about Elander's involvement: "I said to Seth, 'She's not an employee. You've got to be really careful with this.'"
The enrollment vice president said he expressed the same concern about data requests to a group of vice presidents. Monday, finance vice president Rosi Keller said she recalls Crady noting his concern and others in the group suggesting he reach out to legal counsel.
In a couple of emails, Crady noted his reservations about Elander's involvement to France, and in one, he said he wanted to know if the proper controls were in place once data was shared. However, France said she did not receive his emails directly; she said a records search turned up one, but not in her email inbox.
"We have been instructed to provide all information about these students including their academic transcripts (for over 150,000 students)," Crady said in the email. "I was not contacted first so I said no until we I (sic) know from you we are in compliance of all state and federal laws and violate no OCHE (Office of the Commissioner of Higher Education) policies if we share this information."
Crady's role diminished on campus over the course of the semester. In late January, Bodnar gave Crady a letter stating his contract would not be renewed for the 2019 fiscal year, which starts July 1. On March 19, the president announced a restructuring that eliminated the role of enrollment and student affairs vice president, and created one for enrollment and communications.
Bodnar said Crady would serve as an enrollment adviser while UM conducts a search for a new vice president.
In an email Monday, head of admissions Emily Ferguson-Steger said the admissions office had not shared data with the outside firm to her knowledge.
However, given the requests for sensitive information, Crady said he believes families should be reassured by an authority such as the Commissioner's Office or the U.S. Department of Education that their data was not used inappropriately. He also said volunteers cannot work with confidential data.
"The president answers to the people of Montana. Does the president's wife answer to the people of Montana?" Crady said.
Provisions in a draft contract include a requirement that The Messina Group comply with FERPA, the federal Family Educational Rights and Privacy Act. The agreement also would require the contractor to maintain cybersecurity insurance "with combined single limits for each wrongful act of $2 million per occurrence" or higher. 
The Messina Group said it works in an international capacity and has operated under regulations as or more stringent than FERPA. The firm also said it maintains cybersecurity insurance that would meet or exceed UM's contractual requirements; the firm does not disclose information about its policy.
According to the draft contract, The Messina Group must report to UM within five days any data disclosures in violation of the contract or federal privacy laws.
The Messina Group said Monday the firm has not received any data from UM. In an earlier conversation, CEO Messina said his group handles much sensitive information including for nonprofits and will work overtime to ensure student data is treated with the utmost care.