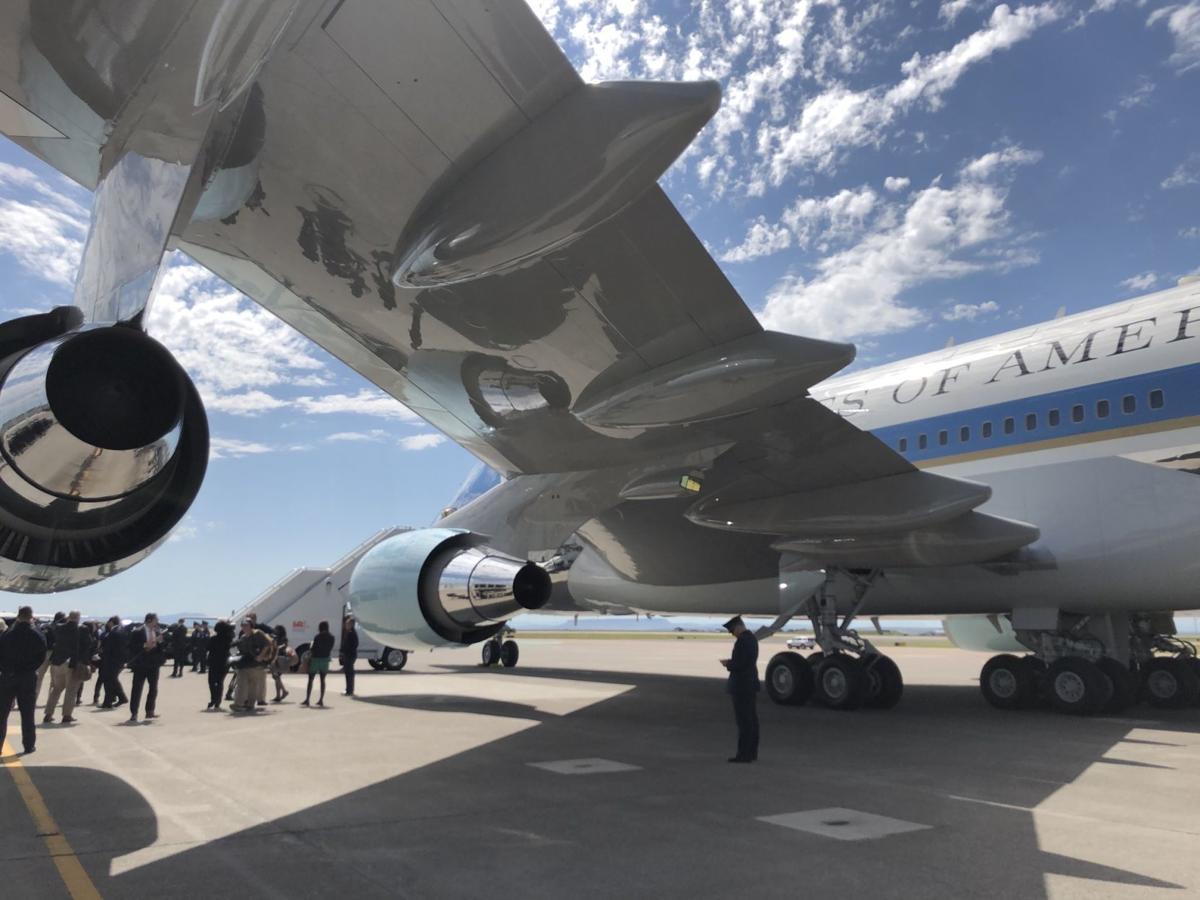 Between 6,000 and 8,000 people are anticipated to attend the Missoula campaign rally with President Donald Trump on Thursday evening.
Public access to the Minuteman Aviation hangar where Trump will speak can only be reached by a shuttle bus running between a grass-field parking area at the east end of the airport off of Corporate Way and the Minuteman venue .8 miles west of Missoula International Airport. Only the east end of Aviation Way off West Broadway will reach the parking area for motorists entering or leaving the area.
Trump is expected to speak at 6:30 p.m. Beach Transportation shuttle buses will start running to the venue at 2 p.m. After the event ends, buses will make the return trip until 9 p.m. Walking between the venue and the parking area will not be allowed. At least two handicapped-accessible buses will be in the shuttle rotation.
Mountain Line's public bus Route 11 runs from Missoula's downtown transit center to Missoula International Airport at 3:15, 4:15, 5:15 and 7:15 p.m., but no other shuttle service from the main city to the airport is expected on Thursday. The public bus has a capacity of about 40 riders.
Commercial airport passengers will be able to depart and pick up arrivals Thursday afternoon at Missoula International Airport. The airspace over Missoula will be closed to all unauthorized flights for 10 or 15 minutes around the arrival and departure of Air Force One. Rally participants will not be allowed to park at the airport's parking lot, and airport passengers will be asked to show proof of tickets to use the lot, according to MIA Deputy Director Brian Ellstad.
West Broadway west of the airport entrance will be roadblocked for the duration of Trump's rally. Drivers will be detoured around the area. Spectators will not be allowed to watch the airport area from the perimeter fences from noon Thursday until the event is over.
You have free articles remaining.
Tickets to the rally will be available online until the start of the event, according to a Trump campaign spokesman. An area near the stage will be reserved for people with disabilities, and water will be available for attendees. No food can be brought into the hanger, but attendees can eat their own snacks in the parking lot and while waiting in line for security checks.
Video screens and loudspeakers will be set up outside the hanger for those not able to see the stage. The event can be live-streamed at facebook.com/DonaldTrump/. The campaign spokesman said no additional events are planned at the hanger after Trump departs.
Trump's stop will be the first on a three-day tour of the West on behalf of Republican candidates. At the Missoula stop, he will be stumping for  Republican Senate candidate and state Auditor Matt Rosendale and House Rep. Greg Gianforte. Rosendale is running against incumbent Democratic Sen. Jon Tester, while Gianforte faces Democratic challenger Kathleen Williams.
Trump is slated to speak Friday night at a private aerial services company at Phoenix Mesa-Gateway Airport in Arizona, and Saturday morning at Elko Regional Airport in Nevada. The president will be in Houston on Monday to campaign for Sen. Ted Cruz in an 8,000-seat arena.
Trump is the fourth president to visit Missoula while in office, and the first in 64 years. President William Taft's special train made a late-night stop at the Northern Pacific station in September 1909. President Harry Truman also made a rail stop for several early morning hours in May 1950. President Dwight Eisenhower helped dedicate the new smokejumper base at the airport in September 1954, speaking to a crowd variously estimated as 20,000 and 30,000.
Past public events in Minuteman's hangar have seated about 500 people for dinner. A Missoula campaign rally for Democrat Hillary Clinton in 2008 in the similar-sized Neptune Aviation hanger held an estimated 2,000 people inside and outside the building.
Thursday's weather is forecast to be sunny with a high of 65 degrees.
Missoulian reporter Kim Briggeman contributed information for this story.