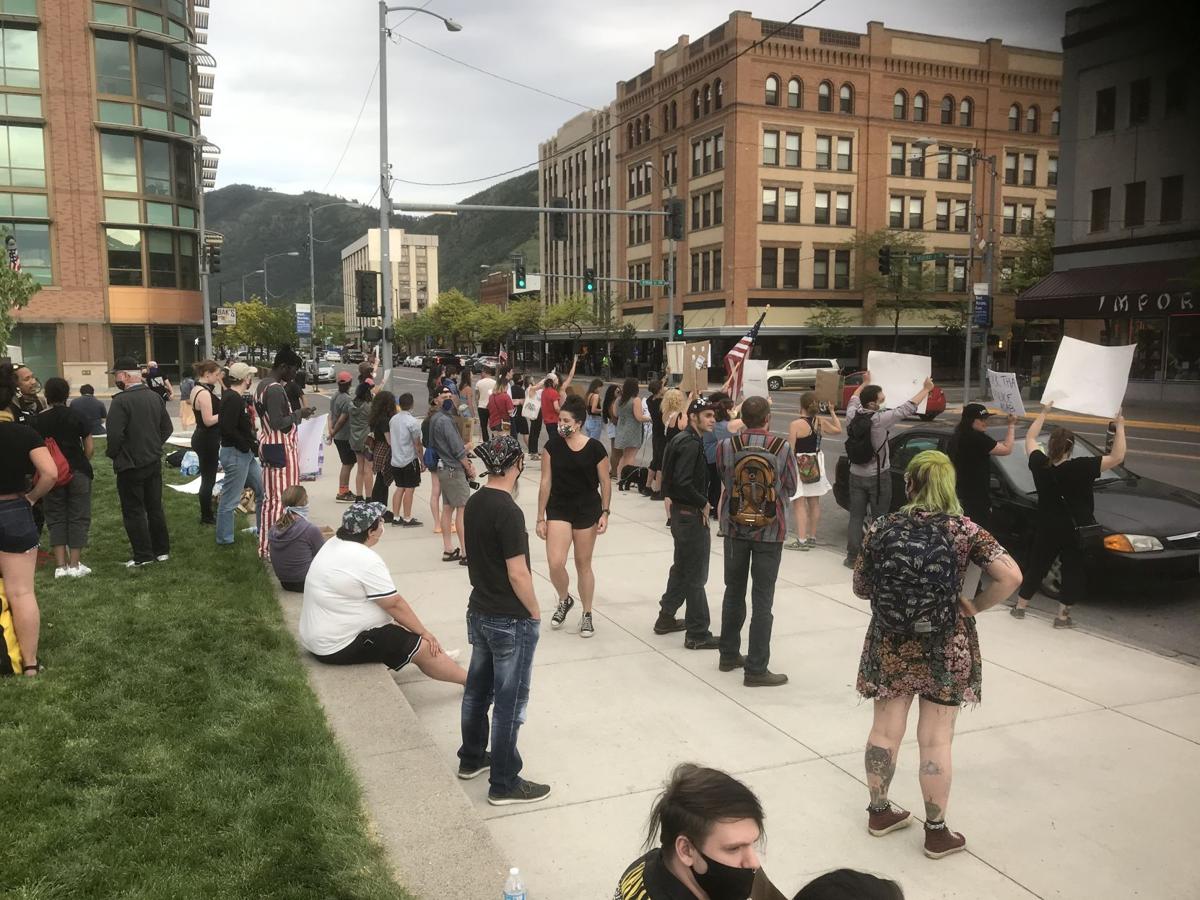 Recent outcry over the handling of a brief detainment at a Black Lives Matter protest in Missoula has led to a police investigation and possible charges against those who said they were there to protect the community from "Antifa."
The "Antifa" never came, but individuals armed with AR-15s and Facebook rumors zealously sought to defend Missoula and other Montana cities anyway, turning over one teenager to law enforcement who police deemed to be no threat after briefly speaking with him. Based on new information shared on social media in recent days, Missoula police said Thursday the department has concluded an investigation into the incident during last week's Black Lives Matter protest in Missoula, in which people piled onto a teenager and turned him over to police. Police released the individual shortly after. That investigation has been turned over to the Missoula County Attorney's Office, police said.
The teen who was detained briefly spoke to the Missoulian in a phone interview about the incident Friday. The teen, whom the Missoulian is not naming due to his concerns of safety, is black and said the narrative pushed by the armed individuals after the incident — that he was a threat to protesters and even had been carrying a gun — was twisted to make them look like legitimate protectors. 
"The narrative being switched that I was a part of 'Antifa' when, you know, I've been in Missoula since I was four years old," he said. "It almost seemed like they were really trying to find a reason to hunt me down, and that was scary to me. … It's very similar to what happened to (Ahmaud) Arbery."
Arbery was chased down while jogging and fatally shot on February 23 by two men in Georgia who have said they believed Arbery was a suspect in recent burglaries in the area. Four months later, George Floyd died after a white Minneapolis police officer knelt on his neck for 8 minutes and 46 seconds, touching off protests across the country and in Missoula, where the teen says he was unjustly targeted by paramilitary.
One of the armed individuals who was running a security-type operation at the protest, disputed the "militia" label on their group and told the Missoulian on Saturday the teen drew attention because his face and hands were covered as he rode his bike around the protest.
The Missoula teenager said he had been wearing a mask around the protest earlier in the night for his own protection from being targeted.
"When I've biked around town on my bike, without a mask on, around the time of the coronavirus, just biking around my area, trucks have driven by and, you know, yelled the n-word and nearly ran me over," he said. "When I showed up at the protest last Friday, the mask was to also protect me when I bike home."
The teen said he was on his bicycle in a nearby alley sometime after 9 p.m. when the armed men approached him and demanded to see his identification. When he tried to leave the confrontation behind, that's when they began chasing him, he said.
"I went to go be there and be part of the protest. Unfortunately when I got there, because I was wearing a mask, the militia group starting moving in on me. I felt uncomfortable about this, and I was trying to move. … This is an armed militia that was on every corner of the courthouse. They're running back and forth, talking on their walkie-talkies like they're Army. When I ran, I had to get out of there; I feared for my life, I'd be away from the courthouse, so I could have been killed or could have been taken out."
Quentin Robinson, founder of Movements 4 Movements, has been a therapeutic teacher for the teen at Roots Acro Sports Center in Missoula as Robinson splits his time between Missoula, Tuscon, Arizona, and other places. Robinson, also black, was the first person the teen called when he was released by law enforcement. Robinson said he urged his student to channel his anger in the right direction, legal action.
"A racist will only be remorseful when you hit their pockets and their way of living," Robinson told the Missoulian in a phone interview. "If everything goes the right way, you hit them harder when they're not able to carry. The same way they want you to walk in shame, you return that favor to them the right way."
Robinson was not at the protest last week, but said the dynamic of armed white men surrounding an anti-racism protest reinforces the system in which white people are the de facto authority. Despite calls by community members to refuse the armed individuals at Black Lives Matter protests in Missoula, local city and law enforcement officials have said state laws, particularly open carry laws, allow their presence. The problem is on display when police do not pursue the men who conducted a citizens arrest of the teen for seemingly no reason, he said.
"It's just intimidation," Robinson said. "It's intimidation through generational genetics and generational occurrences. … It's genetically in our system, when we see police, when we see authoritative figures, it automatically strikes a discomfort because they're usually targeted toward us. There's never been a system set up that protects black people."
Montana activists and human rights groups said this week the presence of the armed individuals was enough to dampen the participation by people of color at a protest focused on racial injustice. 
"Unfortunately, the self-proclaimed 'militia' has co-opted these peaceful and necessary protests that have been led by young organizers," said Erin Erickson, founder and director of Missoula Rises, which did not take part in organizing the protests at the courthouse. "Their presence has not only made it unsafe for the general public to attend, but more importantly it has placed persons of color in danger."
The dynamic of armed individuals "protecting" community businesses is not isolated to Missoula; similar scenes have played out across the rural northwest. The Montana Human Rights Network said on Thursday it had documented threats, intimidation and harassment by militia activists at protests around the state. 
"What we're having reported is that paramilitary activists, really mob activists, who have been engaging at otherwise peaceful protests in the state are a threat and have engaged in harassment of peaceful protesters, in many cases, youth," said co-director Rachel Carroll Rivas in a phone interview Thursday. "What we know is that people are being manipulated, their right to assemble and speak is being infringed upon."
The armed individuals who initially arrived opposite of those protesting the death of George Floyd said last week they were at the demonstration to protect the local businesses from destruction seen in larger cities around the country. Facebook has been rife with rumors, debunked by law enforcement, of "Antifa" coming into town in vans, lore which was also propelled by longtime state lawmaker Jennifer Fielder.
Fielder has since deleted the post in which she claimed "credible witnesses" confirmed several vans of suspected "Antifa" were en route to Missoula, she told the Missoulian in a phone interview on Thursday, because the comments were getting out of hand. Fielder authored a follow-up post on June 5 on her campaign page saying she was only a concerned citizen sharing information, but said she was no more culpable in the spread of information than others on social media. She told the Missoulian her post was different than spreading rumors.
"The difference is I didn't cut and paste some story on Facebook and share it out," she said. "I heard from different people, who I know personally, who were reporting live events as they were happening."
Fielder said her "credible witnesses" included a contractor with the U.S. Department of Defense and a personal acquaintance in Coeur d'Alene, Idaho, who had seen vans with Washington license plates. Fielder said other reports on social media and out-of-state news outlets had given her enough concern to share the information on her personal platform from "people I considered credible, people that I knew personally, that (said) there were five vans willed with people they thought could be 'Antifa' in Coeur d'Alene and that they could be heading west to Missoula next.
"The reason we were alarmed is we were seeing it break out on the news for several days. Not here, but when it got to Coeur d'Alene, that's just right over the state line from my senate district," she added. "That's when I determined my friends and neighbors should know this appears to be getting closer to us."
Fielder's June 1 post told her Facebook followers to "Be on guard, but don't be promoting violence or you are not better than them." However, it's likely the original post boosted the perceived credibility of the "Antifa" rumors that led armed individuals to the Missoula County Courthouse with intentions to stop the "Antifa" identified by President Donald Trump by tweet as a "terrorist organization." Fielder, who served eight years in the state Senate, received 16,665 votes, 45% of the three-way Republican primary, on June 2 to win the primary election for the Public Service Commission's Fourth District. 
There's a great irony staged by the "Antifa" rumor: community members pleaded with city officials to keep the armed individuals from attending the protest, as several felt "paramilitary" were intimidating. The armed individuals were allowed to stay under the state's open-carry laws, but when they identified another person whom they deemed intimidating — in this case the teen who felt unsafe showing his face, or refused to talk to anyone — they moved to intervene. Anna Smith, whose group of armed individuals some organizers told the Missoulian was a welcome service at the protest, said they did not "target" the teen but did attempt several times to make contact with him when he wouldn't talk to them. Smith disputed the group attacked the teen while he was riding on his bike on the alley, but simply stopped him to get his information. She also said they had notified police that the hooded teen was intimidating certain people.
"He had every opportunity to come to someone and talk to someone," Smith said. "My point is why? Why didn't he? We never would have come up to talk to him. We would have backed off."
The teen who was detained by people looking for "Antifa" told the Missoulian he did capture his own cell phone video of the incidents on June 5 at the protest in Missoula, and it was turned over to police. Robinson said additional video around the incident has been gathering over the last week. 
"I showed them that I didn't have a gun. That's all I was able to do," he said Friday. "I was kind of traumatized at that point. I couldn't believe that. I was shaking from adrenaline, first from being chased and then jumped on by militia and cops coming in, grabbing me and bringing me off." 
Since law enforcement has concluded its investigation and turned the matter over to the county attorney's office, prosecutors will review the evidence to decide whether or not to file charges or send the case back to police for further investigation. 
This story has been updated to include comments from an individual who was armed at the Missoula protest.