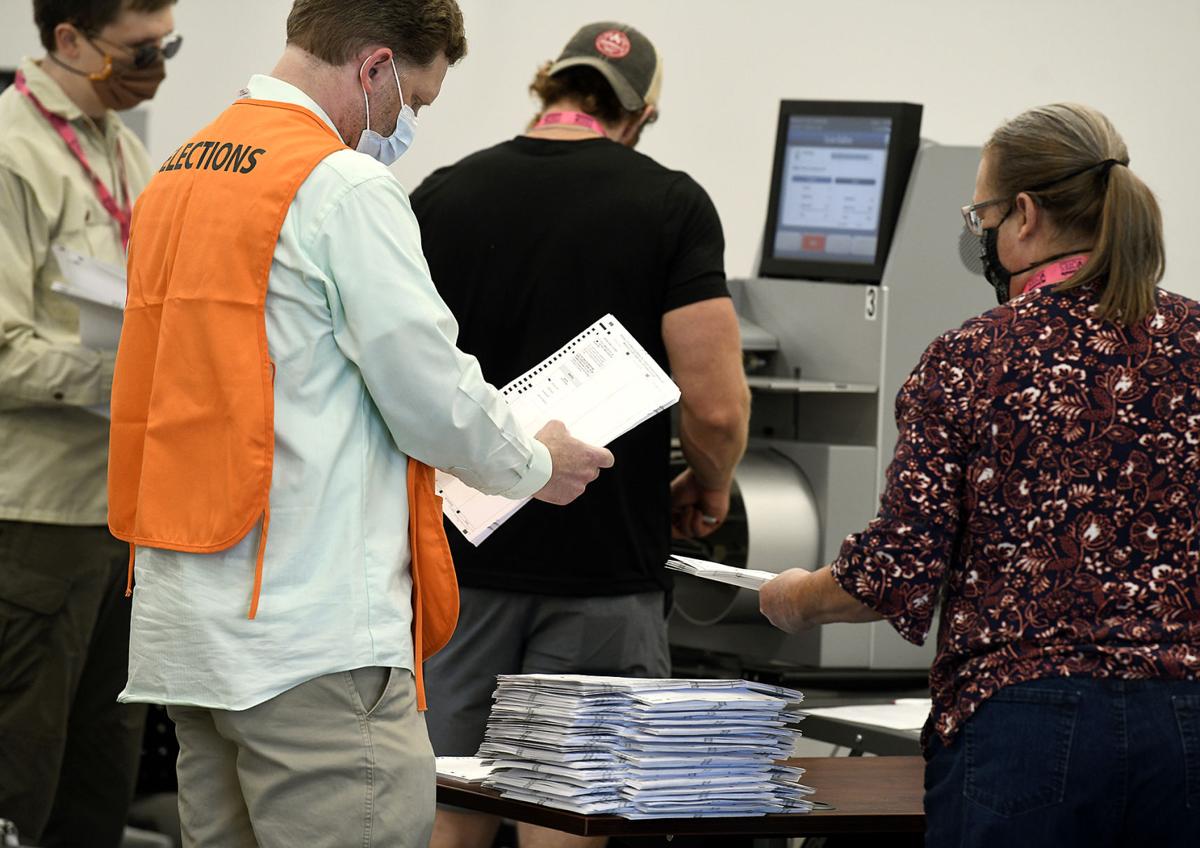 Incumbent Missoula mayor John Engen and challenger Jacob Elder advanced in the 2021 municipal primary after final election night totals were posted early Wednesday morning.
Jennifer Savage and Jane VanFossen will advance in the Ward 1 city council primary.
Two candidates in each race advance to the general election. 
In the all-mail-in election, early results were posted on Missoula County's website shortly after collection centers closed their doors at 8 p.m. More ballots were released shortly after 9:30 p.m. and again early Wednesday morning.
Turnout was reported as 37.88% overall, with 21,272 total votes cast in the primary. Engen received 10,805 (51.1%) of the votes cast for mayor, while Elder received 5,524 (26.1%), Shawn Knopp 18.30% and Greg Strandberg 3.8%.
Mayoral primary
Engen, who is running for his fifth term, has been Missoula's mayor since 2006. He is Missoula's longest-serving mayor.
He has based his campaign around affordable housing and has routinely touted city programs targeting that issue as well as homelessness. He was endorsed by the Missoula County Democratic Central Committee, as well as the Missoula Organization of Realtors.
"I'm grateful for the faith the voters have expressed by voting in this election to support me. We have another election to go," Engen told the Missoulian on Tuesday night.
"I'm grateful for the results tonight, but the final result that matters is in November. We'll be working hard to remind people why I am the servant leader who can continue to make this place safe and sound and prosperous for everyone." 
Elder, a law student at the University of Montana and a former U.S. Marine, is running for a political office for the first time. He is running on a platform of fiscal responsibility, changes to city policy regarding planning and development, and homelessness.
"I'm very grateful for the turnout. I think Missoulians are ready for change and we're seeing that," Elder said. "I thank (Shawn Knopp) for throwing his hat into the ring and I think Shawn Knopp's supporters showed out and supported him and hopefully we'll get his supporters on board for the general election.
"I think Missoula is ready for change and spoke with their votes tonight."
City Council primary
Savage, a freelance communications director, and VanFossen, a retired naval officer, will move on from the Ward 1 primary.
Ward 6 also had a primary, but due to Madelein Owen not meeting filing requirements and dropping out, Kristen Jordan and Tom Taylor both advanced. Jordan has drawn over 69% of votes cast while Taylor received around 30%.
Savage touted her experience with nonprofits and is running on thoughtful, equity-based decision-making at the city level.
"I really didn't know what to expect. I know that we have put in a lot of effort and a lot of work, but I was still surprised," Savage said. "I'm really, really grateful and encouraged by the results.
Savage went on to thank the three other candidates in the race for running a "clean" race and elevating "pressing" issues in the community.
VanFossen is running on city spending and transparency. She filed on the final day to do so and found some support, including Elder's. 
"I'm very grateful to receive support from many Ward 1 voters," VanFossen said in an emailed statement. "The four candidates gave them a variety of perspectives and some clear choices. My goal in running for office has been to raise public awareness about City spending."
Savage received 1,697 (44.69%) votes to lead the primary. VanFossen was second with 827 (22.61%), while Sheena Winterer, owner and managing partner at Ink Realty, was close behind with 777 (21.02%) of the ballots. Kevin Hunt was in fourth with 12.7% of the votes.
General election
Primary results will not be official until they are canvassed on Sept. 22, but the general election has taken shape.
Engen and Elder will vie in the mayoral race, while Savage and VanFossen pushed through in Ward 1. In Ward 2, incumbent Jordan Hess is challenged by Rebecca Dawson.
Ward 3 will see Daniel Carlino and Dori Gilels compete for a seat, while in Ward 4 Mike Nugent and Alan Ault square off. Ward 5 incumbent Stacie Anderson is being challenged by Bob Campbell and either Kristen Jordan or Tom Taylor will be the next city councilor from Ward 6.
In the municipal judges race, Jennifer Streano and Sam Warren will face off for the Judge Department 1 spot. Thorin Geist and Eli Parker are the judge candidates in Dept. 2, while in Dept. 3 it will be Ethan Lerman and Jacob Coolidge.
Jordan Hansen covers news and local government for the Missoulian. Shout at him on Twitter @jordyhansen or send him an email at Jordan.Hansen@Missoulian.com