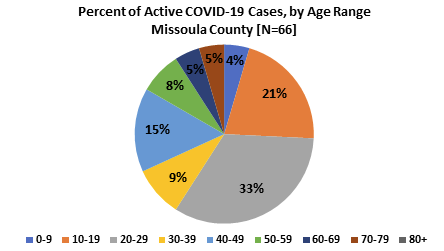 Missoula County piled up 32 new confirmed cases of COVID-19 over the weekend, essentially doubling the county's active case count, according to the Missoula City-County Health Department.
Sunday was the highest single-day case count since early August, while Saturday was the second highest single-day case count in the same time frame, according to the health department. Missoula County's active case count is now at 66. 
The Missoula County health department's COVID-19 Incident Commander Cindy Farr said several factors are driving the recent bump in cases.
"School just started for the university and for our public and K-12 schools," Farr said. "I think that's definitely contributing to our increase in counts."
Anecdotally, Labor Day gatherings may also be playing a role in the recent spike, Farr said, although she did not have details Monday on new cases to back up that theory.
The county has seen 503 total cases since the beginning of the pandemic, with 434 recoveries and three deaths. One out-of-county resident is hospitalized in a Missoula County hospital, according to the health department. 
State officials reported 86 new cases Monday, but none for Missoula County. In the press release Monday, Missoula County health officials said they expect a discrepancy between the state and local numbers reported "this week" due to differences in "capacity and timing."
Cases continue trending upward in Missoula County, the health department said. Still, the active case rate per 100,000 is 37.04 cases here, compared to the statewide rate of 200.22, or Yellowstone County's rate of 510.81, according to data compiled by the University of Montana's Center for Population Health Research.
"(Yellowstone County cases) are starting to stress their health care infrastructure," Farr said. 
In Yellowstone County, the caseload is beginning to outpace the hospital bed capacity, according to data published by RiverStone Health Clinic in Billings. Yellowstone County's 818 active cases on Monday, according to the statewide count, represented 38% of the state's active cases. Since the onset of the pandemic, Yellowstone County has seen 2,518 of the state's total 9,107 confirmed cases and 52 of the state's 138 total deaths.
It's difficult to compare Missoula and Yellowstone counties for several reasons, but Farr said she believes Missoula County has kept a tighter lid on its caseload by issuing lots of communications and guidance on local and state directives. The health department here also spends a lot of energy communicating to the public that stifling the virus is a community effort, Farr said.
"Everyone plays a part in keeping this under control," Farr said. "We're reminding everybody we know that fall sports are underway and the university is back in session. Now, more than ever, it's important to continue those preventative behaviors so we can stay in a good place in our county."
Concerned about COVID-19?
Sign up now to get the most recent coronavirus headlines and other important local and national news sent to your email inbox daily.