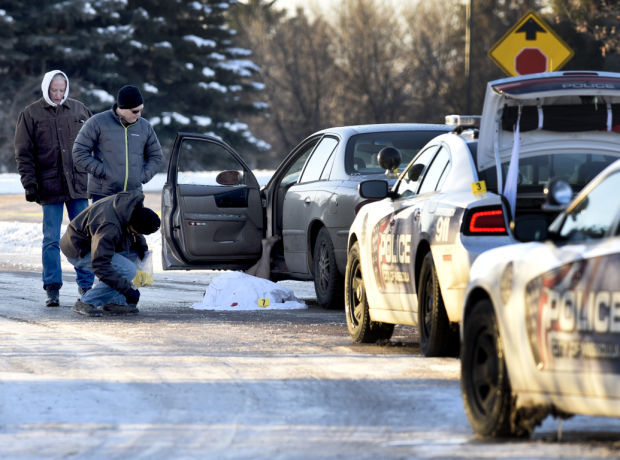 The Missoula man who was killed by a city police officer Wednesday morning was allegedly strangling his girlfriend in the car before the officer fired the lethal shot.
Authorities haven't released the names of the officer or the deceased man.
Police initially responded to a 9-1-1 domestic disturbance call at a Missoula home involving two women and the 20-year old man. The time was 2:04 a.m.
The man fled the scene, taking his girlfriend hostage, Missoula County sheriff's spokeswoman Paige Pavalone explained Wednesday afternoon.
"He was non-compliant with the officers' instructions and negotiation efforts," Pavalone said.
According to a written report issued by the sheriff's office, the intoxicated man led police through downtown and along West Broadway. Officers attempted to apprehend him in front of Safeway, but he fled again, leading officers on a high-speed chase further west on Broadway.
He attempted to drive the wrong way up the North Reserve Street ramp, where his car inexplicably stopped, Pavalone said.
"The vehicle just died," she said. "They don't know how it died. It could have been because it ran out of gas, but that will be determined later."
Pavalone said the man wasn't using a weapon to threaten the woman, but was strangling her before the officer fired his gun - fatally wounding the man. The time was 3:18 a.m.
It was unclear if the man had a weapon in his car or concealed on him, and authorities would not provide that information on Wednesday.
It's also unclear whether or not the officer shot through the driver's-side window or if the suspect stepped out of the car before he was shot. Pavalone said that information would be revealed later in the investigation.
Missoula police spokesman Travis Welsh confirmed the city police officer has been placed on administrative leave, per standard procedure.
The man's body was lying on the icy North Reserve Street ramp, alongside the light-colored Buick and partially covered in a white sheet from the time of the shooting until about 10:23 a.m., when his body was moved to the Montana State Crime Lab.
He appeared to be wearing shorts and wasn't wearing shoes. The driver's-side window was shattered.
Pavalone said officers blocked off the area and waited to investigate the scene until daylight. Because it was an officer-involved shooting, a civilian coroner was called from Sanders County to assist with the investigation. She asked that the body not be moved until she arrived.
Sanders County Coroner Kathy Harris arrived on scene shortly after 10 a.m.
Missoula County sheriff's deputies and detectives, led by Lt. Scott Newell, are conducting the investigation because a city officer shot the man.
The on/off ramp reopened around 11:30 a.m. after a tow truck moved the man's car and the Missoula Fire Department cleared the area.