Welcome to the third edition of Urban Scrawl, my place to unwind from a long week of covering Missoula politics, and your place to get some more background on what's been going on. On the docket: Campaign piggy banks, election watch party analysis, and the future of the Missoulian building.
More than mailers
The campaign mailers funded by local business owners drew scrutiny during the Missoula City Council races, but that obviously wasn't the only money spent. Now that it's pretty much over, I decided to check out who the top fundraisers were, and whether money was all it took to win a race.
Far and away, the top fundraiser was Amber Sherrill, a newcomer to the council who brought in more than $13,000. That's nearly double the second place fundraiser, Mirtha Becerra, who brought in more than $7,000. Both of those candidates did indeed win their respective races in Ward 4 and Ward 2.
Sherrill pointed to her background in nonprofits, meaning it's not the first time she's had to make the big ask. Unsurprisingly, second-place Becerra currently works as the director of giving at the Downtown Missoula Partnership.
But, it turns out you do need something more than money, because two of the six races were won by the fundraising underdogs. So how did they pull it off?
In Ward 1, Amber Shaffer raised about $1,300 more than Heidi West, the incumbent who ultimately won the race. The most obvious answer to how West could still pull off a win is that she had the advantage of incumbency. Some might say, "Matt, isn't it possible the merits of her policies could have won over voters?" And to that I respond in silence, and go back to looking at my spreadsheets.
In Ward 5, Alex Fregerio outraised John Contos by about $800 but still fell 200 votes short of a win. And here's where those mailers come in: Contos was backed by the Missoulians for Missoula PAC, which spent nearly $16,000 on the election, with at least $5,416 spent on mailers in Ward 5 alone, according to campaign finance documents.
This may be one of the most spendy City Council elections in Missoula's history. I have to say maybe, because frankly I don't have time to look at every campaign finance filing from every City Council candidate in every election. But I did look at all of them from this election, and most of them from the last municipal election in 2017. Here's what I found:
The top City Council fundraiser in 2017 was none other than Jesse Ramos, who probably got more newsprint in the 2019 race than any of the candidates who were actually running. He raised $8,667 in 2017, which is far below what Sherrill raised this year. But Ramos is probably one of the reasons there was so much money in this race.
In 2017, half of the seats were unopposed. Those three races each barely crested $1,000 in fundraising. This time around, Ramos made sure no one ran unopposed as part of his effort to increase the political diversity on council. Each seat had to be fought for, and that meant building a war chest.
The great divide
You have free articles remaining.
On election night, the two distinct sides of the "nonpartisan" race set up camp downtown to watch results come in. In Congress, there's the aisle factions must reach across. In Missoula, it's Higgins Avenue.
The Republican-backed candidates assembled at Red's, while the Democratic-backed candidates assembled at the Union Club.
Sure, it's easy to go for the low-hanging fruit of why these were the obvious choices for the respective parties. Labor unions tend to support the Dems, and the GOP is repped by red. But I find the most striking correlation in the men's bathrooms.
At the Union, there is no urinal, but rather a trough; we all must share. It's so liberal, it's basically modern-day socialism. Additionally, there's but a single stall containing two thrones. We're in this together.
Across Higgins, the rugged individual at Red's need not spread the wealth, but can have their own urinal, which they surely worked hard for. And if you work hard, you too can achieve porcelain greatness, no handouts needed, thanks to the free market. Heck, they even have stalls that lock.
Build it and they will come. And I will leave, apparently.
The City Council adopted the 2019 Downtown Master Plan this week, an aspirational road-map to what the Heart of Missoula could look like as it continues to be developed. Unfortunately for this plan, maybe fortunately for certain parties, there are things like the independent decisions of private businesses, construction costs, and limited public budgets.
This isn't a game of SimCity, so Front Street isn't going to get mosaic tile-work wall-to-wall tomorrow, though I am interested if we can get that ice rink at Caras Park going soon. 'Tis the season.
The thing that jumped out most to me were the plans for the Hip Strip. Specifically, the Missoulian building. While most new proposed construction is on surface parking lots, the Missoulian building is razed and replaced with "a tower for riverfront dining and residential units on the river."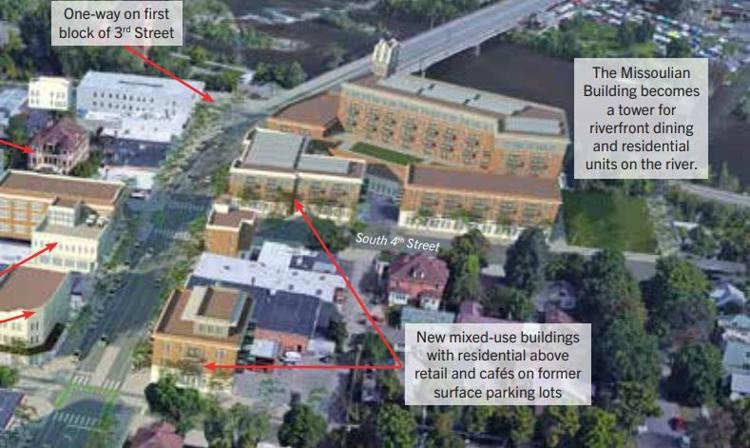 While I am very aware that this is an aspirational, nonbinding plan, there's something unsettling about the very matter-of-fact tone it takes in suggesting my place of employment will be demolished for condos and ritzy waterfront dining. Wait a minute, isn't there something like that in the works already? Catch my Drift?
Get the insider scoop on the movers and shakers at City Hall, Missoula County, and anywhere else I might happen to stumble into on the beat by signing up to receive this weekly newsletter. I'm still working on getting the email part of this email newsletter set up, but for now, if you want in, send me a message and I'll add you as soon as its up and running. Email: matthew.neuman@missoulian.com