SUPERIOR — Scot Traeder gets immense satisfaction from gliding over water, whether frozen or liquid, on something he's built himself from scratch.
He's put his wooden canoe-building career on hiatus for now to focus on constructing homemade lightweight, high-performance skis for all terrain and conditions.
An industrial arts instructor at Big Sky High School in Missoula, Traeder has spent an extraordinary amount of time over the past six years perfecting the art, using equipment he's designed himself.
It's a process that now takes him four or five days, although packed into each ski is a mastery of physics, engineering, chemistry, carpentry and mathematics — and a lot of patience and attention to detail.
He's also helped dozens of students over the years make their own custom skis and snowboards while teaching them about machinery, woodworking and manufacturing.
"When I built the canoes it was really fun building them," he explained. "I started that with students as well. But it was never really badass until I got in the water and I was like, 'I made that, and we're floating,' you know?
"So it's kind of like that with skis. I'm making artwork that's usable and you don't have to spend frickin' $1,000 to do it. That's a big thing."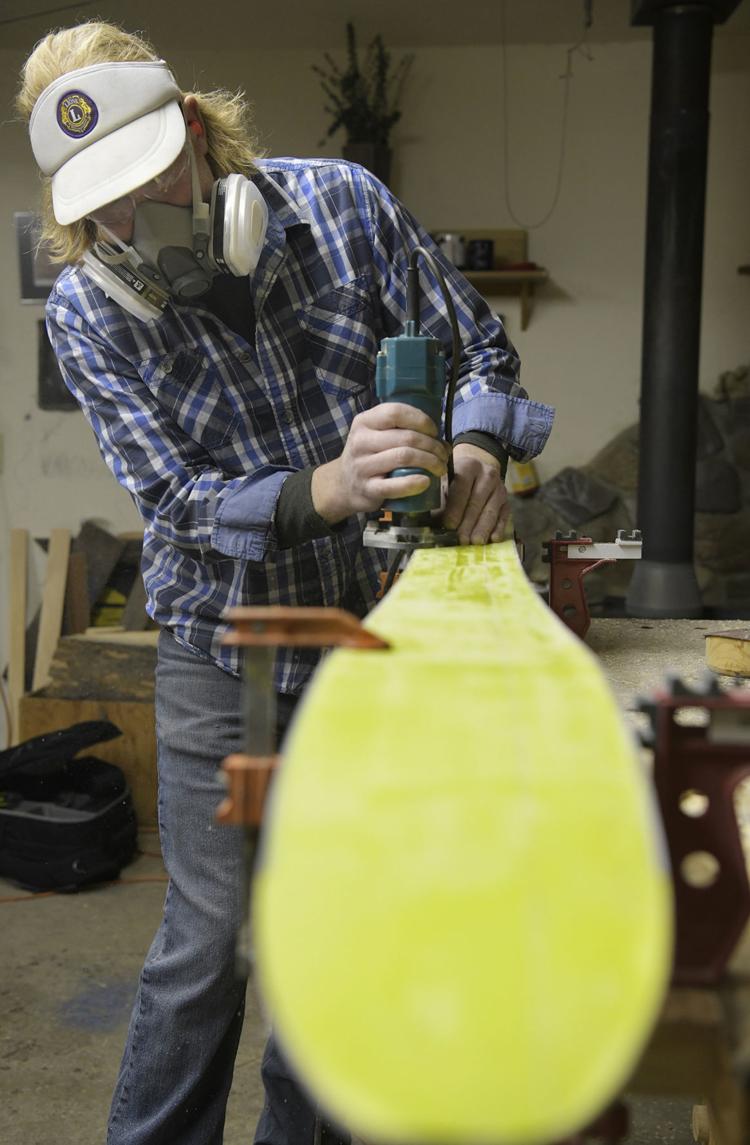 In his shop in Superior, Traeder has built a massive ski press out of scrap metal and an old firehose. The contraption looks like something out of a science fiction movie as it slowly comes to life, with hoses and springs connected at odd angles.
He will spend hours on each pair, with a woodstove crackling and Chris Cornell blaring from the speakers, making sure he checks every step so his customers won't ever find themselves cursing his name while flailing down a snow-covered slope.
Even a ski built for powder has to hold up in extreme conditions, sometimes needing to bite on ice and withstand high-velocity impacts, while still giving its user a smooth ride and reacting to his or her every whim. A ski has to be an extension of the human body, especially for discerning users in western Montana, and any flaw would result in disaster and perhaps injury. Traeder, a longtime and passionate skier, knows this full well and his skis are made with that in mind.
Buffy Kelly of Missoula bought a pair last year and said she's been pleased with their performance.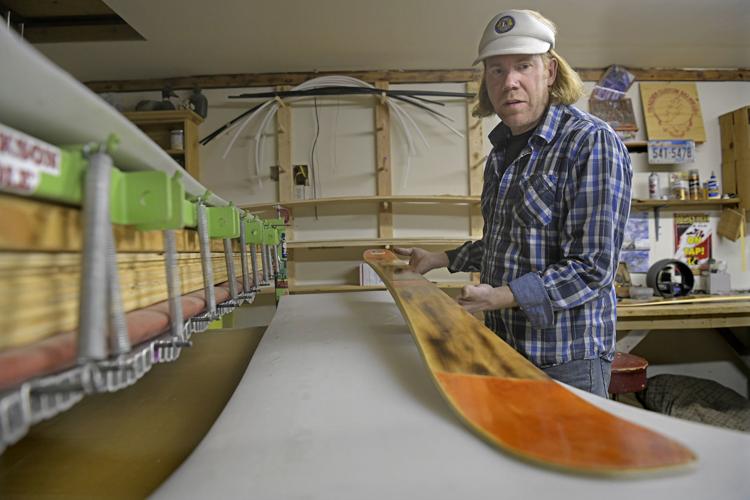 "They're pretty awesome," she said. "I use them for groomed trails, because I'm not much of a powder fan. They're much lighter than my old skis. They're holding up pretty good."
Don Gisselbeck, a ski technician and avid mountaineer in Missoula, said he went on a six-mile backcountry ski trip in the Rattlesnake Wilderness with Traeder and noted that his skis held up on expert terrain.
"If my memory is correct, he seemed to be doing pretty well," Gisselbeck recalled.
Each ski is built with five or six layers, including a laminated wood core with fiberglass cloth, edging material, tip material and wood top veneer. Then using compressed air in his homemade press, the layers are jammed together with epoxy, then cut and shaped. The cores are made from everything from poplar to ash to bamboo to aspen.
"You can kind of play with the materials," he explained. "What kind of base do you want? How heavy of a mesh do you want, and do you want any type of carbon fiber stripping in there? Most of the skis that we build are mainly just for powder."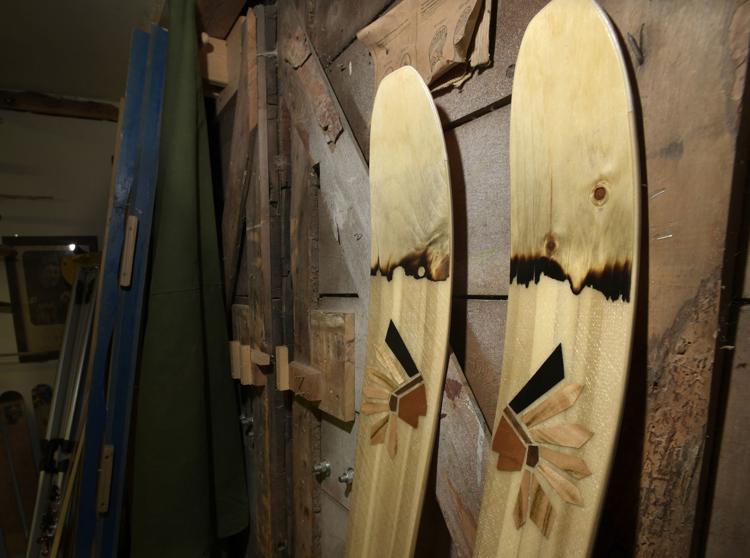 No two pairs are exactly the same, and he sells them as Traeder Custom Skis. He says he's gotten good feedback from his customers, and firmly believes his skis hold up just as well as mass-produced sticks that cost twice as much from a foreign company.
"It's fun," he said. "I made my kids' skis. So it kind of keeps the money rolling and it's just very satisfying knowing you can build this stuff. You don't have to depend on an engineer at a factory somewhere."
He got the idea riding on a chairlift one day.
"Teaching at Big Sky, one of the counselors there, his name is Matt Radlowski and he was a ski patroller at Snowbowl," Traeder recalled. "One day we were talking on the lift and we were going up and he said, 'You know, you can make skis.' And at the time I was making canoes. This was in 2012. Then we got a group of kids together that wanted to make skis so Matt and the kids and I made a ski press."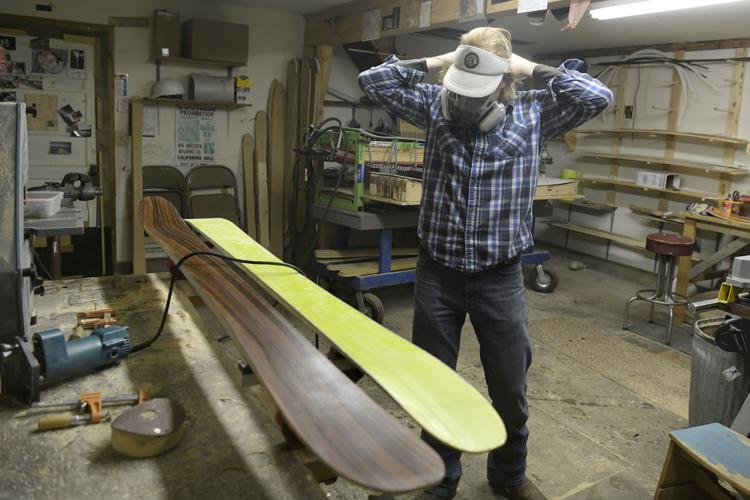 The ski press is a homemade engineering marvel that had to be tweaked and perfected and improved upon many times before it was ready.
"We welded all this stuff and it took about a year and a half before we could actually produce a pair of skis," he said. "After that it was just trial and error, trial and error. Unfortunately, the first group of kids didn't get a good pair of skis because everything was just getting built from the ground up. But after that the kids started getting skis they could ski on."
It took a deep knowledge of carpentry and welding to construct the ski press, and Traeder acknowledged there were moments he thought it might not be worth the trouble.
"After halfway into it, it's like we're never going to be able to build skis because it was 'build to build,' you know?" he explained. "So this [ski press] is actually a firehose and a cat-track that conforms to whatever contour you put into it. It all comes down and conforms to whatever shape you put into it."
He perfected it over time to get the proper shape, including rocker (a slight downward curve) and camber (a slight upward curve), that skiers depend on under varying conditions.
"A lot can go wrong when you put it in the press because you have a whole lot of pressure and epoxy and everything's wet," he said. "Stuff can slide and move around so it's kind of tricky getting that little artwork down."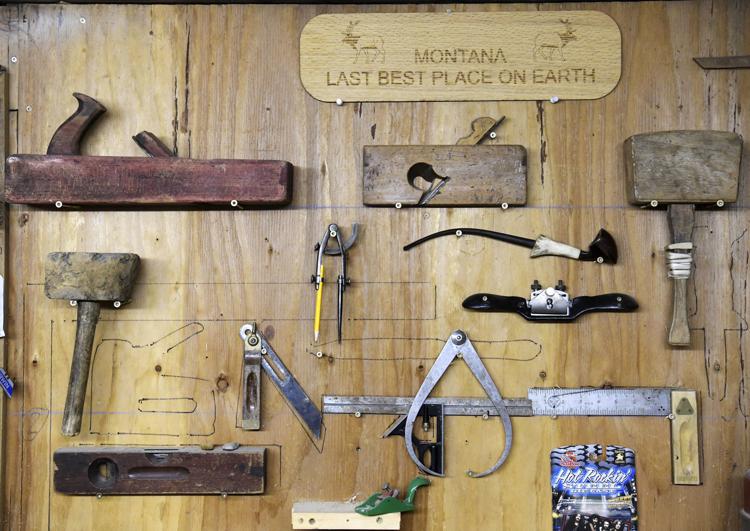 He's found that the kids in his shop classes enjoy the process, especially because they get to design the top.
"So if they are a Pittsburgh Steelers fan or something, they can cover the whole ski with a Steelers logo," he said.
Traeder is in the middle of making a pair with a Bolivian rosewood top for a customer. He doesn't have a lot of demo skis, so his customers sort of need blind faith that they'll like what they get. But at around $400, Traeder believes his skis provide reliability, performance and originality that skiers can't get anywhere else.
"That's the magic right there," he said, pointing to his ski press. "And they're very lightweight for telemark, touring, resort and all-terrain skiing. And I use different materials for the sidewalls so they can withstand impact."
His customers are not the types to take a few laps on easy, groomed terrain and call it good. They're the types that are sending it through steep chutes that require precision turns in varying conditions at high speeds. Traeder says he's never heard of any of his skis failing in that critical moment.
"In the last three or four years, [the skis] have really come along and they're awesome," he said.