A bicycle- and electric scooter-sharing tech company called LimeBike is looking at entering the Missoula market and has sent representatives to meet with city and University of Montana officials.
LimeBike, popular in cities like Seattle and Austin, allows customers to rent its bikes for $1 per hour and leave them anywhere. Using a smartphone app, you can find bikes near you, unlock one and be on your way.
Unlike other bike-sharing companies, the bike locks its back tires when you're done, so there's no need for docking stations or your own bike lock. In theory, if you ride to a place that's busy with commuters and someone takes your bike while you're in a coffee shop, you should be able to find another one nearby.
If you ride to a place where there isn't much demand, there's a good chance it will still be there when you want to complete your round trip. For a higher price, the company also has electric scooters and electric bikes for longer distances and for people who can't pedal.
Gabriel Scheer, LimeBike's director of strategic development, said he isn't sure if Missoula will get bikes and scooters, or all three modes. However, he ideally would like the company to launch in the Garden City sometime in June or July after a few more meetings with local officials and community representatives.
"We're interested in moving things along, but we don't launch without a lot of cooperation and community involvement," he said. "We don't pull an Uber and just show up. But we're really excited about the opportunity there. I personally have fond feelings for Missoula, but it's also a bike-oriented town inclined towards outdoor activities. There's a strong town-and-gown connection, so it's exciting to work together with the campus and the city."
Jordan Hess, a City Council member and the director of ASUM Office of Transportation at UM, said company officials came to Missoula last month to make their pitch and get feedback.
"They reached out to us," Hess explained. "Ben Weiss (the city's bike and pedestrian program manager) and I have been sort of informally looking at bike-share systems. The first generation of dock-based models were prohibitively expensive, but over the last few years there have been some interesting developments. Now, this is a private model. It's private equity offering a bike-share as a service with no cost to the city or the university."
Scheer said the company is headquartered in San Mateo, California, and now has locations all over the United States.
He said students are quick adopters of the electric scooters in other places, and he believes it might work well at the University of Montana.
The company has strategies to try to keep people from being stranded without a bike. For instance, if too many bikes are amassed in one spot, the company will pay people to move them to areas where they're in demand, called "balancing" in company parlance. Or, if a bike gets left in a remote location, a person can get ride credits for bringing it back to a more high-demand area.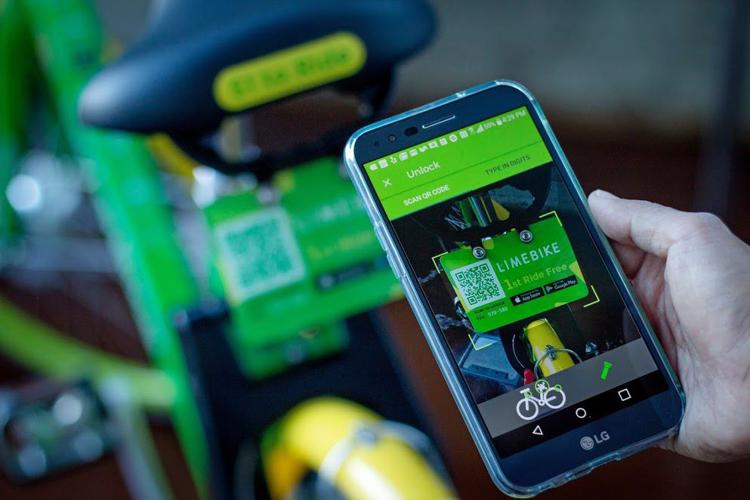 Hess said when LimeBike first enters a market, people often think they need to use their own lock to make sure they have a ride back but frequently find that they could have gotten another bike a block away.
"There's a degree of ubiquity," he said. "If you go to lunch and you leave it parked legally at any bike rack, and come back out and it's gone, there's a phone app where it shows you nearby bikes available."
Hess said he hopes it gives Missoula another mobility option. For example, people who carpool or take the bus to work can use it as an option to get to an appointment during the lunch hour, or college kids can use them to go downtown at night. Solar panels in the basket of each bike keep the lock operating, and there's a pedal-powered generator that keeps lights working. The bikes have a GPS system, and all the parts are built specifically for LimeBike so they're essentially worthless to thieves.
"They're in a lot of university towns with larger campuses, and Missoula presents an opportunity to test the waters in smaller markets and see how it works," Hess said. "Missoula has a very good summer tourism season and a decent-sized campus population, so there's a lot of reasons to believe it would be well received and well-utilized here. We have a lot of great bikeable destinations in fairly close proximity to one another."
People affiliated with higher education or living in qualified low-income housing receive a reduced rate. The timer on the bike automatically stops when you lock it, and the least amount you can be charged is 50 cents.
Hess said the company anticipates "growing pains" such as attempts at stealing the bikes and other problems when it enters a new market, but those usually get settled fairly quickly. The program has been so successful in Seattle that the city recently gave approval for the company to double the number of bikes it maintains.
Hess said there's no guarantee yet, but LimeBike officials he talked to showed genuine interest in coming here. At the end of March, another meeting with company officials may be announced.
"My impression in talking to LimeBike is they really want to partner with the communities they're coming into," he said. "And from a campus standpoint, we're checking references and making sure it's a good fit. We'd like to have them back in the next month or so and have another public meeting to show the bike off to other stakeholders. We're working through what sort of agreements might be necessary, insurance, permits and that sort of thing.
"If they do move forward with coming to town, we'll probably get a couple hundred to start," he said. "They work really closely with the municipality to make sure the bikes are in the correct locations, and they indicated they'd hire a local team to service the bikes and re-balance them. It sounds like from talking to the vendor they have initial problems when they first come in, where people are adjusting, but those growing pains settle pretty quickly. It's a pretty cool thing."