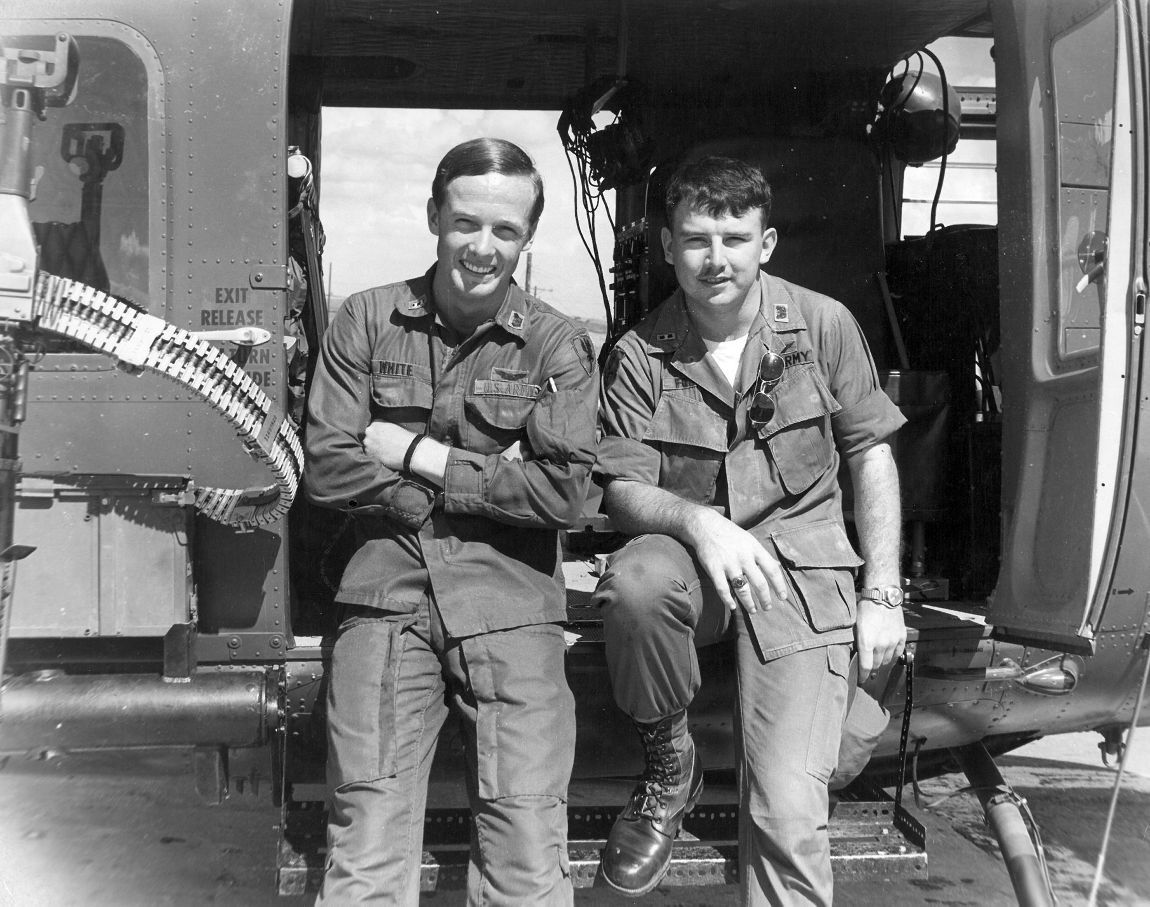 As a Huey helicopter pilot during the Vietnam War, Rich White has both proud and terrible memories of his 21 months of service in the Saigon area.
He took heavy fire during combat missions, and came within seconds of crashing in a rice paddy after an equipment failure. He earned the Distinguished Flying Cross for saving the life of a two-star general by evading ground artillery with quick reflexes. He has been able to help younger veterans with their struggles to cope with their experiences.
However, his time in the war came with a price. Many of his friends were killed. Once, when he flew home, he was walking through the airport in his dress blues when a teenage girl came up and spit on his uniform and called him a "baby killer."
White, a man of strong Christian faith, doesn't have any proof that he ever killed anybody, but he did fire into treelines to suppress enemy fire. His experiences led him to develop post-traumatic stress disorder nearly 40 years after the war, mainly triggered by watching movies in which families have to deal with the aftermath of the death of a loved one.
White, who lives with his wife in the Seeley Lake area, was just a 23-year-old kid who had always dreamed of flying airplanes when he volunteered for the Army in 1966.
He was assigned to the 187th Assault Helicopter Company – the Blackhawks –and began flying combat missions after four weeks of "ash and trash" (non-combat) missions.
Q: What was it like to take fire during a combat mission?
A: This one time we were hauling the South Vietnamese Army. We did not like it because in '67 they had so many Viet Cong infiltrators in their units that they always knew where we were going, what was going to happen, everything. So we had this body language thing. If they were sitting there drinking Cokes and eating candy bars, nothing's gonna happen all day long. But if they're cleaning their weapons, getting extra ammo and extra grenades, you know you're going to step into it. So we picked them up that morning and they were all getting extra ammo and we thought, "Oh man." So we're doing search and destroy and we do six inserts that day, all over this place, leapfrogging. The gunships are checking the LZ. Nothing's happening.
So end of the day, we go to pick them up in a combat formation. The idea is the greater firepower on the heavier side can hit the Landing Zone. The troops are on the ground, ready for the pickup, and it's 6-foot-high elephant grass. And we're down to 30 miles an hour and about 100 feet over the troops. We're settling into the grass and we start taking fire through the helicopter. And lead calls, "Get out of here, the LZ's hot!" and helicopters are zigzagging all over the place. We're going out the other side. Our seats are armored and we wear ballistic helmets, which can stop a small round. But I start crouching down in my seat and I look over at my co-pilot and he's doing the same thing and he's looking at me and we both start laughing hilariously. The crew in the back thought we had flipped out. It was one of those funny moments.
Q: Did you develop PTSD after the war?
A: I came home knowing that I lost three friends over there. Over the years, I had gone to several schools and talked to kids about being in Vietnam and everything, and it didn't seem to pose a problem. But in 2010, I started having, I found out later, PTSD. Forty years after the fact. There's a very good counselor in town that has done a lot of work with PTSD. I said, "What's wrong with me that it happens after 40 years?" He goes, "Rich, for anybody that's been in combat, it's not if it will happen, it's when." Some have it immediately after combat, others it's later. There's no rhyme or reason for it.
Part of the therapy for that was to join the Vietnam Helicopter Pilots Association. When you join, you have access to a website of names and addresses and you can find out where guys were at. And the three I knew I had lost turned into a dozen friends that I had lost. I didn't know that had happened. Five of them were friends I flew with all the way through flight school and the rest were guys that I got to be friends with in the units we flew in. So that was something to work through.
Q: Was it therapeutic to attend events with the Vietnam Helicopter Pilots Association?
A: They had an event in California, and my wife and daughter went to that with me, and it was really special. They do a lot of work helping veterans get back on track. A lot of those guys have been through a lot. They had a Missing Man Dinner. There were 1,100 people there. They had a single small table with a place setting and a rose on it and that was almost enough to get you to break down. But then the New York Police Department bagpipe band came in playing "Amazing Grace," and everybody lost it.