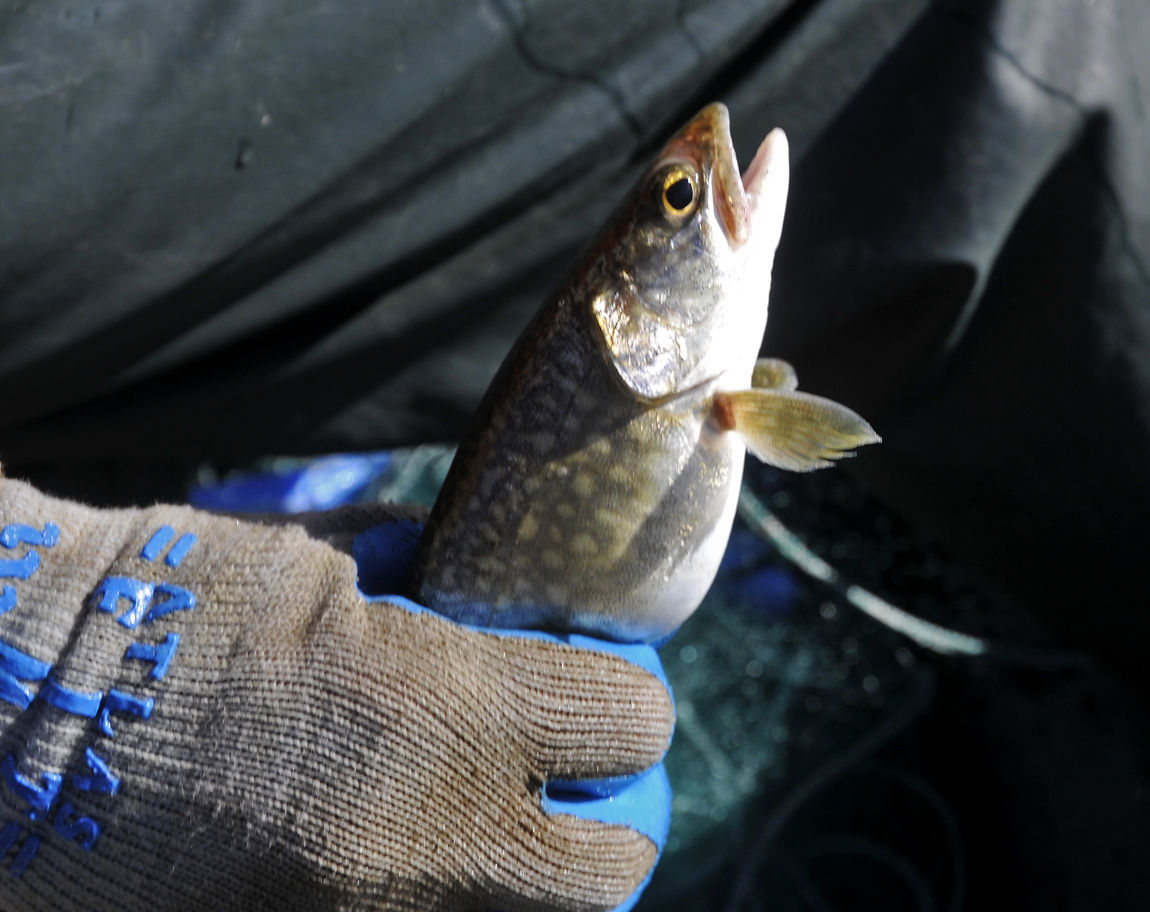 The professional net fishermen on Swan Lake seek out problem fish, but this fall they caught more than they expected.
Two more, to be exact: two walleye pike mixed in with the usual load of invasive lake trout. The non-native walleye almost certainly were illegally introduced.
"It's not only illegal, but very damaging," said Montana Fish, Wildlife and Parks Region 1 fisheries manager Mark Deleray. "It may seem like one or a few actions when they introduce a fish, but it's not a short-term impact. If they become successful and begin reproducing, it's an impact over many years or future generations even. And one of those walleye had a kokanee salmon in its stomach."
FWP contracts with a commercial fishing crew to net lake trout out of Swan Lake three times a year. They're trying to protect populations of bull trout and kokanee salmon that made the lake a famous sport fishery.
The fall netting effort that ended last week concentrated on lake trout spawning areas at a time when most bull trout have migrated out of the lake to their own mountain spawning streams.
Lake trout eat other fish and have few predators of their own. They've already devoured most of the bull trout and kokanee stocks in Flathead Lake and many of the lakes in Glacier National Park.
Originally introduced as a potential sport fish in the early 1900s, lake trout stayed in balance with other species until a state project in the 1960s added mysis shrimp to Swan Lake in an attempt to boost the kokanee population.
Instead, the shrimp traveled downstream to Flathead Lake, where the lake trout took advantage of the new food source and quickly became the dominant stock in the 1980s.
Flathead's kokanee population was nearly wiped out within three years.
In 1998, Lakers showed up in Swan Lake. That same year, bull trout were listed as a threatened species under the U.S. Endangered Species Act.
Walleye are a whole other problem. They are a popular shallow-water game fish, but are not native to many Montana waters. Deleray said so-called "bucket biologists" have cost FWP hundreds of thousands of dollars in attempts to remove the predators and preserve existing fish populations.
The first step in the new walleye case is to determine how long the fish have been there.
A test of the fish's ear bones can show if it grew up in Swan Lake or spent time elsewhere. The bones add new layers over time, and the chemical signature of different lakes can be detected in the layers.
"We try to determine if they're some of the original ones planted into the lake, or if they're reproduced in the lake and grew up here," said Leo Rosenthal, FWP's Swan Lake fisheries biologist.
If the walleye are new, they may be easier to eradicate. If they've been around for a generation or two, the problem is much bigger.
Both fish were about 17 inches long – what Rosenthal called immature males. The invaders don't always settle in their new homes. Sometimes the bucket biology fails and the existing fish stock never notices.
Other times, like in Noxon Reservoir, illegally introduced pike overwhelm the other species.
Criminal charges come to those who interfere with fish. Penalties can range from fines of $2,000 to $10,000, loss of fishing, hunting, and trapping privileges, plus liability for the costs to eliminate or mitigate the effects of the violation.
Anglers cannot move any live fish from the water in which the fish are caught. FWP asks anyone with information on who introduced walleye into Swan Lake to call 1-800-TIP MONT. Callers do not need to identify themselves and may be eligible for a cash reward of over $15,000.
Anglers are encouraged to keep any walleye caught and report additional sightings of walleye to FWP at 752-5501.
Get local news delivered to your inbox!
Subscribe to our Daily Headlines newsletter.