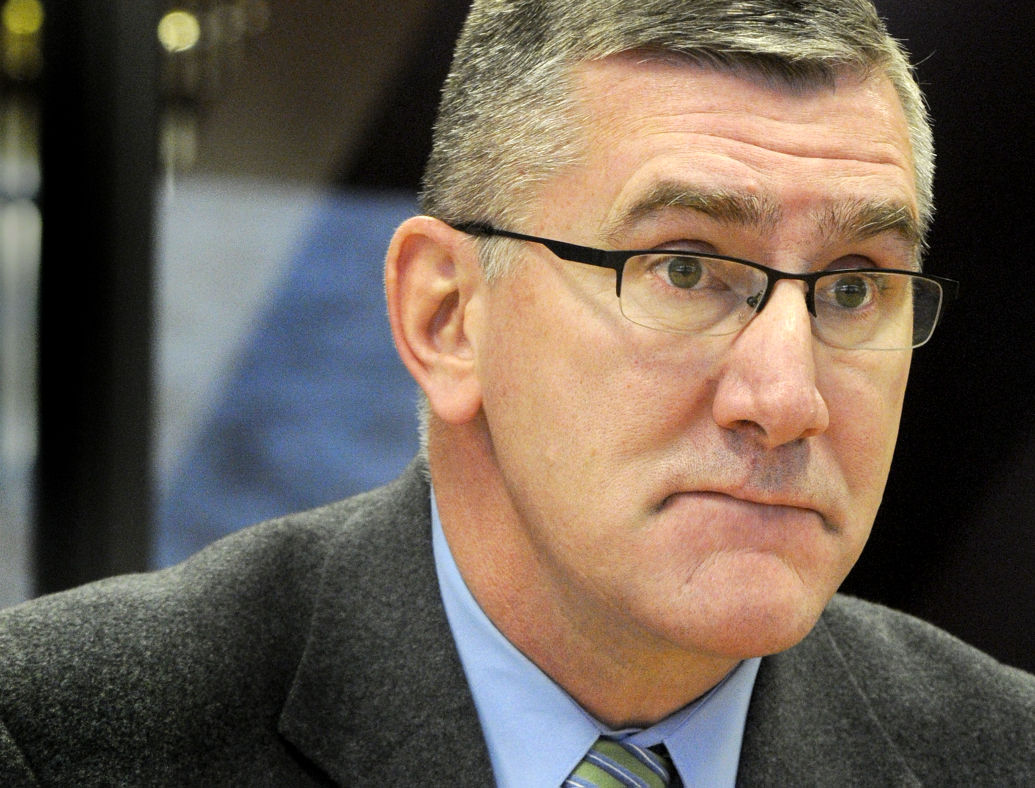 HELENA – Montana Sen. John Walsh said Thursday he was pulling out of the Senate race because his campaign was distracted by the controversy over allegations that he plagiarized a U.S. Army War College research paper.
Walsh, a Democrat, said he decided to drop out of the race after canceling campaign events this week so he and his family could gather in his Helena home to decide his political future.
Walsh will serve out the rest of his Senate term, which ends in early January 2015.
The New York Times reported July 23 that Walsh had plagiarized large portions of the research paper in 2007.
The plagiarism charge dominated Montana news since then. Editorials in the state's largest daily newspapers had called on Walsh to drop out of the race because of the plagiarism.
"I am ending my campaign so that I can focus on fulfilling the responsibility entrusted to me as your U.S. senator," Walsh said in a statement to supporters. "You deserve someone who will always fight for Montana, and I will."
The Montana Democratic Party now will choose a replacement for Walsh, to appear on the Nov. 4 ballot along with Republican U.S. Rep. Steve Daines and Libertarian Roger Roots.
The party must select a new Senate candidate at a nominating convention by Aug. 20. (See related story.)
Walsh drove from Helena to Billings Thursday to personally tell his staff of the decision before it was released publicly.
"I am proud that with your support, we held our opponent (Daines) accountable for his hurtful record to privatize Medicare, to deny women the freedom to make their own health decisions and to sell off our public lands," Walsh said in the statement. "I know how important it is to continue the fight for these Montana values, and it is time for us all to return to the real issues of this election."
Daines had held a large lead in polls, but Walsh had narrowed the gap in the days before the New York Times story broke.
"I think it is a decision that in a lot of ways people were expecting, in the sense he was off the trail for a long period of time," said David Parker, a political science professor at Montana State University. "It would have been hard, given the recent editorials and the recent polls to continue as a viable candidate."
Parker said the plagiarism charges drew national attention and would have made it hard for Walsh to raise the funds to be competitive against Daines.
"I think at the end of the day, that was the kill shot," Parker said.
Walsh drew praise from top Montana Democrats after his announcement, saying how much they respect him and the difficult decision he made to drop out.
Walsh drew praise from top Montana Democrats after his announcement, saying how much they respect him and the difficult decision he made to drop out.
"John has dedicated his life to serving the people of Montana and our country," fellow Democratic Sen. Jon Tester said. "From his 33-year career of military service to his work in the U.S. Senate, John Walsh has courageously devoted himself to our state and our nation, and we all owe him thanks for his service."
Gov. Steve Bullock, who tapped Walsh to be his running mate as lieutenant governor in 2012 and appointed him to the Senate in February to replace Sen. Max Baucus, said:
"No man should be judged based on his best or his worst days, yet rather over a lifetime. ... It's unfortunate that we live in an era where more money and time is spent trying to find the flaws a candidate may have than weighing what good they can do."
Daines, meanwhile, said he respected Walsh's decision and remains focused on "working for the people of Montana and fighting for more jobs, less government."
Walsh, 53, was named as the state's adjutant general by then-Gov. Brian Schweitzer in 2008. He resigned in 2012 when Bullock selected him as his running mate for lieutenant governor. The Bullock-Walsh team won the election by a narrow margin.
He was enjoying his job as lieutenant governor until Montana politics was turned upside-down when longtime Sen. Max Baucus, D-Mont., made a surprise announcement in April 2013 that he wouldn't seek re-election.
Schweitzer expressed interest in running for the Senate seat and cleared out the Democratic field. However, in mid-July, Schweitzer decided not to run,
Walsh jumped into the Senate race in October 2013.
Then in another surprise announcement, President Barack Obama in December appointed Baucus to be U.S. ambassador to China. That created an opening in the Senate to serve out the remainder of Baucus' term.
On Feb. 7, Bullock appointed Walsh to the Senate vacancy. Walsh went on to win a three-way primary for the Democratic Senate nomination in June.
In his statement, Walsh went on to say: "I am grateful for the opportunity to have met countless people in the course of this campaign who have offered support – who know what's at stake for the future of our great nation. That is why public service is so important to me, and why I look forward to continuing to fight for Montana in the U.S. Senate.
"Nothing is more important to me than serving the people of Montana. It's been my privilege for more than 30 years, defending both our state and nation."
In the Senate, Walsh is the only Iraq combat veteran and a leading critic in the Senate of re-engaging in Iraq.
He introduced the Suicide Prevention for America's Veterans Act, a bill that drew bipartisan support in both the Senate and the House.
Walsh had another bill to create an independent Commission on Care to examine the U.S. Department of Veterans Affairs in response to reports of delayed and inadequate care at the VA. Obama signed the bill into law Thursday.
Chuck Johnson is chief of the Lee Newspapers State Bureau in Helena. He can be reached by email at chuck.johnson@lee.net or by phone at (406) 447-4066 or (800) 525-4920.