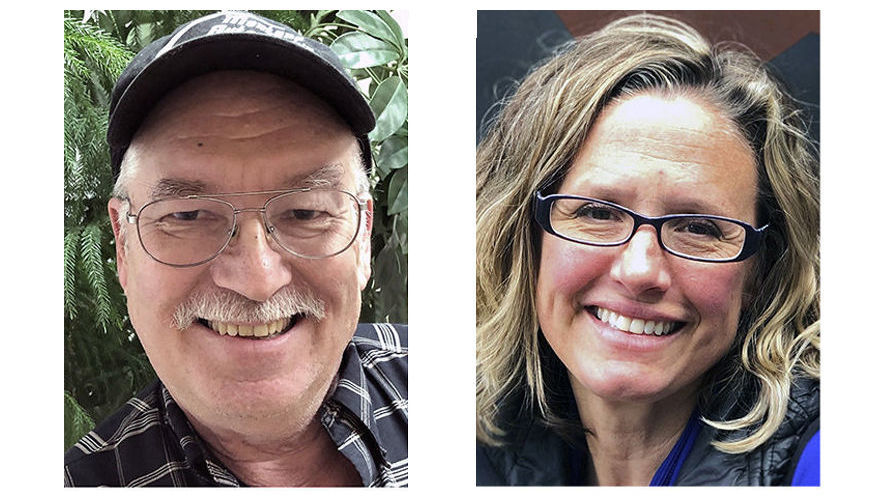 Twelve candidates are vying for the six open seats on the Missoula City Council in November's municipal election. In Ward 4, Alan Ault and Amber Sherrill are competing for the seat, and they answered the following questions from the Missoulian. Ward 4 includes the Southgate Triangle, Lewis & Clark, South Hills and Pattee Canyon neighborhoods. Incumbent John DiBari is not running for re-election. 
1. What do you see as the best strategy for helping Missoulians who feel overburdened by property taxes, and how specifically would you work to carry that out?
Alan Ault: Each year the Missoula City Council only reviews budget increases, so we really don't have a good idea of exactly what is covered in the budget. The strategy I have is to advocate zero based budgeting. That will take longer, but each year department line items will be reviewed and approved. This will go a long way in cutting frivolous spending and devising ways to make the budget less complicated. Also, I support returning TIF (tax increment finance) monies back to the city (like what has been done in the recent past) to put taxpayer money where it was originally earmarked to go and not to corporations. Unfortunately, we still have to pay the debt service (interest).
Amber Sherrill: Tourism and its impact on our local economy has increased exponentially, and our tax structure has not kept up. I will advocate for a tourist tax to generate revenue from the more than $300 million of visitor spending poured into our economy each year. I will advocate at the state level and work to build partnerships in forming a citizen initiative to get this done. This is a strategic, long-term solution for real tax relief. Simply lowering taxes without significantly reducing services is not a real thing. Remember only 29% of your tax bill goes to the city, and over 50% of that goes to police and fire alone. We need a new form of revenue.
2. As the City of Missoula has committed to mitigate the effects of climate change wherever it can, what specific actions would you advocate the city take?
Ault: The first thing I want to change is how our traffic flows. There have been many cases where traffic is made to wait at intersections, thus adding to air pollution. We need to have our traffic move smoothly by reversing the many situations where you can't make a right-hand turn because the lane designated for this once has been closed. More turn lanes are needed. Also, the synchronization of traffic signals is poor at best. I am a real proponent of recycling. I will look into creative ways to make this profitable for the private sector and see what other remote cities are doing.
You have free articles remaining.
Sherrill: I believe climate change mitigation must come from every level of government. I fully support our zero waste policy, our 100% clean energy goals, and Climate Smart Missoula's work to this end. The EPA estimates that half of landfills are demolition waste alone. Home ReSource is currently helping Missoula keep 900 tons of demolition waste out of our landfill each year. Supporting and working with organizations such as this will be critical to attaining our zero waste goals. I believe science holds the key to solving our climate crisis. I will remain focused and open to the best innovations available as the clock is ticking.
3. What is the Missoula City Council's role in addressing the high cost of housing and child care?
Ault: It is not the responsibility of City Council to provide housing nor child care. It is the responsibility of City Council to facilitate, in an efficient and cost effective way, to allow the private sector to provide these services. Currently the building permit and inspection costs are outrageous and are passed onto the prospective home owner or business owner thus increasing the purchase cost of homes and condominiums as well as small businesses development — including child care businesses.
Sherrill: The cost of housing and child care relative to wages is a key indicator of the quality of life in our community. If we cannot provide members of our local workforce the housing and child care they need to live here, the fabric of our community will deteriorate. The recently passed housing affordability policy is an important step in creating essential city government action. I view this policy as a strategic guide since there will be numerous code and policy changes required in order to implement the plan. I am dedicated to understanding these changes, understanding the impacts on all of the diverse groups affected, and advocating for the very best solutions to these issues.
4. How do you view the council's role in formulating city policy and how it intersects with the mayor's role?
Ault: In running Montana Auto Tech, it was not easy to bring auto shop back into high school. Many people were involved from school teachers, counselors, local volunteers and many local area auto business and related trades. But with open dialogue, listening, brainstorming and team building, we were able to do it. That's the way City Council should work. We need to listen to the people in our wards and bring that to the dialogue to solve citywide problems. Then act as a check and balance for the mayor.
Sherrill: I believe our city charter maps this out for us. Council sets policies and approves the budget. The mayor submits a budget to the council for review, amendment and approval. The mayor also executes all ordinances and resolutions passed by City Council. Better decisions are made with collaboration, research, and discussion, so I believe it is important that council works with the mayor and the department heads to understand all facets of an issue when setting policy.