Ellen Buchanan, director of the Missoula Redevelopment Agency, said she can't prove that the use of tax increment financing has caused private developers to invest in targeted parts of town and increased taxable values in those districts, but she would argue that's the case.
"I can't prove to you the First Interstate Bank would not have built a six-story building," she said. "I think you can go talk to the family who owns First Interstate Bank, and they'll tell you, they absolutely wouldn't have, but I can't prove it."
Arguably one of the most powerful economic agencies shaping the community, the MRA oversees Missoula's urban renewal districts, and with them, a roughly $23.8 million budget for the 2021 fiscal year. The money includes bonds, rollover revenues and debt, money set aside for projects, and uncommitted funds.
In one of its more prominent recent projects, the MRA allocated $3.6 million toward the Missoula Mercantile downtown, including money that helped preserve the historic pharmacy. All told, the Merc was estimated to be a roughly $38 million endeavor. The new $30 million Stockman Bank downtown received $1.5 million for demolition and public improvements.
But million-dollar investments have led to ire and speculation from some taxpayers who argue the financing source diverts funds from schools and other jurisdictions, forcing property tax increases, or that it gives "handouts" to developers.
The angst has led the MRA to spend $46,500 on a communications plan to help the agency broadcast more of the work that flies under the radar – millions on affordable housing, sidewalks in low-income neighborhoods, trails and investments in nonprofits.
Communicating how that money is spent is critical, said Geoff Badenoch, who served as the MRA's director from 1985-2003. Badenoch said that as director, he used to publish an annual report to give the public a clear snapshot of how much money the agency received, how it was spent, and what public benefits came from it.
"They have to demonstrate to the public that when they use tax increment funds, they're using them the way the law intended, and they're using good judgment to make sure that for all the private benefit that exists, there is a countervailing public benefit that exists," Badenoch said. "And if you don't do that, then people start getting the idea that it's just a slush fund for rich people." 
How it works
Local governments such as the City of Missoula use tax increment financing, or TIF, as a tool to stimulate economic development in targeted geographical areas, construct new sidewalks and sewer lines and remove "blight" from parts of town. 
Buchanan said the First Interstate Bank project, for example, led to the construction of the Central Park parking garage and was a catalyst for development in the Front Street District. The district was created at the request of the bank's developers, who argued that the area was "blighted," a term some critics have taken issue with. But Buchanan said the parking commission in Missoula "has never been able to fund structured parking or parking garages without TIF money."
To understand both the praise and opposition to tax increment financing, it's important to understand how it works: When the city creates an urban renewal district, the "base" amount of property tax revenue is recorded based on the last tax roll prior to the creation of the district. The "base" property tax revenue continues to pay for things like city services and schools for the duration of the district's lifetime, which can be from 15 to 40 years. Any increases in property tax revenue over the "base" (theoretically resulting from new development) go into a separate fund earmarked to spur economic development.
"The philosophy of urban renewal, as it's practiced in many cities and states outside of Montana, is to create urban renewal districts, areas that public and private attention can be focused to induce private investment," Badenoch said.
The MRA board does not require the Missoula City Council's approval for the majority of their day-to-day expenditures, but council approval is required for some things the MRA does not have the authority to do, such as issuing bonds or acquiring land. The MRA can pay for land, but the city must agree to own it, as was the case with the purchase of the Sleepy Inn motel. 
Big-ticket projects go before the council.
Community benefit, controversy 
Councilor Jesse Ramos is one of the most vocal critics of the way the agency allocates urban renewal money. Ramos argues that TIF only drives up property taxes.
"We have to raise property taxes countywide to cover the increased services that are brought upon by people living in that TIF district," Ramos said. "Because ordinarily, the growth from that development would go to the city, county and schools. All three of those jurisdictions are deprived of it so the MRA can (expletive) around with a slush fund."
Missoula County Public Schools doesn't receive less revenue as the result of the districts, but taxpayers living outside urban renewal districts end up contributing more to fund schools while the district is active, said Pat McHugh, executive director of business and operations for MCPS, who oversees the district's finances.
McHugh said that due to urban renewal districts, taxpayers currently pay an additional $20 each year for a $100,000 home to fund the elementary district's total budget. McHugh said the tax impact is "pretty small" overall — the tax increment value of the elementary district is $10 million of the elementary district's total $130 million value — though he said "It's still meaningful to a taxpayer."
Still, McHugh said he thinks the value that's been added to properties in urban renewal districts in Missoula is "impressive" and said by the time those districts sunset and the increased revenues from properties are included in the tax rolls, "they'll help reduce the taxes paid by all the other taxpayers."
This year, the Missoula Redevelopment Agency, which oversees the city's TIF funds and districts, garnered broad approval from the community for its commitment to invest a minimum of a million dollars per year in the Affordable Housing Trust Fund created by the city. Buchanan said the MRA has long invested money into affordable housing but said those investments and other community projects don't always receive much attention.
"You hear all about us buying the Sleepy Inn or putting money into the Merc, and we're helping the rich people," Buchanan said. "You don't hear about these projects that don't have the big pizzazz or the sex appeal: the sidewalk project over on West Second Street. I mean, who pays any attention to that? And those are projects that change neighborhoods, those create community. Kids have a sidewalk to play on, they can walk to school, older people can get around without being on a gravel shoulder along the road."
Neighborhood bustle, downtown growth
Although developers have benefited from projects such as the construction of Wyoming Street through the Sawmill District, Buchanan said there have been equal benefits to the public such as a bustling neighborhood with cafes, housing, offices, Silver Park, and riverfront trail. But none of that existed less than 20 years ago.
Some taxpayers have critiqued major projects funded by the MRA such as the Merc or Stockman Bank as "handouts" to developers that don't have any public upside, but Buchanan said developers have to demonstrate public benefit to receive TIF funds.
"If you're putting in a fire hydrant, if you're putting in a new sidewalk with street trees, that's public benefit," she said. "If you're upsizing the sewer or the water lines or taking care of storm water, that's public benefit ... We do not give money to businesses. We spend money on infrastructure that is public infrastructure."
TIF funds can also be used for the demolition of old buildings, which Badenoch said helped create an incentive for developers to build downtown in the case of Stockman Bank. 
"When Stockman Bank wanted to build on that block ... the MRA said 'OK, we'll tear that down, and we'll make development of your new six-story bank building easier," Badenoch said. "The old building was paying virtually nothing in property taxes. Now there is a brand new six-story modern bank building that's probably paying, I'm guessing hundreds of thousands of dollars a year in taxes."
In 2019, Stockman Bank downtown paid a total of $252,816.23 in property taxes, according to iTax, Missoula County's property tax portal. 
Those additional property tax values (over the "base") are diverted back to the MRA.
County Commissioner and former City Council member Dave Strohmaier said he thinks the city's urban renewal districts "have been a great tool to catalyze development within the city" and said that anything that benefits the city also benefits Missoula County. The county also has "development districts" similar to the city's urban renewal districts.
"We've seen great things accomplished by way of the urban renewal districts within the city and at some point in time, I am looking forward to the day that when those districts sunset, all of the taxing jurisdictions will reap the rewards of the increased property values and development that has occurred in those districts," Strohmaier said.
Some opponents of TIF, including Ramos, have also pointed out that the city has extended the sunset date for several TIF districts, meaning it will take longer for taxing jurisdictions to reap those rewards. Districts can be extended, by approval of the City Council, if they have outstanding debt or bonds to pay off. URD III (urban renewal district) was supposed to sunset in 2015 but it was extended to 2040 after the MRA issued bonds to contribute $4,736,325 in TIF funding for the South Reserve Bike/Ped Bridge project.
"The growth from that district was supposed to go back to the city, county, schools, but when we sold those bonds, the bridge extended the district up another 25 years, so it's going to be 2040 until we see a nickel of growth from this," Ramos said.
At the request of the city to provide property-tax relief, the MRA issued remittances to taxing jurisdictions for a total of of $2.4 million in 2019 and $2.7 million in 2020, with about a third of each remittance going to the city.
The future of MRA
The MRA has long invested in affordable housing projects, and Buchanan said their new commitment to the trust fund is nothing new.
If there isn't a project eligible for assistance, Buchanan said she thinks the MRA should work with the city to start land banking and buy properties that can be used to build housing in the future, whether that be by a nonprofit, the housing authority or a private developer.
Buchanan said state law gives the MRA latitude to spend money in different ways when it pertains to affordable housing. The MRA previously purchased land in the Old Sawmill District and sold it to Homeward at a quarter-of-a-million dollar discount to develop Sweetgrass Commons.
She cited $1.3 million invested in the Villagio, the 200-unit affordable housing project at the end of Scott Street, a million spent on the West Broadway property otherwise known as the Sleepy Inn that the city is currently using house people who need to quarantine because of COVID-19, and the potential to develop on the Riverfront Triangle if the city finds a housing developer. Buchanan also pointed to the city's recent purchase of the Scott Street property and said she anticipates the MRA will invest $3 million or so into affordable housing on the site in the future.
"Does that get us three years of credit (for the affordable housing trust fund)? Not in my world," she said. "I think we still keep investing in every affordable housing project that comes along and we can take."
A snapshot of Missoula's urban renewal districts
In Missoula, TIF funds have been used to leverage public-private partnerships to boost economic development and have been used to transform a dilapidated downtown where a landfill bordered the Clark Fork River to a thriving social and economic hub. They've funded 15 miles of sidewalks, 10 miles of new streets, 8.4 miles of trails, 94 acres of park improvements, nine bridges and various parking structures. They have also supported projects such as Caras Park, Brennan's Wave, and Silver Park, permanently affordable housing, and social services such as Western Montana Mental Health, the YWCA, Missoula Food Bank, and others.
Here's a look at Missoula's Urban Renewal Districts:
Created: 1978
Sunset date: 2004 
Infrastructure was deficient across the board in downtown Missoula when the first urban renewal district was created, which essentially encompassed the entire downtown area. Over the district's lifespan, the investment of over $20 million in TIF funds leveraged over $200 million in other funds including private, state and federal dollars. Projects included cleanup of the Clark Fork River, and the building of parks and trails, as well as investments in nearly every mainstay business including $250,000 in the Wilma building.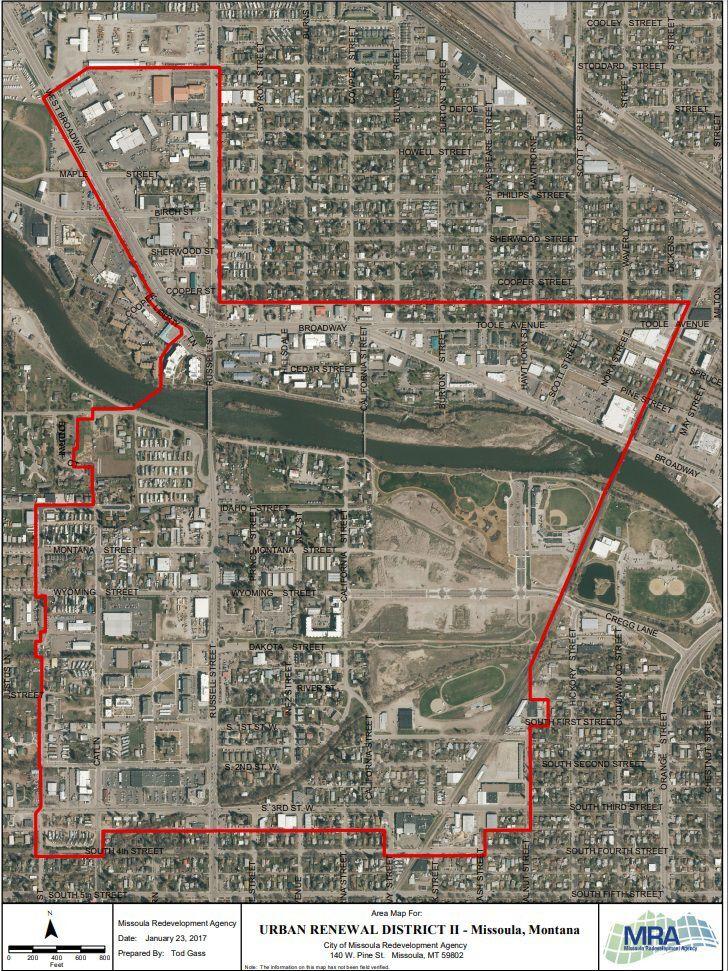 Created: 1991 
Sunset date: 2031
Base taxable value: $1.85 million 
FY20 taxable value: $5.64 million 
Change: $3.79 million 
Increase: 205%
Contingency funds available (uncommitted funds): $801,896
Major projects funded: Projects in URD II include the Missoula Food Bank/SpectrUM project in 2019 which used $333,300 of TIF funds to leverage nonprofit investment in a public-private partnership. The MRA also used TIF funds to complete two phases of a sidewalk project on Catlin and Wyoming Streets totaling about $730,000, as well as sidewalk projects in other areas. The MRA also used over $2 million in TIF funds to build Wyoming Street, serving as a catalyst for development in the Old Sawmill district.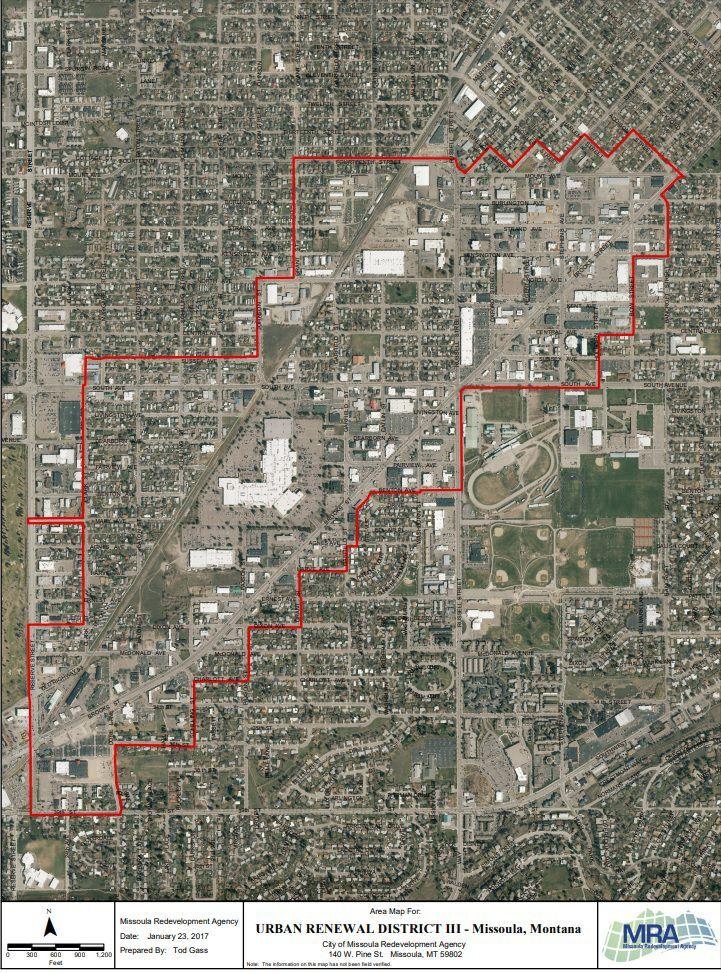 Created: 2000
Sunset date: 2040
Base taxable value: $8.17 million 
FY20 taxable value: $12.47 million 
Change: $4.3 million 
Increase: 53%
Contingency funds available (uncommitted funds): $2,785,371
Major projects funded: Construction of Mary Avenue West near the Southgate Mall, Starbucks which used about $118,000 total in TIF funds, as well as the Tremper's Shopping Center project in 2019 which used about $152,000 in TIF funding.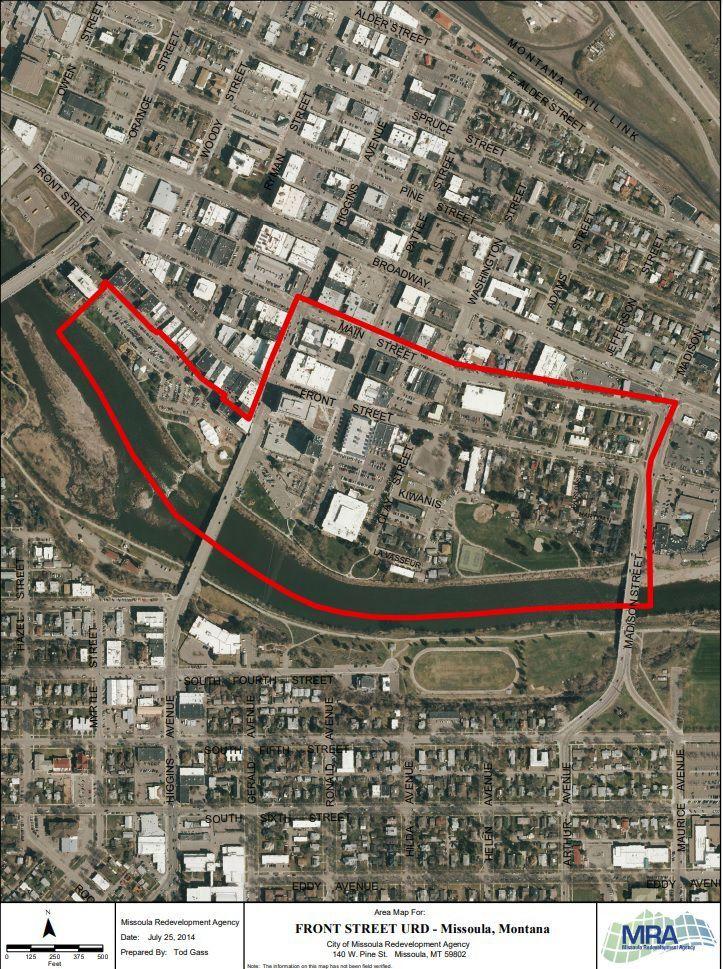 Created: 2007 
Sunset date: 2044
Base taxable value: $1.4 million 
FY20 taxable value: $3.03 million 
Change: $1.63 million 
Increase: 116%
Contingency funds available (uncommitted funds): $82,105
Major projects funded: The MRA contributed $3,597,844 in TIF funding for the Merc building to leverage private investment, $500,000 in TIF funding for the Missoula Public Library project to build the public facility, $50,000 in TIF funding for A Carousel for Missoula to leverage other investments with a nonprofit, and $250,000 for the Wilma building.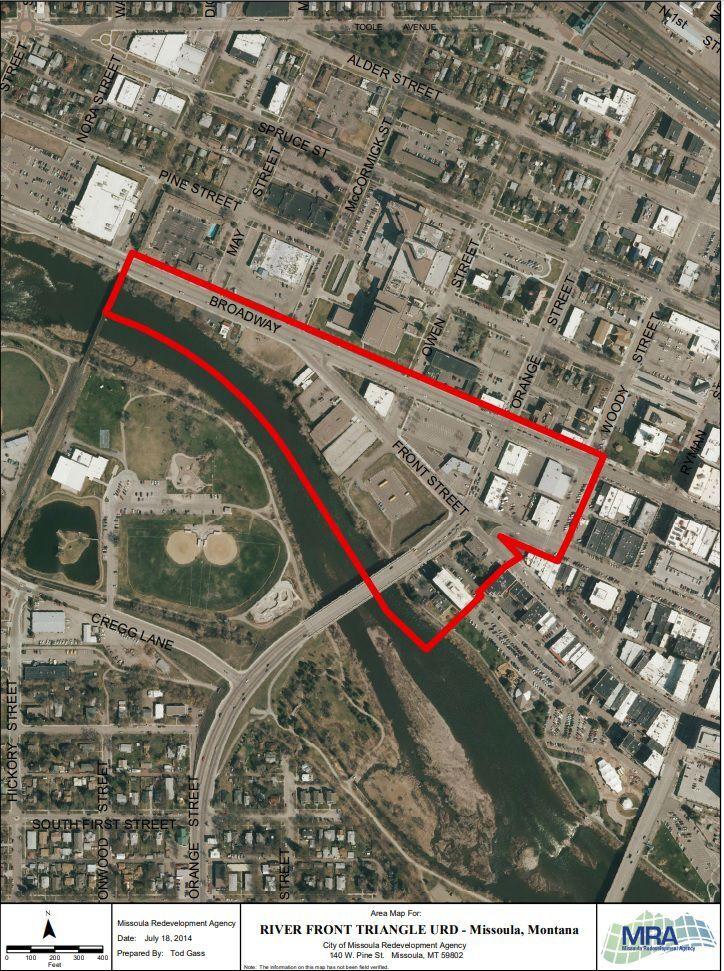 Created: 2008
Sunset date: 2044
Base taxable value: $158,000
FY20 taxable value: $859,000
Change: $701,000
Increase: 444%
Contingency funds available (uncommitted funds): $477,464
Major projects funded: The MRA contributed $1,512,105 in TIF funding for the Stockman Bank Downtown project, and $14,250 for the Riverfront Triangle Parking Study project.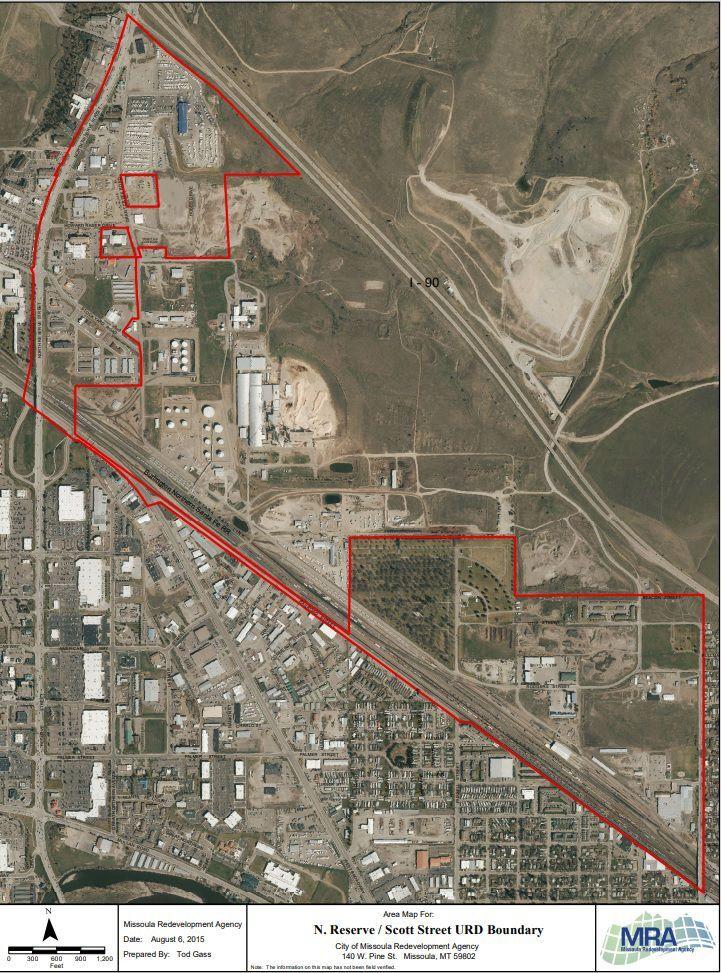 North Reserve-Scott Street URD
Created: 2014
Sunset date: 2044
Base taxable value: $1.49 million 
FY20 taxable value: $3.15 million 
Change: $1.66 million 
Increase: 111%
Contingency funds available (uncommitted funds): $188,916
Major projects funded: The MRA contributed $518,230 in TIF funding for phase one of the Scott Street Village Housing project, and $686,896 in TIF funding for phases two and three of the project, as well $236,250 for the North Reserve-Scott Street URD Master Plan project.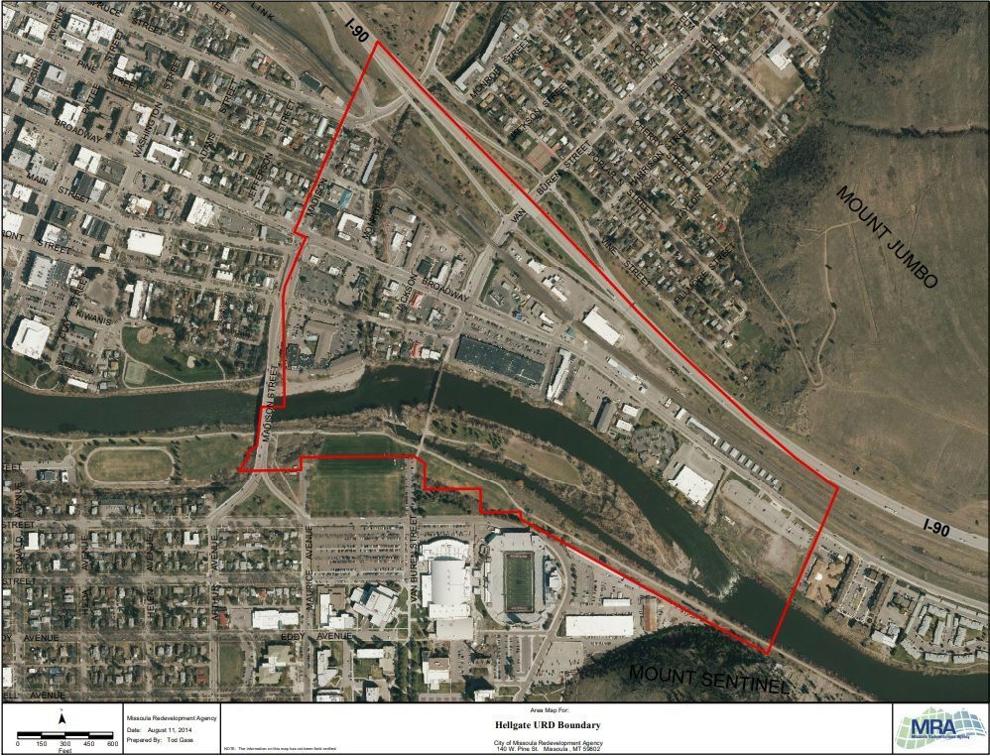 Created: 2014
Sunset date: 2029
Base taxable value: $1.03 million 
FY20 taxable value: $1.44 million 
Change: $410,000
Increase: 40%
Contingency funds available (uncommitted funds): $714,403
Major projects funded: No projects have been funded in the district so far.