When Kaliyah Horvath painted "Justice for George Floyd" on her car recently, someone called her the n-word.
It was one of many slurs that Horvath, a black student at the University of Montana, said she has received since moving to western Montana in middle school. But it didn't deter her from speaking out against racial injustice again on Monday.
"Our system is not designed to protect minorities," she said — a sentiment countless Americans have shared since a Minneapolis police officer was filmed placing his knee on George Floyd's neck until he died. The officer, Derek Chauvin, has since been fired and charged with third-degree murder and manslaughter.
Horvath hadn't been able to make last week's Missoula protest over Floyd's death, so she and her friend Kenzie Woods decided to set up another one in front of the Missoula County Courthouse on Monday. It wound up lasting six hours and drawing well over 100 attendees.
"I'm really, really happy about turnout," Horvath said, as the group worked its way around the courthouse.
The demonstration was loud but peaceful, with protesters periodically marching around the courthouse block and, at one point, on a winding route through downtown, chanting slogans such as "Black Lives Matter" and "No justice, no peace," as well as the names of Floyd and other African-Americans who died in police custody.
They drew plenty of honks and raised fists from passing motorists — and some heckles as well. A Missoulian photographer heard the n-word shouted at protesters. At one point, a pickup truck driver waiting at the stoplight raised his middle finger at the demonstrators. Several rushed across Broadway's two westbound lanes toward his vehicle — only to be walked back by other demonstrators urging restraint. Protester Mahogany Howard led the crowd in a chant of "Raise your voice, not your fists!"
Later in the afternoon, some of the protesters held a "die-in," lying down on the shoulder of Broadway. Most motorists were careful to give them their space, but the driver of one black SUV swerved toward them, coming within inches of their heads. The prone protesters remained, but others stood sentry alongside them.
Missoula Police Department officers warned protesters a handful of times, asking them to stay out of the street and on the sidewalk, a request to which they largely adhered.
One officer came to speak to protesters after one activist went out in the street to confront a truck — sporting a Trump campaign flag, a yellow Don't Tread On Me flag and an American flag – that kept circling the block. A protester had kicked the truck while it was stopped at a traffic light, and the driver called in the incident. The incident ended before police arrived, and an officer told the protesters they were welcome to stay and continue having their voices heard, but to stay out of the way of traffic.
While the officer, who was white, warned them to stay on the sidewalk, ralliers asked him if he supported their cause and if he would say George Floyd's name. He responded that he respected their right to do so, but declined to say Floyd's name.
At other points in the protest, a white demonstrator and police officer briefly shook hands; a passing officer drew cheers by giving them the thumbs up.
"I think we have to celebrate those kinds of connections that are present here, even when we don't see them replicated across the country," said Tobin Miller Shearer, director of the University of Montana's African-American studies program. While not present at Monday's event, he considers the lack of violent clashes with police a noteworthy feature of Missoula's protests.
The demonstrators, meanwhile, had a range of opinions on how law enforcement needed to change.
One white demonstrator who declined to give her name yelled "oink, oink!" as a cruiser drove past. Others chanted "defund the police!"
"Yep, I support that," said Niara Banales, holding a sign that said "No justice no peace f--- the police." Absent a full defunding of the police, she said they should at least be disarmed. "I don't think it would be a step too far," said Banales, a black Missoula resident. "They've proven they can't do their jobs."
But several other protesters of color said reform, not defunding, was the best path forward.
"We definitely need police to keep order," said one, Desmond Davis. Horvath, the organizer, told the Missoulian "I think that they need to reform their system entirely … and bring in more cops who don't have hateful feelings" toward the residents they serve.
By the time the demonstration ended late Monday afternoon, Missoula had gone another day without the looting, vandalism and violence that has plagued other cities. Several demonstrators who spoke with the Missoulian described that behavior as an unfortunate but understandable reaction to the deep inequities in U.S. society — and the failure of more peaceful measures.
"Obviously we don't support the looting, but I'm not surprised that's going on," said Davis, who stressed that he and the friends and family members he was with meant no harm and meant to do everything peacefully.
Asked why he thought Missoula had averted violence thus far, he replied, "to be brutally honest, I don't think we have enough diversity in Missoula to have enough of a backlash." Montana is largely white; in the 2010 Census, only .8% of Montanans — the fewest of any state — identified as African-American, and 6.6% of the population identified as American Indian or Alaska Native alone. 
A majority of Monday's demonstrators, though not an overwhelming one, was white. "As you can see, we have a lot of support," Davis said.
Alex Kim, an organizer with Missoula's IDEA for Racial Justice, was not at Monday's event, but considers recent days' demonstrations "a sign that our community sees the pain and the suffering that institutional racism has, not just across the country but across Montana."
Horvath, meanwhile, already plans to organize another demonstration. "I would like to see more people come together and just show love, not hate."
Hands behind your head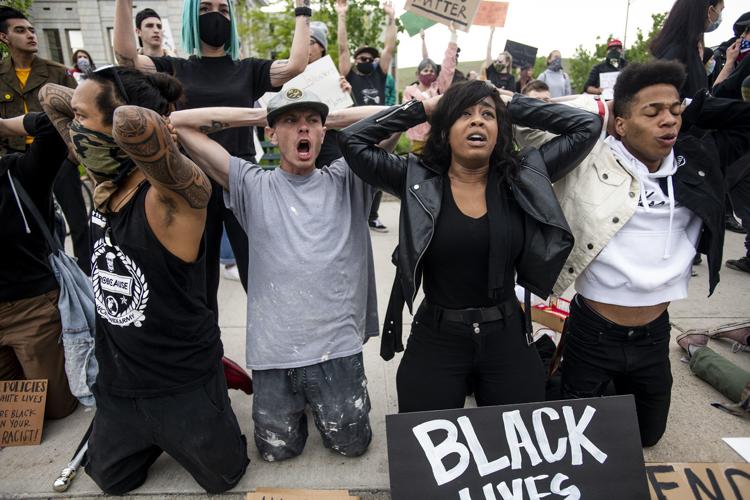 Face down on West Broadway Street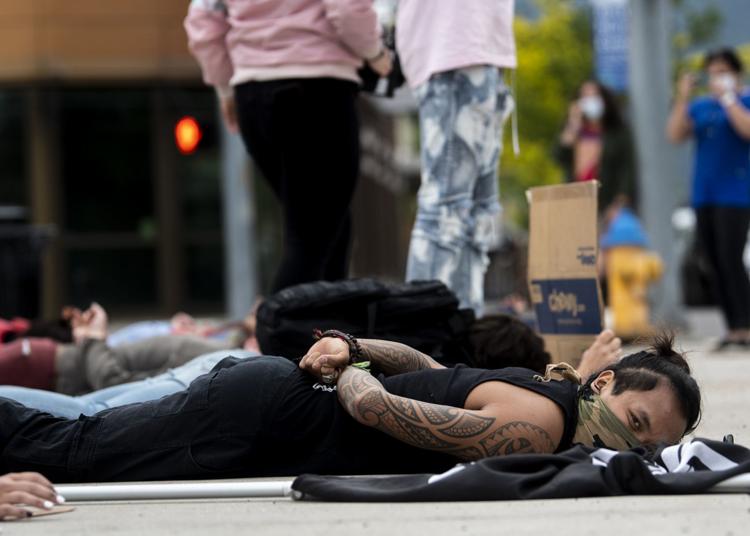 Hands in the air, "I can't breathe"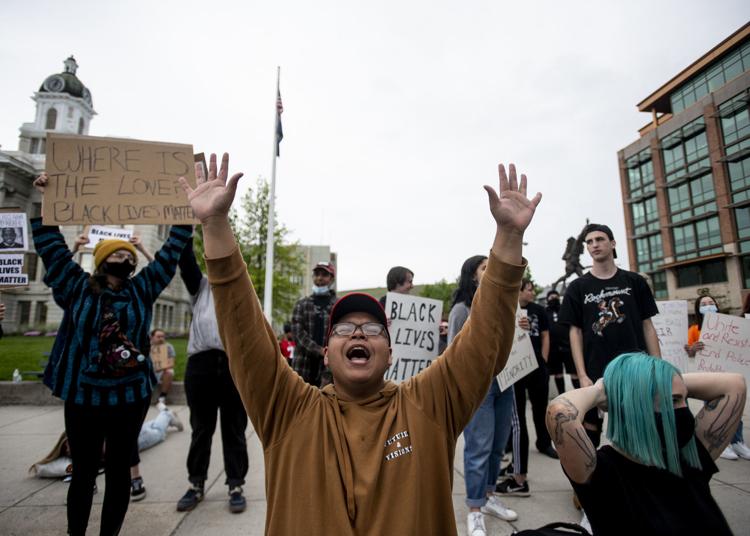 Face down on the sidewalk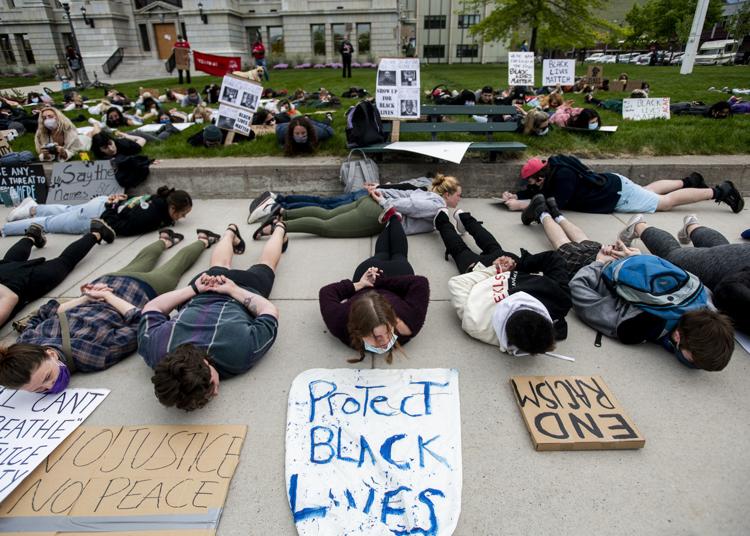 Andi Hoelzel and Eleanor Smith sit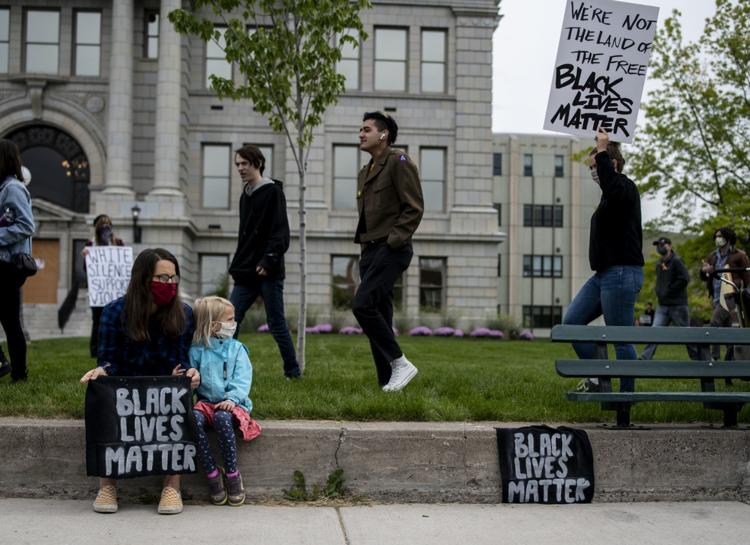 Mahogany Howard leads a chant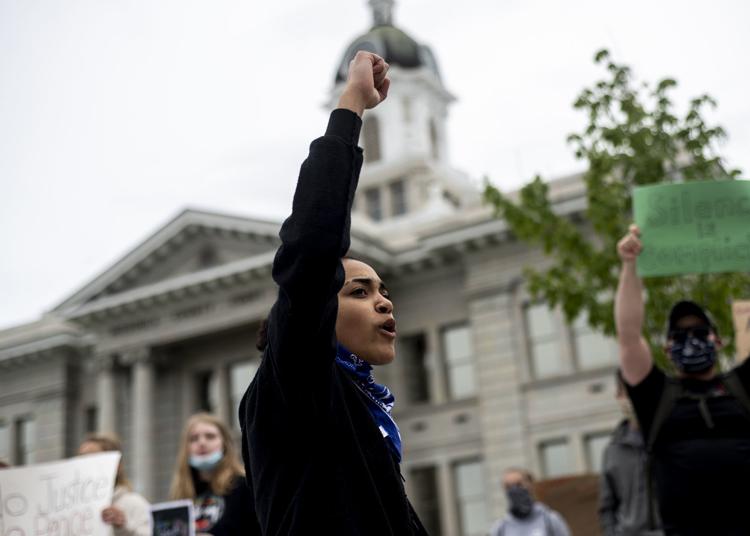 Sania Simpson holds her fist in the air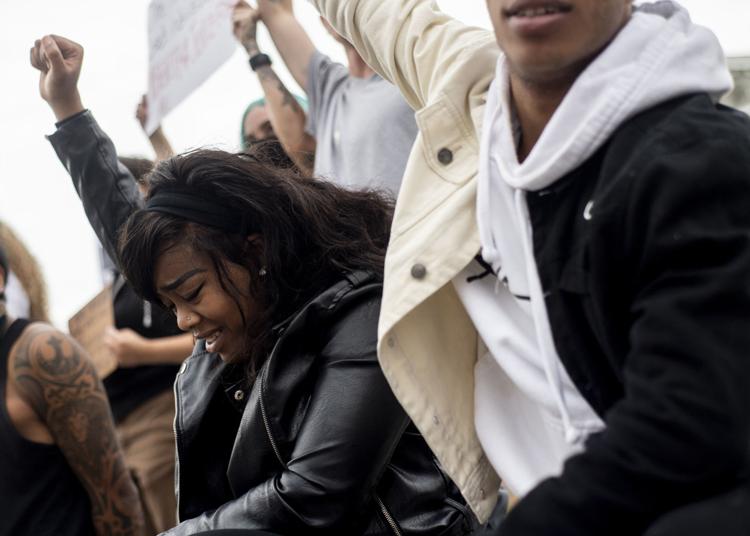 Desmond Davis holds his hands in the air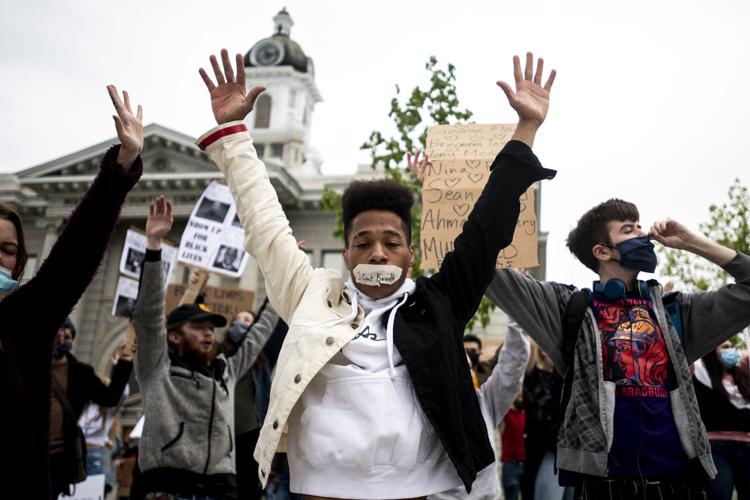 Ward Wilson raises a flag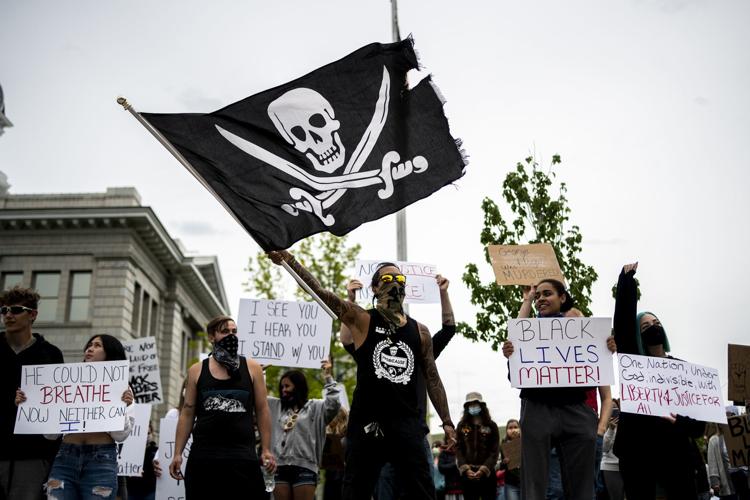 Charlie Lynch paints a mural
"George Floyd Mattered"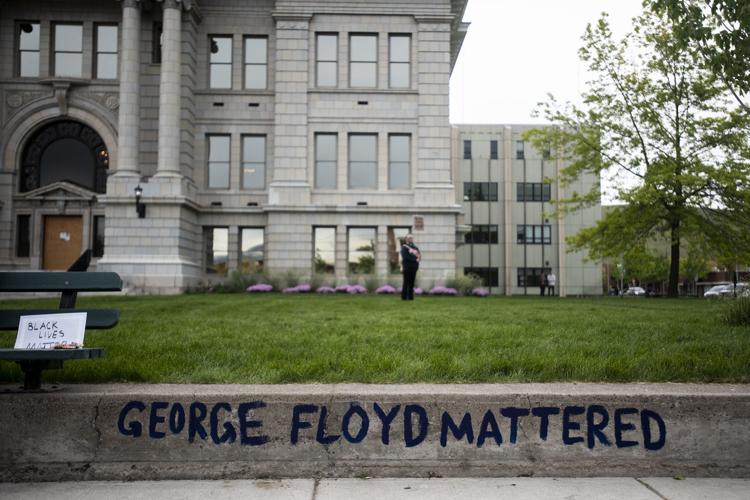 Minor verbal altercation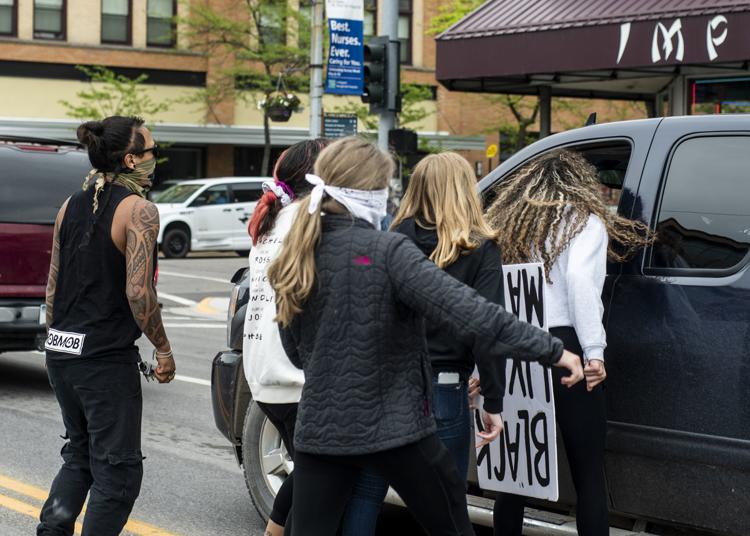 Marching past City Hall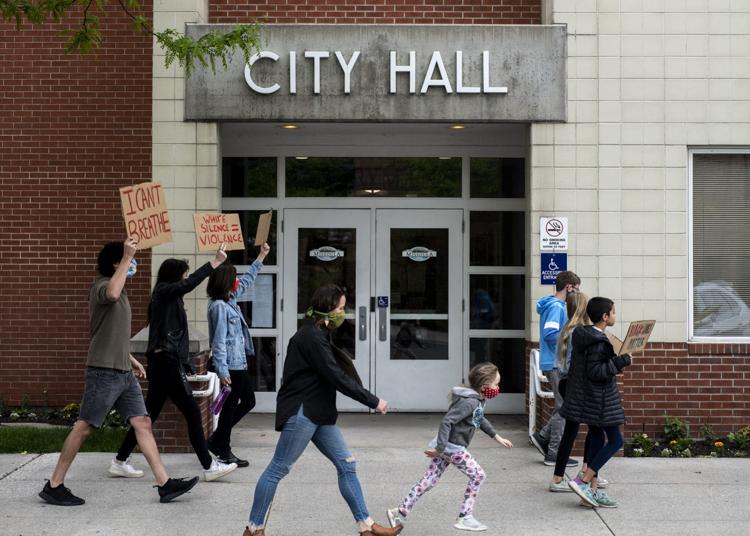 Marching along West Broadway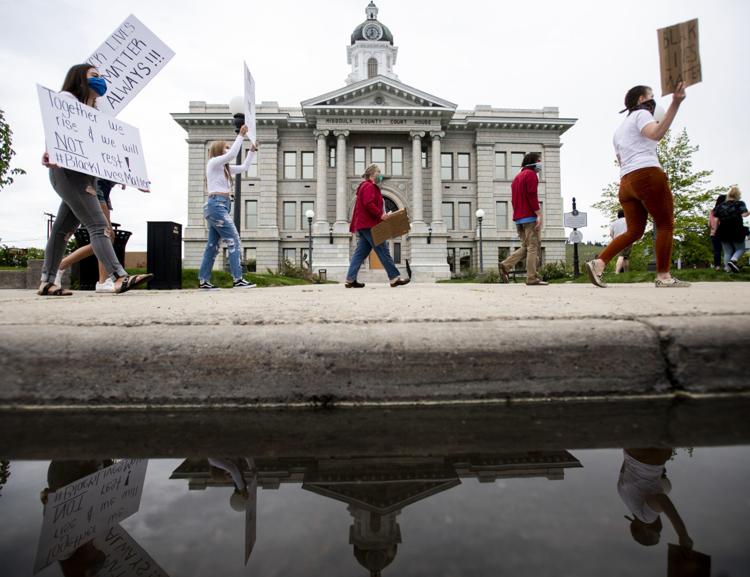 Desmond Davis stands on West Broadway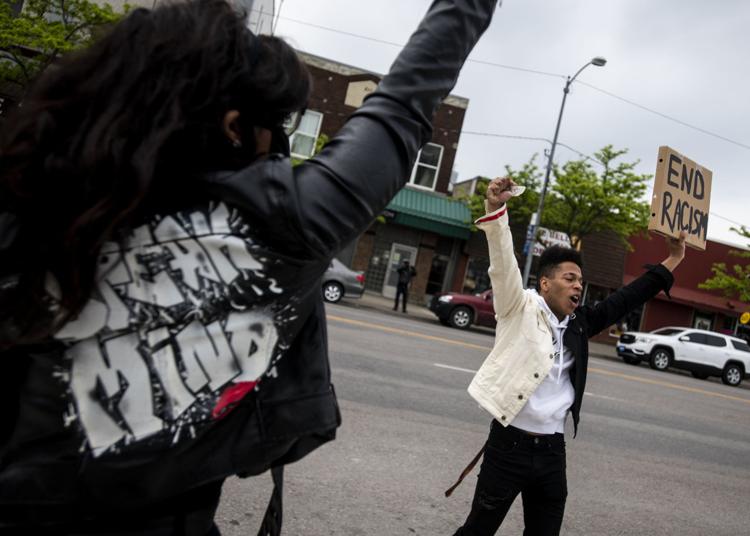 Lying face down on the sidewalk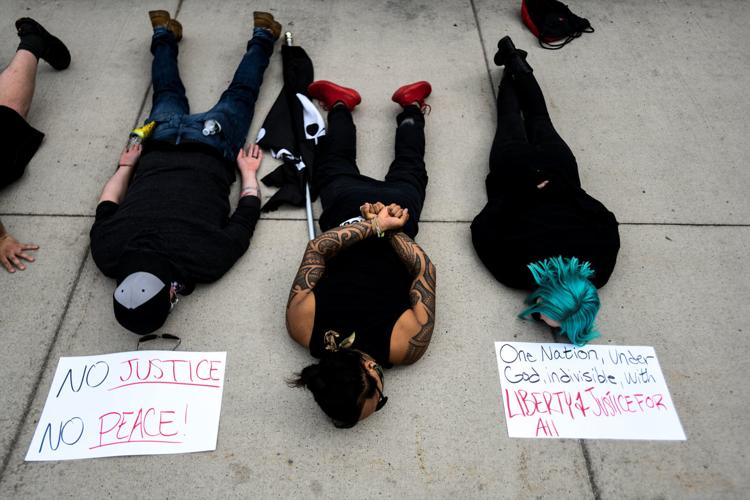 Marching to downtown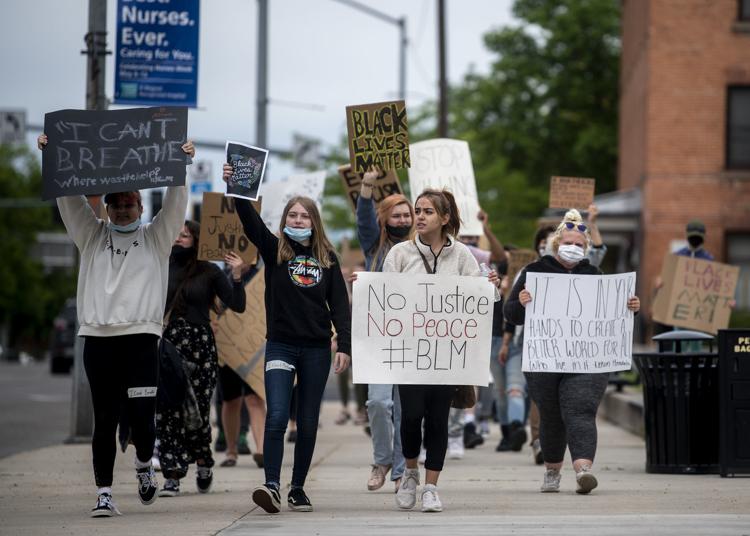 Michael Brown poster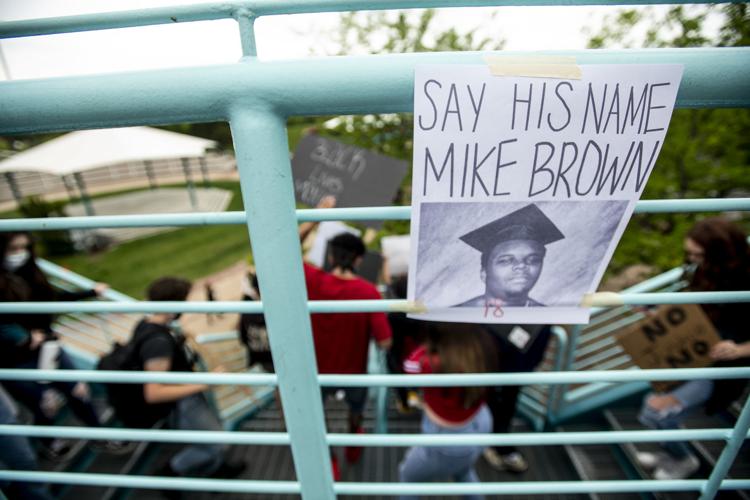 Marching down Higgins Avenue
Protesters drive along West Broadway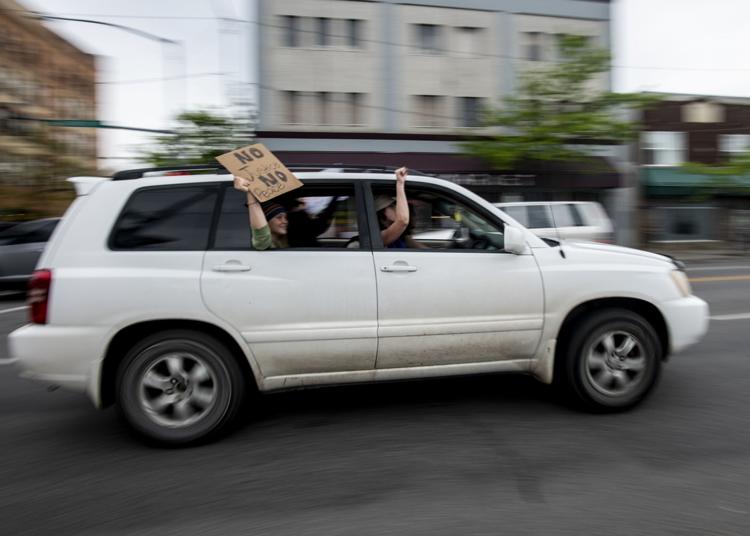 Get local news delivered to your inbox!
Subscribe to our Daily Headlines newsletter.