For the Missoula City-County Health Department and the county's Vaccination Coordination Team, the time was right to push Missoula County into opening up COVID-19 vaccinations for all.
Starting on Sunday, all Missoula County residents age 16 and older will be eligible to receive the vaccine.
The decision, according to Office of Emergency Management Director Adriane Beck, in part stemmed from the speed at which appointments were being filled.
"Throughout this entire kind of vaccination effort, we are continuously looking at how quickly appointments are going, especially as we look to our phase transitions as we've done since January," Beck said. "We were looking at how many open appointments were out there, the amount of traffic to the call center. (The appointments) were being pretty slow to fill, but they were getting filled.
"We just felt that it was a good time to make that transition."
Missoula County made the switch to Phase 1B in late January and then to Phase 1B+ on March 15. A day later, Gov. Greg Gianforte announced that all Montana residents would be eligible for the vaccine on April 1.
Several counties, including Yellowstone and Cascade, have already opened up to those age 16 and older. On Thursday, the New York Times reported Moderna and Pfizer each were beginning tests for a COVID-19 vaccine for children age 12 and under.
Currently, the Pfizer vaccine is available for those 16 and older. The Moderna and single-shot Johnson & Johnson vaccine are only available for those 18 and older.
Opening up the vaccine for all adults in Missoula County and statewide, however, does present a supply issue. While Missoula County is expecting a one-time bump of an extra tray (around 1,200) vaccine doses, the county has been steadily receiving around 2,800 first-dose vaccines per week.
Including the pharmacies and medical providers who are able to access the federal vaccine supply directly, around 5,000 first-shot doses are being administered a week, though that number fluctuates.
As of Monday, 50,330 total COVID-19 doses had been administered in Missoula County and 17,994 people in the county had been fully vaccinated. The county's vaccination map has around 99,314 total in Missoula County that need to be vaccinated, so there are quite a few shots still to get in arms.
Prior to Sunday, around half the county was eligible for vaccination. Now with the rest of those age 16 or older eligible, the vaccination clinics will fill up much quicker. For example, Missoula County is hosting vaccination clinics at the old Lucky's Market on Sunday and the Fairgrounds on Monday.
Those filled up within several hours of news breaking on Wednesday afternoon that the vaccine was going to be more widely available. On Thursday, the health department announced that an additional 500 Moderna vaccines would be available for a clinic on Monday, March 29.
Appointments for that clinic will be available starting at 1 p.m. on Friday, March 26.
"Anytime that we've done a phase transition, we see an immediate kind of rush to get the open appointments," Beck said. "And what we hope is that people don't get frustrated by that."
But mass vaccination clinics are not the only place to get a vaccine and for many people, this is a new process and one they were not expecting to go through for a few more days.
Available vaccination appointments can be found on covid19.missoula.co or by calling 406-258-INFO (4636) from 8 a.m. to 5 p.m.
If using the internet, once on the Missoula vaccination website, click "Learn more" under Vaccine Information. Public vaccination clinics are near the top, but by scrolling down, four different boxes show up: Public Clinics, Healthcare Providers, Pharmacies and other providers.

Public clinics fill up fast, but clicking on that drops down more information about them, along with a hyperlink (click "Make an appointment online") to the appointment portal. From there, it's a few clicks to find a time to schedule an appointment.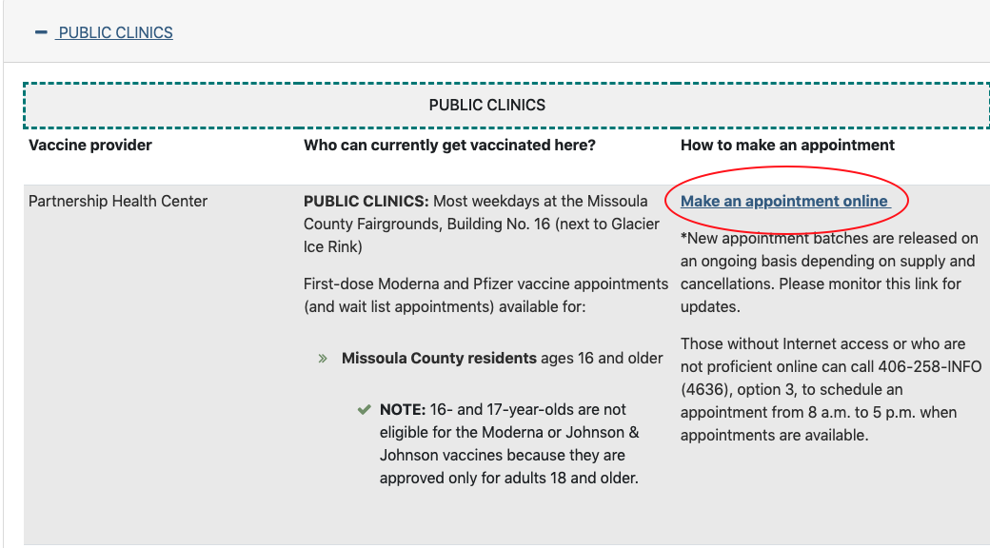 Dropping down the "health care" provider box puts a person through a very similar process, as does the "pharmacy" box. 
With things moving quickly, some pharmacies and businesses (such as Walmart, which just came online as a vaccine provider in the past few weeks) have not updated their sites since the change in eligibility for the vaccine came online.
After Sunday, everyone 16 and older is eligible for the vaccine, so it does not matter what box you click. So, for example, someone who is on the Walmart website and looking for an appointment on Sunday or later who is 35 with no preexisting conditions could click a box that says age 60 or older to schedule an appointment, the Missoulian confirmed with the store.
This is just an immediate workaround and the scheduling sites will likely update within the next few days.
"I think that, you know, the announcement yesterday that we were going to go into the 16+ final phase, it's just taken some time to get every everybody on that same page," Beck said. "Come Monday, and as we get kind of into the stage, yes, the public will be able to access any of those vaccine appointments that are out there by any provider."
Uptick in cases
While vaccines are about to be more widely distributed, the Missoula City-County Health Department expressed serious concern during a Thursday update with the Board of Commissioners about an uptick in cases.
Missoula added 16 new COVID-19 cases overnight and has 125 active cases in the county. Missoula County's test positivity rate was 4.87%, which was worse than the previous week. In fact, the daily incidence of new cases based on a seven-day rolling day average and the transmission rate were worse as well.
As of Thursday, 47% of active cases were in the 20-29 and 30-39 age bracket, which is worrisome to health officials.
"When we start to see cases (in that) age group — and this has happened repeatedly across the country — and it really was the beginning of our spike in the fall," Missoula County Health Officer Ellen Leahy said to the commissioners. "When we start to see the case growth in that group, they tend to be more mobile, they tend to have lesser symptoms and sometimes do not realize they are actually infectious.
"When we see that in the 20- to 29-year-old age group, it does tend to jump to other age groups and it's one of the causes of spread across the population."
Leahy noted a similar trend had been observed in Michigan. On Wednesday, the health department said in a release that of the eight COVID-19-related hospitalizations in Missoula County over the last week, three were people in their 20s.
"That's highly concerning because that's an age group that has not really had severe disease up to this point," said Missoula County COVID-19 Incident Commander Cindy Farr to the board. 
Jordan Hansen covers news and local government for the Missoulian. Contact him on Twitter @jordyhansen or via email at Jordan.Hansen@Missoulian.com