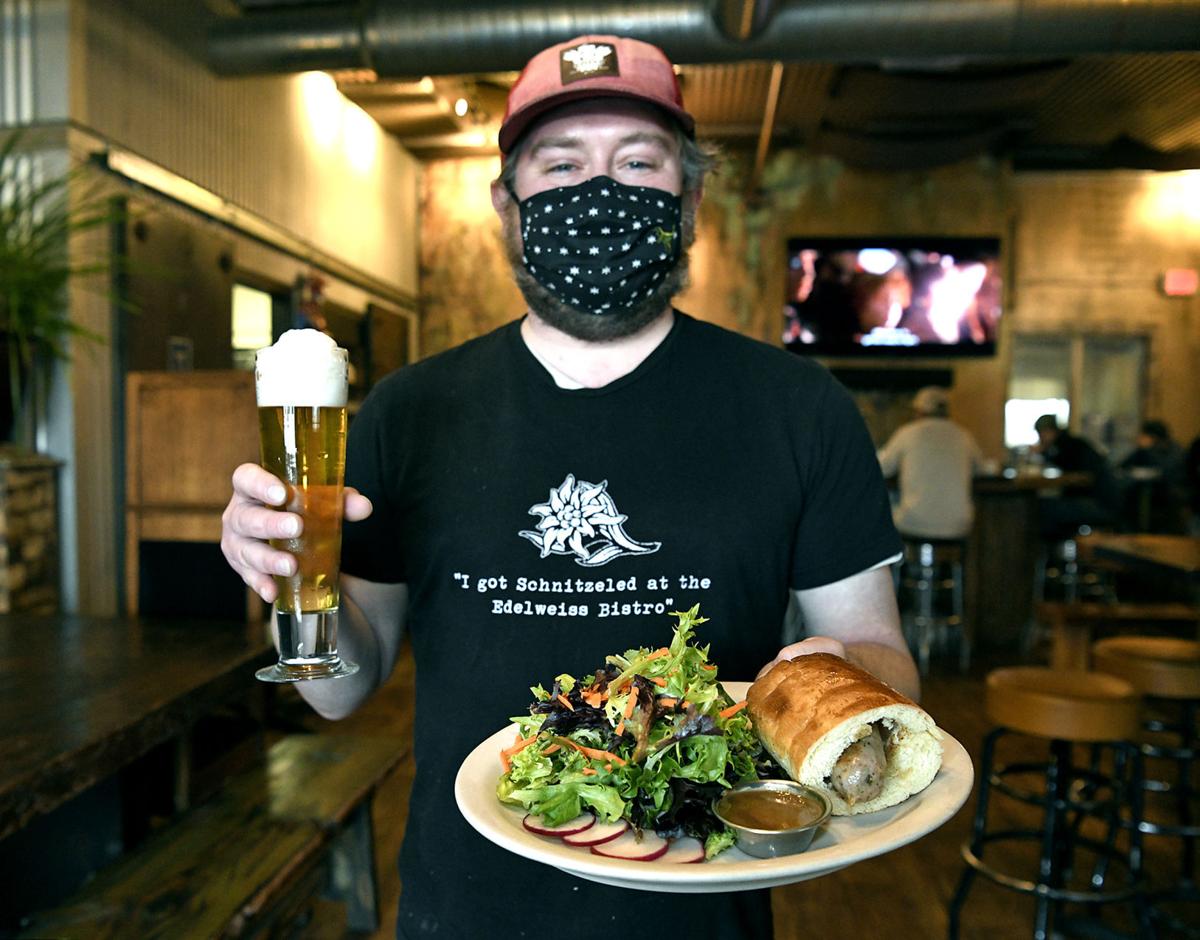 Food service business and drinking establishments in the United States lost $240 billion in sales in 2020 compared with the previous year, according to the National Restaurant Association. The industry lost 2.1 million jobs last year due to the pandemic, according to the U.S. Bureau of Labor Statistics.
Montana's bars and restaurants were not immune to those challenges.
The winter months in the Big Sky state, of course, are also the slowest for the industry that relies heavily on tourism for annual sales.
Guy Hill, a member of the Confederated Salish and Kootenai Tribes, owns and operates Little Montana Restaurant and Catering in Ronan with his business partner Sean Perry.
"We've lost a lot of business," Hill said. "We've lost probably two-thirds of our revenue. We've had to cut way back."
Hill said without Paycheck Protection Program loans and state business grants distributed by the Tribe, his business might not have made it. With the indoor dining room closed due to safety precautions, he had to lay off four servers.
"We're all close and they knew it was coming," he said. "There's always work for them when this clears up."
He and his staff have had to diversify to survive, he said. So now, they plan to start a food truck. Hopefully, catering in the summer will be enough to offset the slow winter months.
"We have good weeks and bad weeks," he said. "As soon as it starts picking up again, it goes back down."
A Missoula business organization is trying to combat slow winter sales as well. In order to encourage locals to patronize restaurants and bars, which employ thousands of workers and pay property taxes, the Downtown Missoula Partnership is hosting the first-ever "Downtown Dine Local Week" until Jan. 31.
More than 100 food and beverage business in downtown are participating through promotions, specials and prizes available through social media.
"Downtown Missoula offers a wealth of diversity in the food and beverage industry, and bars and restaurants have been heavily impacted by the pandemic," said Ashley Larkin, commercial loan officer at First Montana Bank and incoming president of the Missoula Downtown Association board of directors. "With a focus on supporting these MDA members, our team is showcasing all the different offerings and creating ways for folks to win Downtown Gift Cards while they're dining downtown."
At Bernice's Bakery, you can get a free 12-ounce beverage of your choice with the purchase of any croissant, for example.
Missy Kelleher, the owner of Bernice's, said it was a good way to clear out the day-old baked goods. The longtime bakery and cafe has seen a precipitous drop in business.
"We're only doing takeout, so our breakfast and lunch sales are down about 75 percent," she said. "The rest of the bakery is down about 20 percent."
She said they've come up with other creative solutions, like a "Junk in a Jar" for $5 to sell cake and cupcake trimmings.
Shawna Chandler, the marketing manager at Bayern Brewery, said they've got a lineup of daily specials, like a pretzel-bun reuben on Friday. They've pivoted to enticing more people to get takeout by offering punch cards that allow customers to get their 11th takeout entree free.
At Cranky Sam Public House, with every Biga Pizza takeout order you can get a coupon for half-off a beer flight or a buy one/get one free pint.
New restaurants like Stave & Hoop and Ducrey Chocolate Maker are participating alongside established spots such as El Cazador, The Depot, the Iron Horse and Ciao Mambo. For a full list of specials, visit missouladowntown.com/dine-local-week/.
If you follow Missoula Downtown's Facebook or Instagram pages, you can win $50 Downtown Gift Cards.
The Missoula Downtown Association has also announced its nominees for the Downtown Missoula Annual Awards. Out of the 12 nominees, six winners will be announced Feb. 1-5 by video on the organization's social media pages. To see the full list of nominees, visit missouladowntown.org.​