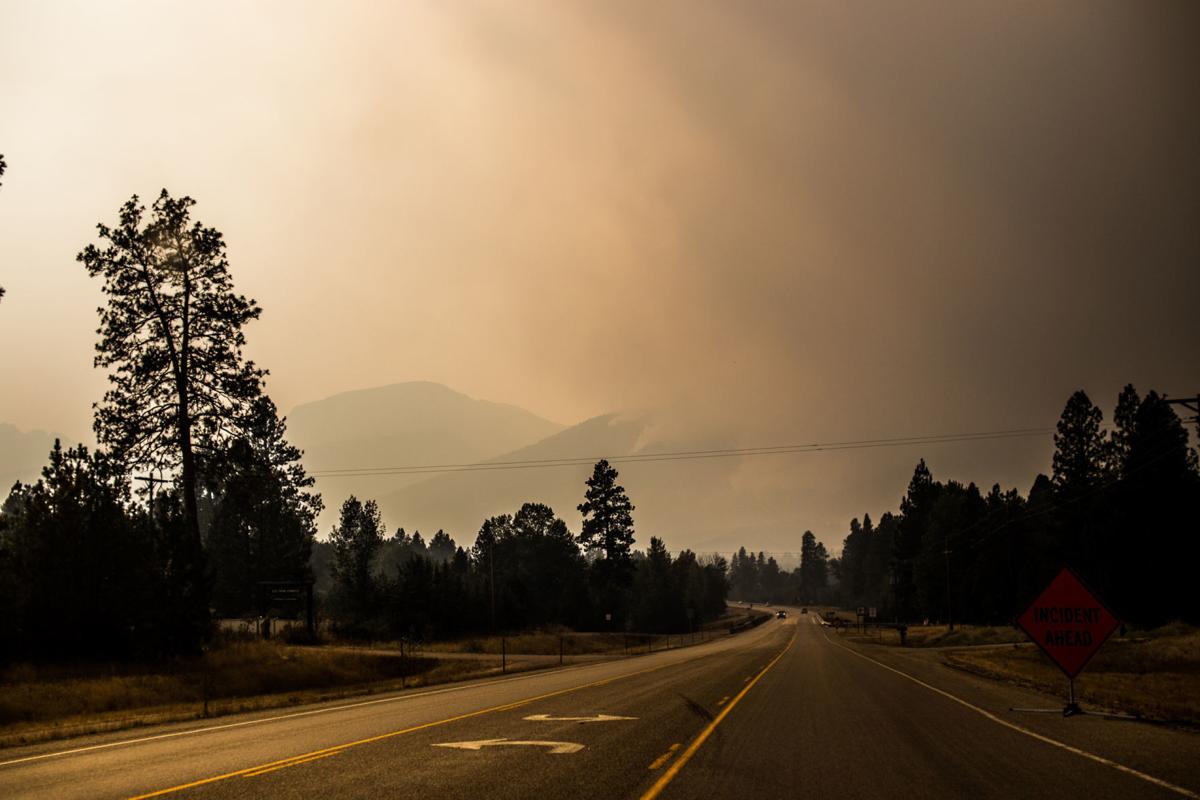 We can't afford to just tough it out any more.
These longer wildfire seasons mean long doses of smoke to breathe, whether it's coming from fires far away or those smoldering at our doorsteps.
"The typical public health message was: Just go inside," Sarah Coefield said Thursday. "Well, that's not really great advice when the smoke is just as bad inside as outside."
Coefield, air quality specialist for the Missoula health department, was one of half a dozen experts who took part in a media teleconference arranged by the Clean Air Montana Coalition and Climate Smart Missoula.
The occasion was the official launch of MontanaWildfireSmoke.org, a depository for information ranging from real-time air quality readings across the state to tips on how to prepare for smoke to the latest research about what living in the haze of forest fires summer after summer does to our bodies.
"We've been really effective about getting the message out about wildfires and their potential for destruction," said Andres Haladay, a Helena city commissioner. "But often when we focus on the visceral damage … we downplay the effects of wildfire smoke."
It's been an issue in years past, but it took the fire season of 2017 in western Montana, one that Coefield called "almost apocalyptical," to bring it into focus.
Among the offshoots was Coefield's daily air quality update in Missoula County and the marshaling of resources that school people in how to limit the smoke they breathe indoors and out.
Another was the creation of the Montana Wildfire Relief Fund by the Montana Community Foundation. Since renamed the Montana Disaster Relief Fund, it distributed more than $600,000 to 81 organizations across the state.
Amy Cilimburg, executive director of Climate Smart Missoula, said her organization applied for and received $10,000 of that for initial funding of the website and other educational programs. They include steering schools, day care centers, homebound seniors and others on how to obtain and maintain indoor air filtration systems.
MontanaWildfireSmoke.org presents good information on smoke's known effects on short-term health issues and on those who are most susceptible to them, said Curtis Noonan, a University of Montana professor of epidemiology.
But there's much more to be learned. Noonan and his colleagues want to know the risks smoke exposure poses to developing fetuses. Studies of urban populations and air pollution offer clues, but "we need to know more about how that translates to particular wildfire smoke settings."
Researchers have undertaken panel studies involving populations in western Montana to better understand the effects of repeated exposure to smoke over a period of years. That will take years of repeated observations but can also entail looking at hospital records to try and identify patterns in larger population sets, Noonan said.
Nick Silverman, a research scientist at UM, was a lead researcher and author of the Montana Climate Assessment that came out last fall. The study mapped and projected a continuing rise in temperature in Montana and changes in when we get precipitation.
"What does that mean in terms of wildfires and wildfire smoke?" Silverman posed.
While there are a lot of variables to consider, he said if you talk to people in the know about what Montana's climate is trending toward, "they'll often bring up 2017."
"What we saw last year — a wet winter and spring, a much dryer summer, a warmer winter and the second-warmest summer on record — is essentially very similar to what we're projecting to be average conditions by mid-century," Silverman said.
He plugged the new website for its presentation of "a ton of valuable information" on what Montanans need to do to prepare for wildfire smoke.
A nurse from Livingston and mother of two joined Coefield in stressing adequate air filters in homes and public buildings.
"We really need to start getting ahead on this — preparation and planning and having safe spots for people to go when smoke and the wildfire season hits," said Heather Jurvakainen, a Park County nurse.
She lamented the fact that her county must rely on a monitor in Bozeman for air quality readings, even though the towns are on opposite sides of the Bridger Range.
"The air is often different over here," Jurvakainen said. "I'm a big proponent of each community or people in the same weather trends having their own monitors."
There are 19 Department of Environmental Quality air monitors spread around the state, and their real-time readings are available on the DEQ's "Today's Air" website, a link prominently featured on the Montana Wildfire Smoke website.
Coefield said that comes down to a question of economics.
Monitors "are very expensive machines and they're very expensive to maintain," she said.