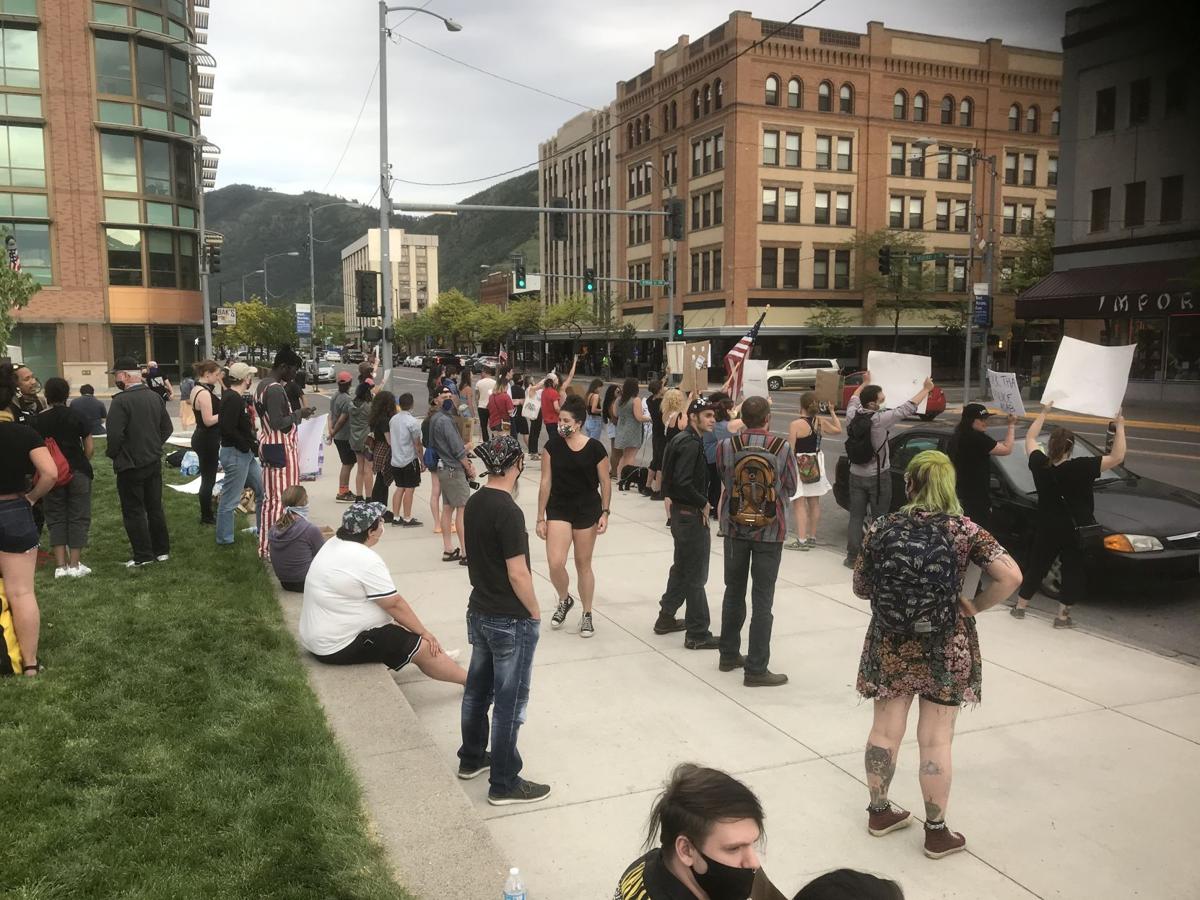 A white man has been charged with misdemeanors for allegedly unlawfully restraining a Black teenager at a Black Lives Matter rally at the Missoula County Courthouse on June 5.
According to a press release from the city, the Missoula City Attorney's Office has charged Mark David Belden with misdemeanor unlawful restraint and misdemeanor operating as a private security guard without a license.
"The City Attorney's Office based the charges on facts established during an investigation by the Missoula Police Department," the press release stated. "Consultation with the Missoula County Attorney's Office determined a lack of probable cause for a felony/hate crime."
Unlawful restraint carries a maximum penalty of a $500 fine and six months in jail. Operating as a private security guard without a license carries a maximum penalty of up to one year in jail and a $1,000 fine.
According to a criminal complaint provided by the city and signed by chief prosecuting attorney Keithi Worthington, "(Belden) was at the Black Lives Matter rally and observed a person riding around the rally on a bike whose identity was concealed, including their face and hands, by a long hooded sweatshirt, face covering and sun glasses. Defendant believed this to be suspicious, stopped the person and demanded the person identify themself, thereby restraining the person in a manner that substantially interfered with the person's liberty."
Belden is 48 years old and is listed as White, non-Latino or Caucasian on the complaint. He is listed as a resident of Missoula and must appear in court on or before July 31.
The Black Missoula teenager spoke to the Missoulian in June. The Missoulian is not naming him for safety reasons. He told the Missoulian he had been wearing a mask around the protest earlier in the night for his own protection from being targeted.
"When I've biked around town on my bike, without a mask on, around the time of the coronavirus, just biking around my area, trucks have driven by and, you know, yelled the n-word and nearly ran me over," he said. "When I showed up at the protest last Friday, the mask was to also protect me when I bike home."
The teen said he was on his bicycle in a nearby alley sometime after 9 p.m. when the armed men approached him and demanded to see his identification. When he tried to leave the confrontation behind, that's when they began chasing him, he said.
"I went to go be there and be part of the protest. Unfortunately when I got there, because I was wearing a mask, the militia group starting moving in on me. I felt uncomfortable about this, and I was trying to move. … This is an armed militia that was on every corner of the courthouse. They're running back and forth, talking on their walkie-talkies like they're Army. When I ran, I had to get out of there; I feared for my life, I'd be away from the courthouse, so I could have been killed or could have been taken out."
The teen said the narrative pushed by the armed individuals after the incident — that he was a threat to protesters and even had been carrying a gun — was twisted to make them look like legitimate protectors.
"The narrative being switched that I was a part of 'Antifa' when, you know, I've been in Missoula since I was four years old," he said. "It almost seemed like they were really trying to find a reason to hunt me down, and that was scary to me. … It's very similar to what happened to (Ahmaud) Arbery."
Arbery was chased down while jogging and fatally shot on February 23 by two men in Georgia who have said they believed Arbery was a suspect in recent burglaries in the area. Four months later, George Floyd died after a white Minneapolis police officer knelt on his neck for 8 minutes and 46 seconds, touching off protests across the country and in Missoula, where the teen says he was unjustly targeted.
In a press release sent this past Wednesday, the organizers of an upcoming Black Lives Matter rally this Saturday cited a lack of charges in the incident.
The press release stated: "At the courthouse on June 5, 2020 one of our black community members was cornered in an alley by white militia. He was threatened, accused, and afraid for his life. When he tried to get back to safety, he was attacked and detained by MPD. He feared for his life. He has told his story to our city, and has been met with deflection and lack of concern.
"The local city government hasn't met our calls for accountability and action from the last rally. They are dodging responsibility for the attack on a black member of our community at the courthouse and other attacks and injustices on BIPOC (Black, Indigenous, People of Color)."
Excerpts of a previously reported article by Missoulian reporter Seaborn Larson have been used verbatim in this story.
Get local news delivered to your inbox!
Subscribe to our Daily Headlines newsletter.