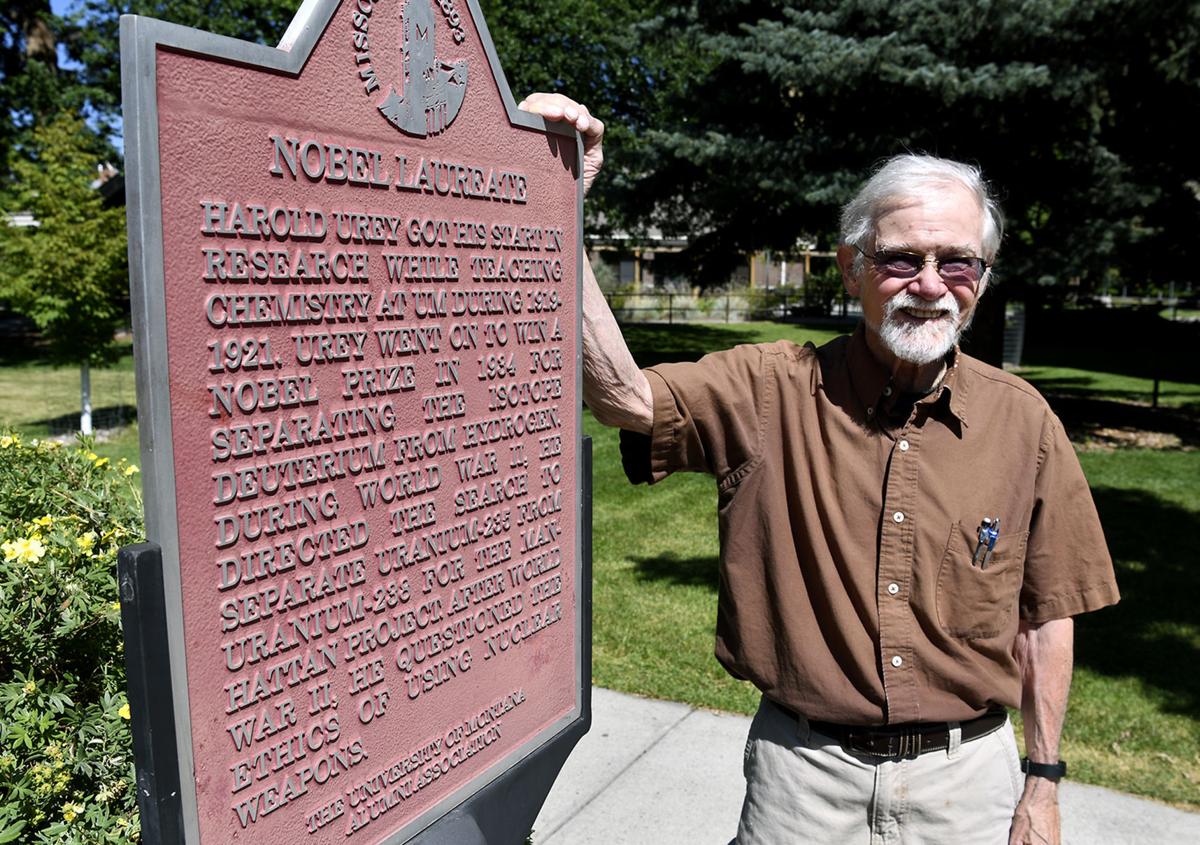 Missoula first noticed Harold Urey in May of 1915, when the State University announced the winners of the annual C.A. Duniway Scholarship Books.
Urey, a 22-year-old freshman from Indiana by way of a mining camp in the Gallatin Mountains, received the biology award. 
There came a different kind of recognition 30 years later. Days after the U.S. bomber Enola Gay unleashed the most destructive weapon known to mankind over Hiroshima, Japan, on Aug. 6, 1945, Urey was acknowledged in the Missoulian as "one of the scientists who played an important part in development of the atomic bomb."
It was true that Urey, a chemist whose name adorns an underground lecture hall on the University of Montana campus, had played a key role on the Manhattan Project. But even though the bombing 75 years ago of Hiroshima and, four days later, Nagasaki brought an end to World War II, he never wished it to be his legacy.
"It was evil," Richard Field said this week. "That was his opinion."
Field arrived at UM in 1975 and taught for 33 years at Urey's alma mater, serving as chemistry department chairman from 1990 to 1996. He still has an office as a professor emeritus. He said he became interested in Urey's story while helping organize a memorial to the man in Missoula after Urey's death in January 1981.
"I met him several times, but I don't know that I met him here on campus,"Field said. "He had some problems with the university moving into PhD-level programs and research because he didn't think we had resources to do it well, and for the most part he was right. He was not very popular for awhile with the central administration."
Field crossed paths with Urey while doing post-doctorate research at the University of Oregon. His mentor, Richard Noyes, was a highly respected physical chemist who had been a colleague of Urey's at Columbia University, and the two were personal friends.
"That would have been in the late '60s or early '70s," Field said. "One of the things that really impressed me at the time, he seemed to be more interested in knowing what I was doing than talking about himself. That really pleased me that he took that interest."
Urey, he said, should best be remembered for his work in the origins of life, space science and analysis of moon rocks from Apollo 11 or 12 in 1969.
Certainly Urey's discovery of deuterium, or "heavy water," figures in.
"You may think there is only one kind of hydrogen, but there are two," the Associated Press reported in February 1932. "Dr. Harold d'Urey (sic) and Dr. G. M. Murphy of Columbia University, together with Dr. F. G. Brickwedde of the U.S. Bureau of Standards, have found a new kind of hydrogen. It is twice as heavy as the ordinary gas and is about 14 times as dense as air."
The discovery earned Urey the Nobel Prize in chemistry in 1934. It was also one of the keys that unlocked the secret of atomic energy.
Field said Urey's early work at Columbia also led to the establishment of chemical dating and isotopic tracing, which have had profound influences on geology and biology.  
Urey split his Nobel Prize money with Isidor Rabi, a new assistant professor at Columbia, to establish a laboratory. 
"Rabi went on to lead the development of radar in World War II," Field said. "His pioneering work on the magnetic properties of atoms led eventually to a Nobel Prize and medical MRI."
Urey was called on to oversee development of the gaseous-diffusion plant in Oak Ridge, Tennessee, where the Manhattan Project was headquartered and the atomic bomb was built.
"As far as I know he visited Oak Ridge only once," Field said. "He went down to see it, and he went back to New York with the impression that it was not a facility designed to build one bomb to win the war but one designed to build a bomb to rule the world."
"I am a frightened man, and all scientists I know are frightened," Urey wrote after the bombs dropped. Political leaders, he said, "are extremely reluctant to engage in pioneering work to establish control of the bomb, as the scientists pioneered in winning the atomic-bomb race."
Urey joined the faculty at the University of Chicago in 1945. Along with Albert Einstein and other leading scientists, he expressed vigorous opposition to nuclear warfare that clouded the horizon. Urey wasn't the only one to voice his belief that a one-world government was needed to harness the proliferation of nuclear arms.
He caught the attention of not only the press but the FBI and the House Un-American Activities Committee, which both investigated him. Though he was outspoken against the nuclear threat posed by Soviet Russia, Urey was found to have associations with front groups that together made up the "Communist conspiratorial system," biographer Matthew Shindell wrote.
Shindell, curator of planetary science and exploration at the Smithsonian's National Air and Space Museum, wrote his doctorate dissertation on Urey at the University of California San Diego, where Urey ended his career after becoming a founding faculty member in 1958.
Shindell's "The Life and Science of Harold C. Urey" was published last December by the University of Chicago. It explains how Urey, who grew up on a farm in an ultra-religious family in northern Indiana, got to Missoula.
His father, the Rev. Samuel Urey, died of tuberculosis in 1899 when Harold was 6 years old. Cora (Reinoehl) Urey remarried in 1903 to Martin Alva Long, and they wound up on a farm near Big Timber, where Harold joined them in 1912 following a stint teaching school in Indiana.
Urey taught one year in a small school south of Livingston and another year in a mining camp in the Gallatins south of Bozeman, Shindell said. He lived with the Wilson family in the latter, and when Brian Wilson decided to go to college in Bozeman, it planted the seed of higher education in Urey. An uncle, Charles Reinoehl, was school superintendent in Helena and later became a state rural schools inspector. He steered Urey to the state university in Missoula.
Urey graduated from UM in 1917 after three years and served on the chemistry department faculty from 1919 to 1921. Biology professor Morton Elrod "recalled young Urey as an intense student, highly interested in scientific subjects," a Missoulian story said in 1934. "He majored in chemistry and zoology and showed great ability in both subjects."
Elrod said he still had a paper Urey wrote as a young man on the microscopic animals found in a slough near Missoula.
Urey moved from Missoula for good in 1921 to pursue a doctorate degree at the University of California Berkeley. But he returned several times for the public appearances, including on UM's Charter Day in February 1946.
Seven months after the atomic bombs were dropped on Japan, Urey told a Monday morning crowd in the auditorium of the old Student Union building that the problem with the bomb "is not primarily the problem of that instrument of warfare."
"The problem," he said, "is war itself.
"It is war that drove men to produce this weapon against their wishes and desires and better judgment, for there were few men working on this weapon who did not realize that it was wholly evil, that it would lead to the death of many men, and that it would be a constant threat over all men for all future time."
Get local news delivered to your inbox!
Subscribe to our Daily Headlines newsletter.