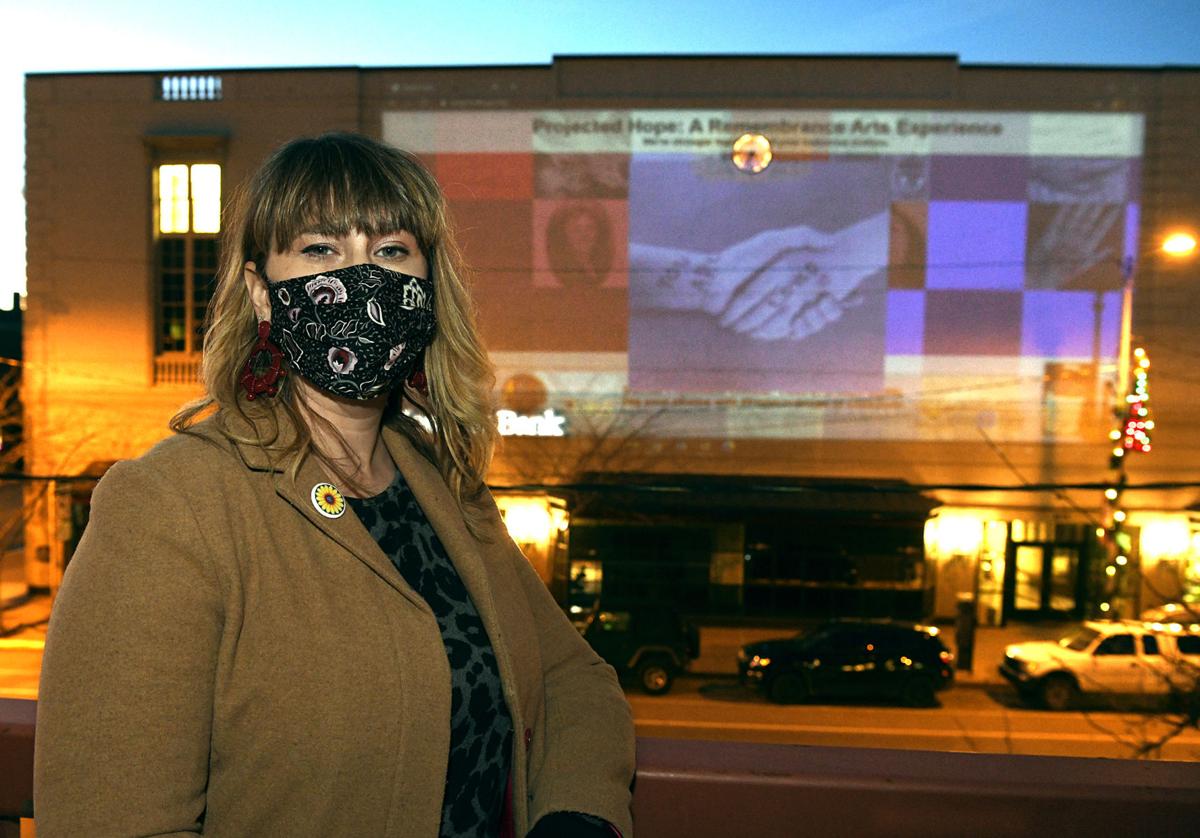 A digital quilt, online and projected on a downtown building, gives people a chance to pay tribute to those lost to suicide and those who have survived.
"We decided that along with the tribute to those who've lost their lives as a result of suicide, we also really wanted to honor those who are working in prevention and post-vention and survivors of suicide — the friends and family members and those who have attempted," said Rosie Seitz Ayers, a Project Tomorrow Montana coordinator with the United Way of Missoula County.
That opens up Projected Hope to "positive" and "joyous" messages about purpose and things to live for, she said.
The projection, themed "Your Tomorrow Matters," will be up from dusk till dawn through the end of the month on the side of the First Montana Bank building on the 200 block of North Higgins, which happens to have an uninterrupted span of white wall that fits the purpose. 
People can go to projectedhope.org to see the "digital quilt" and submit photos that will get into the rotation for the project. When it launched earlier this week, there were already 45. The first trial was last fall during Suicide Prevention Week, and this month's run is scheduled to take advantage of earlier sunsets.
"One of the most beautiful pieces is that people were submitting photos and tributes, so they were a part of that art," Ayers said. "They got to be a part of this mosaic, they got to be a part of this quilt, so all those members of the community got to see something that they identified with or participated with up there on the side of the building," she said.
Ayers said the projection was an artistic and interactive way to engage the subject in public when gatherings aren't workable. Since the pandemic, artists around the country have used projections on buildings. Project Tomorrow was able to partner with different groups and businesses to pull off a local version. 
Ayers said that suicide rates in Montana and around the country have risen during the pandemic. Depression has as well, among people who've experienced it before and people who have not. Ayers said there's also been an increase among women, who've borne more of the burdens on families during the crisis.
Murphy Jubb Fine Art is hosting the digital projector itself, while the other regular Project Tomorrow partners include Tamarack Grief Resource Center, Arts Missoula, American Foundation for Suicide Prevention and Buckets of Love, a relatively newer suicide prevention organization.
Ayers, an actor-directer in local theater productions, has sought ways to advocate for public health in the past. Those include "Every Brilliant Thing," a play about suicide prevention that approaches the deep subject through comedy. She and a partner had toured it around Montana, getting stopped only by the pandemic in springtime.
"In arts advocacy in general, we're getting community experiences where we're in touch with ideas about prevention and help seeking and normalizing mental and behavioral health," she said.