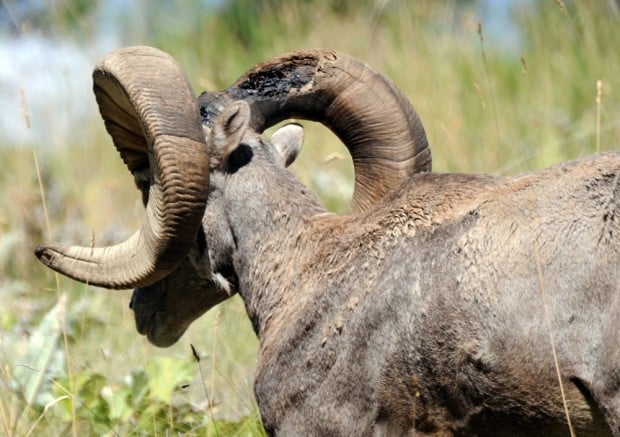 WILDHORSE ISLAND STATE PARK - That had to hurt.
Remember the report earlier this month about the eight bighorn sheep, all rams, killed by a lightning strike here on Flathead Lake's Wildhorse Island this summer?
Well, it turns out it's quite possible that at least nine animals absorbed the jolt, and one survived.
Some cabin owners have spied a fully curled ram on Wildhorse with a severely burned right horn.
"It looks like it was blown off, almost," says Wildhorse resident Barry Gordon, who took pictures of the injured ram. "It really charred the back side of his right horn."
Gordon says the ram was first spotted by two other island residents not too many days after the lightning strike, and they immediately called him.
"They said, 'Wow, you've got to come see this ram,' " Gordon says. "It was real black on one side, and having trouble getting over logs."
From all accounts, according to Jerry Sawyer, who manages state parks on Flathead Lake for Montana Fish, Wildlife and Parks, the ram suffered more than a toasted horn.
"He certainly appeared to be hit," Sawyer says, "and he didn't appear to be doing well."
In fact, one cabin owner called FWP recently to report the ram was dead, but when Warden Capt. Lee Anderson boated out to Wildhorse to check out the story, he could find no trace of the animal.
"He was probably just laying down sleeping, and walked off later," Anderson says. "It may be the one that was injured, but we haven't been able to put our fingers on it to confirm it."
Gordon says the ram walks with a noticeable limp, and has to get down on its front knees in order to eat.
"It looks to be about an 8-year-old with a full curl," Gordon said. "He had to take a pretty amazing hit, because it blew that hole out of the backside of the one horn."
Big thunder and lightning storms have rolled across Flathead Lake numerous times this summer, and no one knows exactly when the other eight rams were killed.
Wildhorse is Flathead's largest island. Most of its 2,164 acres are public and managed by FWP as a primitive state park. The bighorn sheep population on Wildhorse numbers around 200.
"The island does take quite a few lightning strikes," Gordon says. "That's a big body of water, and it's the tallest thing out there."
The bighorns that were killed were bedded down under a lone, large ponderosa pine when the lightning literally fried them. The hooves and legs on several of the dead sheep were burned, and Jim Williams, a Region 1 wildlife manager who investigated, says the base of some of the horns on the dead sheep had been darkened by the strike as well.
"It was pretty gruesome," Williams says. "It was one bolt, and it was catastrophic. They decompose pretty fast in the summer, and they were full of maggots. I'm guessing they'd been there a week before they were found."
Six of the rams that perished were lying within a 15-foot circle around the tree, which was freshly scorched.
"I'm not an expert on lightning, and I'm not sure whether the charge went from the ground up or the top down," Williams says, "but there was a 20-foot-long mark on the tree that went straight up and kind of spiraled at the top."
Chunks of bark had been blown as far as 75 feet from the tree trunk.
In addition to the six under the tree, another was found about 30 yards away. Williams speculates that one wasn't killed instantly, and wandered a short distance before dying.
Another ram was found downhill from the site. Williams guesses that one was either blown in the air and rolled down the hill, or likewise survived briefly, took a few steps, then collapsed and tumbled down the slope.
Williams examined copies of Gordon's photographs Thursday, and says there's a very good chance the ram in question survived the lightning strike that killed the other eight.
"It's one of two things," Williams said as he looked at a straight-on view of the ram showing part of the horn missing. "It can happen in a fight, but that's an odd place to lose a chunk of horn, across the grain like that. Plus, it looks pretty fresh, and it's too early in the year for them to be fighting."
Looking at the photographs Gordon had taken from behind the ram that show the blackened hole in the horn all but convinced him.
"That's black, that's burned," Williams said. "The scarring and discoloration around the base of the horn is consistent with what I saw on the rams that were killed. I couldn't say for 100 percent, but I think it's a good guess that he got nailed, too."
Gordon says the ram, which he last observed Tuesday, was in tall grass and he didn't get a good look at his hooves and legs.
"I have a feeling he's down, or close to it," Gordon says. "It had to be a hell of a jolt, and it had to have been hard on him. He may have expired by now, but he may still be on his feet, too."
Anyone searching for the ram has a lot of ground to cover, but Williams says if he did survive the lightning strike that claimed eight others in his group, you can rule out one part of the island.
"He won't," he says, "go near that tree again."