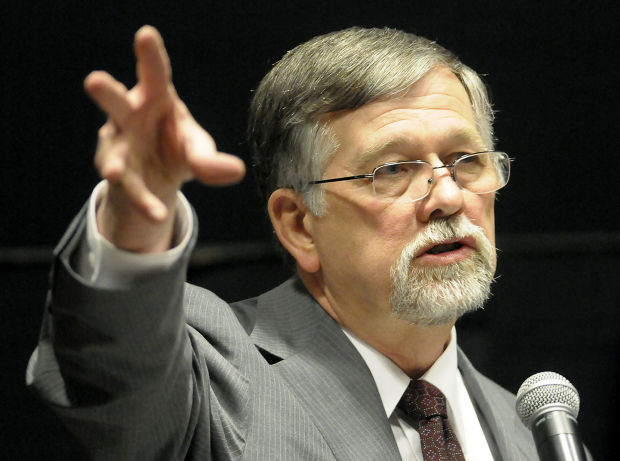 University of Montana President Royce Engstrom reminded the campus community in an email Friday of the important role student-athletes play at UM, noting that "actions of individuals do not characterize our student-athletes in general any more than they do for other groups of people on campus."
The statement was released one day after former U.S. Rep. Pat Williams' comments in a New York Times story criticized the university for recruiting "thugs."
"We've had sex assaults, vandalism, beatings by football players," Williams told the Times, which ran a story Thursday about the rape trial of former UM quarterback Jordan Johnson. "The university has recruited thugs for its football team and this thuggery has to stop."
Johnson's trial began Friday.
Williams is a former Democratic congressman, now a member of the Montana Board of Regents, which oversees the state university system.
His criticisms prompted Board of Regents chair Angela McLean to release a written statement saying the board does not agree with Williams.
"Each board member is entitled to his own opinions, and these comments do not reflect that of the board as a whole," McLean said. "The Board of Regents is confident that the student-athletes, coaching staff and administration are committed to representing the University of Montana and the Montana University System with both honor and integrity."
Williams told the Associated Press that he stands by his statements.
He said there have been too many UM athletes convicted or suspended over the past year and that the current recruiting system lets in too many "thugs." But Williams said he was not referring to ex-quarterback Johnson.
On Friday, when contacted by the Missoulian, Williams said he wouldn't elaborate on the remarks or the criticism that followed.
"I think we all ought to let this rest until Mr. Johnson's trial is concluded. I'll have more to say later," Williams said.
Engstrom's "Grizzly Student Athletes" letter was sent via campus email Friday morning.
"I want to reaffirm that the University of Montana values highly the many contributions of our student-athletes. As a group, they work tirelessly to achieve excellence on the court or playing field, in the classroom, and in the community. ... Athletics is a part of the fabric of the University and it enriches our learning environment," he wrote.
The statement also highlighted academic achievements of UM student-athletes, including that they have the highest graduation rates in the Big Sky Conference and that the cumulative grade-point average of the teams has been above 3.0 for 15 semesters.
Last fall, UM student-athletes had the highest collective academic performance since the university began recording those marks, Engstrom's statement said.
"Are there individual problems on occasion? Of course, and we address those promptly and effectively through a recently revised Student-athlete Conduct Code," the statement said. "Let's congratulate our student-athletes and thank them for their hard work and their role as representatives of the University of Montana."