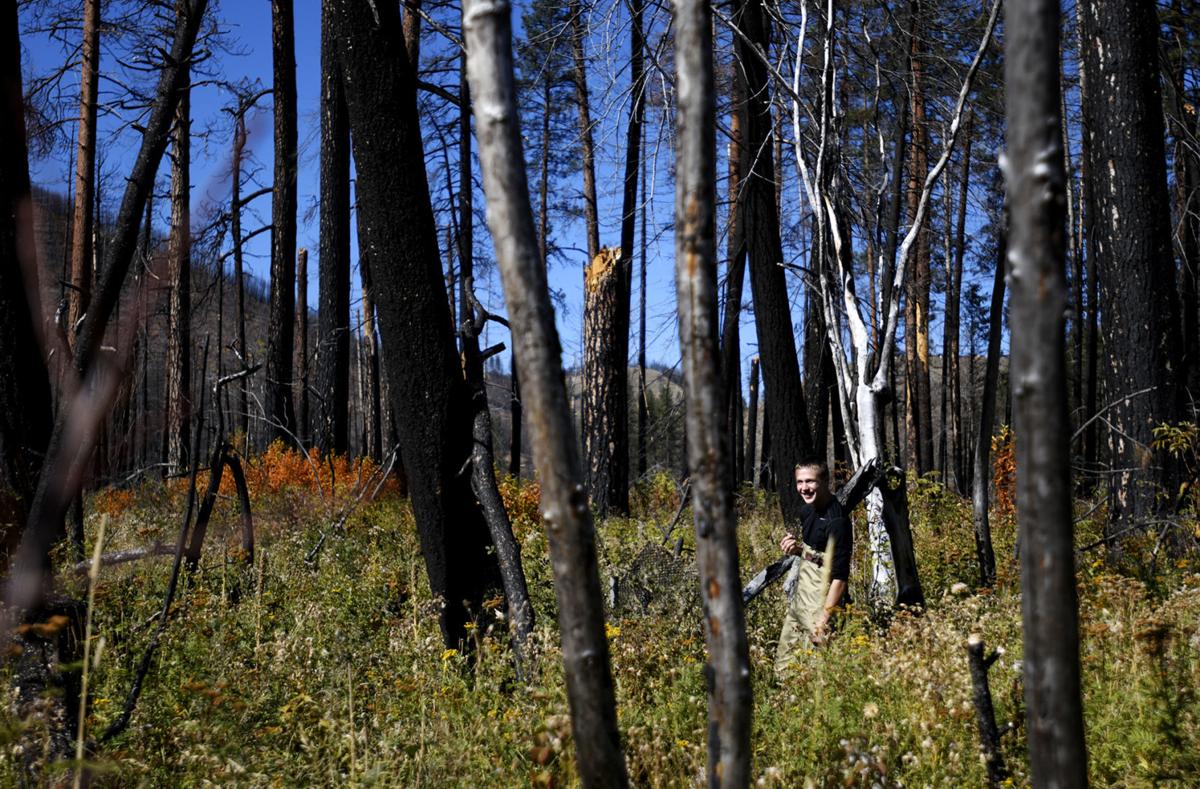 Sometimes figuring out how to fight fire means figuring which words to use.
That challenge proved one of the toughest for a roomful of experts who gathered recently to look for ways to help people get ready for and recover after wildfire in the Rocky Mountains. And when the project intends to produce best practices and lessons that others can use, getting the words right matters.
"We got about 20 percent of the way into our workshop when it just blew up," University of Montana fire ecologist Philip Higuera said. "Ecology focuses on whether something is very likely or very unlikely. In social science, you can't move forward without understanding the desirability of the thing."
Take the word "resilience." To a fire ecologist, resilience describes the likelihood something will return to equilibrium after disturbance. Both wide-trunked trees and cheatgrass show high resilience to fire. The fact that people value big trees and hate cheatgrass doesn't change the scientific probability. But in conversations, people desire the resilience of big trees while finding invasive cheatgrass undesirable, even though it's also resilient.
So a burned viewshed might not be ecologically resilient — its trees might never grow back in a homeowner's lifetime — but the homeowners' willingness to make the best of things might be very resilient. Or not.
There is a tension between what some call the "hard" sciences of fire behavior and the "soft" sciences of human behavior. Just because one might get measured by a thermometer and the other might depend on an opinion survey doesn't lump value on one discipline over the other.
"Part of what we're trying to do is break down that distinction," Higuera said. "We're trying to tackle the entire issue of wildfire — the ecological, economic and social components."
So the first part of the project was to get a team of social scientists and ecologists in a room together and start wrestling with what it means to be "resilient." That word gets baked into thousands of documents about wildfire. Getting a roundtable of fire-fascinated experts to agree on how to use the same words was the first challenge.
"We've got to get away from the heroic narrative of firefighters, where if they put the fire out, they win and if they lose control, we blame them," UM professor of recreation management Libby Metcalf said. Instead, communities need to look at their own preparations for coming fires (fire-wise construction, good communications networks) and how prepared they are to rebuild.
For example, Metcalf said recreation businesses might consider lending their gear or employees to someplace unaffected by wildfire to avoid taking a total loss on the tourist season. That takes preparation. Some fire impacts don't appear until long after the fire is out.
Fire ecologist (and Libby's partner) Alex Metcalf said residents of the Rocky Mountains must accept the changing tempo of fire seasons.
"We spend all summer inundated with smoke, and then when the first snows of October put the fires out, we forget all the past cycles," he said. "We live in places that burn and we have to learn to live with that. That seasonal repeated surprise is what we're trying to get away from."
The second was to gather new data from fire-affected communities. The team deployed to places like Montana's Bitterroot Valley and Washington's Methow Valley and looked at both what happened on the landscape and what happened to the people.
The third part, which will take place over the coming year, boils down those results into ideas and tools that will help people better live with fire. For example, one issue being explored is trust relationships during wildfire: Do agency personnel trust the crews of other agencies, and do citizens trust the agencies sent to help them? If that social step gets overlooked, it can affect how the fire gets fought and how the community rebuilds afterward.
"We can't always keep systems the way they've been," Higuera said. "So communities must calculate the cost of restoration versus transformation. And the most successful results come from communities that already have lots of common ground and networking."