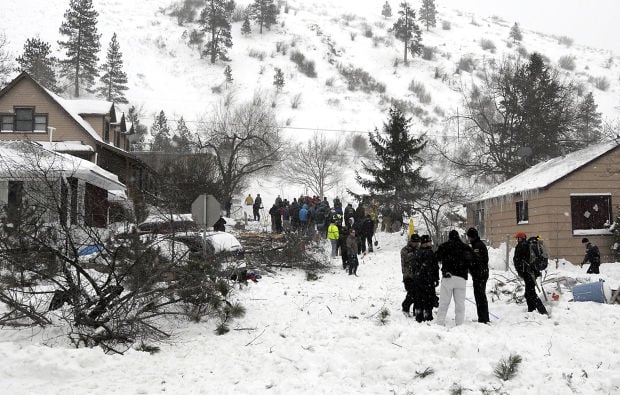 After a miraculous rescue from Friday's avalanche on Mount Jumbo, Michel Colville – the last victim to be pulled from the snow – died Sunday night at St. Patrick Hospital.
According to Missoula police, Colville, 68, succumbed to injuries suffered when the slide hit her lower Rattlesnake Valley home, burying Colville and her husband, Fred Allendorf, who remains hospitalized in serious condition.
The couple's 8-year-old neighbor, Phoenix Scoles-Coburn, was playing in his yard at the time the avalanche hit and was also buried. He was the first to be rescued and is now expected to make a full recovery.
Scoles-Coburn's 10-year-old sister, Coral, was partially buried by the snow but was able to free herself.
Marion Lavery, a friend of Colville and Allendorf, is mourning the loss of her beloved friend, who she described as a vibrant artist with a gusto for life.
"It's surreal," Lavery said. "It's unimaginable to be sitting in your living room one minute and to be in chaos – surrounded by snow – the next."
Allendorf was found by rescue workers trapped beneath the remains of the home's brick chimney. He told rescuers his wife was standing to his east when the avalanche hit.
Colville's rescue came nearly three hours after the avalanche trapped her under snow, the debris of her home and power lines. Rescue workers couldn't begin to dig her out until the power company turned off the electricity.
She was transported to the hospital immediately and was in critical condition throughout the weekend. Members of the Missoula Women's Choir sang to her while she was in the intensive care unit Sunday afternoon, Lavery said.
As a member of the choir, Colville had a wonderful voice, Lavery said.
"I loved to listen to her sing," she said.
Colville took voice lessons and Lavery recalled a beautiful recital that Colville performed in a few years ago.
As an artist, Colville was known for her fiber art – pieces of clothing that she would embellish to create wearable art. Judy Hartz, a board member of the Missoula Cultural Council, described some of the pieces that Colville created a few years ago – a vest that incorporated seashells and a white-felted wool jacket with a floral appliqué down the front.
"She was innovative and free spirited," Hartz said.
Though in recent years Colville was known as an artist, she was trained as a wildlife biologist and "loved all creatures great and small," Lavery said. She enjoyed seeing wild animals in their natural habitat.
She also had a passion for rivers and oceans, and enjoyed kayaking.
Colville and Allendorf planned and eventually built her new art studio as a top-floor addition to their home.
The studio was beautiful, Lavery said. And Colville had recently organized her stashes of fabric and art supplies in the upper level.
Now that studio, along with the entire home, is destroyed. Neighbors spent Saturday and Sunday attempting to salvage the couple's belongings from the wreckage but much remains to do – and much was destroyed by the force of the avalanche, estimated to have come downhill at 120 mph.
"She certainly is going to be missed by whole communities of folks – the paddlers, the singers and the artists," Lavery said.