She has two funny, fun-loving kids and a job she enjoys as prep cook at the new Basal café downtown.
Safaa Al Kharshan has made her apartment in south Missoula a happy place, clean and comfortable, with Arabic- and English-speaking neighbors dropping by often.
But there's something missing.
A refugee of Daraa in war-torn Syria, Al Kharshan arrived here in April from Jordan with her daughter Ghazal, 7, and son, Guoe, 4½. They left behind their husband and father, Jamal Hafiz, who is disabled and desperate to join them.
"The situation is very hard there," Al Kharshan said recently through an interpreter provided by the International Rescue Committee (IRC). "Also there's pressure for him because the Jordan government, they don't want him there. They told him no work, no benefits."
Hafiz is one of more than 670,000 Syrians registered for resettlement with the United Nations High Commissioner for Refugees, many of whom wait to be reunited with families in the United States.
Their hopes took another blow on Nov. 1 when the Trump administration, as expected, set the 2020 fiscal year's refugee cap at 18,000. It's the lowest number since the national refugee program was instituted in 1980, down from the previous low of 30,000 just last year.
Trump also signed an executive order, set to take effect next summer, that requires resettlement agencies like Missoula's IRC to obtain state and local government consent before accepting more refugees. Three faith-based resettlement agencies in the United States challenged the order last week.
They and the other six federally funded agencies say the U.S. resettlement program that was once a beacon in the world is being dismantled after three years of attacks by the Trump administration.
"Everyone's wondering what happens next," said Jen Barile, resettlement director at the Missoula IRC.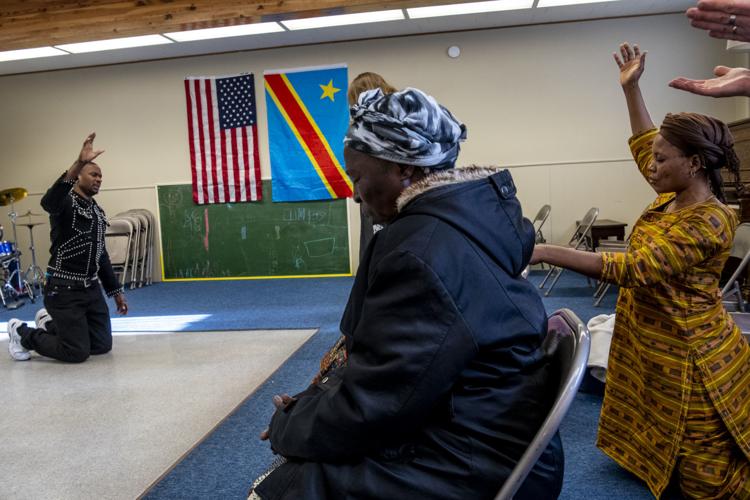 In his last months in office in 2016, President Barack Obama offered 110,000 displaced people refuge in the U.S. in fiscal year 2017. The announcement came just as the IRC was opening Montana's lone resettlement agency office in Missoula.
Trump took office a few months later, after a campaign that included promises to decrease illegal immigration and increase standards for admission of legal immigrants, including refugees, in order to "crack down on abuses."
As part of his travel bans, Trump quickly reduced the refugee cap to 50,000. In succeeding fiscal years starting each Oct. 1, he dropped it to 45,000, 30,000 and now 18,000. The president maintains that the millions of dollars spent each year screening and resettling refugees should be used instead to help them make better lives in their home regions.
Stress and distress from the latest presidential determination are felt around a town where some 340 refugees have been welcomed since the summer of 2016. Nearly two-thirds of the newcomers have the Democratic Republic of Congo as their country of origin.
Nsanzinfura, 25, speaks English and works a graveyard shift on the support staff at St. Patrick Hospital. He arrived in Missoula in August 2018 with his mother, brother, aunts and uncles. Fifteen months later Nsanzinfura still waits for his wife, Ayingeneye, and 18-month-old daughter, Faith, who are processed to join him in Montana but languish in a refugee camp in western Uganda. There's no telling when they can come.
"They're always patient," Nsanzinfura said. "They can't be impatient because there's nothing they can do at all."
Suhad Munshid stocks shelves at T.J. Maxx on North Reserve. Her husband, Hussein, cooks at Masala, a downtown Indian restaurant.
The Iraqi couple came to Missoula with their family in April on a priority status visa. Munshid said during the Iraq war her brother-in-law was a cook for American troops who found refuge in her family's home in a poor district of Baghdad.
Munshid speaks daily with her sister, who she said is left in an increasingly untenable situation since the American pull-out in 2011.
Their father was murdered in 1982. Her sister is frightened, Munshid said through Waleed Albusjasim, a fellow Iraqi and interpreter for the IRC. (See accompanying story.)
"She say, 'I stay home.' They are not going outside. Life is hard," said Munshid.
With the IRC's help, Munshid has applied for a visa for her sister.
"This is going to slow it down," her husband said of Trump's cap. "We just got here. We don't know very much. Maybe you know other ways?"
Their daughter, Melak, is a seventh grader at Meadow Hill Middle School. Son Ali is a freshman at Sentinel High School.
"Me and Ali lived with my mom's sister one year ago," Melak said in English, recalling the day they said goodbye to her aunt.
"She said, 'I want to go to America,' and then she's so sad and she cry. She said, 'I can't live for myself here.' "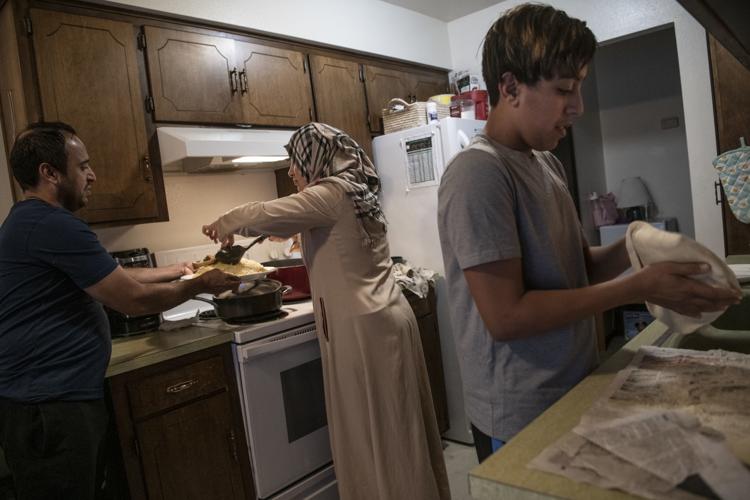 You have free articles remaining.
"I think the unknowing is all-consuming," said Mary Poole, executive director of Soft Landing Missoula. "How do you expect anyone to just go about their day with that constantly in the back of their minds?"
Because Trump delayed his cap announcement for fiscal year 2020 a month, no refugees arrived in the U.S. in October. Missoula has had 10 arrivals since, all on Nov. 5 and all Congolese from three related "cases." They got here after harrowing circumstances during the October hiatus.
"They were booked to travel, canceled, and rebooked four different times," Barile said.
A recent New York Times article that focused on Missoula's resettlement picture described how Kambale and his wife were ready to take their three children to the airport to greet their uncle. Kambale was in a meeting at the IRC office that morning when he received a call from the man that the trip had been canceled and his case was delayed.
"Why is God doing this?" his brother-in-law asked.
The Trump administration's cap of 18,000 is broken into four categories. Five thousand slots are reserved for refugees fleeing religious persecution. Another 4,000 will go to Iraqis such as Munshid and Mohammedawai, who risked their lives helping U.S. troops during the Iraq war. And 1,500 are reserved for people from Central America.
The final 7,500 slots are for those who seek family reunification and have been cleared for resettlement.
More than half of all refugees to the U.S. came from African nations in fiscal year 2019, including some 13,000 from the DRC. Trump's determination allocations appear to remove the Congolese, among other nationalities, from Priority 2 categorization, which protects specific groups for their ethnic, religious or national identities.
"One of the things we don't know is how the reduction in arrival numbers is going to affect the Congolese population," Barile said. "If you look at the presidential determination, they're changing it from a needs-based program. We don't know how that will affect the Missoula populations coming in."
Esperance Nyabintu speaks wonderfully with her hands and with her heart.
The hands she keeps busy at Panda Express, a fast casual Chinese restaurant on North Reserve where she works Mondays through Fridays. On Sundays she sings, dances and prays at Missoula Alliance Church.
Her heart? It lies on two sides of an ocean.
Nyabintu came to Missoula alone in May from a refugee camp in Burundi, the African country across Lake Tanganyika from her native DRC.
She's of a Tutsi ethnic subgroup called Banyamulenge, a people that engender deep hatred among some Congolese who consider them outsiders from Rwanda. The Banyamulenge migrated west en masse from the tiny neighboring nation in the 1880s.
"My parents left Congo a long time ago. They run away because they found out we were Mulenge," Nyabintu said last week through a Swahili-to-English translation by the IRC's Chanda Chimbundu, herself a Congolese refugee.
"The Mulenge people are those peoples that are not welcome in Congo or welcome in Rwanda, so by the time they found out I am Mulenge, they know now I'm grown up," she said. "Instead of going to look for my parents, they just decided now they wanted to kill me."
Terrified, Nyabintu fled her home in Congo 12 years ago. She hasn't seen her daughters since. The voices over the phone of Natalie and Bijoux are all she has to remember them by, she said.
The girls were teenagers when Nyabintu received word in 2012 that her husband had died in Congo. She didn't say how. Now they're young women, ages 20 and 23, living in poverty and danger in a region of Congo where tribal violence spiked again in recent months, even as the world's second-worst outbreak of ebola raged to the north.
"Congo is very difficult place," Nyabintu said. "You can't survive if you're not working, and my kids right now don't even go to school because they don't have money to pay for their school fees."
The distance between them seems greater than ever.
"I think about my children every day and every time," she said. "Every time I try to sit, I always think about my kids. I (left them) when they were so young, so right now I don't know them. I just hear them by voice."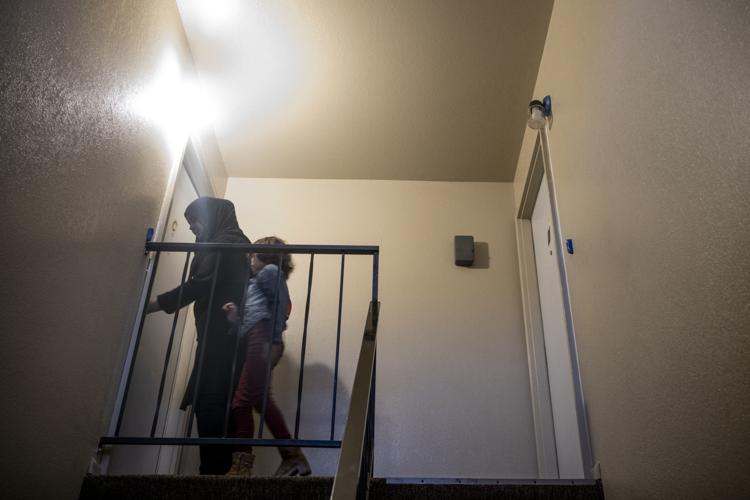 Nsanzinfura, the youth leader at Universal Revival Church, won't let himself despair as he waits for his wife and daughter in Uganda. But he asks for help on behalf of the new Montanans with loved ones in refugee camps and war-torn countries in Africa.
"God has his own track. You never know," he said. "He can change (Trump's) mind at any time, so when all people can come together to pray, pretty much God can solve it. That's what I believe. Through prayers, everything is solved and people find whatever they need."
Esperance means "hope" in French, the official language of the DRC. Nyabintu embodies it in her new home and life, even as she pines for her grown daughters.
"I feel very happy when I'm at church, when I see people like this when they come to visit me, when I'm at work, at school," she said in a basement apartment off Orange Street. "I feel very, very happy when I'm surrounded with other people. But every time when I come home, I feel so lonely because I don't have my family here.
"Every day I'm very good, hoping my children come here to Missoula. You pray, you pray, you pray, you PRAY."