Casey Dunning can't forget the look in the eyes of a teenage girl when he had to tell her she'd need to get on a waiting list for a place to stay, despite the fact that she and her grandmother were in a sudden crisis and homeless.
"They were in this desperate situation," recalled Dunning, who is the executive director of the Missoula Interfaith Collaborative. "I can tell you, if you look at a teenage young girl who knows deeply, has a deep sense of justice and a deep sense of right or wrong, when she looked at me in the face when I told her that, there was this chasm between us because she knew. She was staring right through me. It was not OK."
But on Wednesday, the YWCA Missoula and the Missoula Interfaith Collaborative broke ground on a new $8 million facility that will provide critical support and shelter to survivors of domestic violence and homeless families. When it's complete by the end of 2020, the 36,750-square-foot building will have 31 rooms for homeless families and 13 rooms for individuals and families fleeing domestic violence. It will provide same-day access to short-term emergency housing and support to help people move quickly into permanent housing of their own.
"This is a celebration of a place that is truly going to change lives and transform our community," YWCA Missoula executive director Cindy Weese told a crowd of roughly 100 people. "It's been a very long road to get here, but it's because of your support and dedication to this project that we are standing here today."
The building will be located at 1800 S. Third St. W. just west of the Good Food Store. It will include kitchens, toddler play rooms and a sheltered, private outdoor recreation area.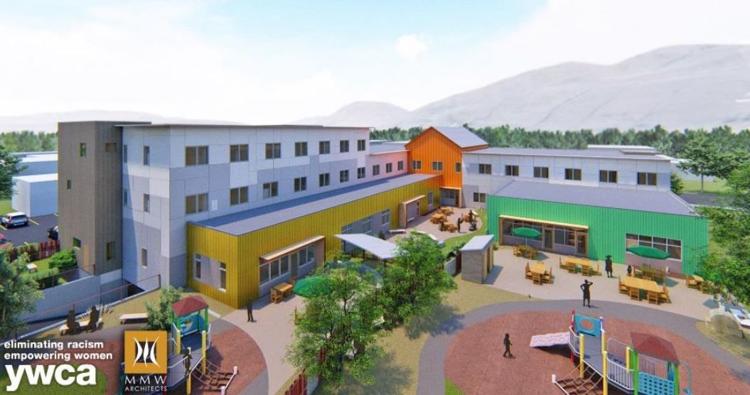 Currently, Missoula has the largest population of homeless families in the state, Weese said, but it lacks a family shelter. The Poverello Center homeless shelter is set up with large, shared housing rooms and can't adequately handle family needs.
"Everywhere we look, we are surrounded by beauty in Missoula," Weese said. "It gives us comfort. Still, there's another side of life in Missoula that's not nearly as visible. It's the life of a mom and her daughter sleeping in her car because they don't have enough money for rent. It's also the life of a working parent drowning in medical bills. And it's the kids and moms and dads doing their best to carry on a sense of normalcy under unstable and often frightening conditions."
Last year, the YWCA served 400 homeless families and domestic violence victims, she noted.
"These numbers may be surprising to you because out of fear or shame, homeless parents are doing their best to remain hidden," Weese continued. "But the fact is Missoula's home to the largest population of homeless families in the state. And it's also a fact that the majority of those families are led by a single mom, and the leading cause of homelessness is domestic violence."
You have free articles remaining.
The YWCA can currently shelter up to 12 families at a time, and the Missoula Interfaith Collaborative's Family Promise program can shelter up to four families. That means there may be dozens more families left unsheltered on any given night.
"I can relate to a desperate situation in my own family history," Dunning said. "I think a lot of us can relate to desperate situations in our own family histories and think about the times where things have kind of fallen apart. For some of us, there's been people that have come alongside and have been there."
But for others, he went on, there aren't safety nets.
"For this grandmother and this teenager, we were the thing that was supposed to be there to come alongside," he recalled. "And the reality was, when she got out of the hospital and she had this medical condition when they lost their house and had no place to go, we said, well, we can put you on a wait list."
And he said that happens on a weekly basis at the lobby of the YWCA and at the Collaborative's offices. That's why YWCA Missoula and the Missoula Interfaith Collaborative joined together four years ago to find a solution for these homeless families, Weese said.
"Both our organizations recognize that many families are slipping through the cracks and that it was unacceptable for families to be sleeping outside for many weeks while they wait for a place in one of the Family Promise churches or a YWCA motel room," she explained. "We knew that our community needed to do better and could do better."
Campaign co-chair Kathy Veazey contributed $1.1 million, and another $1 million came from anonymous donors. Many other businesses and individuals have contributed time and money as well, Weese said.
"In about 14 months, the ground we stand on today will bear a 36,000-square-foot building called the Meadowlark," she told the crowd. "The meadowlark is the state bird of Montana, and in folklore its presence is a sign of peace, safety and easier times ahead. That's exactly what we hope to provide for the people who walk through the doors of our building."