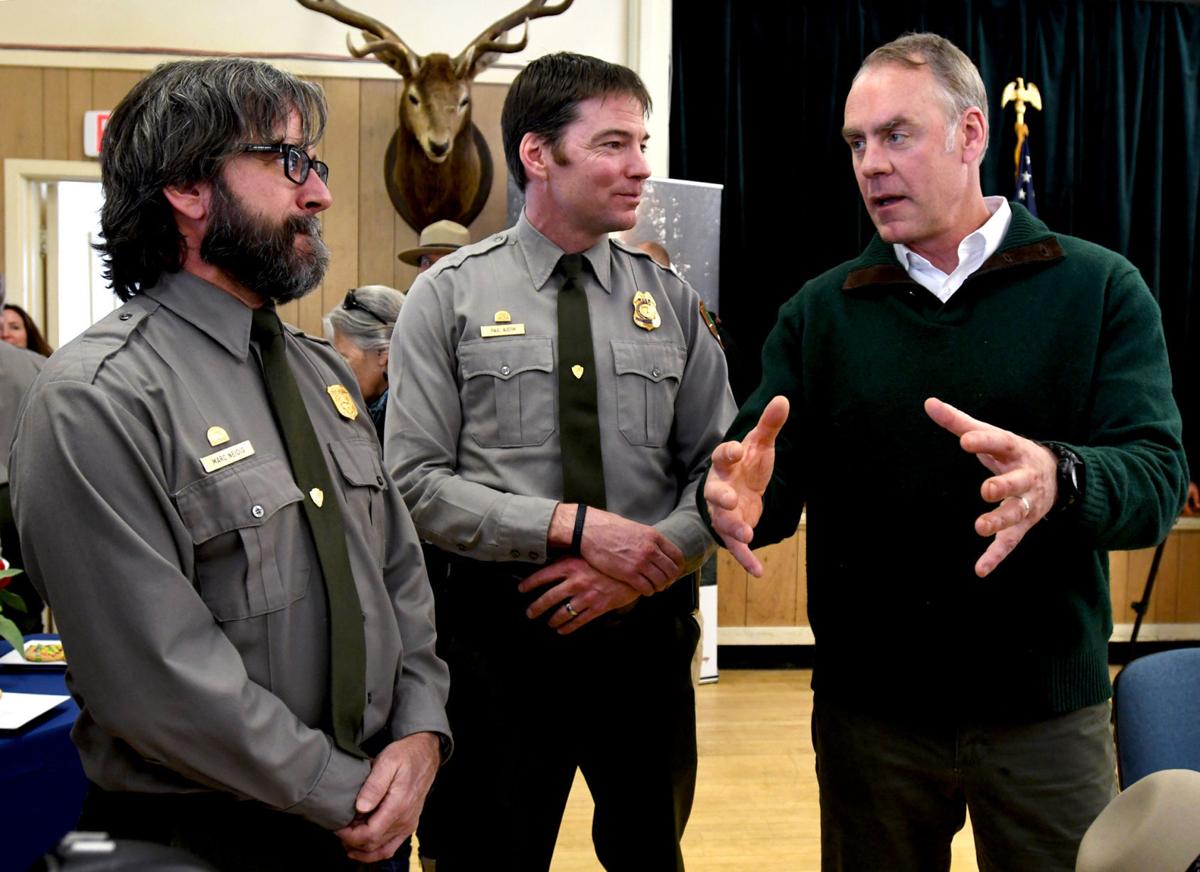 All of the Department of the Interior agencies operating in Montana would see their regional headquarters shift under a reorganization proposal by Secretary Ryan Zinke.
Following up on a pledge he made in his first days in office, Zinke said in a video statement he wants to move "decision-making authority to front-line superintendents and managers so right actions can be quickly made without excessive paperwork or burdensome administrative requirements."
While specifics of that plan were not made available, a map from Zinke's office shows Interior agencies would report to 13 regions based on natural watersheds instead of state boundaries.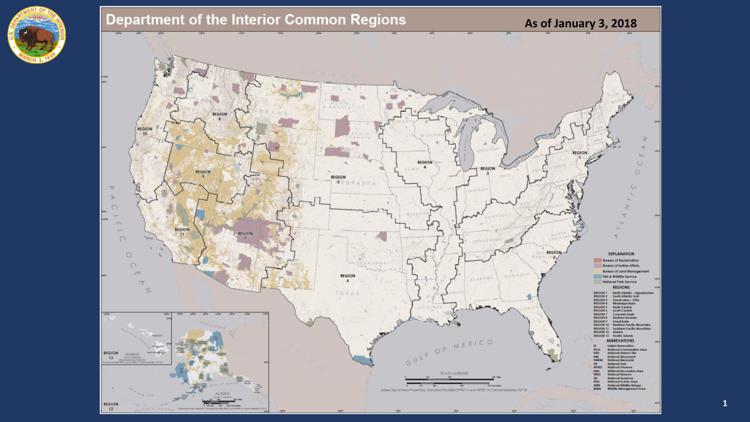 Zinke spokeswoman Heather Swift declined to provide more information about the plan, saying in an email that there is no final version.
"The meeting the secretary had this week was an internal brainstorming session with career officials to talk about options and ideas," Swift wrote. "The secretary laid out his philosophy for organizing the Department along watersheds rather than political boundaries. The concept would push more decision making to local and regional areas and allow for better streamlining of services and public lands management."
Montana would be divided along county lines that roughly follow the Continental Divide. A new Region 8 would oversee the state west of that line, including Glacier National Park, the Blackfeet and Flathead Indian Reservations, the National Bison Range and half of the Bob Marshall Wilderness Complex. Region 8 also would include almost all of Idaho, a quarter of Oregon and a third of Washington.
Proposed Region 5 would encompass the rest of Montana, including Yellowstone National Park, the Upper Missouri River Breaks National Monument, and the Rocky Boy's, Fort Belknap, Fort Peck, Crow and Northern Cheyenne Indian reservations. Region 5 would extend east and south to fold in half of Minnesota, parts of Iowa and Missouri, half of Kansas, a quarter of Colorado and most of Wyoming.
A change of that magnitude presents special challenges, according to University of Montana associate professor of political science Sara Rinfret.
"Zinke has talked about having public hearings, but for this to go forward, you need to have buy-in from the employees," said Rinfret who leads the masters of public administration program. "If you don't have buy-in and input from your staff in a major reorganization, it's going to be really difficult."
You have free articles remaining.
Interior agencies such as the Bureau of Land Management, National Park Service and U.S. Fish and Wildlife Service already have well-known, local footprints, Rinfret said. That makes it hard to parse the meaning of moving decision making to front-line staff.
"What's the problem you're trying to solve?" Rinfret said. "You're talking about budget cuts. Are you cutting staff? Have you been transparent with career civil servants? Have you had the local stakeholders at the table? What's working and what isn't? You have to define the problem first or people lose trust."
The Interior Department already has the majority of its administrative staff outside of the capital, with about 9,000 employees in Denver compared to 6,500 in Washington, D.C. The whole agency has about 70,000 employees.
In his video address, Zinke noted that 16 percent of his department workers are at retirement age. In five years, that grows to 40 percent.
Its field offices and facilities now operate through regions based on state groupings. Changing so many boundaries and moving employees around would require congressional authorization in many cases. There's also a question of whether those agencies can make major employment changes when so many are led by people without congressional confirmation.
According to the new map, Glacier would report to a headquarters of the new Region 8, but Yellowstone would operate out of Region 5. Both parks now report to the NPS Intermountain Region, covering eight states with headquarters in Denver and Santa Fe. Michael Reynolds is listed as the NPS deputy director "exercising the authority of director for the National Park Service."
Montana has seven Indian reservations. The Flathead and Blackfeet reservations would be in new Region 8 while the rest would be overseen at new Region 5. Currently, the BIA Rocky Mountain Region office in Billings works with all but the Flathead Indian Reservation, which is connected to the BIA Northwest Region office in Portland, Oregon. BIA is managed by an Interior Department assistant secretary, where John Tahsuda is the acting leader.
The U.S. Fish and Wildlife Service oversees Montana and seven other states from its Region 6 Headquarters in Lakewood, Colorado. The agency lists its leader as Greg Sheehan, principal deputy director. Zinke created that position in 2017, but Sheehan still has "acting" status.
The Bureau of Land Management now uses a Montana-Dakotas regional office in Billings. Five of the 12 national BLM regions, including Montana's, have unconfirmed, acting directors. The agency's organization chart lists its leadership as Brian Steed, "Deputy director, policy and programs exercising authority of the director," and Michael Nedd, "acting deputy director, operations."
The White House reportedly approved a draft reorganization plan in June, and all agencies had until September to file final versions and 2019 budget requests, according to Federal News Radio.
None of Montana's congressional delegation had additional information about the Interior reorganization as of Thursday.
"I look forward to learning more about Secretary Zinke's vision for making land management decisions closer to the ground, closer to the resources, and closer to the people," Sen. Steve Daines, R-Mont., wrote in an email. The office of Sen. Jon Tester, D-Mont.,  noted "it appears to be missing critical details that could have a significant impact on Montana."