Missoula's homegrown arts community center is getting a big new downtown headquarters to make its extensive art education programs more accessible.
The Zootown Arts Community Center, a nonprofit artistic education organization, has purchased the historic Studebaker Building, at 216 W. Main St., in downtown Missoula. It will move in next year and soon will embark on a $3.25 million capital campaign to ask donors to help with a large-scale remodel and build-out of the building.
"We've just got too many ideas and too little space right now," said ZACC executive director Kia Liszak. "We began our search for a new home two years ago. We've been growing out of our existing space (at 235 N. First St. W.) for quite some time now and we don't own this building. We're excited."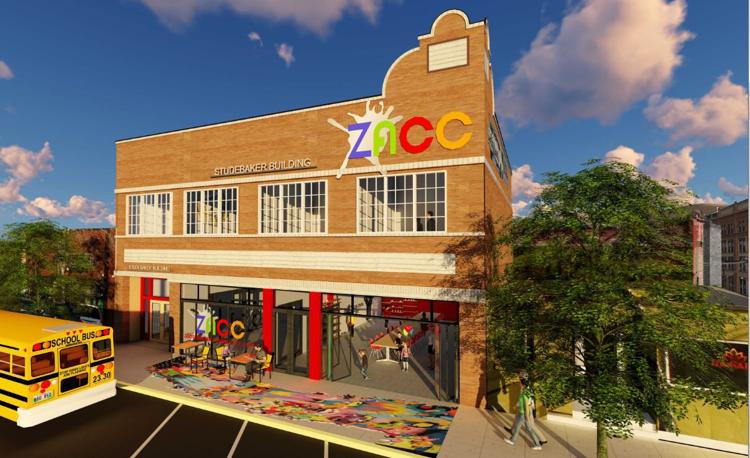 The Studebaker Building is about 17,000 square feet, double the ZACC's current size, which will allow it to build much-needed classroom space, a bigger free community art supply room (currently a closet), separate galleries for art by children and adults, music practice rooms, an event space for TED talks or plays and all kinds of extras for new activities.
The Studebaker Building currently houses Advanced Technology Group (ATG), a fast-growing tech consulting firm, and ATG will remain until the end of 2018. 
"We hope to be occupying it by this time next year," Liszak said. The ZACC has been working with Paradigm Architects in Missoula for two years to find and design the perfect home, and there are plans for a pedestrian-friendly remodel.
So far, the ZACC has raised about $1 million from lead gifts, including a major donation from Jeff Ament and Pandora Beatty to expand music practice rooms.  Ament, a Missoula resident and bassist for Pearl Jam, once held a band camp for kids at the ZACC along with Fitz and the Tantrums drummer John Wicks. 
The ZACC was founded 10 years ago. It employs six people along with Liszak, and averages eight to 12 classes and about 1,000 visitors a month. Sometimes though, one-time events like the Missoula Monster Project draw that many people in a single night. Liszak said people often sit in hallways for ceramics classes, and the cramped art studios are the size of storage closets.
"We began (the search process) by doing a feasibility study," she said. "It's been a long process for us. We asked our users, and over 100 people sat down for face-to-face interviews in 2016. We asked them what they'd like to see in the new ZACC. We talked about facility issues, not having enough space for expanded programs, etc."
She said the ZACC is taking input and still growing.
"One of the things we've found is that a more centralized location is really important, as is more space to accommodate growing programs and a growing need," she added.
The new location will bring the ZACC to a booming downtown, where all kinds of new development is taking place, including a new hotel, new restaurants and breweries, a new student housing complex and a huge new conference center at the Riverfront Triangle.
The new location will have elevators and Americans with Disabilities Act access, as well as being on a Mountain Line bus route.
You have free articles remaining.
The center hosts students, holds gallery exhibits and features a public print shop, a paint-your-own-pottery studio, a music school and tiny artistic studios. Its original mission was to host community art classes for kids and adults in a variety of mediums, and it has hosted untold numbers of people to paint, print, draw and play music in its cramped Northside location.
"We have a lot of nostalgia for this building, but everything is just toppled on top of each other," Liszak said. "We have kids coming here all day long. We need designated spaces to provide more programming and have more community users and, really, a facility that's designed for us to do the work that we are doing for Missoula and the job that we want to do best."
There are both free programs and programs that require a small fee, she said, and scholarships are available to anyone in need.
"Arts education is at the heart of what we do," Liszak said.
The building was listed at $1.9 million, and Liszak said the capital campaign will help with the work needed to transform it.
"By no means is this a done deal," she explained. "We still need help."
Having a permanent space in a thriving downtown will help further the ZACC's long-term mission, she said.
"It really excites me," she said. "At this time, we're seeing all of the growth in the downtown area and we'll be another community anchor for downtown. It will be just a place for community members when the doors open. It will be a gathering place for the community. It's really important to have these strong community anchors to keep the heart of Missoula downtown. The new library is exciting, and as we grow it's important that we continue to put some energy into having spaces that belong to the Missoula community."
The ZACC offers more than 20 summer camps and an after-school program every day along with a detailed adult education program.
"Our art gallery doubles as a classroom space because we don't even have a classroom," she said. "We're constantly moving things around."
Art education is her passion, and Liszak believes the world needs more of it right now.
"I think that art education is extremely important," she said. "We have seen less and less art in schools, although there are definitely some efforts to put art back in the schools locally and we stand behind those. And access to the arts is extremely important. Everyone should have access to the arts and what it means to be in touch with creativity. Becoming our most creative self helps us to grow as humans and create a better world."