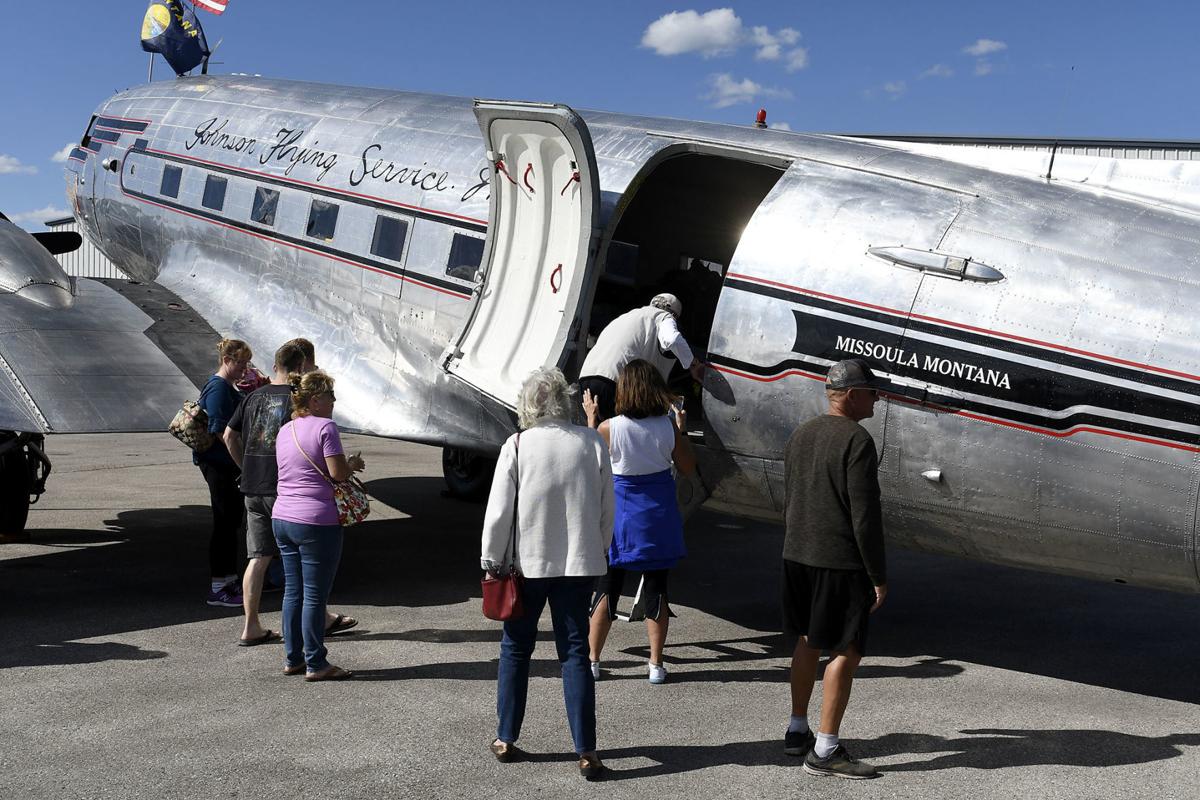 Miss Montana, the airplane, is at it again, and this time she might be joined by a sibling.
The Missoula-based Museum of Mountain Flying's Douglas DC-3 will leave Saturday night to Florida on a hurricane relief mission, with the aim of making flights daily for up to a month to storm-stricken Grand Bahama.
"They're committed to go, and the airplane's ready to go," Dick Komberec of the museum board said Thursday. "I understand they'll be making two trips a day hauling 40,000 hot meals per trip."
Miss Montana and crew will be based in Fort Lauderdale, less than 100 miles from the Grand Bahama International Airport in Freeport, the largest city in the northernmost island of the Bahamas.
Hurricane Dorian hit the Bahamas on Labor Day, Sept. 2, unleashing massive flooding and widespread devastation to the north islands. The official death toll stands at 50 but is expected to go much higher, with as many as 1,300 people missing as workers continue to comb through the ruins in Grand Bahama and Abaco islands. 
The museum board reached out to a humanitarian organization in Florida when it learned of the plight in the Bahamas and offered the services of its famous DC-3, which just passed its 150-hour check with flying colors. The buzz in Missoula started early in the week but it took until Thursday to finalize arrangements.
"We wanted to make sure we were going to be able to do this and do it right and do everybody justice," said Eric Komberec, chief pilot and president of the museum and Dick Komberec's son. "What better use of the museum and the airplane than to be able to help others?"
He said when the word broke Thursday, the museum was flooded with well-wishers and early donations. One man brought in teddy bears and other stuffed animals to take to the children in the Bahamas.
The Museum of Mountain Flying, to the east of the main terminal at Missoula International Airport, will be collecting donations until Saturday morning of baked goods, toiletries, granola bars and "anything that we can fill the airplane with on our way down," Eric Komberec said.
The airplane will make a stop in Billings, where the Yellowstone County Museum quickly collected 500 pounds of diapers and T-shirts Thursday.
A museum's Facebook post invited community members to "show Florida and the devastated people of the Bahamas that Montana cares about them." An organization of churches is sponsoring the relief effort, one of dozens from the United States.
The Museum of Mountain Flying owns a second DC-3, a former Western Airlines airplane that has unofficially been dubbed The City of Missoula. In late March, Dick Komberec helped fly the plane from its previous owners in Arkansas to Oregon. It was used there and in Missoula to train and certify pilots to fly Miss Montana and other DC-3s/C-47s in the D-Day Squadron to Normandy in May and June.
Dick Komberec said the relief organization in Florida is interested in Western's services as well, but "the big push is getting Miss Montana down there on Monday. That'll give Eric a chance to see the on-ground operation."
If all goes well, Dick Komberec said the second aircraft will join Miss Montana in Florida. Kathy Ogren, a board member and a major backer of the flying museum, has expressed an interest to go to Florida and help out as well.
"She's put so much into this museum and organization, she needs to be included in this if she wants," Komberec said.
The Miss Montana crew and passenger list will include pilots Eric Komberec and Dave Hoerner of Kalispell and Bryan Douglass and Mark Bretz of Missoula; mechanic Randy Schonemann of Neptune Aviation, and museum volunteers John Haines and Pat Collins.
"These guys are so excited they said they'd quit their jobs if they had to," joked Eric Komberec. "We told 'em we don't want them to do that."
An ambitious volunteer effort in Montana starting in mid-2018 got N-24320, renamed Miss Montana, off the ground in May for the first time in 18 years. A week later it began a successful flight to Europe to help commemorate the 75th anniversary of D-Day in England and France, and the 70th anniversary of the end of the Berlin Airlift in Germany.
Since its return the plane has been seen in a number of Montana towns, most recently last Friday in Billings for a reunion of smokejumpers. Before she leaves on Saturday evening, Miss Montana will be featured in a tandem jump at 5 p.m. to kick off a $100-a-plate dinner at the flying museum for Montana's active Green Berets, the Devil's Brigade, Special Forces Chapter 28.
That event will also include a flyover and free-fall demonstration and special guest speaker Sgt. Maj. Patrick L. McCauley, who led U.S. Special Operations Command until his retirement earlier this year.