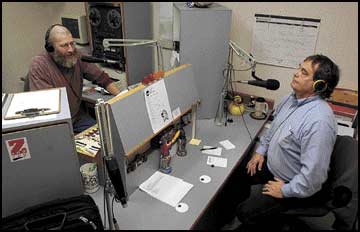 Popular morning duo happily returns to classic-rock roots
After a year with the likes of Petula Clark and Gary Puckett, Craig and Al are back home with Mick Jagger and Tom Petty on Missoula's Z-100 radio station.
Yep, those gregarious gomers of morning radio, and all of their call-in friends, are back on KZOQ FM from 6 to 10 a.m. Monday through Friday, getting the day's groove going with a little classic rock 'n' roll and a lot of homespun humor.
Yep, Craig and Al are back from a yearlong stint spinning the oldies on sister station Q-106.7 FM.
And boy, howdy, are their 19 listeners happy for the encore.
"All is right in the universe again," one listener called in to say when the dynamic duo returned Dec. 8.
"You know, listening to the Rolling Stones first thing out of bed sure beats the hell out of Tom Jones," called in Brian from the Bitterroot.
Station managers at Fisher Radio insist that the move down the hall to Q-106.7 was not a gentle push to retire the popular radio hosts and parade royalty from their 10 1/2-year stint.
In order to attract younger listeners, station managers decided that Z-100 should play harder rock like Van Halen, which Craig and Al weren't playing, and they believed the duo could help build an audience for Fisher's oldies programming on newly acquired Q-106.7.
"We actually lobbied for that job," Craig said. "We knew Z-100 was formatically closer to the oldies station and we don't really care for that (hard rock) stuff. I'm 51 and Al's 57, and when someone says Ozzie to us, we think Ozzie and Harriet, not Ozzie Osbourne."
It turned out that most Z-100 listeners weren't ready for a breakfast of hard rock either.
Once Craig and Al helped Q-106.7 flourish, talk began about bringing them back to their old call letters and format - "real radio for grown-ups who like rock 'n' roll" - and expand the show into other markets across the state early next year, said Chad Parrish, general manager of Fisher's Missoula radio stations.
For two "middle-aged dorky guys from the Midwest who couldn't get on at the post office," that was music to their ears.
"Once the opportunity arose for us to come back here, we took it," Craig said. "And it really feels like home."
"Like putting on your favorite pair of jeans," Al said.
What they learned over at Q-106.7 was that people are emotionally connected to the oldies, but they don't really care about the "minutiae" - games like totally random trivia, or announcements of birthdays, bar mitzvahs, lost dogs and found cats, or the general yip and yap of radio hosts.
"They hear the Beach Boys, and bang, they are somewhere else," Al said. "They want the music, but they don't necessarily want us interfering with that experience."
"Don't get us wrong, we had a good time over there, but over here we have kind of a tribe, what we call the Craig and Al radio family," Craig said. "The interaction with this audience is phenomenal."
In the first two days of their return, more than 100 calls were logged from well-wishers, fans and friends.
"It was really heartwarming," Al said. "It's hard to believe people have stuck by us for so many years."
The response has prompted the pair's boss to say he doesn't intend to move the boys from the current radio dial anytime soon.
"If their coming back gives people a sense that things are back in order, that's great," Parrish said. "How can you argue with that?"
Be the first to know
Get local news delivered to your inbox!